Thank you for your swatch request. We'll send your requested swatches as soon as possible, and free of charge!
---
Humanscale Freedom Task Chair
designed by Niels Diffrient
Designed to complement any space and integrate effortlessly into the modern office, the Freedom task chair offers comfort, style and complete ease of use. Created by Niels Diffrient and winner of more than 10 design awards, the Freedom task chair uses the laws of physics and the sitter's body weight to provide instant, custom support for every sitter. This perfect balance allows the user to effortlessly move, but be fully supported in each position. As a result, users change postures often, which leads to a more healthy and comfortable sitting experience.
What's to Like:
The Freedom task chair revolutionizes the way people sit. With its weight-sensitive recline and synchronously adjustable armrests, it set new standards for task chair performance and functionality. With a sculpted foam backrest to match the contours of the human body and thick cushions for long lasting comfort, it provides a custom ergonomic fit for every user.

Bottom Line:
You can't argue with the comfort. This is a unique and very comfortable desk chair.
It may surprise you to hear that Humanscale doesn't really consider itself to be a furniture company. They make furniture, of course, but rather than calling themselves a furniture company, they call themselves an ergonomics company. There isn't an organization out there more committed, driven, and knowledgable about the field of ergonomics than Humanscale.
Humanscale stands for ergonomic furniture. The Freedom Chair is what you might call their Magnum Opus (thus far).
Designed by Niels Diffrient- a man responsible for major advances in the field of ergonomics in the last few decades- the Freedom Chair is held together by a single idea: that sitting down should be simple and comfortable at the same time. This guiding principle has served Humanscale well, as its ergonomic chairs have become standouts in the design world and the office chair market.
Goodbye Manual Adjustments
Niels Diffrient errors on the side of simplicity. The Freedom Chair has a self-adjusting Dual Pivot backrest that supports the lumbar area of your back no matter how much you're sitting forward or how much you're reclining. There's no back stop, no tension adjustment. There is a height adjustment on the back of the chair, and once you've set this to fit the lumbar area of your back, you can stop thinking about how to adjust your chair's controls to make it more comfortable.
Revolutionary Counterbalance Mechanism
The Freedom Chair was meant to be reclined in. Niels Diffrient once stated that the most ergonomic seating position is to be laying down. Since that's unfortunately not an option at home or in the office, the next best thing is to lean back in your Freedom Chair. Its groundbreaking counterbalance mechanism automatically supplies the optimal amount of recline tension for your body weight and size.
High-Performance Gel Seat
Humanscale is known for this standout feature. Although it is optional, the gel seat of the Freedom Chair is one of its most important features. Set atop a thin layer of polyurethane foam, the Technogel layer provides outstanding shock absorption and distributes pressure evenly across the seat- making those long hours of sitting much more comfortable.
Why gel seats are superior to foam seats
Gel Seats distribute pressure better than foam seats. After 90 minutes of sitting, gel seats realize 60% less max pressure than foam seats. This is because gel behaves more like a liquid than a solid, so as pressure builds in one area, it disperses to low-pressure areas, thus distributing weight proactively.
A longer lifespan means long-lasting comfort. Gel seats have a much longer lifespan than traditional foam cushion seats. Foam breaks down over time, forming a cavity that prevents movement on the part of the sitter. Gel on the other hand, is non-static, and encourages movement.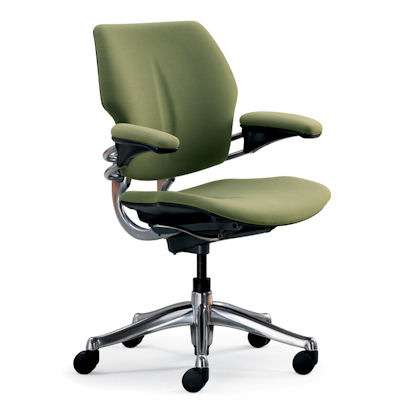 95.88%
Customer Satisfaction Rating
Rank: #9 in Office Chairs
Customer Rating:
Recommend to a Friend? 100%
Return Rate: 4.3%
The ideal office chair makes work more efficient and comfortable. Let our Office Chair Buying Guide help you find the perfect one.
---

INSIGHTS
Freedom Chair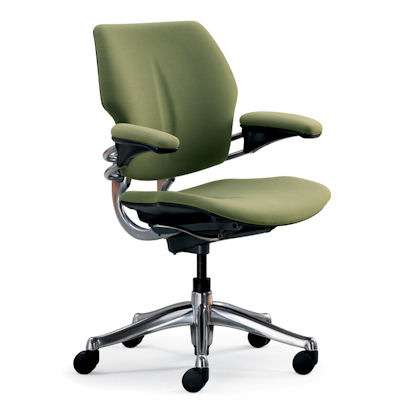 95.88%
Customer Satisfaction Rating
Rank: #9 in Office Chairs
Customer Rating:
Recommend to a Friend? 100%
Return Rate: 4.3%
See all product information and details here.