Thank you for your swatch request. We'll send your requested swatches as soon as possible, and free of charge!
---
Knoll Lounge Chair
designed by Florence Knoll
from Knoll
At A Glance: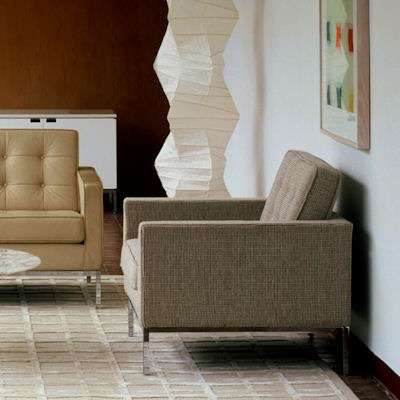 Florence Knoll built the Knoll Lounge Chair as a lasting piece of comfortable art. Her success can be measured by the huge number of Knoll Lounge Chairs sold, critical praise, and the countless designers who still draw inspiration from the chair's form. The Knoll Lounge Chair sits on exposed steel legs, can be upholstered in a wide range of fabrics, and stands as the modern ideal of lounge chair design.
What's To Like:
Straight lines, simple materials, pedigree beyond compare.
Low profile and wide variety of color options help it to enhance, not distract from, your decor.
It's comfortable! Modern doesn't have to hurt your hindquarters.
What's Not to Like:
Price could be a sticking point - it's not cheap.
If you need a wood base option, this isn't the chair you're looking for.
But if you love this chair's polished base and clean looks, it's a great choice.
The Bottom Line:
When put together with the Knoll Settee and/or the Knoll Sofa, the Knoll Lounge Chair makes a wonderfully crisp-looking modern living room set. Alone, it's a low, lean lounge that's great for apartments.
Customer's own material may be used on the Knoll Lounge Chair after being approved. In addition, many of Knoll's other fabric lines are available upon request. Please call a Smart Furniture salesperson at 888-467-6278 to get started!
Features:
Overall dimensions: 31.25" h x 32.25" w x 32.25" d
Seat height: 18.25"
Arm height: 23.5"
Polished or satin chrome stainless steel base
Inner frame is solid wood
See all product information and details here.