Herman Miller Mirra Chair, Standard Height Range
designed by Studio 7.5
Were you looking for the Mirra 2 Chair? Click here.
At A Glance:
The Mirra Chair can be seen as the chair that went past Aeron; the next step in the ergonomic chair industry. It uses some of the same design features, including a porous seat and seat back, but it adds functionality and takes off some of the rough edges. The size of the chair makes it great for women and people with smaller statures.

What's To Like:
This is a very comfortable chair, brimming with advanced ergonomic engineering, adjustments, and surfaces. And it retains much of the iconic look of the Aeron Chair, making it a competitor in terms of style as well. Chairs, chairs, stop fighting! There's room enough for both of you.

What's Not to Like:
The downside of trying to advance the Aeron Chair is that sometimes you can be derivative. The shape of the Mirra Chair isn't particularly unique, and for some buyers that's a problem. If you're a bigger person, this chair might also not be for you - it's slightly on the small side.

The Bottom Line:
The Mirra Chair is great for the office, great for medium to small statures, and great for the health and happiness of your body. It's not an earth shaker, but it's a money maker.
The Mirra Chair is a study in elegance, adaptation, and comfort. Designed by Herman Miller in conjuction with German design team Studio 7.5 in 2003, Mirra was conceived as a paradox: a chair that was more supportive but used less material, that was high-value but low cost, that had fewer manual adjustments but a better, more intuitive fit for the user. On all fronts, Mirra is a smashing success.
The marriage of excellent, high-tech engineering with a refined and elegant aesthetic design sensibility is realized in the Mirra chair, and for that the furniture world has taken note. Winner of multiple awards and reams of critical praise, the Mirra is one of the most popular and critically adored chair for the last decade, and a real boon to any office, worker, or user.
Winner of the GOODDESIGN award from the Chicago Athenaeum Museum of Design and Architecture.
The Herman Miller Mirra Chair is also known by the following manufacturer Item Numbers: MR1, MR2, MR121PFM, MR221PFM, MR121AFM, MR221AFM, MR122AAM, MR222AAM, MR122AAF, MR222AAF, MR123AAM, MR223AAM, MR123AAF, MR223AAF.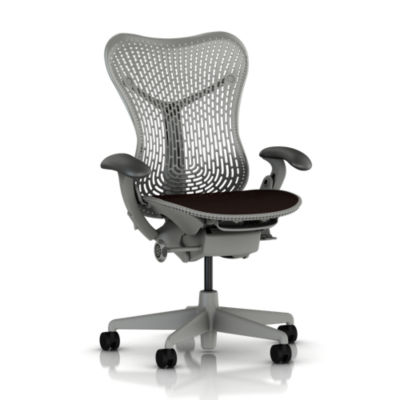 95.88%
Customer Satisfaction Rating
Rank: #8 in Office Chairs
Customer Rating:
Recommend to a Friend? 96%
Return Rate: 4.1%
The ideal office chair makes work more efficient and comfortable. Let our Office Chair Buying Guide help you find the perfect one.
---
INSIGHTS
Mirra Chair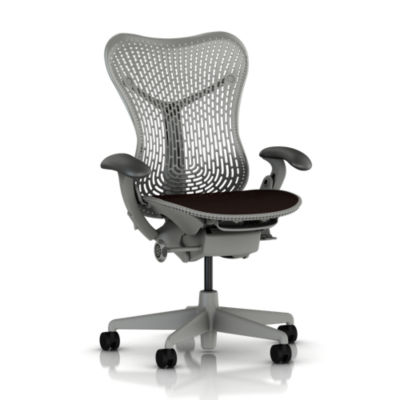 95.88%
Customer Satisfaction Rating
Rank: #8 in Office Chairs
Customer Rating:
Recommend to a Friend? 96%
Return Rate: 4.1%
See all product information and details here
Thank you for your swatch request. We'll send your requested swatches as soon as possible, and free of charge!