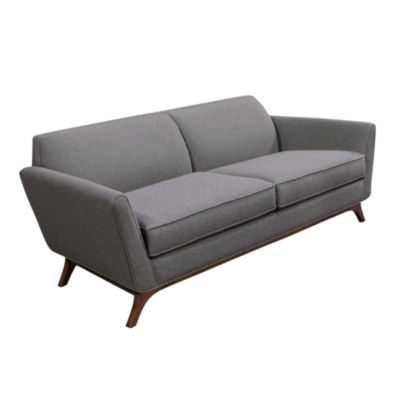 1964 Sofa
THIS ITEM HAS BEEN DISCONTINUED AND IS NO LONGER AVAILABLE.
Though this item is long gone, we've curated a few other products that you might also be interested in. Check them out!
1964 Sofa
Designed by Smart Furniture
Features:
Solid Construction
1964 Sofa's frame is made from kiln-dried North American hardwood, double-doweled and glued, with blocked corners and joint breakers for added strength. Strong, sturdy, long-lasting.
Comfortable Cushions
Made from long-lasting, high-resiliency foam, wrapped in quality upholstery.
Graceful Lines
This is the kind of sofa you can dress up or relax with. Mannered enough for $1MM country homes; urbane enough for your apartment in the city.
Sized for Versatility


People of all sizes will find this sofa comfortable. Its arms and back don't dominate, but provide excellent support. And with its flaring arms, you'll end up able to sit in numerous positions equally comfortably. It won't take up too much space in your living room, either.
At A Glance:
In the spirit of the Mid-Century Modern design revolution, we're happy to bring our new 1964 Sofa to you. 1964 was the year of My Fair Lady and Mary Poppins, Buffalo Wings, Bob Dylan's "The Times They Are a-Changin" - oh yeah, and the Beatles on Ed Sullivan. Things weren't all peachy around the world, but in the furniture industry they'd never been better. The Danish designers were pushing out icon after icon, the Eameses were working the World's Fair in New York, and the public was really coming around to the design community's movement towards simpler forms and graceful lines.
We're inspired by Mid-Century design. We love its ethos, appreciate its contribution to our lives, and want to continue bringing forward designs that make life beautifully simple. Smart designs - the kind that inspire you in turn. Just as 1964 contained the essence of Mid-Century Modern's creative push, we'd like to think that our 1964 Sofa showcases the essential Smart Furniture product.
What's To Like:
The 1964 Sofa's wide, Danish Modern-style base is made even nicer by the gorgeous walnut-stained Maple from which it's made. And when you sit on the sofa, you get both comfort and support - no one likes to sink into a couch so far that it's hard to get up. At the same time, no one wants a hard sofa. The 1964 Sofa delivers good comfort in the middle of the "cushy" scale.
What's Not to Like:
We'd like to withhold judgment on that since the sofa's our very own model - but we're better than that. If we had to change one thing it would be the location of the pillow crack. As a sofa with true 3-seat size, it's kinda awkward to have the crack right in the middle. Don't know where else we'd put it, though ...
The Bottom Line:
We want the 1964 Sofa in our own homes. It's really nice to be able to offer furniture that we'd buy ourselves - and the 1964 Sofa really delivers. It's beautiful, comfortable, and well-made.
Materials & Measurements
Upholstery:
Storm fabric (8851) is 63% polyester, 37% acrylic
Frame:
Solid Oak/Maple hardwood
Base:
Solid Maple with Walnut Stain
Dimensions:
Overall: 30" h x 82.5" w x 34" d
Seat Height: 18"
Seat Depth: 24"
Design Story
People often ask us, "why the 1964 Sofa? Sure the Beatles first appeared on Ed Sullivan and the country was making leaps and bounds in the civil rights movement, but doesn't Smart Furniture sell, well ... furniture? And wasn't most of the 'iconic' furniture of the era produced during the 1950s and even late 40s?"
We wanted a way to honor those developments of the 40s, 50s, and 60s and the impact they've had on modern furniture and the broader design world. We picked 1964 because, by that point, so many revolutionary changes had occurred, but there were still so many developments to come. The 1964 Sofa is a way to honor the earlier developments and the impact they would have on the furniture industry. Sure, you see the Saarinen Womb Chair in 1948 and Norman Cherner's Armchair in 1958. Yes, the shift in style began well before 1964, or even 1948. But naming our sofa the 1948 or 1958 would have ignored the impact the entire movement would have on later designers; you can't have a Philippe Starck or an Yves Behar without a Ray Eames and Isamu Noguchi. So, think of 1964 as a tribute to a whole movement and everything we love about it.
And what we do love about furniture that emerged from this period is the shift from the simple shapes of strictly modern furniture to the bolder use of organic forms we see in the mid-century. Take the legs of our 1964 Sofa - a strictly modern piece would have simple, straight legs. While we do love that look, we wanted to pay homage to the bolder shapes of the Eames Molded Plywood Chair, the sweeping curves of the Barcelona Chair, the elegant lines of the Wishbone Chair. That's why our sofa has that subtle flair in the legs - to honor the use of curves and softer lines in modern and Danish design that emerged in the mid-20th century.
While we celebrate the use of curves and organic shapes, we also wanted a piece that was minimal enough to honor the influence of designers like Mies Van Der Rohe and the Bauhaus movement. That's why this sofa doesn't feature an assortment of accessories or decorative touches. No, with our 1964 Sofa the beauty is in the details; thin arms, low back, and simple yet perfectly comfortable cushions. A refined look and focus on detail help make the 1964 Sofa beautiful, incredibly comfortable, and elegantly simple.
While we're on the subject, let's talk about the 1964 Sofa's comfort. After all, that's why you purchase a sofa - because you want to stay comfortable no matter how long you choose to relax. One of the best aspects of the modern design movement was the emphasis placed on functionality, and in honor of this principle we've tried to make the 1964 Sofa perfectly comfortable. Not so soft that you sink in and definitely not too hard; we think the 1964 Sofa is just right. The polyester-acrylic blend fabrics go a long way towards helping our sofa keep you comfortable. And they're a great way to celebrate the use of new and innovative materials that the greats used in their efforts to push the boundaries of furniture design.
So there you have it. Our 1964 Sofa. A tribute to the modern designs we love so much and the designers who helped reshape the way the world thinks about furniture.
---
Attractive (9)
Comfortable (9)
Ergonomic (3)
Medium rooms (8)
Large rooms (5)
Small rooms (3)
Reviewer Profile:
Midrange shopper (8)

I Am A:
Couple no kids (3), Single male (3)
Comments about Smart Furniture 1964 Sofa:
This sofa was delivered to me damaged so I returned it and Adam in Customer Service was extremely helpful in getting the issue resolved. I love the look of this sofa but I do find it's very firm and the back is a bit low. I'm sure it will break in and soften over time.
Comments about Smart Furniture 1964 Sofa:
I love this sofa. It's very sturdy and well made. Bonus: it is made in America! I chose the Charcoal color, and while it is fairly dark, it has proven to be a great choice with animals.
Comments about Smart Furniture 1964 Sofa:
Great look in my 1950s style home Very firm and nice seat height Perfect size . Sample material sent did not match sofa, but sofa is much nicer then sample so I'm good with it.
Comments about Smart Furniture 1964 Sofa:
I am a real fan of Smart Furniture. Stylish products, great quality, priced right, and they are also incredibly helpful and professional.

I get many compliments on my couch, and with good reason. It's a great design, elegant, and it's also very comfortable.
Comments about Smart Furniture 1964 Sofa:
Very comfortable, looks nice and have great quality.
Attractive
Made in the USA
Quality
Comments about Smart Furniture 1964 Sofa:
Works. Looks awesome with the mid-century decor/modern. The charcoal is DARK. But is versatile in color. The wood base is nice as well. We are also beginning to really trust the quality from Smart Furniture. If they say it is well made, we are believing it. Some internet furniture companies are very dodgy about where their furniture is made or its quality. Many tend to focus on style over quality. We like items that are made to last. This couch is going to last and be cool doing it!
Attractive
Comfortable
Not bulky
Comments about Smart Furniture 1964 Sofa:
We bought this couch sight unseen and absolutely love it. We live in a medium-sized Manhattan apartment and were worried we wouldn't be able to find a large & comfortable couch that would work for us. This 1964 Sofa is perfect: stylish and big enough for us to spread out, but also compact and sleek. It doesn't take up a lot of space.

Another major bonus of buying this couch? The customer service. I bought the lighter color and then called to switch to the charcoal - a real live (friendly) person answered at 8:30 AM on the 3rd ring and changed my order in seconds.
Attractive
Comfortable
Ergonomic
Very well built
Great For Family Room
Great For Living Room
Large Rooms
Medium Rooms
Comments about Smart Furniture 1964 Sofa:
Sofa looks great and is firm to sit on, you don't sink into the sofa. Would have like to see a 1964 chair version. If at the right price I would buy two matching chairs and ottoman if they were available.
Service and delivery comments:
Delivery was not good. I was told that the sofa would be delivered on a certain date and the delivery people forgot to put the sofa on the truck. I waited all day for the delivery and it did not come. I had to wait until the next day. Sofa came completely enclosed in a box and wrapped neatly in plastic. Only one end of the sofa had styrofoam padding. I would think they would need padding at both ends of sofa. But, it was delivered undamaged.
Attractive
Comfortable
Ergonomic
Well Designed
Well made
Comments about Smart Furniture 1964 Sofa:
I have this piece as the foundation of my living room, and it is absolutely the best. The design is spot on, and the quality is top notch. The seating is firm, but that's exactly the way I like it; I hate having to scoop or fight my way out of overly plush furniture. The comfort level of this piece is perfect - firm but cozy.

I took a 100% leap of faith in purchasing the sofa sight unseen, and it was rewarded. The customer service throughout the process was fantastic and exceeded every possible expectation. Using the free swatch request really helped build my confidence that I had made a good decision.
Service and delivery comments:
Delivery was delayed quite some time due to the awful weather on the east coast. This was not a problem, and is completely understandable. If anything, it gave Smart Furniture to blow my mind with top flight customer service and unprompted and thurough updates that made me feel completely comfortable as mother nature purpetuated delays.
Attractive
Comfortable
Timeless Beauty
Comments about Smart Furniture 1964 Sofa:
Bought this sofa for our cottage to match other mid-century pieces and absolutely love it! It is very firm, which I like, but if looking for a "cozy" sofa it is not. But as you can see from the picture, it is inviting. I love everything about this sofa and highly recommend it.
Comments about Smart Furniture 1964 Sofa:
I can definitely see where a taller person would find the back support lacking as it's only 30 inches high; but if you have a narrow front door that limits the size of your furniture like I do, the sofa worked out well for me. It has nice depth for deep seating.
It's got a really great "I Love Lucy" vibe to it. I can definitely see where you would put a cocktail mixing table behind it.
Service and delivery comments:
Our delivery company's policy was that they could only leave the shipment in the box attached to the pallet. They could not do more than that (unbox, assist with bringing it into the house, etc). Depending on your delivery company, your mileage may vary.
Attractive
Comfortable
Great color
Solid
Thick Firm Cushions
Attracts Fur And Lint
Hard To Remove Fur Lint
Comments about Smart Furniture 1964 Sofa:
Using the sofa for entertaining in the room that the kitchen flows into. Since we never leave the kitchen/bar when we entertain, it was time to make it more comfortable. Seats 2 or 3 comfortably, love that the back cushions are not loose and you can switch up the decor with the throw pillows. Really firm and sittable, you dont sink in this sofa and get lost. I am happy I was brave enough to buy a sofa I never sat on.
Service and delivery comments:
Shipping was prompt and easy, the delivery was not so great. It was as if the delivery company had never delivered a sofa up the stairs of a city apt. Not a good experience...they literally pushed it up the stairs end over end while I watched in horror and tried not to cry. I am considering another sofa on this site for a different room but have second thoughts now that I have been through the delivery process.
Attractive
Comfortable
Ergonomic
Well Made Sturdy
Comments about Smart Furniture 1964 Sofa:
I looked at this for a very long time before purchasing for my new lower level. I wanted a retro look and it fit all my requirements. By the way, I purchased two (2) of them. They won't be sat on very often but if they were in a high use area of my home, I'm sure they would stand up to the wear and tear.
Comments about Smart Furniture 1964 Sofa:
awesome
Comments about Smart Furniture 1964 Sofa:
I was a bit apprehensive buying a sofa based on just a few pictures and snappy copy--but this sofa lives up to its description. It's very solid, well made, and offers a lot of design for the price. It perfectly complements my other mid century pieces, fabric's a great shade of gray, and the wood legs are a nice touch. I was also pleasantly surprised with how deep it sits. Definitely a great sofa to lounge in!
Comments about Smart Furniture 1964 Sofa:
The sofa is big and comfortable. It is not too soft or too hard just right.
Attractive
Comfortable
Customer service
Firm
Handsome
Comments about Smart Furniture 1964 Sofa:
We have had the sofa for a couple of weeks and love it. The charcoal fabric is comfortable and looks great with the wood legs. The fabric does seem to pucker on the cushions, even out of the box, but it is no that big of a deal as long as you realize it is a sofa and it is going to get sat on. It appears to be made with great quality and will be a great addition to our home for years to come. I also appreciate that it was made in America.
Service and delivery comments:
The delivery was satisfactory, they called to schedule the appointment and then called a gain a couple of days later as if i had never talked to anyone. They then proceeded to try and deliver it not on the day i had scheduled, so i had to call multiple people to get it worked out. They were very apologetic about the mixup, which was nice, but sit was still a pain. On the day of delivery a truck pulled up with one guy who thought he could just roll the box in through my front door, i told him that it wouldn't work and that we would have to carry it in. I then proceeded to help him carry my sofa in with him., which was not a big deal, but I do feel that Ceva should have provided two people to carry the sofa.
The customer service was excellent, Nicole was a pleasure to work with and she was so great on working with my wife and I and all of our sample needs. I would definitely buy from Smart Furniture again based solely on the service.
---
Shipping & Delivery
Free Upgrade to Inside Delivery:
Free
Because this item is large and heavy and because we love our customers, we have decided to upgrade shipping from curbside to inside delivery at no extra cost to you. When your order reaches the local station in your area, the delivery agent will call to schedule a four hour delivery appointment. The driver will carefully bring the item inside the first room of your home or office so that you do not have to!
Shipping Rate:
The 1964 Sofa is offered with
free inside delivery!Availability:
Arrives in 5-10 business days after the purchase date.
Shipping Service:
We're so proud of this sofa that we want our customers to have it as easily as possible, so we've upgraded shipping to inside delivery without charging you a dime. When your order reaches the local station in your area, the delivery agent will call to schedule a four hour delivery appointment. The driver will carefully bring the item inside the first room of your home or office so that you don't have to!
For additional information, please see our
shipping and delivery policies page
.
---
Product Q&A
Do you have questions about this product?
Get answers from real customers and in-house experts with AnswerBox.
7 Questions | 7 Answers
Displaying questions 1-7
Q:

What is the seat construction? Coil, webbing, hand-tied coil?

Also... Is the foam wrapped or just foam inside upholstery cover?

Is the back foam as well? Can foam be replaced when they start to show compression? Thanks!

Asked on 3/12/2015 by In search of the perfect durable couch

1 answer

A:

The 1964 Sofa is made really well here in the USA. The frame is kiln-dried North American hardwoods, double-doweled and glued, with blocked corners and joint breakers for added reinforcement form the foundation. Heavy, 8-gauge, sinuous no-sag springs, closely spaced, secured with a webbing strap and a double row of tie wire, create a comfortable, supportive and durable seat. Seat cushions contain a core of HR (high resiliency) foam with a minimum 2.0 density, wrapped in multiple layers of polyester fiber and encased in a non-woven ticking material. Back cushions are high quality polyester fibers, channel sewn to maintain optimal comfort and appearance and encased in a non-woven cover to prevent fiber migrating.

Answered on 3/13/2015 by Melanie from SmartFurniture.com

Q:

We just bought the 1964 sofa in the natural color sofa. We love it, but we are wondering about how to care for the fabric. Specifically we are wondering what your recommendation is for cleaning in case of a spill (as the color is so light) or applying stain protection.

Asked on 8/8/2014 by Bru

1 answer

A:

Excellent question! The fabric has a cleaning code of S which means clean only with dry cleaning solvent. Do not saturate. Do not use water. Cushion covers should not be removed for commercial or at home dry cleaning.

Answered on 8/11/2014 by Melanie from SmartFurniture.com

Q:

Do the legs come off for delivery? I have a small apt with a narrow door/hallway. Thanks.

Asked on 6/14/2014 by CK from New York, NY

1 answer

A:

The legs can be removed, but not quickly or easily for delivery as they are glued and then screwed into the 1964 Sofa base.

Answered on 6/18/2014 by Melanie from SmartFurniture.com

Q:

Are the seat cushions removable?

Asked on 10/27/2013 by Asia from Ithaca, NY

1 answer

A:

Yes, the seat cushions are removable on the 1964 Sofa.

Answered on 10/28/2013 by Melanie from SmartFurniture.com

Q:

Can this sofa be ordered in leather?

Asked on 10/14/2013 by Joey from Los Angeles

1 answer

A:

The 1964 Sofa is available only in the listed fabrics because it is a stocked piece, ready to ship out on the next day after purchasing. Who knew buying a sofa could be so fast and easy?!

Answered on 10/18/2013 by Karen G. from Smart Furniture

Q:

How much does this couch weigh? Thank you.

Asked on 9/7/2013 by Minimalism

1 answer

A:

The 1964 Sofa weighs 160 pounds in its box, and slightly less all by itself in your living room.

Answered on 9/9/2013 by Melanie from SmartFurniture.com

Q:

I've 2 questions.

First, where is this sofa manufactured?

Second, the close up photo of the Storm upholstery looks to have a little redness in it, that's good to know. However, there's no such close up of the Charcoal upholstery, so I'd like to know what color it has in it, if any.

Asked on 1/15/2013 by Anonymous

1 answer

A:

I've 2 answers. The 1964 Sofa is made here in the USA in North Carolina. The Storm is actually a slate grey with hints of aloe and taupe. Its very earthy. The Charcoal is a much darker color and is pretty flat without many hints of other colors. If I had to pick, I'd say it has hints of ivory and teal. You should let us send you actual fabric samples, click the button that says "Request Free Swatch" on the product page.

Answered on 1/16/2013 by Melanie from Smart Furniture
Displaying questions 1-7
---
Warranty

Frame:
Limited Lifetime Warranty against manufacturing defects

Springs:
10 year warranty

Cushions:
1 year warranty

All other parts:
1 Year Warranty



---