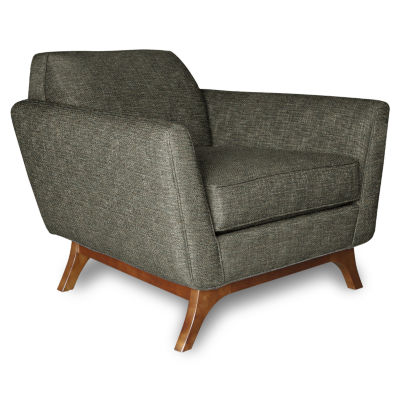 1964 Chair
THIS ITEM HAS BEEN DISCONTINUED AND IS NO LONGER AVAILABLE.
Though this item is long gone, we've curated a few other products that you might also be interested in. Check them out!
1964 Chair
Designed by Smart Furniture
Features: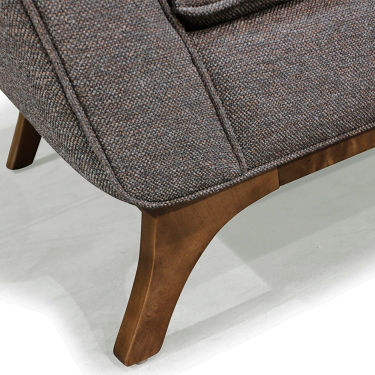 Solid Construction
1964 Chair's frame is made from kiln-dried North American hardwood, double-doweled and glued, with blocked corners and joint breakers for added strength. Strong, sturdy, long-lasting.
Comfortable Cushions
Made from long-lasting, high-resiliency foam, wrapped in quality upholstery.
Graceful Lines
This is the kind of chair you can dress up or relax with. Mannered enough for $1MM country homes; urbane enough for your apartment in the city.
Sized for Versatility
People of all sizes will find this chair comfortable. Its arms and back don't dominate, but provide excellent support. And with its flaring arms, you'll end up able to sit in numerous positions equally comfortably.
Part of a Collection
The 1964 Chair is the companion piece to our 1964 Sofa - and they look absolutely beautiful together.
At A Glance:
In the spirit of the Mid-Century Modern design revolution, we're happy to bring our new 1964 Chair to you. 1964 was the year of My Fair Lady and Mary Poppins, Buffalo Wings, Bob Dylan's "The Times They Are a-Changin" - oh yeah, and the Beatles on Ed Sullivan. Things weren't all peachy around the world, but in the furniture industry they'd never been better. The Danish designers were pushing out icon after icon, the Eameses were working the World's Fair in New York, and the public was really coming around to the design community's movement towards simpler forms and graceful lines.
We're inspired by Mid-Century design. We love its ethos, appreciate its contribution to our lives, and want to continue bringing forward designs that make life beautifully simple. Smart designs - the kind that inspire you in turn. Just as 1964 contained the essence of Mid-Century Modern's creative push, we'd like to think that our 1964 Chair showcases the essential Smart Furniture product.
What's To Like:
The 1964 Chair's wide, Danish Modern-style base is made even nicer by the gorgeous walnut-stained Maple from which it's made. And when you sit in this lounge chair, you get both comfort and support - no one likes to sink into a chair so far that it's hard to get up. At the same time, no one wants a hard "lounge" chair. The 1964 Chair delivers good comfort in the middle of the "cushy" scale.
What's Not to Like:
We'd like to withhold judgment on that since the chair's our very own model - but we're better than that. But we know that the padding is going to be too hard for some and too soft for others. All we can do is shoot for somewhere in between, and that's what we've done.
The Bottom Line:
We want the 1964 Chair in our own homes. It's really nice to be able to offer furniture that we'd buy ourselves - and the 1964 Chair really delivers. It's beautiful, comfortable, and well-made.
Materials & Measurements
Upholstery:
Storm fabric (8851) is 63% polyester, 37% acrylic
Charcoal fabric (9163) is 58% polyester, 42% acrylic
Natural fabric (8854) is 63% polyester, 37% acrylic
Frame:
Solid Oak/Maple hardwood

Base:
Solid Maple with Walnut Stain

Dimensions:
Overall: 30" h x 40" w x 34" d
Seat Height: 18"
Seat Depth: 22"
Seat Width: 21" in back, 26" in front
Armrest Height: 25"
Design Story
People often ask us, "why the 1964 Chair? Sure the Beatles first appeared on Ed Sullivan and the country was making leaps and bounds in the civil rights movement, but doesn't Smart Furniture sell, well ... furniture? And wasn't most of the 'iconic' furniture of the era produced during the 1950s and even late 40s?"
We wanted a way to honor those developments of the 40s, 50s, and 60s and the impact they've had on modern furniture and the broader design world. We picked 1964 because, by that point, so many revolutionary changes had occurred, but there were still so many developments to come. The 1964 Chair is a way to honor the earlier developments and the impact they would have on the furniture industry. Sure, you see the Saarinen Womb Chair in 1948 and Norman Cherner's Armchair in 1958. Yes, the shift in style began well before 1964, or even 1948. But naming our chair the 1948 or 1958 would have ignored the impact the entire movement would have on later designers; you can't have a Philippe Starck or an Yves Behar without a Ray Eames and Isamu Noguchi. So, think of 1964 as a tribute to a whole movement and everything we love about it.
And what we do love about furniture that emerged from this period is the shift from the simple shapes of strictly modern furniture to the bolder use of organic forms we see in the mid-century. Take the legs of our 1964 Chair - a strictly modern piece would have simple, straight legs. While we do love that look, we wanted to pay homage to the bolder shapes of the Eames Molded Plywood Chair, the sweeping curves of the Barcelona Chair, the elegant lines of the Wishbone Chair. That's why our lounge chair has that subtle flair in the legs - to honor the use of curves and softer lines in modern and Danish design that emerged in the mid-20th century.
While we celebrate the use of curves and organic shapes, we also wanted a piece that was minimal enough to honor the influence of designers like Mies Van Der Rohe and the Bauhaus movement. That's why this chair doesn't feature an assortment of accessories or decorative touches. No, with our 1964 Chair the beauty is in the details; thin arms, low back, and simple yet perfectly comfortable cushions. A refined look and focus on detail help make the 1964 Chair beautiful, incredibly comfortable, and elegantly simple.
While we're on the subject, let's talk about the 1964 Chair's comfort. After all, that's why you purchase a lounge chair - because you want to stay comfortable no matter how long you choose to relax. One of the best aspects of the modern design movement was the emphasis placed on functionality, and in honor of this principle we've tried to make the 1964 Chair perfectly comfortable. Not so soft that you sink in and definitely not too hard; we think the 1964 Chair is just right. The polyester-acrylic blend fabrics go a long way towards helping our chair keep you comfortable. And they're a great way to celebrate the use of new and innovative materials that the greats used in their efforts to push the boundaries of furniture design.
So there you have it. Our 1964 Chair. A tribute to the modern designs we love so much and the designers who helped reshape the way the world thinks about furniture.
Shipping & Delivery
Inside Delivery Upgrade:
Free
Inside Delivery Upgrade
Because this item is large and heavy and because we love our customers, we have decided to upgrade shipping from curbside to inside delivery at no extra cost to you. When your order reaches the local station in your area, the delivery agent will call to schedule a four hour delivery appointment. The driver will carefully bring the item inside the first room of your home or office so that you do not have to!
Shipping Rate:
The 1964 Chair is offered with free inside delivery!

Availability:
Arrives in 8 weeks after the purchase date.

Shipping Service:
We're so proud of this chair that we want our customers to have it as easily as possible, so we've upgraded shipping to inside delivery without charging you a dime. When your order reaches the local station in your area, the delivery agent will call to schedule a four hour delivery appointment. The driver will carefully bring the chair inside the first room of your home or office so that you don't have to!

For additional information, please see our shipping and delivery policies page.
---
Warranty
Frame:
Limited Lifetime Warranty against manufacturing defects

Springs:
10 year warranty

Cushions:
1 year warranty

All other parts:
1 Year Warranty
---