Herman Miller Aeron Chair
designed by Don Chadwick and Bill Stumpf
At A Glance:
Aeron is the godfather of the ergonomic office chair revolution. Designed by Bill Stumpf and released in the 90s, it became known as the dot.com chair. A younger, more tech savvy group of people had found an office chair of their own. To this day, the Aeron remains one of the best ergonomic chairs you can buy. It was the first, and it's still one of the best. Aeron is available in
3 sizes (chart)
to best suit you.
What's To Like:
The Aeron Chair was described as "alien-looking" by some test groups when it first debuted. But they didn't realize those crazy kids wanted just that. The Aeron is unique to say the least, and comfortable and supportive to boot. It's also the first of its kind, so it scores originality points.
What's Not to Like:
If you're a larger person, there is a small flaw in the Aeron. The seat is edged with a curving hard plastic, and at the left and right edge it is upturned - that can be uncomfortable for some. Otherwise, this is a pretty sensational chair.
The Bottom Line:
A cutting-edge look and a serious commitment to comfort and support, all from the first of the breed. Bill Stumpf would go on to make the Embody Chair, but surpassing his original creation has often proved impossible for even the best ergonomic designers.
Also Available: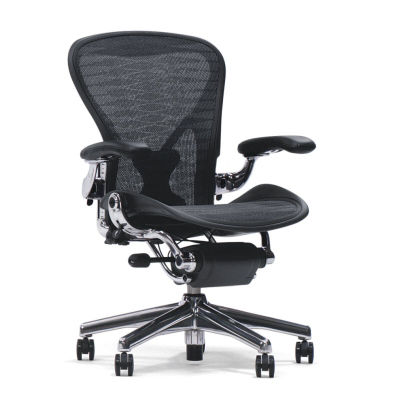 98.56%
Customer Satisfaction Rating
Rank: #1 in Office Chairs
Customer Rating:
Recommend to a Friend? 97%
Return Rate: 2.8%
The ideal office chair makes work more efficient and comfortable. Let our Office Chair Buying Guide help you find the perfect one.
---
INSIGHTS
Aeron Chair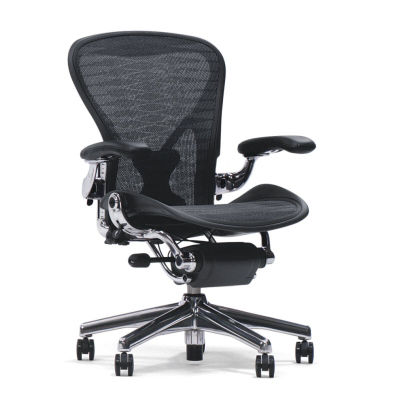 98.56%
Customer Satisfaction Rating
Rank: #1 in Office Chairs
Customer Rating:
Recommend to a Friend? 97%
Return Rate: 2.8%
Materials & Measurements
Construction:
Patented Pellicle fabric conforms to the user's body and retains its original shape when unoccupied. The Aeron Chair is composed of 64 percent recyclable materials, including aluminum, steel, plastic, foam, and textile.
The breathable Pellicle mesh of the Aeron Chair is available in three different patterns.
Classic
Tuxedo
Waves
Dimensions:
The Aeron Chair is available in three sizes. Please click here to see the Aeron Size Chart to see what size fits you best.
Size A:
Overall: 35.9" - 41" h x 25.75" w
Seat depth: 15.75"
Seat height: 14.38" - 19.5"
Seat width: 19"
Size B:
Overall: 36.1" - 42" h x 27" w
Seat depth: 17"
Seat height: 15" - 20.9"
Seat width: 20.25"
Size C:
Overall: 39.9" - 45" h x 28.25" w
Seat depth: 18.5"
Seat height: 15" - 20.9"
Seat width: 21.6"
The Herman Miller Aeron Chair is constructed in a way that's both environmentally friendly and intended to provide years of satisfying operation. Most of the material used in building each chair is recycled, and most can be recycled again (if you can bear to part with the chair). Because the patented mesh fabric returns easily to its original shape when the chair is empty, the fabric is especially durable and maintains its appearance even after years of regular use. People who've owned the chair for years still say they love it. Herman Miller's 12-year warranty for the Aeron Chair demonstrates the company's faith in the product. But the company's values are about more than the just the chair. They're about commitment to long-term benefits for customers, commitment to a style of work, and belief in a way of being.
---
For almost twenty years, people who work in offices have benefited from the Aeron Chair by Herman Miller. From the beginning, its ergonomic design and outstanding features destined it for popularity and, ultimately, a place in history. Sleek, stylish, shapely, and smart, the Aeron Chair offers engineered support that means comfort and promotes efficiency, productivity, and safety.
Considering the Aeron for your office? Call our extra-helpful, problem-solving sales team at 888-476-6278 if you have any questions at all.
---
Environmental Information
Aeron is made of 2/3 recycled content and is 94 percent recyclable. The chair is also MBDC Cradle to Cradle Silver and GREENGUARD certified.
Herman Miller is at the forefront of environmentally responsible manufacturing, and the Aeron Chair is produced in a way that minimizes its impact on the environment. Read more about Aeron and the Environment.
About The Manufacturer
Herman Miller is an industry leader in the integration of cutting edge technology to furniture and other household items to make everyday life more comfortable, convenient, and stylish. Herman Miller stands out at the forefront of such fields as ergonomic technologies, environmentally friendly manufacturing processes, and customizable furniture items.
In addition to producing some of the most outstanding office furniture in the world, Herman Miller has also taken on the responsibility of manufacturing some of the most celebrated furniture designs by some of the world's most famous designs. These "modern classics" include works by Charles and Ray Eames, George Nelson, and Isamu Noguchi. Herman Miller celebrates these famous mid-century designers' works through its extraordinarily precise manufacturing techniques and industry-leading green production processes.
Herman Miller is a global company with operations, sales offices, dealers, and licensees in more than 40 countries in North America, Asia/Pacific, Europe, Middle East, Africa, and Latin America, serving customers virtually anywhere in the world. Herman Miller is headquartered in Zeeland, Michigan, while manufacturing facilities are located in the U.S., China, Italy, and the United Kingdom.
Designer
Bill Stumpf
Stumpf's association with Herman Miller began in 1970 when he joined the staff of the Herman Miller Research Corporation. After establishing his own firm in 1972, Stumpf created the Ergon chair, the first ergonomic work chair. Later, in collaboration with Don Chadwick, he produced the groundbreaking Equa and iconic Aeron chairs. He also was principal designer for the Ethospace system. "I enjoy myself, and I do it through design," Stumpf declared in an interview a few years ago.
"I love beauty, and I love the availability of beautiful things and useful things immediately around me." During his lifetime Stumpf- a key figure in Herman Miller's transformation into a research-based, problem-solving innovator- received numerous awards for this work. Most recently, he was named the winner of the 2006 National Design Award in Product Design, an award presented posthumously by the Smithsonian's Cooper-Hewitt, National Design Museum. Stumpf died in 2006.
Don Chadwick
Chadwick's love for furniture design goes back to his childhood, when his cabinetmaker grandfather taught him how to use the tools of the trade--hand tools that required skill, precision, and patience. Later, unlike the other industrial design students at UCLA in the mid-1950s, he focused on furniture. And after hearing a Charles and Ray Eames lecture there, Chadwick was convinced: Furniture offered designers, even industrial designers, the chance to use materials in new, innovative ways--and to make a "real difference" in people's lives.
"Most industrial designers don't take furniture design seriously," he says. "They're not trained to get into that kind of detail. It's too personal, too much like surgery. And besides, you have to be in love with this kind of work." He attributes at least some of this optimism to the "LA recklessness" he's experienced as a lifelong resident of Southern California. "There's less fear of failure out here, so people are more apt to take risks. It's fertile ground for innovation." For over two decades now, Chadwick has had a partner in recklessness. "Herman Miller isn't afraid to take chances on new ideas. That's why the company's been successful for so long, and that's one reason why it's challenging to work for them."
Read more about the Aeron Chair's designers and the story behind the iconic chair's creation.
Design Story
In 2000, Herman Miller established a relationship with Dr. Brock Walker, a former chiropractor and owner of a renowned back pain clinic, and who was now a consultant for various ergonomic industries, including the military, racing and aerospace corporations.

Dr. Walker: "I recognized a genuine passion and enthusiasm on Herman Miller's part in exploring emerging seating technologies for its customer base." So he paired with designers Bill Stumpf and Don Chadwick to work on the Aeron chair, with the goal of making Aeron the most comfortable and supportive chair on the market. To accomplish this, they came up with PostureFit.

Convenient Tilt Controls
Bill Dowell, head of Project Research at Herman Miller, on why PostureFit became so important to the design of the Aeron chair: "Our research shows that workers tend sit in a forward-leaning position, that is, slouch, during much of their day. This contributes to fatigue, backaches, headaches, and sometimes more serious health problems on the job."

"Until we met Brock, I hadn't seen a solution that promotes a healthy posture and addresses what we call the 'void,' that area behind the beltline between the person and the chair back. Brock's automotive and aerospace work in seating confirmed how critical it is to support this area."

Superior Lumbar Back Support
Unlike many office chairs that are designed to correct posture and straighten the spine, the Aeron chair with PostureFit was made to support normative sitting. So instead of forcing the back into an uncomfortable line, it supports it in the most comfortable position for as long as needed. Aeron had taken a huge step forward, according to designer Bill Stumpf: "Like Aeron, PostureFit's design reflects what we are learning about the human torso. In and of itself, I think PostureFit represents a positive, evolutionary, and exciting step forward. It's leading the next wave of ergonomics."

Pivoting, Adjustable Arms
Design
Distinctive, Pioneering, Iconic. The Aeron Chair by Herman Miller is the office chair that defines all three. Created at Herman Miller by legendary designers Don Chadwick and Bill Stumpf, the Aeron Chair broke the mold, as well as all the rules. A commercial and artistic triumph, the Aeron Chair managed the unthinkable feat of being the best selling office chair of all time, as well as a featured piece in the Museum of Modern Art. It's also environmentally sustainable and constructed and planned to be the greenest most responsible chair ever. Buy the Aeron Chair today.
At the time of it's release, the Aeron chair was funny looking. It was sleek, devoid of foam or stuffing, and featured several design elements radically different from the average office chair. The Aeron chair's seat curved upwards at the edges, cradling the hips and creating a comfort pocket for the user. The lip of the seat curved downward, saving thighs from the wear and tear of eight-hour days at the desk, and increasing user circulation. The back of the chair didn't subscribe to straight lines either; it had been designed for support, curving inward to the small of the back then fanning out to the shoulders, keeping posture erect and comfort intact.
Aeron wasn't only newfangled; it was a handsome office chair with a groundbreaking design and a mathicng performance that's won it numerous design awards. Elegant steel structure supporting molded plastic, with leather accents on the arms. Aeron swiveled, bent, adjusted, and generally molded itself to the worker, the office, the busy day. The Aeron chair pulled off the feat of being unmistakably unique and endlessly adaptive, and over time it has become a pop culture icon. Get distinctive. Design and buy an Aeron today.
Shaped like a butterfly, PostureFit integrates seamlessly into the Aeron design, improving rather than marring it's artistic integrity.
PostureFit isn't the only design element pushing the Aeron chair to the cutting edge of ergonomic research; the first chair to get rid of the foam and padding was designed at every inch to be the most comfortable, intuitive, adaptable chair possible. The Aeron has a wide back contoured to take pressure off the spine, armrests angled for maximum comfort and natural positioning, and the Kinemat tilt system, which allows all of your joints to pivot, recline and lean naturally and easily. The Aeron chair isn't just a place to sit; it's a dialogue between your body and design that results in a kind of partner at work.
The pioneering spirit exhibited by Chadwick & Bill Stumpf isn't just about Aeron's ergonomics. Displayed in the Museum of Modern Art, the Aeron chair by Herman Miller broke all the rules of design and still managed to be beautiful, comfortable, and functional. Aeron is one of the world's only recognizable office chairs, representing taste, quality, beauty, excellence. The sloping arm rests, the curved and contoured backing, the flexing seat with a waterfall front, the material: the Aeron chair was a revolution. Be pioneering. Buy an Aeron today.
---
Today, this chair is an emblem of informed style. Graceful and symmetrical, it matches almost any office decor, yet it's distinctive in every setting, like a work of art. The look is classic and modern at once, with handsome colors and tones that indicate relaxed and confident professionalism. The design of the Herman Miller Aeron Chair uses no foam or stuffing, only an elemental palette of steel, leather, and molded plastic. Bases and frames are available in color combinations including graphite, titanium, smoke, and aluminum, with even more choices for the color of the upholstery. To those who use this chair, the allure is clear from the outset. And it only increases.
Individual choice is a hallmark of the Aeron Chair by Herman Miller. The diversity inherent in the human body - large, small, round, lean - was a deeply understood idea for the chair's original designers, who took care to ensure that the chair features no straight lines or edges. Select from three available chair sizes to accommodate people from petite to husky. Choose between models with various reclining and forward tilt features. Pick casters with varying traction and power that keeps the Aeron chair rolling smoothly on everything from hard wood to deep plush carpet.
Unlike traditional office chairs, the Herman Miller Aeron Chair authentically promotes the health of the user - so much so, in fact, that a great many buyers seek the out this chair simply for that one benefit. Taking into account the physical contours and natural mathematics of the body, the chair respects pivot points at the hips, knees, and ankles, distributing typical stresses of movement throughout the limbs and trunk to alleviate detrimental effects.
The chair's seat features a "waterfall" front, curving forward and downward to allow the thighs to rest easily instead of folding over a hard edge. Other design features assist with posture and circulation. Where some traditional chairs can actually contribute to fatigue, the Aeron Chair helps to preserve and increase the energy you bring to your work.
---
The Aeron Chair adjusts with a flexibility and suppleness that mirror the capability of the person sitting in it. Conceived as optimally adaptable for multiple users, it offers a number of separate features that the user can change as desired -- and to a precise degree. These include the position of the arms, the tilt of the seat, the height of the seat, and the level of lumbar support. Set these features, and you'll find the chair responds to your movements with a fluid maneuverability. If it's your first time in an Aeron Chair, you'll find it a redefinition of the way a seat and a seated body can work together.
The Herman Miller Aeron Chair is designed and built on ergonomic principles, focused on the variability of weight and structure in the human figure - and on how the individual body actually operates in a seated position. Limitless variety in the lengths of limbs and the positions of elbows and hips means that safe and effective long-term sitting depend on adaptable design. The Aeron Chair cradles and supports your body in continual comfort.
The strong, supportive, and breathable Pellicle mesh fabric of the backrest and seat is also light and permeable, which helps to regulate temperatures and allows you to stay cool, dry, and extra comfortable. None of the disagreeable extra warmth and moisture that can build up with conventional chairs is present with the Aeron Chair by Herman Miller.
The fabric fits your form, which means there's far less pressure at the expected points along your body. Modern office work often means sitting for long periods; this chair lets you do that, minimizing the part of your concentration that must go your physical comfort, and letting you direct your mind instead to getting things done efficiently, without tiring.
The Aeron chair is the archetype of the Herman Miller company's tradition of innovation, joining functionality with elegance. Today, in retrospect, the chair's design is unsurprising. That's because, when it appeared, it defined the future of office chairs. The chair's look and feel are a definitive example of forward thinking that came to fruition - and became the standard for the industry. In fact, if imitation is flattery, then the Aeron Chair is complimented every day by offices around the globe.
Reviews
Smart Furniture Employee Review
Working at Smart Furniture is kind of like playing musical chairs. You can't ever assume that what you're sitting in today will be what you're sitting in tomorrow. We shuffle chairs around to learn about them; it creates a nice communal feel around the office and gives us an excuse to steal each other's chairs pretty much whenever we please.
And so today, I find myself sitting in the Aeron Chair. Seeing as how this is pretty much the most famous office chair ever created, I'm surprised that it's taken this long for me to land one. This particular version I'm sitting in is a size B, which seems to fit me just fine as I'm 5'11 and skinny; it has leather armpads (nice), and the PostureFit Lumbar Support option.
Read more

...
Herman Miller Aeron Chair
Comfortable (134)
Ergonomic (130)
Attractive (124)
Durable (114)
Easy to assemble (90)
Creaks (6)
Uncomfortable (5)
Expensive (3)
Office (37)
Informal (19)
Home office (12)
Formal (9)
Gifts (6)
Reviewer Profile:
Midrange shopper (89), High-end shopper (34), Budget shopper (12)
Most Liked Positive Review
An Independently Commissioned Review
First Impressions
I was pretty excited the day I trekked over to Smart Furniture to pick up the Aeron Chair for review. For months I'd been sitting in a chair with rigid arms and...Read complete review
First Impressions
I was pretty excited the day I trekked over to Smart Furniture to pick up the Aeron Chair for review. For months I'd been sitting in a chair with rigid arms and backing and a metal bar across the front of the seat -- needless to say, I was looking forward to a change. When Christie wheeled the Aeron Chair out to my car, I knew I was in for one. Thick, wide armrests. A lip that fell off at the edge of the chair, and a weird looking material, almost sheer, that made up the seat and back of the chair, and looked like it would provide some give and take. The chair was a little smaller than I'd imagined, and at the same time more substantial. I'd expected thin materials and an extremely light chair, but Aeron had heft. I lifted it into my trunk, already looking forward to shoving my old chair down the stairs.

The X Factor
The Aeron Chair is porous, allowing air to pass through the back and seat. That means no heat build up, which can cause sweating and discomfort. Again, major improvement over my old chair.

Durability
Having only used the chair for about a week, it's hard to know how durable it is. But with a 12 year warranty from Herman Miller and all that excellent craftsmanship behind the design, you can be confident it'll take what you dish out.

The Bottom Line
The Aeron is a modern classic for a reason. It's comfortable, it's cool looking, and it's designed very very well. The slight drawbacks and flaws that exist are more than compensated for by all the great things the chair has to offer. For those on a budget, the Aeron Chair is still a great value compared to the new generation of similar-priced chairs riding the Aeron's coattails.
Most Liked Negative Review
Squeaky armrest
I have an Aeron chair which is almost 15 years old with no problems. I just bought a new one and the armrest squeaks. Replaced the new one and the replacement has the same...Read complete review
I have an Aeron chair which is almost 15 years old with no problems. I just bought a new one and the armrest squeaks. Replaced the new one and the replacement has the same issue. Quality has gone downhill on the Aeron chairs.
Reviewed by 208 customers
Comments about Herman Miller Aeron Chair:
Aeron is definitely the best, most ergonomic chair around (we did a lot of research and tested against the Mirra2 and chairs by Humanscale and Steelcase). They grey is softer and less corporate than the standard black.
Service and delivery comments:
so easy - chair came fully assembled and ready to go.
Comments about Herman Miller Aeron Chair:
The only reason I give this chair a 4 star rating is I believe my wife and I should have gotten the "C" size. Unless you sit in the three different sizes, you really don't know which is best for yourselve!!! Buying online got me a good discount but shipping back to exchange two chairs would be a hassle for me due to bad neck and back injuries! The truth is they are GREAT QUALITY chairs,however we should have gone with the larger size. I am 5'10" but weight 250. the chart said "B" size. My thighs are big and touch the hard metal sides and I must sit properly with feet down, legs together then it's not as bad. Live and learn!!! There was a Store about an hour drive away that we should have went to and set in them first before we bought! I highly suggest that everyone does this because like shoes, they fit everyone differently!!!
Service and delivery comments:
Service and delivery was good!
Comments about Herman Miller Aeron Chair:
The chair feels very nice. The mesh is very cushy and it keeps my butt cool (air flow). I still have some cons. I ordered posture fit, and the instruction requires damage (a small hole on the mesh which I understand people would neglect) on the chair, and the arm rests make squeaky noise which I don't feel like it is acceptible for the price. w/o considering the price, it's the best comfy chair I have had (of course for normal person who never tried expensive chair), w/ considering the price, not sure for others but I still feel it's expensive. It's very famous chair, and I even saw this chair on my java book (Head First Java). Overall, I like it.
Service and delivery comments:
The chair came thru UPS and the service was perfect.
Comments about Herman Miller Aeron Chair:
We've tried a number of other high end office chairs and the Aeron continues to outperform. It's great if you spend too many hours at the computer :/ I recommend the upgrades - customization is important if you're spending a lot of time in this chair (lumbar support, adjustable arms, etc)
Service and delivery comments:
Delivery was prompt and easy - chair comes assembled and ready to go
Comments about Herman Miller Aeron Chair:
It gave me the aha​ feeling as soon as I sat on the chair. Very comfortable and adjustable.
Comments about Herman Miller Aeron Chair:
Very comfortable, well worth the price.
Service and delivery comments:
Excellent delivery.
Comments about Herman Miller Aeron Chair:
Remote team member loves this chair. Herman Miller are long lasting and comfortable throughout the day.
Service and delivery comments:
SmartFurniture is always great. Prompt customer service and delivery.
Comments about Herman Miller Aeron Chair:
Great ergonomic chair
Comments about Herman Miller Aeron Chair:
My son is very satisfied with this Aeron chair. It is quite pricy but worth it.
Comments about Herman Miller Aeron Chair:
This chair very comfortable. It's pricy but worth it.
Comments about Herman Miller Aeron Chair:
I've had severe lower back issues for years and this chair all buy eliminates the daily pressure and pains I typically had with out chairs. The multi-functions allowed for a position to ease the pressure.
Comments about Herman Miller Aeron Chair:
Most of the offices that I've worked at in the last 15 years had Aeron Chairs. I love them. They're comfortable and they don't hurt my back or bottom for sitting extended periods of time. Since 2003, I've had an all black C version and it was time to invest in a smaller size that fit me better.
Comments about Herman Miller Aeron Chair:
Our Portland office uses Aerons almost exclusively. We find them to be comfortable and great quality.
Service and delivery comments:
Service from SmarFurniture is always exceptional.
Comments about Herman Miller Aeron Chair:
I really love it
Comments about Herman Miller Aeron Chair:
Nice looking, well-built, good support, easy to assemble
Comments about Herman Miller Aeron Chair:
I work in the PC support field and sit for most of my 9 hour a day shift. This chair allows me to be comfortable sitting for extended periods.
Comments about Herman Miller Aeron Chair:
I ordered this chair for a surprise for my husband, and I couldn't be happier. The ordering process was super easy and straightforward. My husband loves the chair, and was so surprised when the huge box arrived at his office! Thanks Smart Furniture, I will order from you again in the future!
Comments about Herman Miller Aeron Chair:
Bought this chair as it was listed with the highest office chair rating. Was scared that due to it being mesh that the back support and the seat may be too soft/flimsy. It turned out to be quite the opposite with a strong enough support to handle my 200 plus lb weight. I bought the medium size and it fits me perfectly. I recommend getting it with the lumber support.
Service and delivery comments:
The chair came assembled which made it very easy to get straight to work.
Comments about Herman Miller Aeron Chair:
I sit a lot during the day, and even with my other office chairs that claimed to be "ergonomic" I would get stiff. This has support in the right places and is flexible in the right places to reduce muscle stiffness.
Comments about Herman Miller Aeron Chair:
This is seemingly still a classic. Very comfortable (sizing options help) and air flows nicely through the mesh. Slightly dated looks compared to the Mirra 2 (especially the arm rests).
Comments about Herman Miller Aeron Chair:
ordered a HM office chair. Took a bit while to ship out for a customized chair, but it arrived well packaged and chair was extremely easy to assemble so definitely no need to pay more for assembled chair. SmartFurniture offered perks to earn points for both current and future purchases so take advantage of that! Overall my shopping experience with SmartFurniture is very positive. Recommended.
Comments about Herman Miller Aeron Chair:
Simply the best task chair. Very comfortable, completely adjustable.
Comments about Herman Miller Aeron Chair:
Certainly the best task chair available.
Service and delivery comments:
UPS was quick. The chair arrived earlier than the initial estimate.
Comments about Herman Miller Aeron Chair:
Love the Aeron chair - super comfortable, ergonomic, and an all-around office staple. Seat height and lumbar support are adjustable, and mesh material is breathable.
Comments about Herman Miller Aeron Chair:
This chair has all the bells and whistles needed for someone with a bad back. Although not inexpensive, it looks great and all of the adjustments available with it make it well worth the price.
Comments about Herman Miller Aeron Chair:
Top of the line
Comments about Herman Miller Aeron Chair:
I ordered Heman Miller Aeron desk chair. Use it in my study. It's very comfortable. The best chair I have ever owned.

Besides, the customer service is very courteous.
Comments about Herman Miller Aeron Chair:
The Aeron chair holds a special status in our office composed mostly of engineers. So when trying to decide on the appropriate gift for employee 3-year anniversary's we decided an Aeron chair would be the perfect choice.

Once you have sat in a properly adjust Aeron chair there is no going back to a standard office chair. Dozens of happy employees would agree with many more counting down the days tell they receive their very own Aeron chair.
Comments about Herman Miller Aeron Chair:
I've wanted this chair for a while and finally pulled the trigger. My workplace has several different styles of Herman Miller chairs; knowing their ergonomics allowed me to make the smart choice in purchasing a new chair.

I bought the Posturefit model with every setting and it has done well for me. The different settings allow for an extremely adjustable chair. In comparison to a lot of office chairs, this one feels much heavier and sturdier. It also feels like it's going to last for many years to come.

The only thing I would change is the wiring for the Posturefit back. The wiring below just seems to be a mess.
Service and delivery comments:
The delivery was earlier than expected, though I had expected a call from the delivery service to set up the delivery date. I was actually flying back to town the day it was delivered.
Comments about Herman Miller Aeron Chair:
This is my second purchase of Herman Miller Aeron chairs from Smart Furniture. To be honest, Smart Furniture rocks! The quality of the product is excellent and their customer service reps are the best. I will continue to use Smart Furniture as my source for my office needs.
---
Shipping & Delivery
Options are good. Here are your 2 shipping options:
Free Front Door Delivery:
Free
Front door delivery service means that your item will ship as quickly and safely as possible from our warehouse to your garage or primary entrance. If you live in an apartment building, the item will be left in the lobby.
Prior to delivery, our shipper will contact you using the number provided to us during checkout to schedule a delivery appointment. The driver will unload the item from the truck and place it at your door. Keep in mind that this service does not include product placement inside your home, debris removal or assembly, so if you need one of these options be sure to check out our shipping upgrades or contact us at 888-467-6278 for a custom quote.
Inside Delivery:
$74.00 per item
Inside Delivery Service
Inside delivery is a cost efficient way to have large or fragile items delivered to your room of choice. When your order reaches the local station in your area, the delivery agent will call to schedule a four hour delivery appointment. Caveat: If you need debris removal or light assembly (30 min max), you may want to consider our White Glove service.
Packaging:
Packaging Type: Ships in one box
Assembled Chair Box Dimensions: 28" l x 28" w x 41" h
Ready to Assemble Chair Box Dimensions: 27" l x 26" w x 24" h
Packaged Weight: 55-58 lbs.
---
Product Q&A
Do you have questions about this product?
Get answers from real customers and in-house experts with AnswerBox.
19 Questions | 23 Answers
Displaying questions 1-19
Q:

My desk is about 30 inches on the top surface and I'm not using a keyboard tray. Is this chair high enough to comfortably keep my forearms parallel from the padded arm rests, to the top surface of my desk?

Thanks!

Asked on 2/8/2013 by Jamie McElroy from Knoxville, TN.

1 answer

A:

Unfortunately that question cannot be answered with the data presented. It would depend on the Aeron seat height required for your height and posture. It would be best to call in to our sales office and we can better diagnose options. We can be reached at 888.467.6278.

Answered on 2/12/2013 by Melanie from Smart Furniture

Q:

I work at my desk for 12hr shifts, only to be replaced by my relief for his 12hr shift. What is the recommended daily usage of the Aeron, and what is the expected lifespan of the chair for it being used 24hr a day due to the two 12hr shifts?

Asked on 2/6/2013 by Rick from Texas

1 answer

A:

The Aeron Chair by Herman Miller is rated for 24 hour usage with a 12 year warranty. Of course, the Aeron could last longer than 12 years. But we definitely don't recommend including it in your office chair races....it would only embarrass the other chairs.

Answered on 2/7/2013 by Karen G. from Smart Furniture

Q:

I have a desk with a keyboard tray and the arm-rests on most chairs always hit my keyboard tray. I'd like to know what is the distance between the seat of the chair and the arm-rest, when the arm-rest is in its lowest position and when the arm-rest is fully extended to its highest position.

Asked on 1/15/2013 by Anonymous

1 answer

A:

I am happy to give you this information but keep in mind it will all depend on your seat height setting. The distance between the seat of the chair and the armrest when the armrest is in its lowest position is 5" and when the armrest is fully extended to its highest position is 9".

Answered on 1/16/2013 by Melanie from Smart Furniture

Q:

I have an Aeron Chair that I inherited so I know that the warranty is no longer valid. Anyway, I was wondering if I can buy parts from y'all...or can you refer me to the correct people?

What I need is the seat frame (the part that holds the material you sit on).

Any info you have would be greatly appreciated

Asked on 12/29/2012 by Anonymous

1 answer

A:

Yes, we can sell you the replacement seat for your Aeron Chair, just contact our sales team either by phone at 888.467.6278 or email at sales@smartfurniture.com. We will need you to give us the information from the white sticker under the seat of the chair. We need to make sure to get you the right part as all replacement parts are all sales final.

Answered on 12/31/2012 by Melanie from Smart Furniture

Q:

does the back of the eaeron chair tilt? I got mine today and can not figure out how it can tilt back or move along with me.

Asked on 12/13/2012 by Lena from Chicago, IL

1 answer

A:

Yes, all Aeron Chairs lean back. It sounds like you need to adjust the tilt tension knob. Its the one with the +/- on it. It would help for you to watch the Aeron Adjustment Guide on YouTube.

Answered on 12/13/2012 by Melanie from Smart Furniture

Q:

In what situation do I need to use adjustable arms?

Asked on 12/2/2012 by Faith from Ky

1 answer

A:

The Aeron chair's fully adjustable arms moves arms up to 4" vertically and allows you to pivot the armpads 15 degrees outward and 17.5 degrees inward for added flexibility and mobility while you're seated. Adjustable arms also allow people with different statures to choose the arm height and angle that best accommodates their body size and work style. The adjustable arms also enable you to choose the best arm height for your desk or keyboard tray for proper keyboarding support.

Answered on 12/3/2012 by Karen G. from Smart Furniture

Q:

how much does aeron chair weight?

Asked on 3/14/2012 by elisa_

2 answers

A:

The Aeron Chair in sizes A or B weighs 55 lbs, while the chair in size C weighs 58 lbs.

Answered on 3/15/2012 by Smart Furniture

A:

60lbs

Answered on 4/17/2012 by Impression from Baltimore, MD

Q:

I have another sizing question. I'm 6'-1" and 225 pounds and my wife is 5'-5" and maybe 160 pounds (she won't tell me and I surely won't ask!). Her inseam is 30". Should we order size B or size C? We tend to sit upright at the desk. Will a size B be too snug around the hips? Thanks for your help!

Asked on 3/5/2012 by Bruce from Bellingham, WA

1 answer

A:

If you both will be sharing the chair, a Mirra might be better as it has adjustments that would allow you both to use the chair comfortably. If you must have the Aeron, a size B would work. The size B would not be as supportive on the thighs if sitting in the chair all day. Please give us a call at 888-467-6278 and we'd be happy to answer any more questions you may have.

Answered on 3/5/2012 by Anonymous

Q:

I'm 350 plus any problems???

Asked on 10/7/2011 by buck from chicago

1 answer

A:

All three chair sizes are tested and warranted for use by persons 300 pounds and under.

Answered on 10/7/2011 by Anonymous

Q:

does this chair tilt side to side?

Asked on 10/6/2011 by deb from great falls mt

1 answer

A:

No, the Aeron Chair only tilts back (and forward by 4 degrees if you opt for the seat angle).

Answered on 10/6/2011 by Melanie from Smart Furniture

Q:

Does the chair come fully assembled?

Asked on 7/27/2011 by Marshall from Rochester, NY

2 answers

A:

I payed to have this assembled. Yes

Answered on 8/25/2011 by Gary from Ontario,CA

A:

It can, you specify whether you want the chair fully assembled or not in step 9 of the SmartDesigner. Ordering the chair fully assembled adds $50 to the price of the chair.

Answered on 7/27/2011 by Melanie from Smart Furniture

Q:

I am 6'3" and 210lbs, and my wife is 5'8" and 140lbs. We plan on sharing this chair. Would you recommend a C or B size?

Asked on 5/28/2011 by pb

2 answers

A:

This could go either way. If you get the B you will find the seat not quite deep enough to support your thighs and the back a little short. If you get the C the deeper seat may hit your wife in the back of the calves with the hard seat front edge. I would say if your wife's legs are long (meaning for her height her legs are long as opposed to a long torso) go with a C. Make sure to get fully adjustable arms so she can pull the arms (which are spaced father apart on a C) closer to her body for a more comfortable sitting experience. Call us to discuss in more detail if you like at 888.467.6278.

Answered on 5/30/2011 by Melanie from Smart Furniture

A:

Think you'd be happy with either... wife same size ... me 5 11 same size... have a B and a C... I have the B... will probably end up with the C... she has the C will probably end up with the B. We have no complaints, but the B is a little snug for me... so I'd recommend the C for you both as my wife doesn't have any complaints with the C at all.

Answered on 5/31/2011 by Wife's IT Support from Columbia, MD

Q:

I am 5'11 and 140 lbs, should I go with size B or C? I was thinking I'd go with size C because of my height, but just want an experts input. Thank you.

Asked on 4/13/2011 by Mic

1 answer

A:

Good question. The size C will be 1.25" wider overall, have a 1.5" deeper seat and a 3" taller back. If you lean back a lot I would go with the size C as you will use that taller back to support you when reclining. If you typically work sitting straight up I would go with a size B. Reason being, the front edge of the seat has a hard waterfall profile, and sitting straight up typically your legs are tucked under the seat and the back of your calves will get tired of be snuggled up against the (deeper size C) hard edge. Call 888-467-6278 for more info from our experts.

Answered on 4/13/2011 by Melanie from Smart Furniture

Q:

I'm 5'1", weight 180 lbs. Which chair should I choose A, B or C.

Asked on 3/23/2011 by Anonymous

1 answer

Q:

I am 5'2" and weigh 118 lb. Even with a back support added to my "Manly" chair, I end up sitting on the edge of my seat when I work on the computer. My back is never resting on the chair. I want a chair with a short base. Would this chair allow me to sit close to the key board and my back supported? I am also concerned about the seat being cold! With no fat on my body, I get cold easily. How can I get a covered base?

Asked on 2/23/2011 by Maggie from Little Rock, AR

2 answers

A:

The Aeron chair is available in 3 sizes. With your height and weight a size A is perfect for you, it will have the shortest seat height and smallest stature of all the chairs we offer. You will want to order the chair with a "tilt limiter and seat angle" as this will allow you to sit on the edge of your seat and still be supported by the back of the chair. The PostureFit lumbar support will also be helpful should you opt for the add on lumbar feature. A covered base is not an option for Aeron though, maybe you can keep a blanket or throw at your desk. For additional suggestions please email sales@smartfurniture.com and we will do our best to match you up with your perfect chair.

Answered on 2/24/2011 by Melanie from Smart Furniture

A:

You should look at the aeron chair. I get good back support and can sit close to the keyboard.

Answered on 3/10/2011 by Alan the CPA from Kent, WA

Q:

can you register the chair?

Asked on 2/2/2011 by dany2004 from Victore Ville CA

1 answer

A:

There is no registration process for the Aeron chair. Your warranty is for 12 years to the original purchaser through the authorized seller you purchased from or with any authorized seller and your proof of purchase.

Answered on 2/2/2011 by Melanie from Smart Furniture

Q:

I am looking for a new office chair for my boss. He is 91 and still in the office 6-8 hours per day. He has trouble standing up from the chair and I am trying to find a secure lift chair that swivals.

Asked on 1/19/2011 by Anonymous

1 answer

A:

I would suggest a chair with no casters. This will allow him to push up from the chair without it moving. Take a look at the Setu with the four star base.

Answered on 1/21/2011 by Anonymous

Q:

How far does this chair tilt back? I'm looking for something that tilts back to almost a flat position.

thanks,

Asked on 12/20/2010 by Anonymous

1 answer

A:

None of our office chairs tilt back to a sleep position, Including the Aeron chair. Do you need this chair to sit at a desk? If not, try one of our Ekornes Stressless recliners (

https://www.smartfurniture.com/ekornes-stressless-chairs.html,

they tilt back to a sleep position. I hope this helps.

Answered on 12/20/2010 by Melanie from Smart Furniture

Q:

This chair sounds too good to be true. Would it be possible to get it without the caster base but rather an adapter plate that would fit my Chevy Impala? I love my car but the seats are killing me. This style of ergonomic seat would solve many back problems for those of us that commute 1-3 hours per day. The seat belts are attached to the B pillar and the floor so your chair wouldn't need to bear the load of the restraints.

Asked on 10/8/2010 by Rickb from Jackson, MI

1 answer

A:

Its not a bad idea but we don't recommend it. Your best bet were you to take on this project would be to purchase an Aeron Side Chair (which unfortunately we don't sell) as it has a sled base. Assuming you are handy, you can alter that sled base to the right height for use in your Imapala.

Answered on 10/11/2010 by Melanie from Smart Furniture
Displaying questions 1-19
---
Warranty
The Aeron chair comes with a 12 year warranty from Herman Miller, the first name in home and office design. And when you buy a chair as comfortable, adaptable, attractive and ergonomic as the Aeron, you'll have every reason to keep it around that long. The Aeron Chair by Herman Miller is the most popular and most critically acclaimed office chair in history. But it's also one of the best values. At just $679 for the base model, the Aeron pays for itself in comfort, health, and increased productivity. Over the life of its warranty, the chair will cost you only 14 cents a day. How much would you pay per day to be more comfortable, healthier, and more productive at work? Get value. Buy yourself an Aeron today.
Still need convincing? Read more about the Aeron Chair's Warranty.

If you purchase something from us we back up the warranty. Whether the product comes with a 1, 3, or 12 year warranty, if you have a warranty issue contact us! If we can send you a part, we will. If your chair needs to be completely replaced, we'll send you a new one. If your chair needs servicing, we work with local dealers to have a certified repair technician come out to your location. With your proof of purchase, you can also make warranty claims with any authorized seller (or Herman Miller directly). We try to do what's easiest for you, and we'll be there for you down the road, ready to help. Shop Smart Furniture, and you'll be pleasantly surprised with our customer service every time you turn around.

Do you have specific questions about what's covered under Herman Miller's warranty for this product? Give our sales team a call at 8‌88-467-6278 to get your questions answered.

Did you purchase a piece of Herman Miller furniture that's not working as expected? Send an email to customerservice@smartfurniture.com or contact our customer service department at 8‌88-762-7841, and we'll take care of you. We usually ask for a photo or video of the warranty issue that you're experiencing, so if you want to expedite the warranty claim process, you can e-mail us with those attachments, and we'll jump on filing the claim for you right away
---