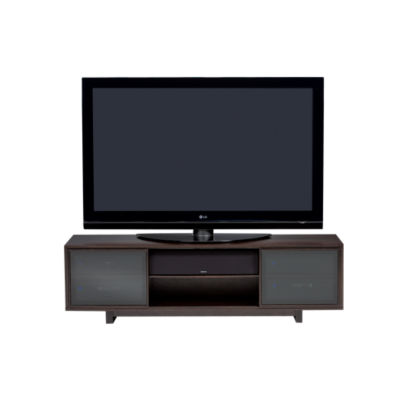 Cirrus Entertainment Center
THIS ITEM HAS BEEN DISCONTINUED AND IS NO LONGER AVAILABLE.
Though this item is long gone, we've curated a few other products that you might also be interested in. Check them out!
Cirrus Entertainment Center by BDI
designed by Matthew Weatherly
At A Glance:
Cirrus is a low profile TV stand and media center with sliding wood-framed doors that conceal two compartments for media players and video game consoles. The adjustable center shelf is the ideal space for a speaker or additional consoles. Hidden wheels allow the system to be moved away from the wall, even when fully loaded, and removable back panels provide easy access to cables and connections.
The Cirrus Entertainment Center's top shelf holds up to 200 lb, and the interior shelves provide more than enough strength for your consoles, unless you plan on stacking gold bricks inside. If you do, please take a picture so we can all enjoy the sight of massive amounts of gold in a media console.
Recommended for up to 73" flatscreen televisions.
What's To Like:
BDI packs so many great features into the Cirrus Entertainment Center that it's hard to know where to start. The cabinet is supremely well-ventilated, has a great cable-management system to clean up the mess, and infrared glass door panels let you keep your expensive consoles hidden away yet still usable. Oh, and you know how hard it is to move heavy entertainment centers? Cirrus is a snap to move away from the wall with built-in, hidden wheels that don't detract from the look.
What's Not to Like:
It may not be possible to dislike any of the functionality of this media console. That leaves its price, which isn't cheap. But, while the price is high, it's certainly no higher than it should be for a well-designed entertainment center with so many features.
The Bottom Line:
Cirrus is the perfect example of what engineers and home theater aficionados talk about around the water cooler. It's a premier enclosed cabinet system - the culmination of years of studying the most demanding home theater systems. This media console has a multitude of features built in. It's the cream of the crop.
TV Mount Option
The Cirrus Entertainment Center accommodates the optional Arena TV Mount. With simple hardware, the Arena TV Mount securely fastens your flatscreen TV to your entertainment center. Arena is the perfect alternative to wall mounting your television and features a swiveling mounting bracket.

Recommended for 40"-65" flatscreen televisions.
The BDI Cirrus Entertainment Center is also known by the following manufacturer Item Number: 8157.
Materials & Measurements
Materials:
Natural wood veneer with satin stainless steel base. Cabinet fronts contain IR friendly tempered glass.

Dimensions:
Overall:19" h x 65" w x 20" d
Shelf A dimensions: 13.75" h x 25.75" w x 15.5" d
Shelf B dimensions: 13.75" h x 18" w x 18.25" d

Weight capacity:
Top shelf: 200 pounds
Shelf A (adjustable): 50 pounds
Shelf A (bottom): 75 pounds
Shelf B (adjustable): 50 pounds
Shelf B (bottom): 75 pounds

Flow-Through Ventilation
In order to perform at peak levels, your components not only need to look cool, they have to stay cool. This cabinet facilitates airflow through generous ventilation slots integrated into the bottom panel, wood shelves and removable back panels. Cooler air is drawn in from the bottom of the cabinet, while hot air is naturally expelled out the back.

Precision Hardware
This TV stand features the finest quality materials and finishes. Sturdy construction and steel or interlocking-panel supports provide a strong foundation for your home theater. Additionally, BDI specifies only the finest European-style hardware. Door handles and other metal details are beautifully finished. The unique soft-close hinges on most door assemblies are fully adjustable to ensure that doors hang evenly, swing smoothly and close gently.

Removable Back Panel
This home theater cabinet is innovatively engineered in a unique way so that the back can be removed effortlessly for easy access to components and connections. Need to accommodate a very deep component? The back panel can be left off the cabinet without sacrificing any structural rigidity, allowing the component to extend from the back as needed.

Tempered Glass
Practically all of the glass used by BDI is tempered glass. Tempered glass is virtually shatterproof and four to five times stronger than standard glass. When used for shelves, tempered glass is strong enough to support the heaviest components and provides a high degree of durability.

IR-Friendly Glass
All of BDI's furniture is designed with ease of use in mind. Grey tinted glass doors and windows keep components out of sight yet are compatible with the Infrared (IR) signals used by many remote controls.

Hidden Wheels
Concealed wheels are built into this unit's leg assemblies. This means the TV stand can be moved (even if fully loaded) away from the wall by one person for easy access to cables and connections. Levelers allow the unit to be raised off of its wheels to secure it in place.

Cable Management
BDI home theater furniture is engineered to keep the usual tangle of cables and connections neatly under control. This cabinet features removable back panels for easy access to the rear of components. Integrated routing channels provide space for speaker and TV cables to be neatly concealed.

Integrated Levelers
Floors can be quite uneven and your home theater needs to be level for optimum performance. This BDI TV stand includes easily adjustable levelers to compensate for minor leveling issues in flooring or to correct minor panel-alignment issues.

Adjustable Shelves
Because components come in many shapes and sizes, This TV stand features shelves that can be adjusted to accommodate a wide range of systems. Shelves rest on unique steel shelf pins, which are rubber-padded to minimize vibration of components, and high-quality threaded inserts allow you to readjust shelf positioning as needed.
About The Manufacturer
Thoughtful design; sleek lines; material quality that is without peer. Becker Designed Inc. was founded in 1984 by Bill Becker with the goal of making top-notch modern furniture design accessible to the public. They've succeeded. With the most functional, well-engineered, and attractively designed TV stands on the market, BDI has raised the bar to an impressive height. Features like flow-through ventilation, IR-friendly glass, integrated wheels, and removable back panels are just a few of the innovative ways BDI has discovered to make the TV stand that much better. Today, BDI is best know for its home entertainment systems, but it has also applied its vision and craftsmanship in its lines of tables, shelving, and mirrors. BDI is located in Chantilly, Virginia.
Design
The BDI Cirrus Media Console 8157 provides the sleek and sophisticated look that will set your home theater apart. Created by Matthew Weatherly, the console features a unique design that incorporates two sliding wood-framed doors. The doors conceal two side compartments that are the ideal locations for control boxes for your entertainment center. The doors come with grey-tinted tempered glass that is IR friendly and allows your remote control signals to reach their corresponding component.
Switching out equipment and adjusting the wires on your components is easy with the BDI Cirrus Media Console 8157. The back panel is completely removable and makes updating your home theater a simple and painless process. Once the panel is reinstalled, concerns over equipment damage by overheating will be forgotten due to the flow-through ventilation slots incorporated into the back panel.
When deciding where to place the multiple control boxes for all of your components in your BDI Cirrus Media Console, the decision is made simpler with the adjustable shelves. Pull them out and place them back in according to the specific needs of your home theater. They are easily customized to your fit your unique system.
The center section of the cabinet was specifically designed to hold your center channel speaker. Similar to the outside cabinets, the center section comes with an adjustable shelf. This gives you the freedom to personalize the cabinet for the exact components you've chosen for your home theater.
When you put together a home theater, you want to have the very best in quality. Designed to be a lasting piece of furniture in your home, the media console is as strong as it is stylish and will hold a television up to 73". No need to feel locked into searching for a smaller screen television when you have a console that is capable of supporting the weight of one of the larger models.
When the decision is made to introduce a home theater to your home, it's more than just buying a big television. You want to create an experience that you can share with your family and friends for years to come. Invite everyone over for an evening of fun that features a great entertainment set up hosted by the BDI Cirrus Media Console. Available in natural stained cherry and espresso stained oak, the stylish and sophisticated design is one that will never look out of date.
BDI
Cirrus Entertainment Center
Easy to assemble (4)
Attractive (3)
Easy to move (3)
Convenience (3)
Space saver (3)
Reviewer Profile:
High-end shopper (4), Practical (3), Stylish (3)
Attractive Design
Easy To Assemble
Convenience
Decoration
Space Saver
Comments about BDI Cirrus Entertainment Center:
I wanted an entertainment center with clean, modern design to hold my TV and audio/video components. The Cirrus from BDI does the job well. Though relatively compacted the adjustable shelves and depth of the unit allow it to accommodate my A/V components. The clever design allows for the organization and concealment of all cables and the IR glass doors work as advertised. My main concern when considering this product was the quality of the moving components. I am very satisfied with the sliding doors, adjusting levers and wheels.
Service and delivery comments:
The body of the unit comes pre-assembled which makes it rather bulky and difficult move. I had it delivered inside my home and I was glad I did.
Easy To Assemble
Easy To Move
Comments about BDI Cirrus Entertainment Center:
Very nice but I wish there was two extra drawers. All in all very happy but it could have been deeper
Attractive Design
Easy To Assemble
Easy To Move
Easy to Wire
Holds All Components
Smooth Edges
Supports Weight
Comments about BDI Cirrus Entertainment Center:
Finally!!! After pounding the net for years for an innovative media solution a company (BDI) that CLEARLY gets it. Design intelligence evident throughout – from installation to hook up to usage. Clearly engineered as a highly functional media center yet elegantly realized such that it blends seamlessly with any décor. High quality materials, veneers, and finishes. Hook up of comprehensive 60" LCD + 7.1 system in record time with no stress. Completely impressed with BDI. Expectations officially exceeded.[...]. Great end-to-end experience.
Attractive Design
Easy To Assemble
Easy To Move
Easy to Wire
Holds All Components
Smooth Edges
Supports Weight
Convenience
Decoration
Space Saver
Comments about BDI Cirrus Entertainment Center:
It has all the features that I'm looking for.
---
Shipping & Delivery
Shipping Rate:
Shipping is free!
Availability:
Ships in 2 business days from the date of purchase unless otherwise noted.
Standard Ship Method: Free In Home Delivery - $0.00!
In home delivery is a great way to have large and fragile items delivered to your room of choice - and we offer it as a complementary service on select items like this! When your order reaches the local station in your area, you will be contacted to schedule a day and time specific appointment (so no surprises!). A two person team will carefully deliver your item inside your home (or office) and place it in the room you desire. Please note that this service does not include debris removal or assembly. Should you desire either one of these options, please give us a call at 888-467-6278 so that we can provide you with a customized quote.
Package Information:
Dimensions: 68" x 23" x 18"
Weight: 144 lb
Assembly Instructions:
---
Product Q&A
What sized TVs can I use with the BDI Cirrus?
This BDI model fits up to a 60" flat panel or rear projection TV
See FAQs
Product Q&A
Do you have questions about this product?
Get answers from real customers and in-house experts with AnswerBox.
2 Questions | 2 Answers
Displaying questions 1-2
Q:

What sized TVs can I use with the BDI Cirrus?

Asked on 1/26/2011 by Anonymous

1 answer

A:

This BDI model fits up to a 60" flat panel or rear projection TV

Answered on 1/27/2011 by Mark from Smartfurniture.com

Q:

How much does this unit weigh?

Asked on 1/8/2011 by Anonymous

1 answer

A:

123 pounds.

Answered on 1/10/2011 by Melanie from Smart Furniture
Displaying questions 1-2
---
Warranty

BDI home theater furniture is warranted for 3 years from the date of purchase.

---