SW_1 Lounge Chair, Lowback
from Coalesse
designed by Scott Wilson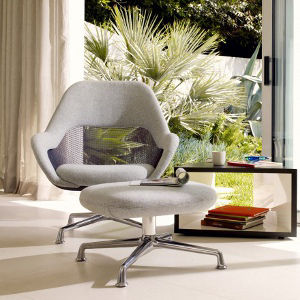 At A Glance:
This chair will change the way you think about meetings. Three inches lower than conventional seating and with a more relaxed posture, the SW_1 Lounge is a conference/lounge hybrid that creates a more intimate and comfortable environment. The mesh back breathes. The swivel base promotes conversational flow. Open arms expand the view. Works equally well in personal spaces as it does in the office.
Features:
Height-adjustable caster base or return-to-center swivel glide base

Easy gliding feet
Automatic return-to-center swivel base
Recycled/recyclable cast aluminum legs
Cushions can be re-upholstered
9 knit color options
Level™ 1 certified
Materials & Measurements
Materials:
The SW_1 Lowback Lounge Chair is made up of a Fabric or Leather seat with a 3D knit mesh back and a polished aluminum base. The chair has a swivel return mechanism built into it. For more information on the various fabric options, see our
Coalesse materials guide.
SW_1 Lowback Lounge Chair dimensions:
Overall: 28 1/4" d x 32 1/4" w x 36 3/4" h
Seat: 16" h
Arm: 23" h
Environmental Information
Read more about
Coalesse's environmental policies.
Coalesse designs its products in a way that minimizes the use of co-mingled components, making disassembly and recycling easier.
About The Manufacturer
Coalesse furniture brings a new vision to the workplace and the home. With a refined, unique sense of style and a dedication to utilizing premium quality materials, Coalesse has created a rich selection of furniture for a variety of spaces. It has also set a new standard for sustainable design and manufacturing processes; a product's impact on the earth is considered and taken into account at every step of Coalesse's production process.
Designer
Scott Wilson
Scott Wilson is a Chicago-based designer who founded the design studio MINIMAL in 2007. He has a diverse design background, creating for some of the most recognized brands of the day. All of this experience helps him to create products that a consumer responds well to, increasing his success in the market. He has won numerous awards for his work, including ID Magazine's Top 40, FastCompany's Master of Design, and TIME Magazine's Style+Design 100.
Shipping & Delivery
Coalesse furniture comes with
free shipping and delivery
for destinations within the contiguous United States. Items typically arrive within 7-10 weeks from the date of purchase.
View Smart Furniture's
shipping and delivery policies.
Shipping can be upgraded to Inside Delivery for $99 or to White Glove Delivery for $149.

---