Humanscale Freedom Chair
Fabric Seat and Back, No Headrest
designed by Niels Diffrient
The Freedom Chair is a product of Humanscale, a company focused on providing ergonomic and person centered office chairs to a world sorely in need. Briefly this chair was on track for diplomatic missions abroad, but it was considered too valuable here at home to ship off. With advanced ergonomic design, an original style, and the most patriotic name in our catalogue, the Freedom Chair is a winner for any office.
What's to Like:
Who doesn't like freedom? The freedom to move around in your chair that is. At work, lots of people need to shift positions with regularity so they can stay comfortable, and the Freedom Chair makes this easy and comfortable. The seat and seat back conspire to even make slouching positions easy on the back and legs.


What's Not to Like:
Not every one gets excited about the style of the chair. The double bar armrest support and the indentations that run down the middle of the seat and seat back appeal to some (Freedom lovers) but not to others (Freedom haters).


Bottom Line:
You can argue about the style, but you can't argue with the comfort. This is a unique and very comfortable desk chair.
It may surprise you to hear that Humanscale doesn't really consider itself to be a furniture company. They make furniture, of course, but rather than calling themselves a furniture company, they call themselves an ergonomics company. There isn't an organization out there more committed, driven, and knowledgable about the field of ergonomics than Humanscale.
Humanscale stands for ergonomic furniture. The Freedom Chair is what you might call their Magnum Opus (thus far).
Designed by Niels Diffrient- a man responsible for major advances in the field of ergonomics in the last few decades- the Freedom Chair is held together by a single idea: that sitting down should be simple and comfortable at the same time. This guiding principle has served Humanscale well, as its ergonomic chairs have become standouts in the design world and the office chair market.
Goodbye Manual Adjustments
Niels Diffrient errors on the side of simplicity. The Freedom Chair has a self-adjusting Dual Pivot backrest that supports the lumbar area of your back no matter how much you're sitting forward or how much you're reclining. There's no back stop, no tension adjustment. There is a height adjustment on the back of the chair, and once you've set this to fit the lumbar area of your back, you can stop thinking about how to adjust your chair's controls to make it more comfortable.
Revolutionary Counterbalance Mechanism
The Freedom Chair was meant to be reclined in. Niels Diffrient once stated that the most ergonomic seating position is to be laying down. Since that's unfortunately not an option at home or in the office, the next best thing is to lean back in your Freedom Chair. Its groundbreaking counterbalance mechanism automatically supplies the optimal amount of recline tension for your body weight and size.
High-Performance Gel Seat
Humanscale is known for this standout feature. Although it is optional, the gel seat of the Freedom Chair is one of its most important features. Set atop a thin layer of polyurethane foam, the Technogel layer provides outstanding shock absorption and distributes pressure evenly across the seat- making those long hours of sitting much more comfortable.
Why gel seats are superior to foam seats
Gel Seats distribute pressure better than foam seats. After 90 minutes of sitting, gel seats realize 60% less max pressure than foam seats. This is because gel behaves more like a liquid than a solid, so as pressure builds in one area, it disperses to low-pressure areas, thus distributing weight proactively.
A longer lifespan means long-lasting comfort. Gel seats have a much longer lifespan than traditional foam cushion seats. Foam breaks down over time, forming a cavity that prevents movement on the part of the sitter. Gel on the other hand, is non-static, and encourages movement.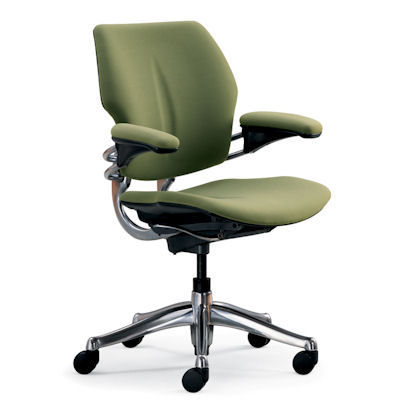 95.88%
Customer Satisfaction Rating
Rank: #9 in Office Chairs
Customer Rating:
Recommend to a Friend? 100%
Return Rate: 4.3%
The ideal office chair makes work more efficient and comfortable. Let our Office Chair Buying Guide help you find the perfect one.
---
INSIGHTS
Freedom Chair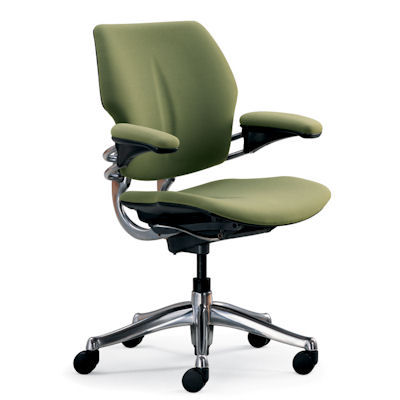 95.88%
Customer Satisfaction Rating
Rank: #9 in Office Chairs
Customer Rating:
Recommend to a Friend? 100%
Return Rate: 4.3%
Materials & Measurements
Materials:
The graphite and titanium bases are made of hard plastic to match the plastic frame of the chair. The base is also available in polished aluminum.

The seat comes in standard foam or a marvelous Technogel (even better than a bicycle seat) over a thin polyurethane foam.

Armpads are available with Duron covers over foam (Duron is a soft urethane plastic material)or gel. Both Duron and gel armpads are available with or without upholstery to match your seat.

Dimensions:
A seat depth: 16.25" - 18.5"
B seat height: 16" - 21" (standard); 15.25" - 19.5" (low); 17" - 22.25" (tall)
C seat width: 21"
D backrest height: 18" - 21"
E chair width: 27.25"
F armrest height: 5" - 11"
G armrest length: 13" (standard); 14.25" (advanced)
H distance between armrests: 20" (standard); 11.5" - 21.5" (advanced)
I height (no headrest): 33.5" - 41.5"
L base diameter: 25"
O backrest width: 21"

The Freedom Chair is built with dozens of materials, all of which were chosen carefully to keep you comfortable, keep the chair light and easy to move, or to give you options for self-styling. One of the most important materials, which resides in the seat of the chair, is the special gel that makes this particular office chair so comfortable to sit in. This gel allows your body weight to be evenly supported over the whole area of the seat, and that keeps lumps, pressure and undue discomfort out of the equation.

After half an hour of sitting or more, studies have shown the gel seats like the one on the Freedom Chair result in a 60 reduction in max pressure. That's a stunning number in a short period of time (most people sit up to 7 or 8 hours a day at work). Because the gel is more of a liquid than a solid, pressure can be much more evenly and effectively relieved than with a foam or solid seat chair.

Gel is also long lasting, meaning you'll be happy in your chair for a long time. Foam can tear, wear down, and need to be replaced. With our gel seats you won't have that problem.
Environmental Information
The Freedom Chair is Greenguard Certified and is made of 62 percent recycled materials. It is 90 percent recyclable.
For more information on the Freedom Chair's environmental impact and Humanscale's environmental polices, see our
Freedom Chair Environmental Summary
.
About The Manufacturer
| | |
| --- | --- |
| | Humanscale's focus since its inception in 1982 has been providing outstanding ergonomic seating and accessories for the home and the office. Their products, which range from task chairs to keyboard trays to CPU holders, are all geared towards making life simpler, easier, and healthier for anyone who works at a desk. Widely recognized for their line of office seating, Humanscale has done much to advance design in some newer product areas- namely in computer and office accessories such as monitor arms, foot machines, and the ergonomic computer mouse. Winner of numerous design awards, Humanscale continues to deliver groundbreaking office tools that combine simplicity, aesthetics, and ergonomics. |
Designer
Niels Diffrient
Designer of the Freedom Chair, the Liberty Chair, and the Diffrient Light, Niels Diffrient is internationally recognized as a premier designer in the field of ergonomics. Diffrient is a world-renowned and world-travelled designer who has worked with some of the greatest aesthetic and ergonomic designers of this or any century. Diffrient was trained at the Cranbrook Academy of Art where he was able to win the First Medal of Design 3 times during his tenure. After graduation he spent time traveling and working in Europe, thanks to a Fulbright Scholarship he had won. Aside from his obvious bonafides in the realm of furniture design, he also has a background in aeronautical engineering.
Diffrient has created many wonderful chairs in his long career. The Freedom Chair is among the most recent, but he was also responsible for the Diffrient Light Chair and the Liberty Chair. Diffrient co-authored the original three part book on modern ergonomic design, title "Humanscale." It was he who helped to lay out clearly and with great aesthetic and scientific insight the way forward for office chairs, and indeed all types of human-centric furniture design.
The Freedom Chair is one of his greatest accomplishments. It combines his love of design with his passion for ergonomics and humanistic art. It's a comfortable, ground-breaking chair built by one of the masters.
With a resume that includes collaboration with icons Eero Saarinen and Marco Zanuso, a background in aeronautical engineering, and numerous design awards, Niels Diffrient is undoubtedly one of the most influential designers of the past 50 years.
Born in 1928 in Star, Mississippi, Diffrient attended Wayne State University and eventually enrolled in the Cranbrook Academy of Art, where he won the First Medal of Design three times during his tenure there. After traveling and working in Europe thanks to a Fulbright Scholarship, Diffrient began work at the design firm Henry Dreyfuss Associates, where he would stay for 25 years. While there, he co-authored the three-volume publication Humanscale. This work summarized his design principles which were rooted in the belief that the human body should drive design for products that humans will interact with. In his own words: "A design should look good and be appealing, but without compromising human factors. Aesthetics should enhance the technical side, not deter from it."
Read the story behind
Niels Diffrient and the Freedom Chair
Awards and Honors:
2002 Cooper Hewitt National Design Museum Product Design Award
1996 Chrysler Award for Innovation
2005 Legend Award from Contract Magazine
Named the "Granddaddy of the ergonomic revolution by Forbes Magazine in 2007
Honorary Royal Designer for Industry Member- awarded by the Royal Society of Arts and Industry
1996 I.D. Magazine Top 40 Design Innovators
Design Story
Ergonomic chairs are specifically designed to alleviate the stress and pain on your joints, muscles and bones that sitting in chairs and hunching in front of computers and working at desks for 8 hours a day inevitably causes. The Freedom Chair is no different. It was designed from the ground up to relieve unnecessary stress, lessen tension in your joints, and create a more free, expansive way of sitting and moving while in your office chair. This chair is all about making sitting more than comfortable - it's about making it healthy, and you back and spine are a big part of that.
Of course, the Freedom Chair is not medicine. However, it has been shown throughout the life of the chair that the groundbreaking research that inspired it was right on - sitting and being supported in the way that this chair allows is a great way to keep your back and body healthy and pain-free. So how does it work specifically?
One important feature of the chair is the counterbalance mechanism. Most people lean back in their chairs, or they slump. In fact according to Niels Diffrient laying down is as comfortable and ergonomic as it gets. This chair makes reclining easy and comfortable by automatically responding to your body weight and position, and removing stress and tension from the equation. You feel more like you're floating than being suspended. Another important feature is the automatically adjusting headrest. When you lean back the headrest goes forward to properly support your head, neck and shoulders. Most chairs don't do this, and it's a big mistake - when it comes to backs, necks and spines, one size never fits all in terms of fixed positions. Another great ergonomic feature is the gel cushioned seat, which makes sitting as comfortable and impact free as possible. When you take out pressure, stress, tension and fixed settings, you get ergonomic relief.
At Smart Furniture, everything we do is informed by our motto - Design on Demand. We started this company to put the power of design into the hands of the customer - you know, the person who actually has to live and work in the furniture we sell. We believe that the buyer has just as much a right to make adjustments to the furniture they buy as the designer themselves. That's why we've developed a great tool to make it easy for you to put the finishing touches on anything you buy from us. For the Freedom Chair, you've got lots of great options in ten separate categories.
You can be final designers of nearly every aspect of this chair. Choose the color, choose the style of the arms (or have no arms at all!). Choose the finish of the base, the minute adjustments that you'll need to make, the frame and base color, and the even the look of the casters and gliders. All of this choice adds up to a personal and beautiful chair that's yours before it even arrives at your door.
When you have a big part to play in the design of your office chair, you're more likely to be satisfied with your purchase, more likely to set it up perfectly for your comfort and enjoyment, and more likely to feel a sense of pride in ownership and design. As you should - that's the customer experience at Smart Furniture.
Design
The Freedom Chair from Humanscale is so named because of the high degree of movement the chair affords the user. When you take a seat in this chair your shoulders, arms, legs and neck will not only be supported and cared for, they will be loosened up and better able to bend, stretch, and generally be comfortable. Most office chairs actually restrict your shoulder blades, and therefore your arms, back and shoulders. This chair (which has a wide back specially molded to keep your spine in good order) is specifically designed to keep the muscles in your back appropriately loose and free. Not only does this make the user more comfortable, it makes them more healthy and more efficient in terms of movement (and therefore at their work).
Another way the Freedom Chair earns its name is by making non-traditional sitting styles comfortable and supported. For instance, when you slouch (as most office workers do) in a standard office chair (which most office workers have) you're really doing damage to your spine and everything that connects to it - your muscles, your posterior, your arms and shoulders and neck. If can even cause headaches. The Freedom Chair is perfectly designed to accommodate slouching in all its degrees, and gives users the freedom to choose how they want to sit at work.
This is the epitome of an ergonomic chair, built by one of the pioneers and greatest artists of the ergonomics movement, Niels Diffrient. Every part of this chair was built to make you more comfortable, more healthy, and more productive. Let's start with the back of the chair.
The Freedom Chair has an automatically adjustable backrest (Dual Pivot back support) that makes the process of comfortable recline easy and simple. You won't have to fuss over a plethora of levers and knobs, you'll simply be able to recline while all the time maintaining support throughout your back, neck and shoulders. Many modern chairs that try to be ergonomic can make this simple process messy and difficult to understand, leading to incorrect user-created setting that become permanent, and permanent problems as well. When you introduce too much uncertainty into the design, it can be difficult to create a consistently satisfying product. The Freedom Chair deftly avoids that pitfall.
The headrest of the chair is also adjustable, allowing the user to recline healthfully and set the chair to their proper height and weight. This does more than simply calibrate to your height, though - this adjustment will truly "protect your neck." When you lean back in the Freedom Chair, the headrest comes up to greet you, keeping your head a bit elevated even in recline. That keeps your spine correctly aligned, and it keeps you from building up discomfort in your neck, shoulders, and head.
The seat of the chair contains a revolutionary gel cushion that evenly distributes your weight, and considerably lowers the pressure on your back, spine and posterior in doing so. Compared to standard foam office chairs, the difference in pressure can be as much as 60. Because gel acts more like a liquid than a solid it's able to keep you supported and comfortable by displacing weight and pressure, and evenly distributing the same. Most foam chairs, or chairs with even a hard surface underneath, can't be adjusted to your particular body. So they become uncomfortable over time (or even immediately) because your body spends more and more time resting on top of pressure points. The Freedom Chair eliminates the problem, and keeps you comfortable for years and years.
This is one of the best ergonomic office chairs you can buy. From stem to stern it's been built for optimal ergonomic performance and the ultimate in personal comfort and healthy while sitting.
Comfortable (5)
Attractive (4)
Ergonomic (4)
Medium rooms (4)
Large rooms (3)
Attractive
Comfortable
Ergonomic
Gifts
Large Rooms
Medium Rooms
Comments about Humanscale Freedom Chair:
I'm so happy to have found this chair! One drawback for me was to have to lift the separate pieces to assemble, of which, there were two (2) -- it is "heavy duty" indeed. So, you will need someone to lift the top part into the groove (as I call it), while the bottom part sits on the floor, to assemble it. A person who has no physical limitations (upper spine), can easily assemble this chair, as I witnessed. :o) I am enjoying sitting in it, and the headrest just makes it "awesome" for me!
Attractive
Comfortable
Ergonomic
Impresses coworkers
STYLISH
Delicate
Find tuning needed
Large Rooms
Medium Rooms
Office chair computer
Small Rooms
Comments about Humanscale Freedom Chair:
Sometimes you have to make small adjustments to the chair's head rest to get it to be more stiff after you adjust it by hand. (in other words, to stay in place where you want it) The chair seems durable but I wont be able to comment on long term as I just got it. Very attractive / very comfortable, unlike any chair i've ever owned before. Co workers were impressed and I found the vice president of our company in my chair after i return to their private meetings. He said "this is like business class in an airplane" All my co workers are def envious and really like it. I am afraid to tell them were I got it because I don't want them to see i spent over 1000 on it. Some of my co workers have kids and morgages, this is not a chair they could easily afford. All in all i really like it, now i need another for my home.. :) You will enjoy this chair if you have never experienced something like this before...
Attractive
Comfortable
Ergonomic
Comments about Humanscale Freedom Chair:
just what I wanted
Attractive
Comfortable
Ergonomic
Large Rooms
Medium Rooms
Small Rooms
Comments about Humanscale Freedom Chair:
Hands down the best chair I've ever worked on. I run a audio studio and am sitting most of the day, so it matters. It can be pricey, but nothings better.
Comfortable
Recline System
Comments about Humanscale Freedom Chair:
First Impressions
The Freedom Chair by Humanscale is an above grade chair. It's comfortable, but not exceptionally so. It's supportive, but, again, not exceptionally so. In terms of design, the chair is successful on many fronts. The look of the chair is certainly unique and attractive. The linkage of the arms to the back and seat of the chair is innovative and pleasing to the eye. The double bar looks good and does a fine job keeping the chair together. The armrest are something of another story; while they have the unique ability to be adjusted by hand, the mechanism by which this adjustment works is somewhat irritating and flawed. To adjust the armrests you push in on a sliding plastic slab, which allows the armrests to rotate. This can become a problem however when you lean on the armrests or press on them to sit down or get up; they wobble, and you can inadvertently depress the sliding mechanism and cause the arms to move. Not a major design flaw, but a noticeable one. What the Freedom Chair does very well is keep you comfortable while working. The seat is somewhat large to accommodate almost any user, and the back of the seat has plenty of give and tension, so that you can not only recline at will, but even recline at slightly different angles according to the tension you put into the recline feature. The back support the chair provided was good. I only very rarely felt the need to get up and stretch while using the chair, and usually it could be explained by something other than small discomfort in the chair.

The X Factor
Others have said the style of the chair, which this review views as little more than ordinary, is quite nice. So, be sure to look at some pictures and make up your own mind on this point.

The Bottom Line
The Freedom Chair is a good office chair. The price is right, the comfort and support is right; it has flaws, but it'll serve well.
---
Shipping & Delivery
Free Shipping:
Free
FREE Standard Ground Shipping
Standard ground shipping includes delivery by FedEx or UPS to your door or main lobby. Once shipped, items generally arrive within 2-5 business days. Simple, fast and easy service.
Weight:
Chair without headrest: 35lb
Chair with headrest: 39lb
---
Product Q&A
Do you have questions about this product?
Get answers from real customers and in-house experts with AnswerBox.
3 Questions | 4 Answers
Displaying questions 1-3
Q:

HOW MUCH WEIGHT IS THE MAX FOR THE PERSON SITTING IN THE CHAIR OR IS THERE A RECOMMENDED WEIGHT NOT TO GO OVER

Asked on 1/30/2013 by NICK

1 answer

A:

Excellent question. The Freedom Chair fits more than 95% of the population with a recommended height range of 5'0" to 6'4' and weight range of 100 to 300 pounds.

Answered on 1/31/2013 by Melanie from Smart Furniture

Q:

is it possible when in a seated position to have the head rest up? i need neck support consistently.

Asked on 11/10/2011 by Anonymous

2 answers

A:

The headrest can be positioned where ever you need it. It can adjust up and down all the time, so it can be in the best placement for each sitter.

Answered on 11/11/2011 by Anonymous

A:

Yes. IF you select a chair with the head rest option, it comes with an adjustable head rest. Sometimes you have to use an allen wrench to hold the head rest in place once you have it where you want it otherwise it tends to slide down slowly over time. simple to make adjustments

Answered on 1/21/2012 by jake the best salesmen from PA

Q:

What is the weight limitation on this chair. I have a someone using this chair who can't get it to stop tilting back when he sits against the backrest

Asked on 8/3/2011 by Anonymous

1 answer

A:

The Freedom chair does not have a back stop/tilt limiter, but rather uses your body weight to trigger movement. When you lean back your weight is transferred from the seat to the back. Think of the seat and back of your chair like a see saw. As you remove weight from the seat by leaning back the chair reclines. This, unfortunately for you, means the back cannot be stopped from leaning back as the chair does not adjust with knobs or levers.

Answered on 8/3/2011 by Anonymous
Displaying questions 1-3
---
Warranty
Fabric and cushions come with a 5 year warranty, all other pieces come with a 15 year warranty. To see what kind of value that kind of extensive warranty delivers, see our
Freedom Chair Warranty summary
.
---