Herman Miller Sayl Chair
designed by Yves Behar
At A Glance:
The Sayl Chair is the latest creation from the offices of Yves Behar, a San Fransisco designer who's making a big splash on the international scene. This is a chair that wears its reputation as sculptural art on its sleeve, looking very much like the suspension bridges that inspired its design. It's beautiful, utterly unique, and priced very affordably.

What's To Like:
That gorgeous back, that lovely profile. The Sayl earns its reputation as one of the most beautiful office chairs in the Herman Miller stable, and with flying colors to boot. You've also gotta love that price (you've got to!): at $459, it's the most affordable art installation you can buy. And hey, you can sit in it at work!

What's Not to Like:
The chair is a bit on the small side, so if you need an expansive seat and seat back, you might want to look elsewhere. And if you like spending a ton of money on your office chair, this is also not for you.

The Bottom Line:
This is a gorgeous chair, a comfortable chair, and it's priced to sell. It doesn't get much better than that.

Read A Review of Sayl:
Smart Furniture's very own Whitney just spent a work week in Sayl - read her Sayl review here.
The Herman Miller Sayl Chair is also known by the following manufacturer Item Numbers: AS2, AS4, AS5, AS2SA22PF, AS2SA22HF, AS2SA22AA, AS2SA23AA.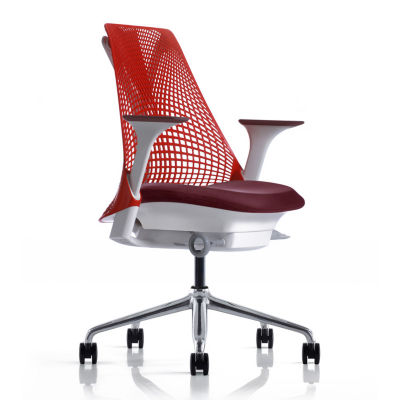 97.22%
Customer Satisfaction Rating
Rank: #5 in Office Chairs
Customer Rating:
Recommend to a Friend? 100%
Return Rate: 2.2%
The ideal office chair makes work more efficient and comfortable. Let our Office Chair Buying Guide help you find the perfect one.
---
INSIGHTS
Sayl Chair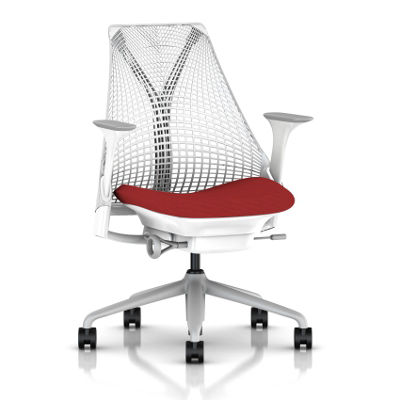 97.22%
Customer Satisfaction Rating
Rank: #5 in Office Chairs
Customer Rating:
Recommend to a Friend? 100%
Return Rate: 2.7%
Materials & Measurements
Materials:
The Sayl Chair has an upholstered seat with foam padding and passive Posturefit back support. The Sayl Chair's overall components are constructed from plastic, steel, foam, and textile.

Polished aluminum base is cast aluminum; Fog and Black bases are made of Glass Filled Nylon (an environmental answer to fiberglass).

Measurements:
Overall: 34.25"-38.75" h x 24.5" w x 24.5" d
Seat Height: 15.5" to 20"
Seat Width: 19.75"
Arm Height: 24" to 29" (height-adjustable/fully adjustable arms)
Environmental Information
Greenguard Certified as low-emitting product that meets indoor air quality standards
MBDC Silver Cradle to Cradle Certified as part of a closed-loop materials system
Up to 93 percent recyclable at the end of its useful life; plastic components are identified with an ASTM recycling code
Manufactured using 100 percent green power free of water and air emissions
The plant where Sayl is manufactured is an ISO 14001-certified site
Read more about the Sayl Chair's environmentally friendly features.
Assembly Instructions
Customer Photos
Sayl Chairs in a Google Conference Room
About The Manufacturer
Herman Miller is an industry leader in the integration of cutting edge technology to furniture and other household items to make everyday life more comfortable, convenient, and stylish. Herman Miller stands out at the forefront of such fields as ergonomic technologies, environmentally friendly manufacturing processes, and customizable furniture items.
In addition to producing some of the most outstanding office furniture in the world, Herman Miller has also taken on the responsibility of manufacturing some of the most celebrated furniture designs by some of the world's most famous designs. These "modern classics" include works by Charles and Ray Eames, George Nelson, and Isamu Noguchi. Herman Miller celebrates these famous mid-century designers' works through its extraordinarily precise manufacturing techniques and industry-leading green production processes.
Herman Miller is a global company with operations, sales offices, dealers, and licensees in more than 40 countries in North America, Asia/Pacific, Europe, Middle East, Africa, and Latin America, serving customers virtually anywhere in the world. Herman Miller is headquartered in Zeeland, Michigan, while manufacturing facilities are located in the U.S., China, Italy, and the United Kingdom.
Designer
Yves Behar
A vibrant, stimulating designer based in San Francisco, California, Yves Behar's design shop has had a hand in everything from work chairs to recycling projects, department store packaging to home appliances. His goal is to responsibly produce beautiful things; if it's not responsible (environmental and socially) then it cannot be beautiful, and if it isn't beautiful it is not worth making. The Sayl Chair is just one more object in his long line of attractive and useful design pieces, all of which have a constructive place in the social landscape. With an eye toward economy, a heart toward the useful and the socially responsible, and a sensibility attuned to the lovely and the aesthetically pleasing, Behar is a strong and valuable voice in the design community.
Smart Furniture is very proud to partner with Yves Behar and Herman Miller to bring our customers the Sayl Chair, the latest in Herman Miller's long line of transformative, beautiful work chairs. The Sayl Chair is perfect for the cubicle, the home, and the museum. It's a welcome addition to Smart Furniture's catalogue, a winning and innovative work chair that will keep you comfortable, supported, and ahead of the curve when it comes to style and design.
Read more about Yves Behar and the Sayl Chair.
Design Story
Smart Furniture employee and furniture aficianado Karen Culp caught up with Yves Behar, the designer of the Sayl Chair, at the Consumer Electronics Show in March 2011, soon after the chair's release. Below is a quick video of their conversation.


Design
In 1923, the Michigan Star Furniture Company was reinvented and became the Herman Miller Furniture Company. D.J. De Pree was the first president of the Herman Miller Furniture Company. De Pree would continue to preside over the Herman Miller Company for decades, paving the way for future presidents and employees. De Pree set the standard for Herman Miller products sky high and refused to compromise on any points, including their environmental impact. De Pree revamped the company for the first of many times in 1930, vowing to move away from traditional furniture and focus more on products that would better suit the changing needs and styles of the American population. The first of Herman Miller's showrooms was opened in 1939 in Chicago's famous Merchandise Mart.
By watching how people used their standard office chairs, Behar could create an office chair that was ten steps above the rest. With the understanding of the reasons people needed an office chair and how they used it, Behar created the ultimate version of their own reality. Behar did over 1,000 sketches of the Chair before getting it right. When attempting to design the perfect office or home chair, practice makes perfect. It took time, patience, and dedication on the part of Yves Behar, but the end result was phenomenal. The chair Behar designed for Herman Miller really does surpass all others. Once you've sat in an Yves Behar Sayl Chair, it's unlikely that you'll go back to anything else.
Read more about the Sayl Chair's design.
Imagine your office chair unframed. No borders, no limits, and full of surprises. Yves Behar and the Herman Miller design team tried this thought experiment themselves, and the result was the Sayl Chair.
When Yves Behar began working with Herman Miller the idea of the Sayl Chair was truly revolutionary. The chair is unique in every sense of the word and has a design that is all its own. Behar also designed the Leaf and Ardea personal lights. When Herman Miller commissioned Yves Behar to design a new chair, the goal was to make a chair that was designed with his mindset; unframed beauty. Yves Behar designs are never constrained by convention. Yves Behar's pieces are always designed with the notion that the human experience can be bettered by his ideas. When Herman Miller needed a highly affordable, beautifully designed chair with first class ergonomics, respect for the environment and elegant engineering there was really only one man for the job. Behar began his design process with an Earnes quote, 'The best for the most for the least', and the Sayl Chair was born. The Sayl Chair by Yves Behar is designed after San Francisco's most famous landmark: the Golden Gate Bridge. Behar wondered if the engineering principles used in a suspension bridge could be applied to an everyday office chair. The chair by Yves Behar proved that not only was it possible, but this design would reduce materials, weight, and environmental impact. In fact, by taking the time to investigate the dematerialization of the office chair, Behar ended up creating a masterpiece.
---
The flexible elastomer suspension material used in the Herman Miller Sayl Chair by Yves Behar could be stretched in a way that ensured the greatest tension at points where the back needs the most support and the least tension in areas that would allow for an extensive range of motion while sitting in the Sayl Chair. This idea perfectly coincided with Yves Behar's ideas on living your life unframed. The chair he designed for Herman Miller allows the consumer to sit in their chair unframed. With this concept intact, the actual creation of the Sayl Chair proved to be a larger hurdle than expected. The chair was not designed on a computer, it was hand sketched again and again and again. Numerous prototypes of the Sayl Chair were produced and rejected before the design was deemed perfect. Yves Behar describes the process as 'draw, build, break, and repeat until you arrive at something unique.' 'Unique' doesn't even come close to describing the final product. There isn't an adequate word to describe the unique qualities of the Sayl Chair.
After completing the perfect chair, Yves Behar had to come up with a name. Many ideas passed through Yves Behar's mind. Bridge, Sail, Gate, etc. So why name this innovative piece of furniture Sayl? When looking at the chair from the side, the Sayl Chair by Yves Behar closely resembles a full mainsail. The Golden Gate Bridge is constantly framed by the sails of the large ships passing beneath it. The name is a reflection of these sailing vessels that pass beneath San Francisco's Golden Gate Bridge. By replacing the 'I' in sail with a 'Y', Behar gave a nod to the innovative Y Tower structure of his new chair. In Behar's mind, a more perfect name did not exist. The Herman Miller Sayl Chair was officially born.
You've heard it a million times already, but the Sayl Chair by Yves Behar can be bought at an astonishingly low price. You cannot find this standard of quality in any other office chair at this same low cost; in fact you might not even be able to find this standard of quality in a chair that's twice as expensive. With a starting price under $459, the Sayl Chair is less than half the price of most Aeron Chair models. It comes in at half the price, with all the great attributes. The chair is stylish enough to go toe to toe with its more expensive competitors. Not only can the chair go toe-to-toe, but it can win. Jill Singer of Industrial Design magazine says, "It's a pretty amazing feat that they got it down to that point without sacrificing the look." Amazing doesn't really seem to do Behar justice. Amazing would've been the Chair priced at $700. $459 is just unspeakably low for the quality of the Herman Miller Sayl Chair by Yves Behar. $459 is unbelievably low for any chair with these aesthetic, ergonomic, and distinctive qualities. "We watched people sit and work," says Behar.
It's too soon to tell how many awards, accolades, and praises Herman Miller and Yves Behar will receive for their work, but the assumption is that many are to come. Yves Behar has always been known for his innovative way of thinking and problem solving, but nothing compares to the way he has paved the road for office, home, and work chairs of the future. Creating a completely unique and one of a kind chair for Herman Miller may or may not be what Yves Behar is known for in the end, but for now he has certainly made his mark. The Sayl Chair has changed the office chair design business permanently. Remarkably made and designed, these new Herman Miller chairs are in a league of their own and it's all because of Yves Behar's unique and innovative design strategies and ideas. Behar continues to make and create pieces that are one of a kind and geared specifically towards their users.
Comfortable (50)
Attractive (49)
Ergonomic (48)
STYLISH (3)
Small rooms (17)
Medium rooms (15)
Home office (5)
Large rooms (5)
Office (5)
Reviewer Profile:
Midrange shopper (36), Budget shopper (9), High-end shopper (7)

I Am A:
Couple no kids (11), Single male (11), Family older kids (10), Family young kids (9), Single female (6)
Most Liked Positive Review
design and comfort for better work
I had been debating over and over on chairs, bought the cheap kind but had to replace them soon after, therefore i was spending a lot of money by purchasing cheap chairs and replacing...Read complete review
I had been debating over and over on chairs, bought the cheap kind but had to replace them soon after, therefore i was spending a lot of money by purchasing cheap chairs and replacing them. (should've made the investment on a good chair a long time ago as my back was paying for that mistake as i had a fracture in my lower back long time ago and had to look after my back, but with cheap chairs I was uncomfortable while working, and even though i love what i do, i was avoiding more and more to sit and work)

most of the chairs you see in the market do not have style, they are a bulk of functions but a big eyesore for what i was looking for and the style of my space,

even though high end looking chairs were too expensive for me, i found this one, beautiful to look at, bold colors, mid priced for low budgets, when i saw it, i fell in love with it, but did not want to compromise comfort just for the looks.

I tried it in a store, and love was complete, i had found the one, i ordered it as soon as i got home and arrived very soon after, i was gladly surprised when they called me to schedule delivery.

And the wow factor was still there as i unpacked it, such great looking chair in my little office has become a nice thing to sit on and beautiful to look at while away from my desk.

after such great effort on my part to bring a modern look and nice design to my working space, this chair added a punch of style and color to the space, I love the way i feel the support for my back.

i found the right height to work and even my wrist and arm stopped aching, as is obvious now, i love this SAYL chair.

Thanks to the designers and to smart furniture for such speedy delivery (i never though or picture myself thanking them but now i get why people can do that, i got there i am thankful for them)
Most Liked Negative Review
Watch out for manufacturer's defect
If any defect should come to your expensive chair, Herman Miller says there is no warranty whatsoever. It's a great chair with no customer service should you get a problem like I did on...Read complete review
If any defect should come to your expensive chair, Herman Miller says there is no warranty whatsoever. It's a great chair with no customer service should you get a problem like I did on two chairs after 15 months. Shame on Herman Miller (no fault on Smart Furniture). They will refer to some local rep that who will have fill forms upon forms with no intention to helping you at all, even if you paid for the darn replacement. My experience was just weird.
Comments about Herman Miller Sayl Chair:
Before you purchase this chair I would recommend finding a place where you can try it out. Every Herman Miller chair is excellent, but you have to pick the one that works with your frame and lifestyle. I am a little over 6 feet tall and I find this chair very comfortable. I have sat and worked in an Equa chair, a Mirra chair, and an Aeron chair at jobs I have held before. So when deciding to purchase one for my home office, I was going to purchase the Mirra 2 chair until I sat in the Sayl. The Sayl fit closer to my back and was actually more comfortable for me personally. It was also cheaper and for my home office it was perfect. If you are a taller person, make sure you add the adjustable seat depth option as it makes the difference for us taller folk.
Service and delivery comments:
Customer service at Smart Furniture is excellent. Karen G. is outstanding and super helpful in making my final decisions. Delivery was way faster than I expected and had absolutely no problems, but of course I expect nothing less from Herman Miller!
Comments about Herman Miller Sayl Chair:
I love this chair. I'm small and it fits me. Great looking too.
Service and delivery comments:
All good.
Comments about Herman Miller Sayl Chair:
I've been using my Sayl task chair very heavily since my 2012 purchase. It's solid, sturdy and gorgeous.

After hours of daily use I'm now in need of two small repairs: my armpads and seat cushion. The armpads have small cracks in the flexible material and the seat cushion has two broken threads in the weaving. This week I got in touch with SmartFurniture, who advocated on my behalf to Herman Miller to invoke my warranty. I just found out BOTH will be replaced free of any cost!!

Kenny Thatcher, the Customer Service Manager, was especially helpful.

Not only would I buy the Sayl chair again, I'd purchase through SmartFurniture!
Comments about Herman Miller Sayl Chair:
Excellent quality. Over 1 year, still like new. Fits in the bedroom nicely. Plan to buy a 2nd one.
Service and delivery comments:
Top notch delivery service
Comments about Herman Miller Sayl Chair:
I purchased 2 of these chairs for our office and my employees love them. They are very comfortable and slides quietly and smooth.
Service and delivery comments:
Yes, product arrive in great condition.
Comments about Herman Miller Sayl Chair:
had major back problems now no more
Comments about Herman Miller Sayl Chair:
Simple design and comfortable chair. It's a good chair but price is higher than quality of chair.
Comments about Herman Miller Sayl Chair:
My staff was complaining about back pain and the chairs in the office were in need of upgrading. I decided to try the Herman Miller Sayl chair after using the Herman Miller Mirra 2 at home. After a month or so of using the Sayl, my staff has yet to complain of any back pain. With such a great experience with the chair and Smart Furniture, I just placed an order for 2 more Sayl chairs.
Comments about Herman Miller Sayl Chair:
If any defect should come to your expensive chair, Herman Miller says there is no warranty whatsoever. It's a great chair with no customer service should you get a problem like I did on two chairs after 15 months. Shame on Herman Miller (no fault on Smart Furniture). They will refer to some local rep that who will have fill forms upon forms with no intention to helping you at all, even if you paid for the darn replacement. My experience was just weird.
Comments about Herman Miller Sayl Chair:
I purchased my chair in June of 2013 from SmartFurniture and my order was delayed by the manufacturer; however, it was worth the wait as this is the best chair I have ever sat in. I am not saying that it is the best chair, but it suited my needs perfectly.

I was a stay-at-home father who decided to cash in his Montgomery G.I. Bill and go to school. I knew that I did not have that much money, but that I would be sitting at my computer extensively, as I attended classes online. I spent a couple weeks researching chairs, and this chair floated to the top of that list for providing great value to price.

After owning it for a year and a half and spending 10+ hours a day in the chair, I can confidently say that this chair is a good investment and a worthwhile purchase. It is not, however, completely kid proof. The material for the armrests did not hold up well over time and the tips have broken off. My makeshift solution to this problem was to place socks over them to prevent further damage and provide additional padding. The take away from this is that the material used for the armrests are the weakest and most vulnerable part of the chair to damage. It is something to be aware of if you intend to purchase the chair.

Otherwise, I would definitely recommend this chair to others.
Comments about Herman Miller Sayl Chair:
This product is "just right". Enough controls and customization to fit my frame without being overly complex. Expensive, but not at the highest end. Modern, clean look. Most of all - highly supportive and comfortable all day long. I've only been using it a few weeks - but so far - best office chair I've owned. Highly recommended!
Service and delivery comments:
From the initial "name your own price" sale to highly responsive ongoing service - SmartFurniture exceeded my expectations. Refreshing to have such a good experience end-to-end, complete with personal attention.
Comments about Herman Miller Sayl Chair:
Just received my Sayl chair and I really enjoy it. The colors look great. Love the customization options. And the back is really comfortable. Only reason I don't give it 5 starts out of 5 is the seat of the chair is not as comfortable to me as my tempurpedic chair in the other room (for obvious reason). If you want a comfortable work chair that looks great, this is a really good option. And it was delivered as promised (actually sooner than promised). I ordered a second one.
Comments about Herman Miller Sayl Chair:
Love the chair! It's very comfortable and I really like that it can be customized. Chair was ordered with the red back and red seat both of which are great colors. Would recommend upgrading to the fully adjustable arms. Very happy with the chair and ordering through SmartFurniture.
Service and delivery comments:
Delivery was as stated with product arriving in excellent condition. Spoke with customer service before ordering -- person was very friendly and helpful.
Comments about Herman Miller Sayl Chair:
I ordered this chair with all upgraded options. I would recommend getting the chair "fully loaded" as this allows to tweak it for comfort throughout the day or should someone else be seating in it (usually I make some adjustments on a long work day). I have polished concrete floors and ordered the carpet/hard floor casters and it glides wonderfully and quietly. My old chair used to make quite a bit of noise when I rolled around. The cushion and back are very comfortable; supportive but not rigid. I have found that most females enjoy this chair and some males too. Ordering through SmartFurniture.com was a seamless process. I received my custom order in about 20 days from date of purchase.
Comments about Herman Miller Sayl Chair:
I love this chair. It is compact, comfortable, and I love how artsy it looks. It fits perfectly at my danish desk. For how compact it is, it is solid and heavy. I didn't get any of the extra features except for the white base and am glad I didn't. They really aren't necessary. I have back problems and this chair really does ease the pain. I'm 5'8" and for me, the chair is perfect for my frame. There are really no cons at this time.
Comments about Herman Miller Sayl Chair:
I originally set out to my local Herman Miller showroom with my sights on an Aeron. Before leading me to one, the savvy salesgirl made me check out every other type of HM chair. Although the Aeron did feel dreamy to sit on, I went for the Sayl. The forward tilt feature was what completely sold me. Although the Aeron has forward tilt on paper, the actual mechanism is barely there. I was still slouching when I keyed. In the Sayl, it's heaven. I love the chair back's flexibility. I can get a nice resistance thing going as I work. My only problem with the Sayl is that I am very short (5'0") and I use the chair at home. If I was in an office, I'd have shoes on and this might not be an issue. As it is, the seat's a tiny bit too high. Luckily, the bevel at the front keeps the back of my knees from hitting it. I usually end up sitting in half lotus (which I would probably do in a smaller chair anyway). This works OK for me, but I guess isn't ideal for everyone... I'd say this chair is absolute perfection for people taller than, say 5'4"
Comments about Herman Miller Sayl Chair:
I bought a Sayl chair already in stock at Smart Furniture with a green-apple back, white and fog gray frame, artichoke seat and adjustable arms. I thought it was priced well for a quality office chair and I received it in an incredibly fast two days with free shipping.

Not only does it look sleek and modern, but it's got great back support--even without the added lumbar option. It is without a doubt the most comfortable office chair I've ever had.

The lowest standard height adjustment was perfect for me (I'm 5'3" and most chair seats are too high for me, but now I can put my feet flat on the floor, yay!) I also like the adjustable arms (I didn't get the fully adjustable arms, just the arms that move up and down, but they're all I need).

I did replace the standard carpet casters with Herman Miller hard floor casters, since I'm using the chair on a hard surface. I'm glad I did. They're quieter and make it easier to control the chair when moving around.

I also like the chair's small profile, which makes my tiny office seem much more spacious.

I did hours of research before buying an office chair. I'm really glad I chose this one, and I'm glad I bought it from Smart Furniture.
Comments about Herman Miller Sayl Chair:
Exactly what I expect from Herman Miller - Stylish, comfortable and expensive! I rated it 4 out of 5 stars, would have rated it 5 stars if not for the expensive price.
Service and delivery comments:
Smart Furniture does a great job handling orders, their carriers to a good job of scheduling delivery.
Comments about Herman Miller Sayl Chair:
I use this chair for my home office. I work from home most of the time so am using it as much as if it were at the office. I would give 4 1/2 stars if 1/2 point were allowed. Reason for not 5 is that I need lumbar support and the add-on support this chair has is not quite enough for my back. I purchased a McKenzie Lumbar Roll and with this addition I have no back problem working in this chair all day. I simply love the design and look - it fits perfectly with my mid-century inspired decor.
Comments about Herman Miller Sayl Chair:
We bought this chair for the new assistant.
She loves it and it was everything we expected.
The design was a bit strange at first, but now everyone in the office wants one.
Great lumbar support (even though it doesn't have lumbar adjustments), and the arm adjustments and seat height provide all the customization you could ask for.
Comments about Herman Miller Sayl Chair:
Nice design, so it blends with your home decor (I use it in my home office). The mesh on the back support makes it comfortable and fresh. Sturdy and well made, as all Herman Miller products.

I had to wait for about a month to get the chair, but a rep from Smart furniture called me the day a placed the order, suggesting that if time was a concerned I could chang my chair options to get it earlier.

Great service from smart furniture!
Attractive
Comfortable
Ergonomic
Comments about Herman Miller Sayl Chair:
I use this chair at home in our office. It's minimal design fits great with the design of any home desk. I got it with the lumbar support which feels great when I am laying back doing brainstorming. Everything about the chair is great, the only gripe I have with it is that I wish there were more metal hardware used in the chair.
Attractive
Comfortable
Ergonomic
Comments about Herman Miller Sayl Chair:
Great product. Experience was enhanced by a great sales lady and a super customer service gentleman.
You have two outstanding representative who helped us with this purchase.
Attractive
Comfortable
Ergonomic
Comments about Herman Miller Sayl Chair:
The chair has many options and costs associated with most of them (this is good and bad). The chair is very nice looking and I'm glad to say its comfortable. I work at a computer most of the day so this really was the most important aspect. It seems very solid and should last for many years. Did I already say its good looking?! We've had serveral customers in for meetings and have gotten rave reviews just on how they look. I only gave 4 stars because we've only had the chairs for a few weeks.
Service and delivery comments:
The product was delivered in only 2 pieces so it was as easy as insert A into B and your chair assembly was complete. My only grip would be the delivery timeframe of the chairs. It took longer than we would have liked but I'll give them some slack because we ordered over the holidays during a time when a discount was provided.
Comfortable
Easy to Assemble
Ergonomic
Modern
Comments about Herman Miller Sayl Chair:
We purchased two full-spec Sayl chairs for our new office. Liked how customizable it was in terms of color. Great look and fit with the rest of the office, and most importantly, a very good chair to sit in all day.
Service and delivery comments:
Customer service was very good, however, there is quite a long wait from the manufacturer which seems an outdated practice for just two chairs. Worth the wait though.
Adjustable
Attractive
Comfortable
Design
Durable
Easy to clean
Ergonomic
Materials
Price
Minimal Lumbar Support
Squeaks
Comments about Herman Miller Sayl Chair:
Great price point for an ergonomic chair. Quality product and methodical build. Comfortable seating best for few hours at a time. Appreciate the adjustments available. Lumbar support is minimal but present. The chair I received was very squeaky HOWEVER the company and their outstanding customer service exchange it for me.
Service and delivery comments:
EXCELLENT customer service that went above and beyond to make everything crystal clear even providing youtube demonstration regarding complicated issues. Will consider buying from them again solely based on knowing their customer service will answer any questions.
Attractive
Comfortable
Ergonomic
Comments about Herman Miller Sayl Chair:
I needed a chair because I planned on sitting for long periods of time in front of the computer, and my previous chairs were leaving me with back, elbow, and wrist problems. The high degree of customization, ease of use, and sturdy construction; have allowed this chair to easily be the best I have ever owned, well worth its relatively high price tag. I use it primarily as my main chair, and I am forced to sit in it for upwards of 60 hours a week, as I attend school online and use it for additional periods of time for recreational computer use. I have noticed a significant improvement in my back, elbow, and wrist problems and would buy this chair again, should I have need too.
Attractive
Comfortable
Ergonomic
Comments about Herman Miller Sayl Chair:
I was on the hunt for an office chair that would fit well in a small NYC apartment and not look like your typical office chair. It needed to have a modern design and not be intrusive. I also needed it to fit under my desk. The Sayl chair is extremely adjustable narrow enough to fit completely under a 24" wide desk opening. The chair is very comfortable and has great support without the lumbar addition. I am very happy with this purchase.
Service and delivery comments:
Working with Smart Furniture was a pleasue. The online help was extremely information and the unbiased reviews were essential in helping me make the right choice. In addition, it was very comforting knowing that I could return the chair if I was dissatisfied in any way. This is completely uncommon for custom orders.
Attractive
Comfortable
Ergonomic
Comments about Herman Miller Sayl Chair:
Bought the Sayl for my wife to use with the family computer, and she loves it. No complaints.
Attractive
Comfortable
Ergonomic
Excellent Back Support
Comments about Herman Miller Sayl Chair:
Office chair for work at the computer. Adds a snazzy modern element to a traditional office. Simple assembly, easy to adjust with lots of adjustment options. No back ache with this chair! However, the seat cushion could use more give (pressure on thighs and tailbone after hours of sitting).
Service and delivery comments:
I was happy with the service. Chair arrived in perfect condition at the time the delivery said they would arrive.
---
Shipping & Delivery
Options are good. Here are your 2 shipping options:
Free Front Door Delivery:
Free
Front door delivery service means that your item will ship as quickly and safely as possible from our warehouse to your garage or primary entrance. If you live in an apartment building, the item will be left in the lobby.
Prior to delivery, our shipper will contact you using the number provided to us during checkout to schedule a delivery appointment. The driver will unload the item from the truck and place it at your door. Keep in mind that this service does not include product placement inside your home, debris removal or assembly, so if you need one of these options be sure to check out our shipping upgrades or contact us at 888-467-6278 for a custom quote.
Inside Delivery:
$74.00 per item
Inside Delivery Service
Inside delivery is a cost efficient way to have large or fragile items delivered to your room of choice. When your order reaches the local station in your area, the delivery agent will call to schedule a four hour delivery appointment. Caveat: If you need debris removal or light assembly (30 min max), you may want to consider our White Glove service.
Packaging:
Type: 1 box
Ready to Assemble Box dimensions: 25" x 25" x 29"
Fully Assembled Box dimensions: 31" x 29" x 41"
Packaged weight: 38 lbs
---
Product Q&A
Do you have questions about this product?
Get answers from real customers and in-house experts with AnswerBox.
10 Questions | 12 Answers
Displaying questions 1-10
Q:

What is the weight of the chair? I want to ship it to another location.

Asked on 6/3/2016 by Sandy

1 answer

A:

The Herman Miller Sayl Chair weighs 38lbs when packaged.

Answered on 6/6/2016 by Caroline from Smart Furniture

Q:

whats the shipping size of the chair?

Asked on 9/11/2012 by dan from miami

1 answer

A:

The Sayl chair box is 26"x25"x29" and weighs 38lb.

Answered on 9/11/2012 by Anonymous

Q:

What are the weight limits of the Sayl Chair? I cannot seem to locate them.

Asked on 4/20/2012 by Anonymous

1 answer

A:

The Sayl chair is tested to support 350lb and under.

Answered on 4/24/2012 by Anonymous

Q:

What is the depth of the seat to the backrest in the fixed seat Sayl model?

Asked on 9/18/2011 by Anonymous

2 answers

A:

16 inches. The adjustable seat depth option allows for folks with longer legs to get better support with a depth range of 16-18 inches.

Answered on 9/19/2011 by Melanie from Smart Furniture

A:

18 inches

Answered on 1/30/2012 by Headhunter from Asheville, NC

Q:

How high will the chair rise?

Asked on 5/4/2011 by jd from la, ca

2 answers

A:

Assuming you are referring to seat height, it has a range of 15.5" to 20".

Answered on 5/5/2011 by Melanie from Smart Furniture

A:

Seat height ranges from 16 1/2" to 20 1/2".

The stock "fixed arm" height ranges from 24 3/4" to 28 3/4".

At it's highest point, I can't get the chairs arms under my desk. I have to drop it about 1/2".

Answered on 5/25/2011 by Design Guy from Spring Branch, TX

Q:

Is it possible to purchase the Sayl chair without the arms? And the fog base (not polish alum), what is the material? Is it less in term of build quality or is it just cosmetic difference?

Thank you.

Asked on 1/27/2011 by Anonymous

1 answer

A:

It will be possible to order the Sayl chair with no arms as well as fully adjustable arms, but at this point the offering is limited to fixed and height adjustable arms only. Sayl is new and the fully configured models are just not yet available to order. The Fog and Black bases for Sayl are made of Glass Filled Nylon. They would not be as durable as cast aluminum but are very strong.

Answered on 1/28/2011 by Melanie from Smart Furniture

Q:

The Herman Miller website referenced an upholstered back for the Sayl chair. Is that an option?

Asked on 1/4/2011 by Steve from Vancouver, WA

1 answer

A:

Yes. Well, it will be. The upholstered back option is on hold until a few manufacturing issues are worked out. It will be an option in the next few months (hopefully).

Answered on 1/4/2011 by Melanie from Smart Furniture

Q:

Can I buy Sayl without the lumbar support, and then have it installed later?

Asked on 12/8/2010 by Raymond

1 answer

Q:

Are the chair arms adjustable? What are the minimum and maximum heights of the arms? I was wondering if they'd fit under common desk heights. Thank you.

Asked on 11/24/2010 by MJV from South Florida

1 answer

A:

Yes, the chair arms adjust 4" up and down. At their lowest I have no doubt they will fit snuggly under your desk.

Answered on 11/26/2010 by Melanie from Smart Furniture

Q:

What is the warranty on this chair? Is it designed for a 24/7 operation?

Asked on 11/1/2010 by Anonymous from Ann Arbor, MI

1 answer

A:

The warranty for the Sayl chair is 12 years, and is rated for 3 shifts/24 hour a day use.

Answered on 11/1/2010 by Anonymous
Displaying questions 1-10
---
Warranty
The Sayl Chair comes with Herman Miller's 12-Year, 3-Shift Warranty

If you purchase something from us we back up the warranty. Whether the product comes with a 1, 3, or 12 year warranty, if you have a warranty issue contact us! If we can send you a part, we do. If your item needs to be completely replaced, we send you a new one. If your item needs servicing, we work with local dealers to have a certified repair technician come out to your location. With your proof of purchase you can also make warranty claims with any authorized seller or Herman Miller directly. We try to do what's easiest for you, and we're there for you down the road just like you hoped we would be. Shop SmartFurniture.com and be pleasantly surprised with our customer service every time you turn around.

Do you have specific questions about what's covered under Herman Miller's warranty for this product? Give our sales team a call at 8‌88-467-6278 to get your questions answered.

Did you purchase a piece of Herman Miller furniture that's not working as expected? Send an email to customerservice@smartfurniture.com or contact our customer service department at 8‌88-762-7841, and we'll take care of you. We usually ask for a photo or video of the warranty issue that you're experiencing, so if you want to expedite the warranty claim process, you can e-mail us with those attachments, and we'll jump on filing the claim for you right away
---