Cobi Chair by Turnstone
designed by Turnstone Design Studio and Luke Pearson of PearsonLloyd




At A Glance:


The Cobi Chair is sometimes referred to as the "Mac Chair," because its design is so similar to the bulky, white Apple monitors of years past. The Cobi Chair, too, has a white outline with bright, bold color on the seat and seat back, and the design of the chair makes it appear to be unfolding, the way a laptop might. It's also quite small and slight.



What's To Like:


The smallness of the chair and the complete lack of bulk or clutter when it comes to adjustments, armrests, and features, make it very freeing. The chair was designed so that you could constantly shift positions without getting uncomfortable. The open design of the chair combined with the bright, light-hued color makes the chair so fresh you may want to slap it. And it starts at $439, so if the aforementioned slapping episode were to get out of hand, you could replace it very easily.



What's Not to Like:


Again, this is not a chair for tall, large, or heavy people. It can't hold just any old passenger in a deeply comfortable way. There are also no big features and few adjustments.

The Bottom Line:
This is a youthful chair. It's high gloss, high fun, high color and style, and it's meant to embrace movement. This is not a work-ten-hour-days chair, or a one-size-fits-all heavy duty work chair. It's the fun, fresh Cobi.
Comfort / Ergonomics:


Design:


Style:


Quality:


Environmental:


Performance:


See Review Details »

Read Our Employee Review »

Environmental Profile»

Shop all office chairs »

Customer Rating

Meet Cobi, the newest addition to Turnstone's home office and task seating collection.
Some people call this a "Mac chair," but those people are confused. It's a Turnstone chair. We can see why they get the two mixed up; they see a chair outlined in white, thin yet sturdy, with bright color on the seat and seat back. The chair looks as if it had opened, or bloomed, the way a laptop looks when the screen has been pulled up. But the comparisons stop there; if you don't believe us, try sitting on your open laptop (don't).
SmartFurniture.com has developed a web based product design tool it calls the 3 Minute Cobi Designer. This provides customers with the ability to pick and choose among the dozens of Cobi feature alternatives, view how the different combinations look, and order their customized version of the Cobi Chair on the spot (most configurations ship in just two days!).
Standard Cobi Chair features include:


Flexing top edge:
The Cobi chair allows users to rest their heads, arms, backs, even legs on top of the chair, supporting a variety of postures. The flexing edge takes pressure off the back, shoulders and limbs that use it for support, as well as increases circulation. Cobi makes you more comfortable, looser and more free to move as you please.
Flexing back:
Provides comfort and support for users. The Cobi also conforms and contours to the shape and pressure of your back and shoulders.
Flexing seat:
Encourages users to move and shift, and allows for any variety of postures. Whether you're laid back or posture-perfect, Cobi works for you.
Weight-activated mechanism:
Sensing your center of gravity, the Cobi adjusts to the position that will put the least amount of stress on the back, shoulders and legs, while still keeping you properly oriented and supported.
Adjustable Seat height:
Cobi accommodates different heights and leg lengths. To raise or lower the Cobi chair, just pull the lever up.
Choose from a wide variety of configurations, from a large selection of upholstery colors and base and frame finishes, arms or no arms - Cobi fits virtually any work style and any space.
The Turnstone Cobi Chair is also known by the following manufacturer item numbers: 434111, 434110, 434710, 434711.
Materials & Measurements
Materials:
Powder-coated steel, glass-reinforced nylon, polypropylene and 100-percent polyester fabric

Dimensions:
Chair: 34.25"-39" h x 24.75" w x 23.25" d
Seat height from floor: 15.5" - 20.5"
Seat dimensions: 18.75" w x 19.5" d
Back height from seat: 19.5"
Arm height from seat: 9"
Width between arms: 18.875"
Seat to back angle: 97-104 degrees
Weight Capacity:
Weight tested up to 300 lbs. with no loss of performance
Care Instructions:
For the Cobi chair's plastic and painted parts, clean using a mild household cleaner (like Fantastic or 409) and wipe with a soft, dry cloth. For Cobi's Connect fabric, use a vacuum cleaner for regular cleaning. Do not steam clean. Most stains can be removed by applying a mild soap to a slightly damp cloth, then rubbing it gently over the stain. Wipe dry.
Environmental Information
Cobi is Indoor Air Advantage certified and is a Cradle to Cradle Gold certified product.
Read more about the Cobi Chair's
environmental information.
Assembly Instructions
Ships fully assembled.

About The Manufacturer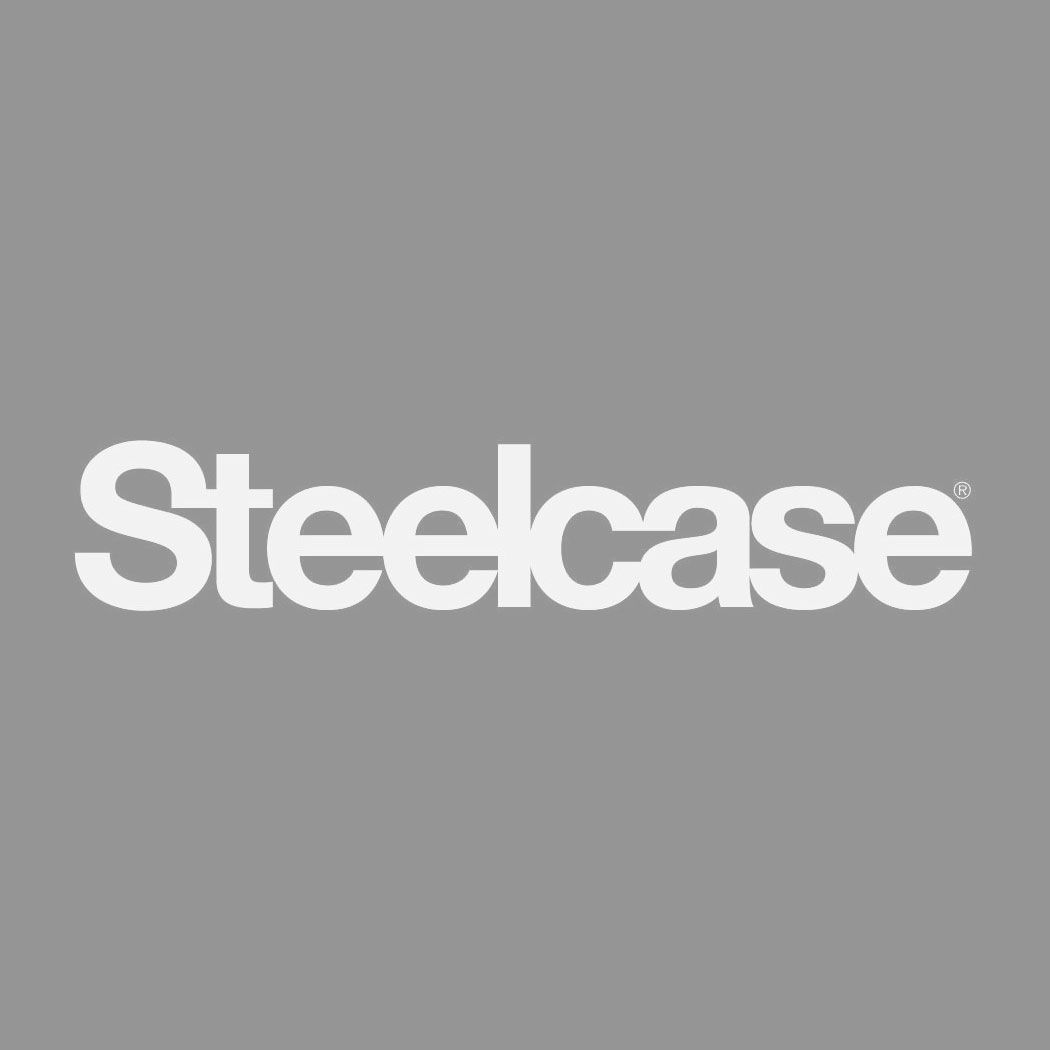 Whatever you need to accomplish in your home office, Steelcase can provide you with the tools to do it better, faster and more effectively. That's because they're passionate about unlocking the potential of people at work. It's the fundamental principle on which the company was founded in 1912, and it's being brought to your home office today. Headquartered in Grand Rapids, Steelcase is an international company with approximately 13,000 employees worldwide, manufacturing facilities in over 28 locations and more than 800 dealer locations around the world.
Designer
The Steelcase Cobi Chair is the product of dedicated research and implementation by some of the finest furniture designers in the business. The Cobi was created by Turnstone in collaboration with Luke Pearson of
PearsonLloyd
. Turnstone Design Studio and Luke Pearson sought a solution to a seemingly simple problem: supporting someone who is sitting for long periods of time. What they have done with the Cobi Chair is a reflection of their commitment to this end.
Every part of Cobi was designed to flex and adjust to your body. Cobi's top flexing edge lets you comfortably rest your arm on top of the chair, while the flexing seat encourages you to move around and shift, allowing you to sit centered or off to the side. Cobi's flexing back contours to support any posture your body needs at any given moment.
Turnstone received the prestigious 2009 Red Dot Design Award for Cobi. The Red Dot Award, formally known as Design Innovations, is ranked among the largest design competitions.
Design
When Turnstone by Steelcase created the Cobi chair, they created a whole new category of seating products designed specifically for the needs of collaboration: meetings, long nights, movement back and forth between spaces. The Cobi chair was designed specifically to foster that kind of collaboration and thrive in that environment. Cobi was based on three Steelcase research observations that resulted in three key insights.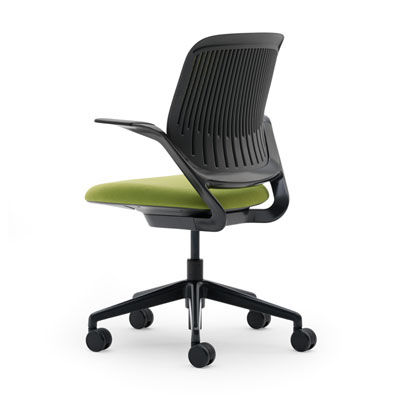 The observations:
Collaboration takes time. Cobi would need to be an adaptable, flexible chair for long periods of sitting.


People don't adjust their chairs in collaborative settings. When you're listening to a presentation or putting heads together over a tough problem, adjusting your chair is the last thing on your mind. Luckily Cobi has taken care of that issue by being intuitive and responding automatically to all kinds of pressure and varieties of gravitational centers.


People change postures frequently while collaborating. Nervous energy, the flow of ideas, and the long hours make meetings prime-time for shifting and re-adjusting the position of your body. The Cobi chair is designed to handle that very thing.
The insights:
The Cobi chair should promote movement and be comfortable for long periods of time.


Adjustments to Cobi should be automatic and intuitive.


Cobi should support multiple postures.
The Cobi Chair from Turnstone by Steelcase is a rousing success on all three fronts.
The Cobi Chair encourages movement and supports and contours to a variety of postures. With only one adjustment (seat height), and a mechanism that's weight activated and senses and supports your own center of gravity, anyone can get comfortable quickly.
In addition to the features already listed, the Steelcase Cobi chair has a wide range of options:
Armless chair available


Four finish colors: black, near black, platinum and arctic white


Optional sewn seat cushion to accommodate various fabric, leather and vinyl options.


Seat is available with Steelcase and Designtex fabric, leather, or vinyl - as well as customer's own material, customer's own leather, or customer's own vinyl.


Connect 3D material is standard on the chair back with matching Cogent: Connect seat, or with a seat upholstery of your choice.
Reviews
Smart Furniture Employee Review
Here at Smart Furniture, we are very excited about Turnstone's latest product release into the foray of task seating and office chairs, the Cobi Chair. We were also curious about how well it performs and how it could affect our everyday work style, so what better way to find out than to test drive it for a week.
Karen Culp, our resident creative whiz, has graciously accepted the opportunity to sit on the Cobi Chair for one week and write about her thoughts.
Read more

...
Attractive (8)
Comfortable (7)
Durable (7)
Ergonomic (7)
Lightweight (7)
Reviewer Profile:
Midrange shopper (4)
Comments about Steelcase Cobi Chair:
Exactly what I was looking for!
Comments about Steelcase Cobi Chair:
Bought one of these for the office for an employee and they love it. It turns and moves easy, the arms are nice and tuck under the table and it looks great. No complaints on comfort.
Comments about Steelcase Cobi Chair:
The only chair you need and keep for long time. Worth every penny. It looks unique with white paint.It's like apple designed this chair.
Service and delivery comments:
Excellent
Comments about Steelcase Cobi Chair:
Great pop of color for the entryway of our new Portland office. Many of our office chairs are standard black Aeron chairs, but for the reception area, our designer wanted a bright color. This chair serves that purpose and is also extremely comfortable and supportive for our office assistant.
Service and delivery comments:
Customer service is always exceptional and delivery was just as expected. Happy every time we order from SmartFurniture.
Comments about Steelcase Cobi Chair:
I searched all over for a comfy, modern task chair and am very happy with the Cobi. Its lightweight, offers great lower back support, and is comfortable during an 8 hour work day.
Comments about Steelcase Cobi Chair:
I'm working in a pretty cramped work/desk area at the moment but this chair is just perfection. It's compact yet comfortable and stylish! I've sat in it from 30 minutes up to 2 hours and have no complaints so far. Also doesn't hurt that it's just a really good lookin' chair! I love it!
Service and delivery comments:
Delivery was prompt and arrived in excellent condition.
Comments about Steelcase Cobi Chair:
when you glide down it feels like like luxury car.
Attractive Design
Comfortable
Easy To Assemble
Ergonomic
Lightweight
Sturdy
Comments about Steelcase Cobi Chair:
This was a present and I couldn't be happier with it. It looks great and it is very comfortable--I work at a computer so that is very important!
Attractive Design
Comfortable
Easy To Assemble
Ergonomic
Lightweight
Sturdy
Comments about Steelcase Cobi Chair:
This chair is stylish and comfortable. Great for business office or home.
Attractive Design
Comfortable
Easy To Assemble
Ergonomic
Lightweight
Sturdy
Great For Fun Home Office
Comments about Steelcase Cobi Chair:
makes a home office a fun place to be...love this chair
Service and delivery comments:
prompt delivery, slight damage in shipping but replaced promptly with extraordinary customer service. Smart Furniture rocks!
Attractive Design
Comfortable
Ergonomic
Lightweight
Sturdy
Comments about Steelcase Cobi Chair:
This is my wife's home office chair. She spends long hours sometimes and is very happy with it
Service and delivery comments:
As per my request the chair was promptly delivered in time for Christmas
Attractive Design
Comfortable
Easy To Assemble
Ergonomic
Sturdy
Comments about Steelcase Cobi Chair:
I had some very specific needs, mostly brought on by the fact that I built my own desk with an unconventional height of 32". The height of this desk eliminated almost every non-stool office chair as an option--they simply didn't go high enough (most topping out at 21.5" seat height). The Cobi stool ended up being perfect because it met my requirements, but also goes low enough for a more traditional desk or high enough if I change to a drafting setup at some point.

I went to a Steelcase showroom before I purchased the Cobi. It felt quite comfortable and has been so far at home--but I haven't had a chance to use it all that much yet.

I opted to get the one without arms, since the arms are not adjustable on the Cobi. Having arms at the wrong height is far worse than no arms at all--and in fact, I don't think I'll miss the arms at all.

I also considered the Steelcase Think stool. This will sound silly, but I didn't want it because the foot ring on the stool only comes in black. The Cobi's base and foot ring are both available in platinum (looks like powder coated grey metal).

I'm giving this item 4 out of 5 stars mostly based on the cost. It doesn't have many thrills, so I feel like I paid a significant premium because of the Steelcase name. My technical and aesthetic requirements didn't leave me a lot of options though. Plus, I was happy to buy from an American company, and a company from my home state of Michigan made it even better. Also, please see my service/delivery comments.
Service and delivery comments:
The only real disappointment with my order was that I received the wrong chair on the first delivery. However, I would say that SmartFurniture did as much as you could ever expect from a company to quickly and easily resolve the problem. They rush ordered/delivered the proper chair under a pretty rigid timeline that I specified. People make mistakes (not sure if SmartFurniture or Steelcase made the original mistake, but I'd bet on the latter)--that's just human, so it was nice to see it resolved so quickly.
Attractive Design
Cost
Lightweight
Vibrant Colors
Comments about Steelcase Cobi Chair:
First ImpressionsThe Cobi Chair comes with the reputation of the little chair that could, the simple, straightforward office chair that keeps you comfortable using efficient material and construction. It's certainly a small chair, with streamlined parts to match. The backing of the chair came up to the tips of my shoulder blades (I'm 5'10'') and the seat extended to about mid-thigh, maybe less. The armrests are slight, about 8 inches long and two and a half wide, but less than half an inch thick. Now, did this slight miniaturization make the chair uncomfortable? No. The Cobi Chair actually performed fairly well in that regard, and the support the chair provided was more than acceptable as well. The padding on the chair is very traditional and not particularly soft or well-cushioned, but not every office chair user prefers a softer seat. Ergonomically the chair didn't have much to offer; no special features and little performance technology. Aside from it's beguiling stylization and attractive profile, the chair is pretty plain, but above the common average in comfort, design, etc. Overall, this an office chair that looks pretty, is capable of doing the basic tasks of a larger or more well-appointed chair, and serves it's basic purpose (comfort and support at work) basically well.The X FactorThe edges of the chair are flexible. The edge on the back (at the top) is attached rubber, and bends very easily. The entire backing of the Cobi Chair is very flexible.The Bottom LineThe Cobi Chair looks great, and could never be convicted of dereliction of duty when it comes to the other important aspects of the office chair. The 7 out of 10 rating was close to being a 6, however, and it is suggested mainly for those who love style or who don't need a truly heavy-duty ergonomic work chair. It's also a good value at [$], pretty well below it's main competitors on the fine office chair market.Other CommentsThis is a pretty small chair. I like my office chair to be a little bit bigger, but it's till pretty comfortable.
Attractive Design
Comfortable
Easy To Assemble
Ergonomic
Lightweight
Sturdy
Comments about Steelcase Cobi Chair:
We really like this chair.
Attractive Design
Comfortable
Easy To Assemble
Ergonomic
Lightweight
Sturdy
Comments about Steelcase Cobi Chair:
No assembly required. Easy to adjust.
Service and delivery comments:
No indication on website or in confirmation email that it would take a month for delivery.
---
Shipping & Delivery
Free Shipping:
Free
We love free shipping offers and we thought you might too! And just because it's free doesn't mean we skimp on service. The Cobi Chair ships with FedEx ground service and includes delivery directly to your front door or main office. Once shipped, this item will generally arrive within 2-5 business days. Keep in mind that FedEx will require an indirect signature before they leave the package with you. This means that someone at the delivering address (you, your spouse, friend, neighbor, or concierge) will have to sign for the package. Alternatively, can also leave a FedEx Door Tag authorizing release of the package without anyone present.
---
Product Q&A
Do you have questions about this product?
Get answers from real customers and in-house experts with AnswerBox.
6 Questions | 7 Answers
Displaying questions 1-6
Q:

what is the seating height of this chair - will it go up 26-27"?

Asked on 10/5/2012 by none

1 answer

A:

The Cobi Chair will have a seat height that is 15 1/2" - 20 1/2" and the Cobi Stool 21" - 31".

Answered on 10/5/2012 by Melanie from Smart Furniture

Q:

Does this chair have adjustable lumbar support & do the arms adjust at all?

Asked on 10/3/2012 by tfaith5 from Mechanicsville, VA

1 answer

A:

The Cobi has some support built into the back, but there is not an additional lumbar support that you can add to the chair. The arms are fixed on the Cobi.

Answered on 10/4/2012 by Anonymous

Q:

does this chair tilt?

is this chair adjustable in height

Asked on 12/14/2011 by Anonymous

1 answer

A:

Yes and yes.

Answered on 12/15/2011 by Anonymous

Q:

What is the Maximum Load for this chair?

Asked on 10/22/2011 by Anonymous

1 answer

A:

The Cobi chair and stool are tested to support 300 lb.

Answered on 10/24/2011 by Anonymous

Q:

Is the chair height adjustable?

Asked on 9/15/2011 by Anonymous

2 answers

A:

Yes! The chair has a 5.75" cylinder range and the stool a 10" cylinder range for height.

Answered on 9/15/2011 by Melanie from Smart Furniture

A:

Yes, the height is adjustable on both the chair and stool version. The tilt tension is not adjustable though, but it seems appropriate as is to me.

Answered on 10/7/2011 by technotarek from Washington, DC

Q:

Are the caster wheels lockable or will the chair move too freely on a hard floor?

Asked on 8/25/2011 by Anonymous

1 answer

A:

If the chair is going to be on a hard floor surface, you would need to select hardfloor casters. There are no braking casters. The hardfloor casters have a rubber banding on the outside to help better grip the hardfloor, and not allow the chair to slide all over the floor.

Answered on 8/25/2011 by Anonymous
Displaying questions 1-6
---