Barcelona Table by Knoll, 18.5" Tall
https://www.smartfurniture.com/products/barcelona-table-by-knoll-18.5-tall.html
CUSTOMIZE THIS PRODUCT
Product Specifications
Materials:
The 18.5" Tall Barcelona Table has a clear glass or luminous Starphire glass top with a polished chrome.

Dimensions:
18.5" h x 40" w x 40" d


Materials:
The 18.5" Tall Barcelona Table has a clear glass or luminous Starphire glass top with a polished chrome.

Dimensions:
18.5" h x 40" w x 40" d

White Glove Delivery:
$136.88 per item
Customize This Product
People Who Looked At This Product Also Shopped For:

Barcelona Table
18.5" Tall, Polished Chrome Base

designed by Mies van der Rohe
from Knoll
At A Glance: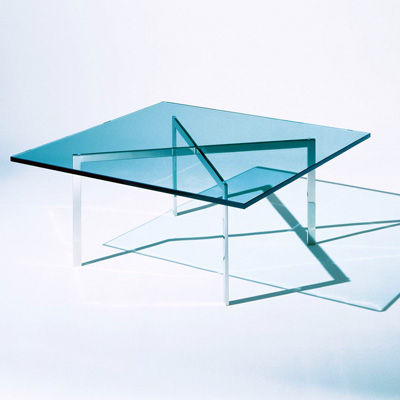 The Barcelona Table is a fitting companion piece to one of the 20th century's most well-known pieces: the Barcelona Chair. Designed by the legendary Mies van der Rohe, the Barcelona Table is every bit as impressive and lasting as the chair. First unveiled in 1930 at the Barcelona Exposition, the Barcelona Table has been in production ever since - a testament to its design integrity and enduring popularity. It represented the process and look of Modern furniture, and rocketed Mies van der Rohe into the public's collective consciousness.
What's To Like:
The Barcelona table is a testament to modern simplicity.
Its symmetrical, minimalist form lets your space shine as a whole instead of distracting.
It's also like having a work of art in your home, with a purity of form and function combined.
What's Not to Like:
This is an almost surgically clean table. Do you love minimalist expression of form? Great! If minimalism isn't your gig, there are quite a few other coffee tables you could choose from.
The Bottom Line:
The Barcelona Table is useful, beautiful, famous, and elegant without being fussy or ostentatious. It's the perfect addition to any stylish living room.
To guarantee the authenticity of the Barcelona Table, Knoll has had the signature of Mies van der Rohe stamped into the frame of every table. Knoll has received trademark protection for the designs created by Mies van der Rohe; a Barcelona Table not manufactured by Knoll is a counterfeit.
Features:
Overall dimensions: 18.5" h x 40" w x 40" d
Steel base has a polished chrome finish
Top features a thick, clear polished plate glass with 1/8" beveled edge
Clear glass option has a slight green tint
Starphire glass has a low iron content, giving it a crystal quality, making it more clear and luminous than regular glass
Also In This Collection

Materials & Measurements
Materials:
The 18.5" Tall Barcelona Table has a clear glass or luminous Starphire glass top with a polished chrome.

Dimensions:
18.5" h x 40" w x 40" d

Your FurnitureGenius Recommendations

Environmental Information
Greenguard Certified

About The Manufacturer
Founded in 1938, Knoll has nurtured many of the most inspiring and iconic furniture designs of the last century. With an extensive collection of modern classic furniture for the home as well as cutting-edge office furniture with a focus on functionality as well as aesthetics, Knoll is at the forefront of how furniture interacts with us and affects us in our daily lives.
Your Recently Viewed Products

Designer
Ludwig Mies van der Rohe
Without question, one of the most significant designers of the modern era. Born in Germany in 1886, van der Rohe began a career in architecture and interior in an era that challenged traditional concepts of aesthetics and design. Rejected classical, cluttered notions of beauty, he was a proponent of clean, efficient lines expressed using industrial materials. This design movement gained ground after World War I, but Mies van der Rohe was forced to move to the United States in 1937 due to political pressure from the Nazis, who rejected his new ideas on art and architecture.
He took a position as head of architecture in Chicago at the Armour Institute of Technology, now known as the Illinois Institute of Technology. His career in the United States spanned 30 years and saw him create numerous standout buildings in the Chicago area. He is perhaps best remembered today for his inspiring furniture designs.
Shipping & Delivery
White Glove Delivery:
$136.88 per item
---
Warranty
Structural components are warranted for 5 years.
Leather, upholstery, and finish are warranted for 3 years.
Click here to see our return policy.
---