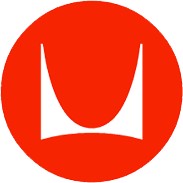 Overview
Herman Miller Eames Plywood Dining Chair, Upholstered
designed by Charles and Ray Eames




At A Glance:

This is a slightly modified version of the iconic Eames Molded Plywood Lounge Chair. The seat of the chair is more level and set higher than the original version, which is more of a side chair or a living room/den type. But all the elegance, all the technical brilliance of the molded plywood design, and all the built up history and justified hype of the Eames name still remain. And that means this is a legitimately great chair.



What's To Like:

These chairs are an elegant, unique, and totally off the beaten path selection for the traditional American dining room. They make a real statement, and they bear the name and design stamp of Charles and Ray Eames.



What's Not to Like:

They aren't the original LCW - but the original design wouldn't work at all around a dining table, so these are as close as it gets.



The Bottom Line:

A lovely compliment to any dining room table, and a truly historic design story.

Customer Rating








Independent Rating: Very Good







Read Smart Furniture's Review of the Molded Plywood Collection »






Shop the Molded Plywood Collection »
The Eames Molded Plywood Lounge Chair is simply one of the greatest industrial designs in history. That sounds like hyperbole, but it's not. This is the chair that TIME Magazine rated the number one design of the twentieth century. This is the chair that turned Herman Miller from a very well-respected American furniture company into a in international powerhouse.
This is the design that put Charles and Ray Eames on the map, and that became the first entry on their unbelievably accomplished resume. This is the chair that has stood the test of time in schools, homes and office all around the country, that has delighted children and adults alike. A design that has inspired films, books and hundreds of magazine articles. A design that has stood in museums for more than 60 years, and that set the agenda for all the lounge chairs that came after it. A chair that has been constantly produced and constantly bought by an adoring public since it was introduced in 1946 by Herman Miller. This a chair, in short, that is nothing less than extraordinary in the world of design and interior furnishings. It has lasted, it has flourished, and it is available now at Smart Furniture.
And it's available in more than one size and shape. The original Eames Plywood Lounge Chair, noted in their catalogue as the LCW, is still in production and still as popular and available as ever. But as the modern world has changed, there have been new additions to the LCW family. For instance, you can now buy a chair with metal legs. This has the effect of slimming the chair, and making it fit in a little better with a contemporary or very modern room or home. It also gives the chair a bit of contrast in material, which the original doesn't have, being made completely of molded plywood. The original Eames Molded Plywood Lounge Chair is close to the ground. In fact, many people make the mistake of thinking the traditional LCW notation refers to "low chair" and not "lounge chair." Many people feel a bit awkward trying to sit in the chair when it's lower in proportion to some of their other furniture, like a table or a lamp, and to correct for that possible problem there are now metal leg versions of the chair that get you a bit higher off the ground.
Going even further toward making the Eames Molded Plywood Lounge Chair variable and flexible, there are versions with slightly different angles of recline and slightly varied curves and contours. Every version of the chair is meant to accept and cradle the human form, keeping them comfortable even atop a hard surface like plywood. Overall, Herman Miller and Charles and Ray Eames showed a remarkable willingness to keep experimenting and playing with a design that was so immediately popular and iconic; there are few designers, and few companies, that have the were-withal to adjust an already popular design. But Charles and Ray Eames, and Herman Miller, are cut from a different cloth than the average furniture company, and the average interior and industrial designer.
The willingness of Herman Miller and Charles and Ray Eames to change, re-design, and experiment is rare and special. It's just one of the many reasons Smart Furniture is proud and excited to be working with them; our own emphasis on personal design and customizable products meshes perfectly with their own willingness to put decisions in the hands of the users. For instance, not only is this chair available in one of several versions, you can choose for yourself a variety of color options that all make statements about your chair, your room, and your home of office.
They include Light Ash, Natural Cherry, Walnut, Red Stain, Black Stain, and Santos Palisander. All of these colors and finishes contribute to your own design sensibilities, and can mesh and match with a wide range of rooms, furnishings, color schemes, and styles. The Red Stain, for instance, is an extremely bold color for the Eames Molded Plywood Lounge Chair. It stands out in any room and contributes a deep, vibrant feel. The Light Ash and Natural Cherry are lighter stains that can blend in to neutral toned rooms, and the Walnut and Black Stain are dark, introspective colors. With many versions of the chair, you can even get upholstery!
The Herman Miller Eames Molded Plywood Dining Chair is also known by the following manufacturer Item Numbers: DCW., DCW.AV, DCW.OU, DCW.CX, DCW.11, DCW.15, DCW.9N.
About the Designer
Charles and Ray Eames
Charles and Ray Eames are perhaps the most celebrated designers of the 20th century. Married in 1941, the Eames duo are responsible for some of the most critically acclaimed furniture designs of the modern era. Amongst their most famous designs are the molded plywood chair group and their famous lounge chair and ottoman. Although they are most often remembered today for their furniture designs with partner Herman Miller, the Eameses engaged in artistic expression across a broad range of mediums- including architecture and filmmaking.
Charles and Ray Eames established their long and legendary relationship with Herman Miller in 1946 with the boldly original molded plywood dining chair. Since then, the aesthetic integrity, enduring charm and comfort of the chairs have earned them recognition as the best of modern design. Vibrant colors refresh the palette and recall the times when the chairs were originally introduced.
Design Story
Design Story
In the early 1940s, when Charles Eames was working on MGM set designs, he would return to the small apartment where he and his wife, Ray, were experimenting with wood-molding techniques that would have profound effects on the design world.
Their discoveries led to a commission from the U.S. Navy in 1942 to develop plywood splints, stretchers, and glider shells molded under heat and pressure.
After World War II, they adapted the technology to create inexpensive, high-quality chairs that could be mass-produced. The process eliminated the extraneous wood needed to connect the seat with the back, which reduced the weight and visual profile of the chair and established a basis for modern furniture design. The chair is in the permanent collection of New York's Museum of Modern Art.
Read more about the Eames Plywood Chairs' Design Story.
With so many options for customization and personal style, it's no wonder that the Eames Plywood Lounge Chair has remained so popular for so long. Since 1946, this chair has been in continuous production, with no halts of any kind. People are still loving it, still buying it; it's living design history that still infuses American homes, offices and public spaces with style, grace, fun, and bold design. Of course it's in museums, and of course collectors go nuts over it, but the real test of a great chair is the test of time and the test of usage; the LCW passes both with flying colors, and has passed them for more than 60 years, long after its contemporaries have passed into memory or the backrooms of design museums and the houses o collectors. This is a vibrant, exciting, still-relevant chair, and it shows no signs of deterioration or slowing down.
It fits in the home, in the office, in the schoolroom, in the daycare, in the playroom and the den. It fits in the foyer or the reception area, the showroom and the home office. With all the options for customization, it just plain fits. If you're looking for a fantastic piece that mixes an iconic pedigree, a shining reputation, and the functionality you need in a home or an office, then look no further than the Eames Molded Plywood Lounge Chair; your search has come to an end.
This is the most dramatic variation so far, because it changes the height and some of the angles of the original Eames Molded Plywood Lounge Chair. This one is, obviously, a dining chair, and that meant several changes had to be made to its orientation with the environment. The original LCW is not much fit for dining, as focused as it is on recline, and as low to the ground as it was designed. For the DCW (as opposed to LCW) it was very important to add height and a more even angle of recline, a more even keel for sitting and eating.
Charles and Ray Eames believed that the design of a chair, or of any piece of furniture, should always subscribe to the tenets of the guest/host relationship. Any chair they made, they considered to be a host. The user, the person who owned and sat in and displayed the chair, was the guest. And what do the very best hosts do? They put on an excellent show, the have great taste, and the anticipate the needs of the user. Before the user can even think of what they want, the excellent host provides it with no prompting. And so it is with the Eames Molded Plywood Dining Chair.
The DCW is raised, higher off the ground than the LCW. It's raised, of course, to a height appropriate for dining. This is the need of the guest, and the host provides. Another need, however, is a more flat angle of recline. When we eat, we lean forward. When we finish eating, or during a meal, we do sometimes sit back; that's why the DCW doesn't eliminate recline altogether. It strikes a delicate balance between recline and sitting up, and all with a single molded seat and a single molded back. Eating in the DCW, you won't feel confined or limited to a single sitting position, even though the seat never moves. Just one more aspect of the Eames genius.
See the entire Eames Molded Plywood Chair collection.
About the Manufacturer
Herman Miller is an industry leader in the integration of cutting edge technology to furniture and other household items to make everyday life more comfortable, convenient, and stylish. Herman Miller stands out at the forefront of such fields as ergonomic technologies, environmentally friendly manufacturing processes, and customizable furniture items.
In addition to producing some of the most outstanding office furniture in the world, Herman Miller has also taken on the responsibility of manufacturing some of the most celebrated furniture designs by some of the world's most famous designs. These "modern classics" include works by Charles and Ray Eames, George Nelson, and Isamu Noguchi. Herman Miller celebrates these famous mid-century designers' works through its extraordinarily precise manufacturing techniques and industry-leading green production processes.
Herman Miller is a global company with operations, sales offices, dealers, and licensees in more than 40 countries in North America, Asia/Pacific, Europe, Middle East, Africa, and Latin America, serving customers virtually anywhere in the world. Herman Miller is headquartered in Zeeland, Michigan, while manufacturing facilities are located in the U.S., China, Italy, and the United Kingdom.
Materials & Measurements
Materials:
Natural face veneers, hardwood inner plies, a 5-ply seat and back, and 8-ply legs.
Upholstery Materials:
Gem: 100 percent antimony-free polyester
MCL Leather: A medium grain and shine leather that will show wrinkles over time and wear well
Dimensions:
Overall: 28.75" h x 19.38" w x 21.75" d
Seat height: 18"
Distinctive Design
Sculpted form. Molding thin sheets of lightweight veneer into gently curved shapes gives the hard material a soft, inviting appearance.
A Shape That Sits Well
Natural contours. The five-ply seat and back are designed to comfortably fit the body.

Shock mounts. Made of resilient natural rubber to absorb movement.
Shipping & Delivery
Simple Scheduled Delivery:
Free
Simple Scheduled Delivery is for folks that don't mind carrying furniture. The shipper will call prior to delivery to arrange an appointment, but the driver will not bring the furniture inside.

Typical transit time is 4-7 business days.
Larger/Freight items:

For

Residential deliveries,

the shipper will contact you via phone call/email at least 24 hours in advance - to schedule a delivery appointment window (typically a 4 hour window). This is when your order does not ship with UPS/Fedex. Most shippers will have online tracking available as well.

Business deliveries

to companies/commercial addresses will typically not come with a pre-arranged appointment, but will arrive during standard business hours. Please contact Smart Furniture or the shipper if your business address has special scheduling needs.


Smaller items + office chairs will typically ship via UPS/Fedex with a tracking number and online monitoring, but not a phone call and delivery appointment (UPS/Fedex do have scheduling programs with sign up on their websites). This can include office chairs and other products requiring assembly.
The driver will deliver the shipment at the ground level/front of your house or in your apartment's regular delivery area. They will not bring the furniture inside or carry it up stairs.
If you live in an apartment, the doorman can accept delivery on your behalf.
For Larger/Freight shipment (non UPS/Fedex) You must be present at the scheduled delivery appointment to inspect the delivery items and sign paperwork if any damage is visible.

We'll be sure to assist with any damage that may occur. Please call Smart Furniture right away if any issues arise.

Any questions? Chat or call! We're happy to help!
For more information and shipping comparisons, click here.
Warranty
The Eames Molded Plywood Dining Chair comes with a 5-year manufacturer's warranty.

Do you have specific questions about what's covered under Herman Miller's warranty for this product? Give our sales team a call at 8‌88-467-6278 to get your questions answered.

Did you purchase a piece of Herman Miller furniture that's not working as expected? Send an email to customerservice@smartfurniture.com or contact our customer service department at 8‌88-762-7841, and we'll take care of you. We usually ask for a photo or video of the warranty issue that you're experiencing, so if you want to expedite the warranty claim process, you can e-mail us with those attachments, and we'll jump on filing the claim for you right away
Shop With Confidence

Check out our 45-Day Return Policy!
We've ensured your personal data and sensitive information is always private and protected.