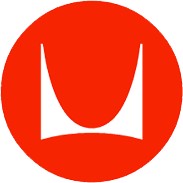 Shop Best Sellers
Browse through other customizations for the Eames Soft Pad Executive Chair by Herman Miller
Overview
Herman Miller Eames Soft Pad Executive Chair, Leather Upholstery
designed by Charles and Ray Eames

At A Glance:
The Eames Soft Pad Executive Chair is another example of Charles and Ray Eames combining form and function into one amazing chair. Like other pieces in the soft pad group, this Executive Chair has a sleek base and 2" thick seat pads that provide outstanding comfort. The lightweight aluminum frame sits on a 5-star base with a tilt-swivel mechanism, seat height adjustment and casters for enhanced mobility. This model of the Eames Soft Pad Executive Chair is available in a variety of leather upholstery options. The upholstery provides outstanding comfort and a sleek contrast of materials between metal and supple leather.

This executive chair was made especially for the office, whether it's a home office or in the workplace. Though it could be used effectively in the home, the look and feel of the chair make it clear that this is a serious chair, a work chair, a prestigious chair for any office - as Charles and Ray Eames intended. Featuring a taller back than others in the collection, with three back cushion segments, the chair is never overbearing or intimidating; that's not the way Charles and Ray Eames built their furniture. They didn't believe in exclusion of any kind when it came to design. They believed that all types of people should have access to great design in their homes and offices, and that idea drove them throughout their careers. The Eames Soft Pad Executive Chair is just one more example of design that looks amazing, feels great, and is definitely attainable.

Also available fabric upholstery. See the entire Eames Soft Pad Chair collection.

What's To Like:
The Eames Soft Pad Executive Chair is high backed and stately, but not dated or aged in any way. It looks as fresh and attractive today as it did when it first came off the line in 1969. It's funny; to get a contemporary office chair, one that's modern and cutting edge yet technologically advanced and ergonomic, you can go back four decades and get exactly what you want. The Eames Soft Pad Executive Chair. This is a chair for the corner office the big desk, the important boardroom. While of course it can also be used in the regular office and the meeting room, the grandeur of the chair is best presented in equally prestigious environs. The Eames Soft Pad Executive Chair has in its name its ultimate use; as the chair of the executive. The prestige of the chair and its rich, luxurious leather combines with the shine and newness of the polished aluminum to create a beguiling and undeniably gorgeous chair. It's perfect for the office.

What's Not To Like:
In the home, this chair would really only be of use in a home office setting, as it has casters and doesn't "lounge" (though it does tilt). In that sense, it is limited to work areas, where it shines as a luxurious alternative to run-of-the-mill office chairs. Another slight drawback is that it doesn't have adjustable arms. But they wouldn't look nearly as good, so Herman Miller has done well not to update the chair by changing the arms.

The Bottom Line:
Wherever you use the Eames Soft Pad Executive Chair, it's going to keep you comfortable and exude prestige. And that describes the perfect executive chair. It also meshes well with most design schemes; the materials fit well in nearly any environment. Always comfortable and always beautiful, this is a chair anyone can enjoy.
---
Details:
2"-thick upholstered foam cushions
5-star aluminum base, lightweight aluminum frame
2" casters for carpet or hard floor mobility
Choose from Manual seat height adjustment or Pneumatic seat height adjustment with tilt lock
Leather Options:
Stock Leather
Chromium free and from Austria this stock Herman Miller leather is a winner for most. With a matte, soft feel this is the most popular leather used on Herman Miller upholstered items.
Open Line Leather
Austrian by birth, yours by choice. Open Line leather is closest to the stock Herman Miller leathers but available in a wider array of colors.
MCL Leather
Italian by birth, MCL has a soft hand and natural touch with great performance; and it's easy on the earth. It will show more wrinkles over time and wear well. Avoid high-wear applications that require high cleanability and those which expose the leather to direct sunlight. It has a medium grain and shine and is a nice upgrade from the standard leather for the price.
Dream Cow Leather
With a gentle calfskin grain (it's not calfskin though, its European full grain aniline dyed cowhide), this leather is soft and comes in many great colors to accent your decor. This is a leather of great versatility, perfect when Royal Hide is out of budget, but where the look is wanted.
Metallic Dream Cow Leather
A gentle calfskin grain (again, not calfskin but European full grain aniline dyed cowhide), infused with metals and soft shine, on cowhide for huge versatility. Updated, offbeat, moody colors.
All Grain Leather
Not too big - not too small - just "All Grain". Color and quality together wedding grain and color, always with a feeling of luxury. European full grain aniline dyed cowhide powered by Crypton, "All Grain" becomes an easy choice for high traffic areas and commercial offices.
Royal Hide Leather
This versatile leather is the most beautiful of its kind. The color range is huge, reflecting its broad applicability. It will develop a rich patina over time, making it a great heirloom, eliminating the need for reupholstery. A European full grain aniline dyed cowhide leather with no limits - sky, earth, sea.
Caster Options:
2" single wheel casters, hard floors or carpet
2" chrome soft double wheel casters, hard floors or carpet
2" black painted hard double wheel casters, carpet
2" chrome hard double wheel casters, carpet
Seat Height Adjustment Options:
Manual seat height adjustment
Pneumatic seat height adjustment with tilt lock
The Herman Miller Eames Soft Pad Executive Chair is also known by the following manufacturer Item Numbers: EA437, EA437P.
---
Design Story
The executive chair is even more rigidly tied to the workplace then the management chair. It has a high back and more padding, making it both more impressive, prestigious-seeming and comfortable. Because the pads go all the way up the back and even to the neck and head, this is a chair meant almost exclusively for the working day. The name, again, says it all; this is a big chair, and it's meant for the big offices, the boardrooms and conference tables. It comes on rollers, like the management, and has all of it's functionality with little of it's ability to go into the home and look inconspicuous.
Read the entire design story behind the Eames Soft Pad Chairs.
About the Designer
Charles and Ray Eames
Charles and Ray Eames are perhaps the most celebrated designers of the 20th century. Married in 1941, the Eames duo are responsible for some of the most critically acclaimed furniture designs of the modern era. Amongst their most famous designs are the molded plastic chair group and the soft chair group. Although they are most often remembered today for their furniture designs with partner Herman Miller, the Eameses engaged in artistic expression across a broad range of mediums- including architecture and filmmaking.
Design
The Eames Soft Pad Executive Chair is the ultimate office chair; the ultimate desk chair. It has a tall back, a back that renders the chair into a feeling of prestige, importance, and seriousness. It has lovely leather upholstery and high polish aluminum for arms and legs and base, and that all combines to make it a truly impressive specimen of office chair design. The high back is complemented by extra pads (as in more than the management and side chair options) and additional curvature in the back, which cranks up the comfort rating of the chair, cranks it higher than the previous options. This is a big chair, a chair for a big desk, a corner office, and impressive post. The name says it all; this is an executive chair, and it's meant for the executive offices and desks.
Now all of that is certainly very impressive. But it should be noted that this is not a chair that attempts to intimidate. The size of it is not overbearing, nor should it be, and the look of the chair, while definitely giving off an air of prestige, is not meant to be alienating. Rather it should be seen as inviting. Charles and Ray Eames believed in democratic design, in design that could get into the homes of the middle class rather than the moneyed upper class exclusively. Because they believed strongly in that idea, they never created furniture whose purpose was to intimidate with high fashion or size. They wanted the things they made to be comfortable, exciting, and inviting to owners and users and on-lookers alike. The Eames Soft Pad Executive Chair is impressive, yes; but not overbearing.
In the home, you can use this chair best as a piece for you home office. The high back and the extra padding make it great for that. Of course, for the more adventurous home designer, there are always other uses for traditional furniture. This is a chair that could definitely find a home in the right living room, the right family room, or the right bedroom. It could even find a home in the right dining room (though it may be too formal for the kitchen, no matter what kind of space it is). The materials of the chair go well with most home designs, and it's a cooperative piece in that regard. But, as the name implies, this is primarily a chair for the office.
In the office environment, this is a chair that belongs behind a desk or behind a table. It's not quite right for waiting rooms or for informal areas. It's much more suited to boardrooms, to corner offices and big desks, and of course to executive areas and executive suites. This chair is at a bit of a higher level than the management, and it should be deployed accordingly. The sweep of the chair, the extra comfort and the extra height in the back; they all make for a wonderful office chair, one that will serve you a long time. A Charles and Ray Eames design, it will also serve as great conversation fodder and as an historic piece of furniture; literally museum quality.
Read more about the Soft Pad Group's design.
About the Manufacturer
Herman Miller is an industry leader in the integration of cutting edge technology to furniture and other household items to make everyday life more comfortable, convenient, and stylish. Herman Miller stands out at the forefront of such fields as ergonomic technologies, environmentally friendly manufacturing processes, and customizable furniture items.
In addition to producing some of the most outstanding office furniture in the world, Herman Miller has also taken on the responsibility of manufacturing some of the most celebrated furniture designs by some of the world's most famous designs. These "modern classics" include works by Charles and Ray Eames, George Nelson, and Isamu Noguchi. Herman Miller celebrates these famous mid-century designers' works through its extraordinarily precise manufacturing techniques and industry-leading green production processes.
Herman Miller is a global company with operations, sales offices, dealers, and licensees in more than 40 countries in North America, Asia/Pacific, Europe, Middle East, Africa, and Latin America, serving customers virtually anywhere in the world. Herman Miller is headquartered in Zeeland, Michigan, while manufacturing facilities are located in the U.S., China, Italy, and the United Kingdom.
Materials & Measurements
Dimensions:
Manual Adjustment
Overall: 41.25" h x 23" w
Seat Height: 19.5-22.25"
Seat Depth: 15.5"
Max Arm Height: 27.5"
Pneumatic Adjustment
Overall: 41.75" h x 23" w
Seat Height: 20.25-22.25"
Seat Depth: 15.5"
Max Arm Height: 27.5"
Materials:
Lightweight aluminum frame and 2"-thick upholstered foam cushions.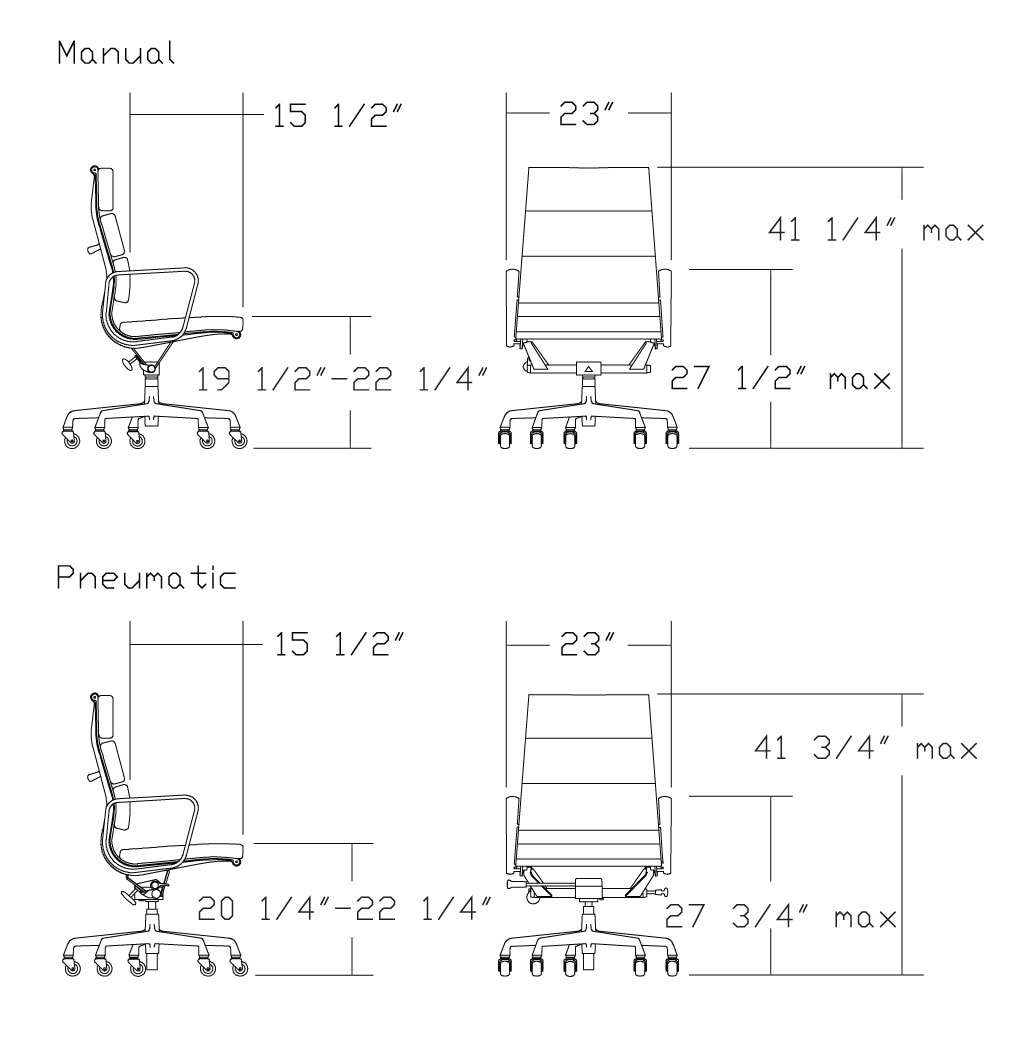 Environmental Information
Herman Miller is and has always been one of the most impressive companies in America when it comes to conservation, environmental initiative, and clean, responsible production. With every product they make, new and old, they continue to push toward a greater goal of total energy independence, the elimination of all waste, especially hazardous waste, and the dramatic reduction of their environmental "footprint." Whether they're re-tooling the Eames Soft Pad Chairs to make them easier to recycle or retro-fitting their building with energy efficient light bulbs and machinery, they're always doing their best to keep the environment safe.
At Smart Furniture, we really respect that, and we also feel a kindred spirit. One of the many reasons why choose to partner with Herman Miller and sell their products online is because we see eye to eye on the importance of being an environmentally safe and responsible company. Herman Miller feels the same way about us; they make it a policy never to work with vendors who don't share their commitment, or who don't take every opportunity they have to be safer, cleaner, and less wasteful. Every step of the way, from production of the Eames Soft Pad Chair in Herman Miller factories, to the shipping of the same chair from our warehouse in Chattanooga, TN, our two companies take every step to lessen the environmental impact of designing, building, selling, and shipping a product.
Herman Miller has always been ahead of the curve when it comes to environmental issues. One of the main reasons that remains true today is that they set ambitious goals for themselves, and then commit to actually achieving them. It takes hard work, forward thinking and an almost artistic creativity to make an older product like the Eames Soft Pad Chair as safe as it can be, but all of those are qualities that have never been lacking at Herman Miller.
The most recent, and the most wide-ranging, of their environmental initiatives is called Design for the Environment. Referred to within the company (both in the offices and in the official documents available online) as DfE, the policies laid out within have guided the company inexorably toward a fully functional and totally green operation by the year 2020. The lastest policy, called "Perfect Vision," has laid out some of the most ambitious goals yet. Again, they are all meant to be met by the year 2020. Remember that these goals apply even to classical furniture like the Eames Soft Pad Chairs:
Zero landfill
Zero hazardous waste generation
Zero air emissions (VOC)
Zero process water use
100 percent green electrical energy use
Company buildings constructed to a minimum LEED Silver certification
100 percent of sales from DfE-approved products
The first goal, zero landfill, is going to be one of the hardest to achieve. Landfills are real burdens on the environment because they are often filled with plastics and other non-biodegradable materials. Not to mention that they are, of course, immense amounts of garbage trapped under land. The odor, the damage, and the difficulty of breaking down waste all make landfills a headache. But Herman Miller is making progress. Over the last few decades, the amount of landfill generated by Herman Miller has been cut drastically. Every year it shrinks at an exponential rate, and ten years from now, it will be totally gone. That's something to celebrate.
The Eames Soft Pad Chair has been made easy to recycle and therefore not likely to end up in landfill. Most of the chair is recyclable, and needs only to be sifted into component parts when the user has decided it's time to part ways for good (though the chairs are very durable and this day should be well ahead in the future). Even though the chair was debuted four decades ago, the designers and builders are Herman Miller were able to update it without changing the look or anything material to it's classic standing.
As consumers, it's important to make responsible choices when you buy products like office chairs. In the marketplace, dollars are the voters, and every dollar that goes toward a green enterprise is a dollar other manufacturers will try and follow, and earn for themselves. When a company is responsible, it's not just good for the environment; it's good for them, and it's good for the business world as a whole.
The Eames Soft Pad Chair is just one of the many comfortable, stylish, beautiful, and creative products that Herman Miller has to offer. But they all have something in common; you can feel good when you buy them, because they came from one of the more responsible green companies in the business. Smart Furniture and Herman Miller are very proud to bring you the best in green furniture, green shipping, and green business. Buy your chairs today.
Shipping & Delivery
White Glove Delivery:
Free
If you want your furniture delivered and ready to go, this is the option for you. The shipper will schedule a delivery window with you at least 24 hours in advance. They'll bring the furniture into your home, place it in your room of choice, and assemble any pieces that need to be put together. It's the true white glove treatment!
Typical transit time is 4-7 business days. Some larger and specialty items may take a bit longer.
Shipper will arrange a four hour window for delivery at least 24 hours in advance.
Your driver or delivery team will bring the furniture inside your home and into your room of choice (up to two flights of stairs).
Delivery folks will unpack your furniture, assemble any pieces needing to be put together, and they'll discard all of the boxes and packaging materials.
We'll be sure to assist with any damage that may occur. Please call Smart Furniture right away if any issues arise.
If you're ordering multiple items from the same manufacturer, we might be able to bundle your shipping upgrade costs! Give us a call and we'll make sure you're getting the best shipping price possible!
Any questions? Chat or call! We're happy to help!
For more information and shipping comparisons, click here.
Warranty
The Eames Soft Pad Executive Chair comes with a 12-year manufacturer's warranty.

Do you have specific questions about what's covered under Herman Miller's warranty for this product? Give our sales team a call at 8‌88-467-6278 to get your questions answered.

Did you purchase a piece of Herman Miller furniture that's not working as expected? Send an email to customerservice@smartfurniture.com or contact our customer service department at 8‌88-762-7841, and we'll take care of you. We usually ask for a photo or video of the warranty issue that you're experiencing, so if you want to expedite the warranty claim process, you can e-mail us with those attachments, and we'll jump on filing the claim for you right away
Shop With Confidence

Check out our 45-Day Return Policy!
We've ensured your personal data and sensitive information is always private and protected.