Eames Soft Pad Lounge Chair by Herman Miller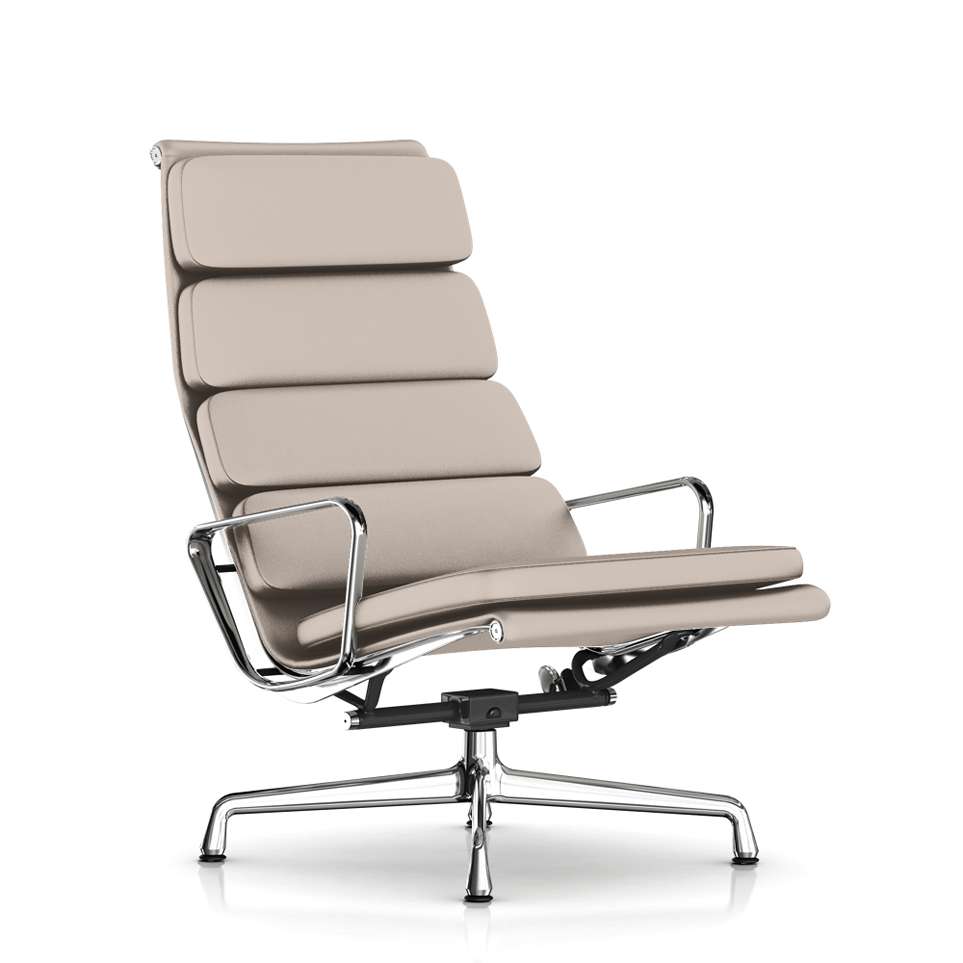 Eames Soft Pad Lounge Chair by Herman Miller
Upholstery
|
Standard Leather
Color
|
Haze Leather
Base
|
Polished Aluminum
Don't see a configuration you like? Customize your Eames Soft Pad Lounge Chair by Herman Miller.
Herman Miller Eames Soft Pad Lounge Chair
Swivel Tilt, 4-Cushion Backrest, Leather Upholstery
designed by Charles and Ray Eames
At A Glance:
2" thick foam pads, curved aluminum side ribs, a 4-star aluminum base and the genius of Charles and Ray Eames ... combine all of these elements together, throw in sumptuous leather and the result is the Eames Soft Pad Chair Collection. Shown here is the lounge chair from this classic collection. The leather upholstery color choices give you the option of a brighter, lighter look or a more subdued, traditional piece. While the lounge has uses in the office environment, Charles and Ray wanted to get away from the strictly corporate tone of the executive and management chairs and get into something more homey, more relaxing, and more comfortable.


Eames Soft Pad Lounge Chair can also be purchased with the Eames Soft Pad Ottoman.

See the entire Eames Soft Pad Chair collection.

What's To Like:
This is the 4-cushion version, and it is comfortable. And it's great looking. Herman Miller recently added different finishes on the frame which creates lots of different options with the look.

What's Not to Like:
That all depends what you're looking for. If you need a fixed seat back, this is the wrong chair. It's got a comfortable tilt/recline mechanism.

The Bottom Line:
The Eames Soft Pad Lounge Chair is versatile enough to work in almost any home and provide unmatched comfort and style. With cleverly contrasting materials, the Herman Miller Eames Soft Pad Lounge Chair brings the best of the Eameses design to your space.

Details:
Overall: 38.5" h x 26" w x 31" d
Seat height: 16.25" at front
Lightweight aluminum frame
2" thick leather-upholstered foam cushions
Tilt/recline mechanism for comfort
Swivel base

Leather Options:
Stock Leather
Chromium free and from Austria this stock Herman Miller leather is a winner for most. With a matte, soft feel this is the most popular leather used on Herman Miller upholstered items.
Open Line Leather
Austrian by birth, yours by choice. Open Line leather is closest to the stock Herman Miller leathers but available in a wider array of colors.
MCL Leather
Italian by birth, MCL has a soft hand and natural touch with great performance; and it's easy on the earth. It will show more wrinkles over time and wear well. Avoid high-wear applications that require high cleanability and those which expose the leather to direct sunlight. It has a medium grain and shine and is a nice upgrade from the standard leather for the price.
Metallic Dream Cow Leather
A gentle calfskin grain (again, not calfskin but European full grain aniline dyed cowhide), infused with metals and soft shine, on cowhide for huge versatility. Updated, offbeat, moody colors.
All Grain Leather
Not too big - not too small - just "All Grain". Color and quality together wedding grain and color, always with a feeling of luxury. European full grain aniline dyed cowhide powered by Crypton, "All Grain" becomes an easy choice for high traffic areas and commercial offices.
Royal Hide Leather
This versatile leather is the most beautiful of its kind. The color range is huge, reflecting its broad applicability. It will develop a rich patina over time, making it a great heirloom, eliminating the need for reupholstery. A European full grain aniline dyed cowhide leather with no limits - sky, earth, sea.
The Herman Miller Eames Soft Pad Lounge Chair is also known by the following manufacturer Item Numbers: EA422, EA433.
See all product information and details here