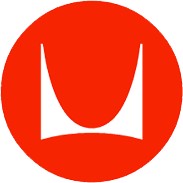 Shop Best Sellers
Browse through other customizations for the Embody Chair by Herman Miller
Overview
Embody Chair by Herman Miller
designed by Bill Stumpf and Jeff Weber
At A Glance:
The Embody Chair is the world's first health positive chair. Sitting in this baby will actually improve the health of your back and spine, make you more comfortable, and support every part of your body. Not bad for an office chair. Designed by Bill Stumpf and Jeff Weber, this chair is the current gold standard in the ergonomic furniture world.

What's To Like:
The first thing you notice about this chair is how good it looks. It's not just great engineering and ergonomics, its great style. It has a narrowing back and up-curving "floating" armrests, all of which are beautiful, adjustable, and do your body good (in a manner of speaking). Speaking of adjustment, there is hardly an inch of this chair that can't be. This is a performance chair, and everything was designed with the individual in mind; it can be adjusted to fit you like a glove. It looks cool, if feels great, and it makes you healthier.

What's Not to Like:
We've done a lot of testing on this chair, and while every demographic loves it, it is designed for one who likes to work with a slight (or major) recline. While you can sit in an upright posture and still feel right at home, you get the most utility out of the Embody Chair when you're working in a reclined position. Just play with the Backfit Adjustment and Tilt Limiter and find the optimal setting for you.

The Bottom Line:
You can search for a more accomplished office chair, but you won't find one. And you'll probably get really bored, so don't do that. Just take our word that this is the absolute top of the line when it comes to ergonomic, high performance office chairs.

The Herman Miller Embody Chair is also known by the following manufacturer Item Numbers: CN1, CN122NNAA, CN222NNAA, CN122AWAA, CN222AWAA.

SMART PICKS
Is This Right for Me?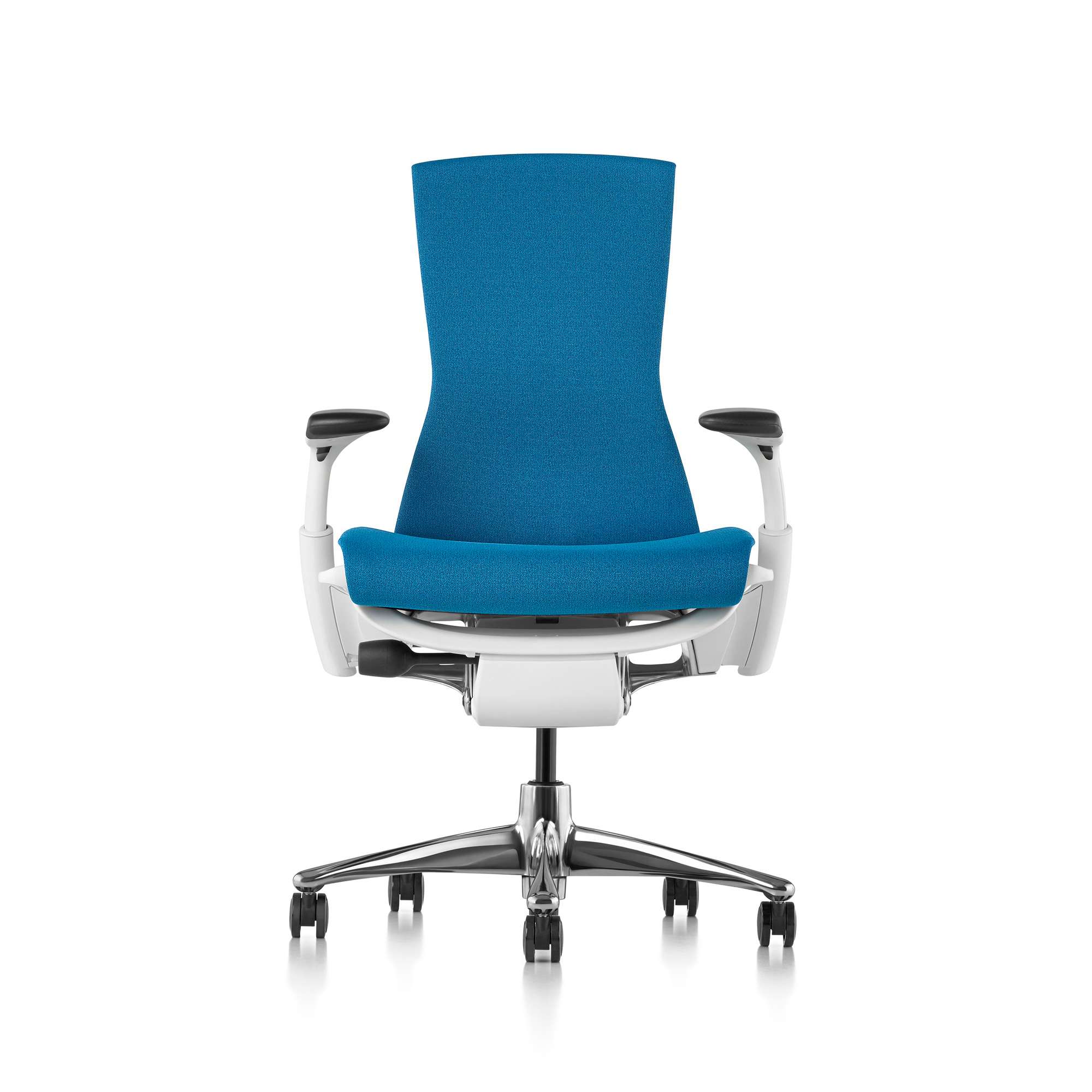 97.91%
Customer Satisfaction Rating
Rank: #04 in Top 10 Office Chairs
Customer Rating:
Recommend to a Friend? 90%
Return Rate: 4.8%
The ideal office chair makes work more efficient and comfortable. Let our Office Chair Buying Guide help you find the perfect one.
---
SMART PICKS
Embody Chair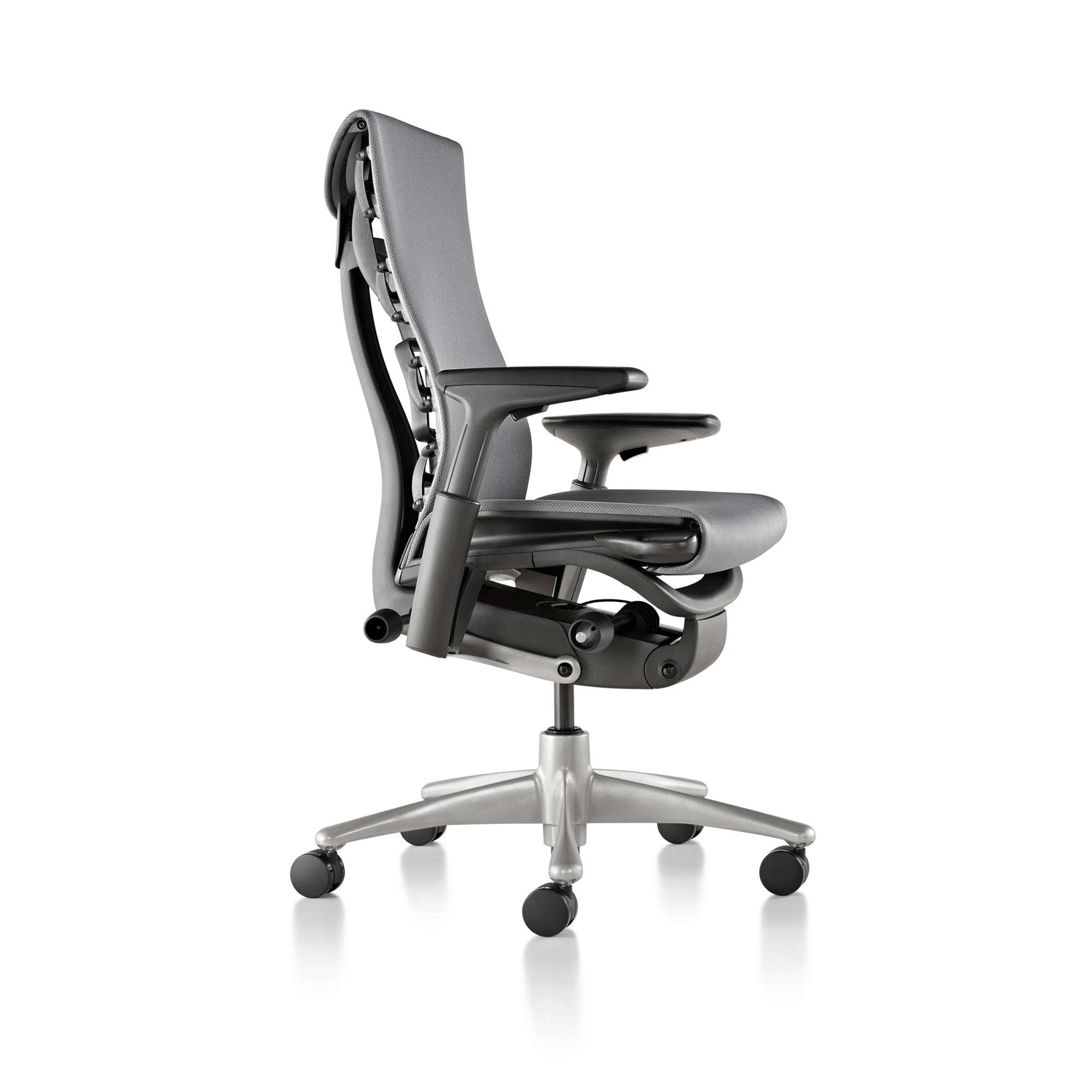 97.91%
Customer Satisfaction Rating
Resources

Read a staff review of the Embody Chair



Watch a video review of the Embody Chair.



See our comprehensive Embody Chair Adjustment Guide
Design
More Than Just Comfort
Designed by Bill Stumpf (who pioneered the Aeron Chair) and Jeff Weber, Embody goes a step beyond being merely "health-neutral". Over time, it can actually improve the health of the person sitting in it. Scientific studies have shown that Embody users can experience better circulation, reduced resting heart rates, and less tissue damage around the sitting muscles. Embody promotes natural alignment in the spine, relieving stress across the entire back no matter how you twist and turn.
Pixelated Support
Through years of research and development, Bill Stumpf and Jeff Weber incorporated health-beneficial features such as the Pixelated Support System- a dynamic mesh of adjoining seat materials that has been proven to increase circulation and reduce strain on cell tissue.

This breakthrough chair surface, combined with new tilt technologies and unwavering back support, means the Embody Chair can provide lavish comfort for hours. And of greater importance, it lets you be better to your body every time you take a seat. Since Embody is warranted for 12 years, sitting in a chair that enhances blood circulation and distributes pressure at a granular level across your back, thighs, and sitting muscles can truly affect how your body feels from day to day.
Move Freely
Embody's Backfit adjustment and seat conform to your unique shape and distribute weight evenly. Embody's shape mimics the spine, providing subtle support along the entire back that shifts with your movements. The Backfit creates a dynamic surface that reacts to your movements every time you shift.

The narrow, frameless form along the back allows for freedom of movement along the neck and shoulders, which allows for a greater range of motion through the arms. Embody's dynamic frame can shift and twist right along with your spine, making is easy to lean back and stretch or even or turn without sitting forward.
Rounded Edges
It's difficult to tell where the chair's edges are even when you sit in it, because there are no hard edges anywhere along the frame. Rigid edges running under the thighs can lead to poor circulation and the need for frequent stretching. But with the Herman Miller Embody Chair, all edges flex under the sitter's movements, ensuring an optimal distribution of weight. You don't so much sit in an Embody Chair as you do float over it.

The seat edge at the thighs is fully adjustable, allowing you to find the seat depth optimal for your proportions. Adjustable tilt limiter allows the user to lean back with experiencing unwanted lift in the thighs; instead, the legs remain roughly parallel to the floor, preventing stress on the knees, ankles, and things.
Ventilating Surface
To promote the flow of heat away from the body that can build up under the legs and back over time, Herman Miller developed the Pixelated Support system. This 4-layer mesh is filled with negative space which permits a much greater amount of air flow than traditional fabric and frame chairs. Every square inch reacts under your movements. When you shift, you seat shifts. The extremely responsive nature of the Pixelated Support material means Embody users can sit for hours without experiencing uncomfortable heat-buildup.

Unparalleled flexibility, soft, breathable materials, ergonomics and comfort that comes with a 12 year warranty.
---
Groundbreaking Ergonomics
Exquisite comfort is one of the hallmarks of the Embody Chair. Designed by Jeff Weber and Bill Stumpf for Herman Miller, the goal for this chair was always total ergonomic comfort. Stumpf was also the lead designer for the groundbreaking Aeron Chair, and he was interested in pushing ergonomic principle as far as it would go; for the Herman Miller team, that meant the design that eventually became the Embody. Everything about the chair is fashioned carefully and correctly to form a cohesive whole. The seat is not only designed to support your weight and keep you in good balance, the material itself is designed to increase air flow and keep you cool while you're working.
The edge of the seat is flexible, taking pressure off of your thighs. The backing of the chair, a real attention grabber with it's beautiful and intricate design, is able to bend and lean with you, no matter what angle you're sitting at. Most chairs either go backward or forward; the Embody Chair can go backward and forward at the same time, not to mention sideways and torqued positions. It's meant to keep your back comfy, and users who sit in the Embody Chair for long periods of time report increased mood and productivity, as well as never having to get up to stretch their legs or move around to get their circulation going. This is one reason why Embody makes a great office chair. What office wouldn't be better off getting comfort and productivity out from the chairs that fill it?
Another aspect of the Embody Chair's comfort metrics is adjustment. This chair can be adjusted in many different ways, all in an effort to fit your body and your needs perfectly. The seat can be extended, the arm rests can go up, down, sideways and in; the height of the chair and the tension in the back can all be modified to your exacting specification, making the Embody one of the more personal and adaptable chairs on the market.
If you're looking for a way to make your workday easier on your back, shoulders and legs, and if you're interested in increasing mood, health, and productivity, then the Embody Chair has all the amenities you need in a comfortable office chair. An intuitive piece of design, this is a chair that will read the lines of your body, react with appropriate flexibility and give, and make your working day better than before.
Support
The best new office chairs value support at a very high level. Ergonomic science and research, which Bill Stumpf and Jeff Weber both followed closely and contributed to, has shown the way to a new generation of furniture designers, revealing in detail the best ways to orient workers, support their backs, necks and shoulders, and increase their working efficiency and productivity. That's not to mention increasing their physical health and their mood, two things which office chairs aren't supposed to have anything to do with. But the Embody Chair is a different animal.
The Embody Chair was built to be the world's first health positive chair, the first office product that actually makes you better, rather than just makes you feel better. Because of this, Embody makes an excellent all around computer chair outside of the workplace.
---
Strikingly Original Design
Bill Stumpf and Jeff Weber were committed to making this chair the crowning achievement of the ergonomic furniture movement. But both men were also excellent designers of furniture, industrial and otherwise. It's the look of the Embody Chair that often sets it apart from it's peers when the average consumer is shopping.
The innovative and original back of the chair, the tapered headrest at the top; the moving, curvilinear armrests and the elegant seat all combine to form a unique and attractive whole. The vibrant colors available in the chair don't hurt it's image either, nor Smart Furniture's emphasis on customization.
The Herman Miller Embody Chair is also known by the following manufacturer Item Numbers: CN1, CN122NNAA, CN222NNAA, CN122AWAA, CN222AWAA.
About the Designer
| | |
| --- | --- |
| | |
| Bill Stumpf | Jeff Weber |
Embody was created by Jeff Weber and the late Bill Stumpf. Stumpf began working with Herman Miller in 1970 and was instrumental in designing the Ergon, Equa, and Aeron Chairs. Arguably the most knowledgeable designer in the world in the field of ergonomic seating, Stumpf came to Herman Miller with partner Jeff Weber with the goal of creating a chair that could "Go beyond just minimizing the negative effects of sitting... that positively impacts your life so you can work and live better." Sadly, Stumpf passed away in 2006. Collaborating with over 30 professionals at Herman Miller, including physicians and PhDs in the fields of biomechanics, physical therapy, and ergonomics, Jeff Weber carried on with Stumpf's vision. His team ultimately succeeded in creating the world's first health-positive office chair.
During Embody's development, Herman Miller's engineering staff operated under
three hypotheses:
An office chair can provide therapeutic benefits to it owner, rather than just being a heath-neutral seating device.
Wide variations in spinal curvature can be overcome through ergonomics to achieve natural "postural equilibrium"- the optimal upright point where the eyes are vertically aligned with the hips.
Comfort, liveliness, and health-positive benefits can be realized through the use of dynamic surface pressure, rather than non-dynamic surface pressure.
Using professional input on these three assumptions drove early design of the Embody Chair and resulted in the first protoptypes. In laboratory experiments involving kinematics, preferred postures, common seated tasks, and metabolics, Weber refined Embody's design and confirmed the health-positive benefits it could deliver.
Scientific Studies and Design Links
About the Manufacturer
Herman Miller is an industry leader in the integration of cutting edge technology to furniture and other household items to make everyday life more comfortable, convenient, and stylish. Herman Miller stands out at the forefront of such fields as ergonomic technologies, environmentally friendly manufacturing processes, and customizable furniture items.
In addition to producing some of the most outstanding office furniture in the world, Herman Miller has also taken on the responsibility of manufacturing some of the most celebrated furniture designs by some of the world's most famous designs. These "modern classics" include works by Charles and Ray Eames, George Nelson, and Isamu Noguchi. Herman Miller celebrates these famous mid-century designers' works through its extraordinarily precise manufacturing techniques and industry-leading green production processes.
Herman Miller is a global company with operations, sales offices, dealers, and licensees in more than 40 countries in North America, Asia/Pacific, Europe, Middle East, Africa, and Latin America, serving customers virtually anywhere in the world. Herman Miller is headquartered in Zeeland, Michigan, while manufacturing facilities are located in the U.S., China, Italy, and the United Kingdom.
Materials & Measurements
Materials:
Frame and casters are made from steel, plastic, and aluminum. 4-mesh seat is made from foam, textile, and other materials. Embody is 95 percent recyclable at the end of its useful life.

Dimensions:
Height: 39"-43.5"
Width: 29.5"
Seat width: 21.25"
Seat height: 16"-20.5"
Seat depth: 15"-18" (6 locking positions)
The Embody Chair is a truly revolutionary product. In nearly every category an office chair can be judged, it either matches or betters it's competition. In many of those categories, it has made contributions that have changed the face of the office furniture industry in a permanent way. The Herman Miller Embody Chair has won awards and praise from every corner of the design world, as well as from manufacturers, environmental groups, physicians, ergonomic scientists, and, of course, customers and office workers. In the end, it's the deep comfort, unwavering support and fresh, modern design that set this chair apart from it's peers. It looks great, it fits great, and it's actually good for you. The Herman Miller Embody Chair is at the forefront of an ongoing shift in the way we look at, experience, and work in office chairs. These are just some of the reasons why you should buy Embody.
With the Embody Chair your spine will always be supported in the appropriate places (including excellent lumbar region support), your legs, elbows and buttocks will never lose circulation or be in enough discomfort that you have to get up and stretch, or walk around. When you want to recline, or move in your chair to reach an awkwardly placed object, this chair moves with you, maintaining support and total ergonomic principles.
Back support is vitally important to your health, but it's often ignored by traditional office chairs, that usually give you a rigid backing (often padded) which can possibly recline. Essentially, it's a back with all the flexibility and support of a wooden board. With the Embody Chair, every area of your back is supported and moved with, as the Tri-Flex system administers comfort and support in three distinct zones. Increased back support means increased back health; which means better circulation, less discomfort and distress, higher rates of productivity and activity, and better moods and states of mind while you're working. If you have back support needs, the Embody Chair was made for you.
When you buy an Embody Chair from Smart Furniture, the chair you receive will have been fully customized by you in our Smart Designer customization tool. You choose the color, the finish, the adjustments and attachments. In the end, the chair you buy will be as unique and personal as you are.
Get comfort, support and design in one very cool package; get the Embody Chair today.
Environmental Information
Herman Miller is committed to manufacturing top-quality products using environmentally friendly production processes and materials. The Embody Chair exemplifies this dedication to environmentally friendly practices and is MBDC Silver Cradle to Cradle certified. Some of its most outstanding green features are listed here.
The Embody Task Chair is up to 95 percent recyclable and is composed of 42 percent recycled materials. In addition, its steel and aluminum materials are 100 percent recyclable. Packaging materials are part of a closed-loop recycling system, allowing them to be recycled perpetually.
Embody is manufactured using 100 percent renewable energy without any air or water emisisons released during production.
Manufactured at an ISO 14001-certified site (which is also a LEED Pioneer building) that on average generates a mere 77 pounds of landfill per month- just enough to fill one trashcan.
Embody contains no PVCs.
Read the complete Embody Chair Environmental Summary.

Specifications
Materials:
Frame and casters are made from steel, plastic, and aluminum. 4-mesh seat is made from foam, textile, and other materials. Embody is 95 percent recyclable at the end of its useful life.

Dimensions:
Height: 39"-43.5"
Width: 29.5"
Seat width: 21.25"
Seat height: 16"-20.5"
Seat depth: 15"-18" (6 locking positions)
Reviews
Smart Furniture Employee Review
The folks at Smart Furniture were curious about Herman Miller's Embody Chair and how well it would affect their everyday work environment - so what better way to figure it out than to just sit in one! Mark Rico, our resident rendering specialist, has graciously accepted the opportunity to sit on Embody for one week and write about his thoughts.
Mark, in addition to his superb SketchUp and facial-hair-growing skills, leads a happy existence with his wife and two daughters. He hopes to one day hike the Appalachian Trail with his family and is currently engrossed in "The Brothers Karamazov" by Dostoevsky.
Read more

...
Shipping & Delivery
Simple Scheduled Delivery:
Free
Simple Scheduled Delivery is for folks that don't mind carrying furniture. The shipper will call prior to delivery to arrange an appointment, but the driver will not bring the furniture inside.

Typical transit time is 4-7 business days.
Larger/Freight items:

For

Residential deliveries,

the shipper will contact you via phone call/email at least 24 hours in advance - to schedule a delivery appointment window (typically a 4 hour window). This is when your order does not ship with UPS/Fedex. Most shippers will have online tracking available as well.

Business deliveries

to companies/commercial addresses will typically not come with a pre-arranged appointment, but will arrive during standard business hours. Please contact Smart Furniture or the shipper if your business address has special scheduling needs.


Smaller items + office chairs will typically ship via UPS/Fedex with a tracking number and online monitoring, but not a phone call and delivery appointment (UPS/Fedex do have scheduling programs with sign up on their websites). This can include office chairs and other products requiring assembly.
The driver will deliver the shipment at the ground level/front of your house or in your apartment's regular delivery area. They will not bring the furniture inside or carry it up stairs.
If you live in an apartment, the doorman can accept delivery on your behalf.
For Larger/Freight shipment (non UPS/Fedex) You must be present at the scheduled delivery appointment to inspect the delivery items and sign paperwork if any damage is visible.

We'll be sure to assist with any damage that may occur. Please call Smart Furniture right away if any issues arise.

Any questions? Chat or call! We're happy to help!
For more information and shipping comparisons, click here.
Packaging:
Type: 1 box
Box dimensions (Fully Assembled Chair): 28" x 28" x 41"
Assembly Instructions
The Embody Chair comes fully assembled, or partially assembled if you choose. The fully assembled version costs nothing extra, so we recommend that you go with that! The partially assembled version is for special shipping arrangements that would benefit from smaller packaging
View Embody Chair assembly instructions
.
Warranty
The Embody Chair with Herman Miller's 12-Year, 3-Shift Warranty, covering casters, pneumatic cylinders, tilts and all moving mechanisms -- labor included. *Please note that the Balance White fabric is not covered under this warranty.

To learn more about the value delivered by Herman Miller's extended 12-year warranty, read Embody Chair: A Quarter a Day.

If you purchase something from us we back up the warranty. Whether the product comes with a 1, 3, or 12 year warranty if you have a warranty issue contact us! If we can send you a part, we do. If your item needs to be completely replaced, we send you a new one. If you need servicing, we work with local dealers to have a certified repair technician come out to your location. With your proof of purchase you can also make warranty claims with any authorized seller or Herman Miller directly. We try to do whats easiest for you and are there for you down the road like you hoped we would be. Shop SmartFurniture.com and be pleasantly surprised with our customer service every time you turn around.

Do you have specific questions about what's covered under Herman Miller's warranty for this product? Give our sales team a call at 8‌88-467-6278 to get your questions answered.

Did you purchase a piece of Herman Miller furniture that's not working as expected? Send an email to customerservice@smartfurniture.com or contact our customer service department at 8‌88-762-7841, and we'll take care of you. We usually ask for a photo or video of the warranty issue that you're experiencing, so if you want to expedite the warranty claim process, you can e-mail us with those attachments, and we'll jump on filing the claim for you right away
Shop With Confidence

Check out our 45-Day Return Policy!
We've ensured your personal data and sensitive information is always private and protected.