Shop Best Sellers
Browse through other customizations for the Generation Chair by Knoll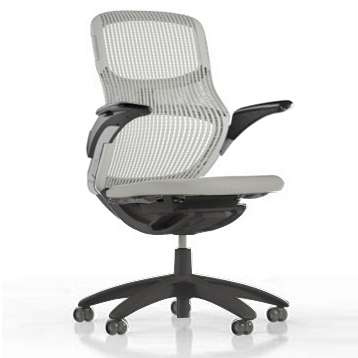 Generation Chair by Knoll
GENERATION111HA2SXSCDK3TSFGENU03
Arms
|
Height-Adjustable Arms
+$151.00
Base Finish
|
Dark
Lumbar Support
|
None
Casters or Glides
|
Hard Floor Casters
+$12.00
Frame Color
|
Dark
Back Color
|
Pebble
Seat
|
Thin Seat Foam
Seat Finish
|
Pebble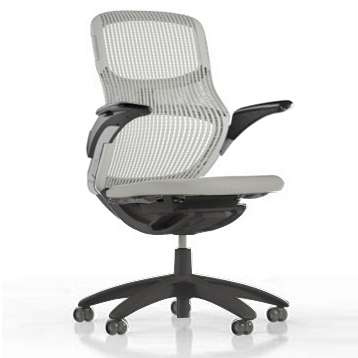 Generation Chair by Knoll
GENERATION111HA2SXSCDK3TSFGENU03
Arms
|
Height-Adjustable Arms
+$151.00
Base Finish
|
Light
Lumbar Support
|
None
Casters or Glides
|
Hard Floor Casters
+$12.00
Frame Color
|
Dark
Back Color
|
Pebble
Seat
|
Thin Seat Foam
Seat Finish
|
Pebble
Overview
Generation Chair by Knoll
designed by Formway Design
At A Glance:
The Knoll Generation Chair is a truly one of a kind office chair. Knoll is a one of a kind furniture giant, so that makes plenty of sense. Generation is a completely modern chair, outfitted with advanced ergonomics, a sleek, unique design, and a novel concept; build a chair where the user dictates the sitting position, and not the other way around. Such an idea might come around only once in a...wait for it...generation.

What's To Like:
The design, first and foremost. Generation has a zig zag right in the middle of the back of the chair, a kind of accordion angle, and that's where the secret to its success lies. That strange angle is actually a hinge, and it allows the person who sits in the chair to sit one of three ways - facing front, facing back, or side saddle. Either way, that unique back support their wait and keeps them comfortable. And aside from being innovative and helpful, it's also very cool.

What's Not to Like:
If you're not into a chair that's loud or makes a statement, this chair isn't for you. Buying it means you'll definitely get some attention around the office, especially when you ride it side saddle (ladylike).

The Bottom Line:
On their latest trip into the sphere of modern office chairs, Knoll hit a home run with the flexible, comfortable, creative and beautiful Generation Chair.
Features
Adjustable Tilt Limiter
Adjust the amount of recline your chair delivers when you lean back. You can work in the Generation Chair in a reclined or an upright posture
Flex Back Net
Moves in unison with the user. The Flex Back is made of a high performance elastomer material that is lightweight and soft to the touch, yet extremely durable and won't sag over time. The frameless structure doesn't restrict lateral movement while sitting.
Figure 8 Back
Unique design enables side-to-side flexing and provides optimal support for the lumbar and shoulder areas.
Flex Top
Enhances your ranges of movement perhaps more than any other feature- the flex top folds over the top edge of the back, providing a comfortable armrest for sitting sideways or backwards.
Flex Seat
Malleable front seat edge flexes 270 degrees to support user's legs without restricting circulation. Seat perimeter is void of imposing levers or rigid frames- enabling the user to utilize the whole seat. Also includes 3" seat depth adjustment.
Continuous Lumbar
Back support supplied by the Flex Back extends through Generation's arms. The shape and alignment of the cantilever arms provide lumbar support if you're sitting frontwards, sideways or backwards, or any point in-between.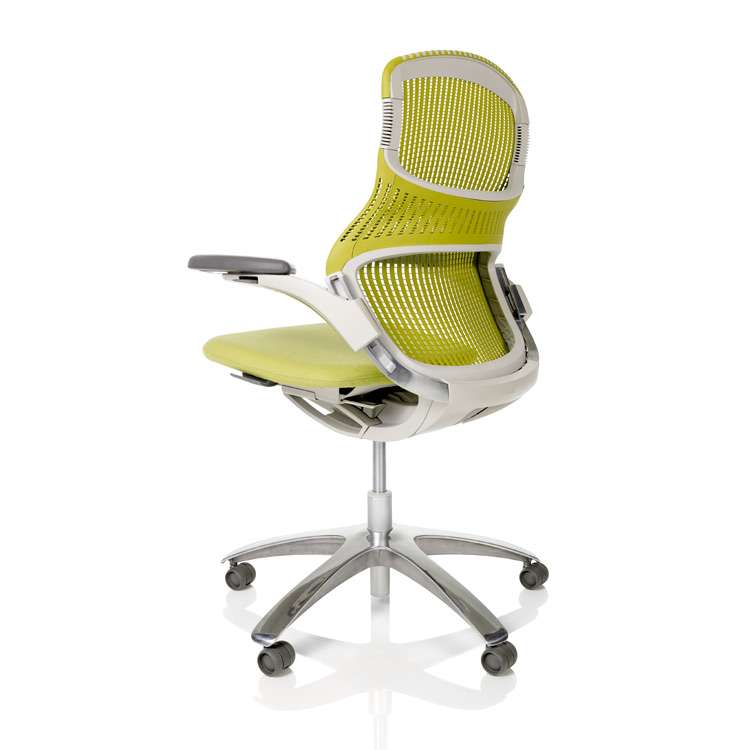 94.94%
Customer Satisfaction Rating
Rank: #10 in Office Chairs
Customer Rating:
Recommend to a Friend? 86%
Return Rate: 3.2%
The ideal office chair makes work more efficient and comfortable. Let our Office Chair Buying Guide help you find the perfect one.
---

INSIGHTS
Generation Chair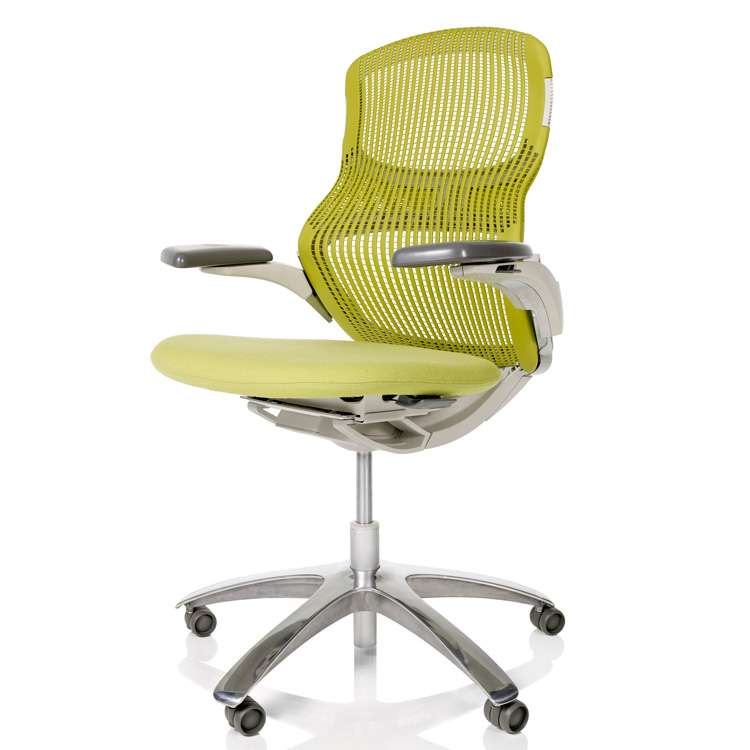 94.94%
Customer Satisfaction Rating
Rank: #10 in Office Chairs
Customer Rating:
Recommend to a Friend? 86%
Return Rate: 3.2%
About the Manufacturer
Founded in 1938, Knoll has nurtured many of the most inspiring and iconic furniture designs of the last century. With an extensive collection of modern classic furniture for the home as well as cutting-edge office furniture with a focus on functionality as well as aesthetics, Knoll is at the forefront of how furniture interacts with us and affects us in our daily lives.
About the Designer
The Knoll Generation Chair was the product of many minds, the work of many hands, but the chief designers and engineers were the members of Formway Design, a furniture building company based in New Zealand. The Generation Chair was subject to rigorous testing, re-testing, refinement, and a multitude of innovations and outside-the-box thinking. The result has been something everyone involved in its creation can be very proud of; the Generation Chair is at the top of the class in terms of design, mission, and functionality.
Formway Design has been plying their trade for more than half a century, since 1956, and there are few design firms around the world who have accrued the respect and admiration of this pioneering company. The Knoll Generation Chair is only the latest in a long line of accomplishments, all brought about through non-traditional work strategies and brilliant design.

Formway Design broke the mold in a big way in 1979, when they radically, and systematically, changed the company's way of doing things. They began to insist on group participation, group work, and group responsibility for all of their projects and output. The Knoll Generation Chair is one of the latest creations to come out of the Formway process, and the strength of the chair is proof positive that the system works. Formway is committed to the kind of group thinking, particapatory thinking, that results in the most flexible, multi-faceted, useful and well-planned furniture possible. The Knoll Generation Chair certainly fits that bill; it is a collection of ideas seamlessly integrated into a cohesive and lovely whole.


It was the paradox of Formway design--group thinking that isn't groupthink--that brought to fruition the exciting and groundbreaking design (and, even, fun) of the Generation Chair. The user of the Generation Chair is not limited to the forward-facing, vertical posture that is expected in office chairs. The Generation Chair was designed to be sat in in nearly every possible variation. You want to sit in the Generation Chair backwards? Go ahead, Formway Design made sure the armrests were positioned not to be in your way, and the middle of the back of the chair was angled to make that position comfortable and sustainable. You want to sit side sadle? Formway Design made the Generation Chair to fit this unique sitting style as well. And, of course, if you want to sit in a traditional posture, the Generation Chair is there to satisfy that need as well. There isn't any way to improperly use the Generation Chair, because it was designed for deployment in any number of non-traditional ways; in a way, it was designed so that one more designer could apply the finishing touch, and that designer is the user. Owning the Generation Chair is owning part of the patent, as Formway Design has allowed you to be one of the designers and engineers.
Knoll has worked with Formway Design in the past, for the excellent Life Chair. It's a partnership founded on excellence, innovation, and style. The Knoll Generation Chair, by Forway Design. Get one today.
---
The Knoll Generation Chair is a piece of furniture uniquely qualified for this time in history. It's a work chair that embodies the concept of elastic design; design which molds itself to the user, and not vice versa. Materials should inform the chair and serve the user, and purposes should be multi-faceted and large in scale. The Knoll Generation Chair has embraced elastic design to meet those criteria. The Generation Chair was built to operate at a high level in your office, and in today's modern workplace that means being able to accommodate a variety of uses, tasks, postures, and seating styles.
The Generation Chair has to be elastic because it has to be flexible; like the modern worker, and the modern work environment, it must be a multi-task, highly flexible and adaptable piece of furniture. With those goals in mind, Knoll and the fine designers working there have made sure that the Generation Chair fulfills and exceeds every requirement and expectation. There are several categories in which chairs, especially office chairs, are measured. Read more about the Generation Chair in the workplace. Comfort is usually rated the most important quality in an office chair by worker. Of course, there is also support, which is vitally important to your physical well-being and your mental peace at work. There is ergonomics; does the chair you're sitting in help you do your job more efficiently? Does it make you life at work easier, or harder? Can it help you to be more productive? There is style; does the chair you use when you're at work give you a lift? Is it attractive? Does it complement or improve the aesthetic of your office, or does it detract from it?
The Generation Chair has the right answers to these and to many more like-minded questions. It's extremely comfortable, first of all, with it's innovative shape and design contributing to a more giving, more ergonomically correct chair. When you sit in the chair, it not only gives you a soft landing, it keeps you supported in all the right spots. Another important aspect of comfort is freedom of movement, and no chair on earth is more amenable to that than the Generation Chair. Sit forwards, sit backwards, sit sideways; sit however you want, and the Generation Chair will accommodate you and make you feel comfortable.
In terms of support, the chair is an excellent choice. The curved back takes pressure off of your lumbar region and lower back, and gives your neck, shoulders, spine and upper back a less stressful sitting experience.
Ergonomically, the chair is a beauty. Not only does the adaptability in sitting style help in terms of comfort and freedom of movement, it makes you more productive. By keeping you less occupied by how uncomfortable you are, or how restricted, the freedom of the Generation Chair gives you the peace of mind to be focused, alert, and productive. The chair increases your efficiency by increasing your freedom. Neat trick.
As far as style goes, the Knoll Generation Chair is really without parallel. The peculiar, but refreshing and revolutionary, design is a hallmark of the Knoll legacy. It's different and modern and challenging in some ways, but it's also beautiful and right at home in a museum. You won't find a more energetic and stylish chair than the Generation anywhere, and Knoll is proud to have made one more entry into their long record of making beautiful furniture.
The Knoll Generation Chair was created for outside-the-box offices, so it had to have outside-the-box designers and thinkers to build it. The first idea in this vein was to disdain the traditional concept of single orientation seating. Knoll believed the worker should have the option of how to sit, and that every option should be comfortable and useful in the modern workplace. The Knoll Generation Chair is designed for nearly every imaginable posture and position. It can be sat in side-saddle, legs underneath the armrests; The Generation Chair accommodates reverse sitting, where the user sits backwards, chest resting against the back of the chair. The angled back of the Generation Chair allows for several postures to be held comfortably (and safely) for long stretches of time. The Generation Chair was built to serve the user, and the user should be able to choose how he or she sits. It's that simple. It's the Generation Chair, by Knoll.
Materials & Measurements
Materials:
Flex Back is made of high performance elastomer; plastic base version is made of 39 percent recyclable content; aluminum base version is made of 54 percent recyclable content

Dimensions:
Overall Height: 39.25" to 44.5"
Overall Width: 21" (armless) or 27.3" (with arms)
Overall Depth: 29.125"
Seat Height: 17.25" to 22.5"
Seat Depth: 15.75" to 18.75" (armless) or 15.74" to 18.25" (with arms)
Seat Width: 21"
Weight: 39 lbs.
Environmental Information
With the Generation Chair, Knoll didn't confine themselves to making a comfortable, adaptable, premium office chair. They also wanted to contribute to the big picture. To further this end, they made the Generation Chair one of the greenest, most sustainable and environmentally conscious chairs on the market.

Knoll made sure the Generation Chair adhered to their rigorous and industry-leading Design for the Environment Guidelines, which meant designing for durability, recycling, renewable materials, clean manufacturing, and low impact, low emissions facilities. The Knoll manufacturing plant run in Greenville Pennsylvania has been thoroughly tested and re-tested for air quality, low-emissions standards, and clean technology, and is an OSHA VPP site.
The Generation Chair by Knoll holds a Sustainable Platinum rating from SMART Consensus Sustainable Product Standards, has been LCA tested, and is GREENGUARD indoor air quality certified.
Reviews
Smart Furniture Employee Review!
In the realm of ergonomic task seating, the Aeron was first, a groundbreaking chair in both design and comfort. Following on its heels was a host of chairs that mimicked the design and couldn't touch the comfort. But recently, with the Embody's advent and the quality chairs produced by Steelcase and Humanscale, the discomfort of the consumer can be alleviated in any number of ways by any number of contenders. If you're a fan of being able to sit in the best position possible for your body and for comfort, you have choices.
But what if you don't want to sit still, with your feet flat on the ground and your arms at a 90 degree angle, and your back straight? What if you move a lot, or need to use the same chair to task and to collaborate? What if you (gasp) like to sit crooked?
Read more

...
Shipping & Delivery
Standard Shipping:
Free
With Standard Ground Shipping, shipments are typically completed with UPS or FedEx to your front door or main lobby. Once shipped, items generally arrive within 2-5 business days. Simple, fast and easy service. Tracking will be emailed to you upon order shipment.

*If additional tracking info/scheduling is needed, both UPS and FedEx have sign-up services on their website which allow for more detailed tracking/options. Shipment signature may be required, or signing the delivery note authorizing the shipper to leave the next day.

*Some larger products or multiple quantities may ship with a freight carrier (not UPS/Fedex), which will call you for a delivery appointment if delivering to a residence (or business hours for commercial address). We'll send you an email with the shipper/tracking info as soon as your order ships either way.
Warranty
Structural parts come with a 12-year limited manufacturer's warranty.
Fabric comes with a 3-year limited warranty.
Click here to see our return policy.
Shop With Confidence

Check out our 45-Day Return Policy!
We've ensured your personal data and sensitive information is always private and protected.