Shop Best Sellers
Browse through other customizations for the Liberty Chair by Humanscale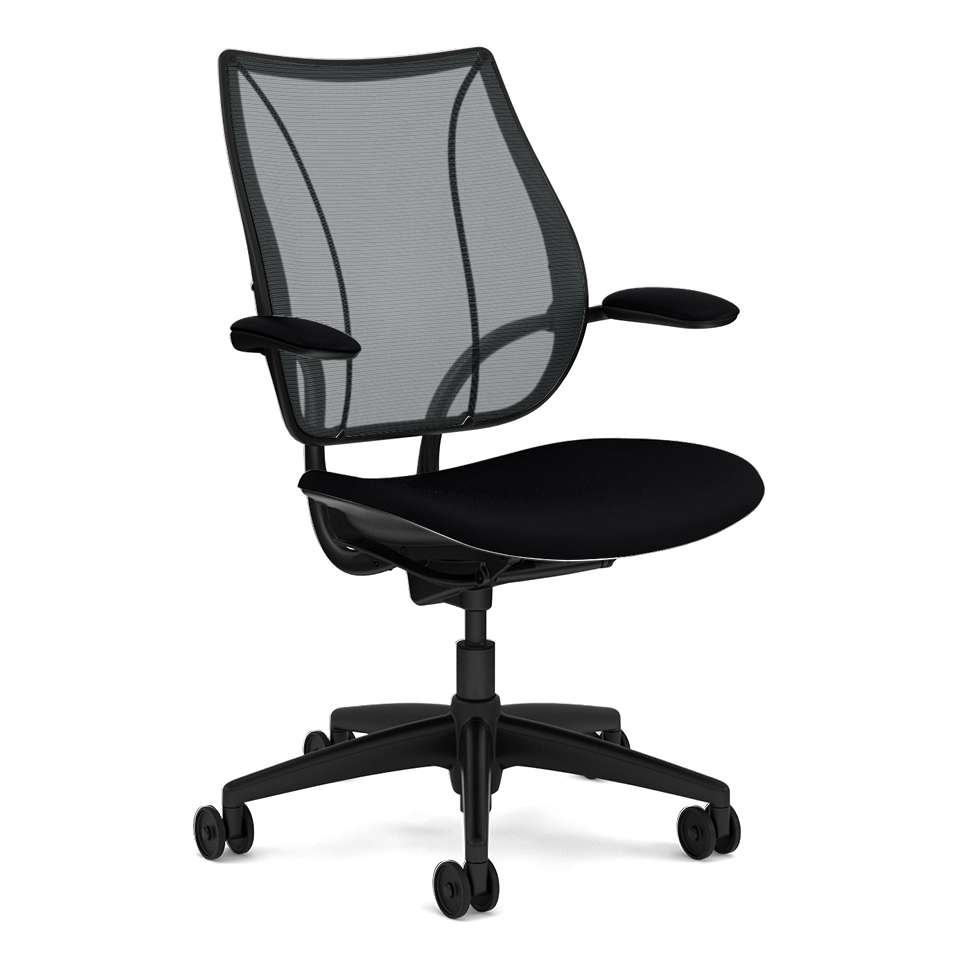 Liberty Chair by Humanscale
HSL11-AA-DFA00-B-M10-CFCF10-S-S-C
Upholstery
|
Corde 4
Seat Color
|
Black Corde 4
Back Mesh
|
Black Monofilament Stripe
Frame and Trim
|
Black Frame - Black Trim
Armrests
|
Duron Armrests
Arms
|
Adjustable Arms
+$40.00
Seat Materials
|
Standard Seat
Casters or Glides
|
Standard Hard Casters
Height Adjustment
|
Standard 5 in. Adjustable
Overview
Liberty Chair by Humanscale
designed by Niels Diffrient
From the company that brought you the Freedom Chair (Humanscale), we bring you the second most patriotic chair in our stable: the Liberty Chair. The look of the chair is simple and unadorned, but the internal design is elegant despite the complexity of the engineering. This is a chair that moves when you move, reclines in response to the pressure of you body, and keeps your lower back supported and stable the whole time.


What's to Like:
The breathable back is great for the office (especially in warm weather), and the floating armrests make it so you never feel hemmed in by the chair. The lower back support is superb, and the reclining mechanism is accommodating and very cool.
Bottom Line:
A fun chair, attractive, and light in every way except design and ergonomics.
The Liberty Chair from Humanscale lives up to its name through a light, transparent, and altogether refreshing take on the modern office chair. Liberty means freedom, and the Liberty Chair delivers. Freedom of movement, freedom from strain and back pain, freedom from the strictures of the average office chair, and freedom from the same old same old. In every way, the Liberty Chair is a true original, and emblematic of the commitment to service, excellence, and functionality espoused by the team at Humanscale.
Freedom of Movement
This is first and foremost a very comfortable chair. The light materials and breezy fabrics make it easy to feel the air in the room, to be part of the elements, rather than shielded and cut off from them. Users of this chair will feel cooler while they sit, less restricted by built up heat and discomfort caused by the padding and faux-leather of the average office chair. The materials of the chair are essential to the sense of freedom it gives you, and they're just one part of the comfort features the chair employs.
When buying an office chair, comfort is almost always the number one quality users say that want more than anything else. Look no further for comfort than the Liberty Chair. The main reason, aided and abetted by the material, is freedom of movement. In this chair you can feel free to move and sit as you choose. The tri-panel technology employed in the back of the chair comforts and supports your body in ways that no other mesh chair has been able to mimic, and the lumbar support system in the chair has made it safe, comfortable and supportive for you back. So no matter what you're doing in the chair, reclining or leaning forward, working or playing games, you'll be comfortable, and free to move the way you want to move, not the way the chair will allow you to move.
Another very cool feature of the Liberty Chair is the self-reclining mechanism within the chair. If you choose to move back or forward, the chair intelligently and intuitively moves with you and anticipates your desires. There are no adjustments to make, no levers to pull or mess with, and no unnecessary movements from you. All there is is a chair in perfect sync with your body, ready and willing to do what you want. Freedom of movement has never been so easy, so fun, or quite so liberating.
Freedom from Strain
As mentioned before, the Liberty Chair is hard to beat when it comes to back support. In your lumbar region, a lower part of your back, there is a great capacity for strain and wear and tear. This is the specific region that is targeted for relief by the Liberty. The materials and systems present in the chair make sure you always have prefect lumbar support.
The chair was designed by Niels Diffrient, a designer with a lifelong connection to ergonomic science and ergonomic seating solutions, and the finished product is a stylish and supportive example of a great ergonomic chair. When you're working in the Liberty Chair, you'll have everything you need to stay focused, stay productive, and stay comfortable, with no long term health effects or threats of back pain. With the automatic recline feature on the chair, and the practically unheard of non-reliance on adjustments, this is a chair that gives you the freedom you need to focus on your work, your play, or simply the rest of your day.
Freedom from Average Design
The Liberty Chair is a beautiful piece of design, an engineering feat wrapped in an aesthetic achievement. It's the crowning achievement of Neils Diffrient's exciting and ongoing career; a fitting tribute to everything he learned about ergonomics, human sitting style, and great industrial design. Smart Furniture is proud to offer our customers a chair that doesn't abide by the rules of the norm, that doesn't accept the limitations of the average or the narrow-minded, and that strikes out on it's own on a new path to beauty, form and function that's unlike any other.
The mesh of the chair is one of the first striking design elements that everyone notices. Unlike the typical office chair, which is generally constructed of padding, faux leather, or cloth, this is a free and easy chair that gives up all the clunkiness, heat and waste of the average office chair materials, without sacrificing any of the comfort, support, and reliability. The automatic adjustments, the thinness of the chair, and the reliance on ergonomics over conventional wisdom have all contributed to make a truly unique office chair, one that any owner would be proud to take into their office.
Smart Furniture is excited to offer our customers the innovative and exciting furniture lines coming from Humanscale, the Liberty Chair chief among them.
Resources
About the Manufacturer
| | |
| --- | --- |
| | Humanscale's focus since its inception in 1982 has been providing outstanding ergonomic seating and accessories for the home and the office. Their products, which range from task chairs to keyboard trays to CPU holders, are all geared towards making life simpler, easier, and healthier for anyone who works at a desk. Widely recognized for their line of office seating, Humanscale has done much to advance design in some newer product areas- namely in computer and office accessories such as monitor arms, foot machines, and the ergonomic computer mouse. Winner of numerous design awards, Humanscale continues to deliver groundbreaking office tools that combine simplicity, aesthetics, and ergonomics. |
Design
Through the delicate balance between ease-of-use and customization, a meticulous attention to cutting-edge materials, and an unflinching focus on ergonomic principles, Humanscale has created one of the most outstanding office chairs of the modern era.

The Liberty Chair's features were designed to work together and complement each other to provide convenient comfort for hours for those whose work requires them to sit at a computer. The rough definition of a task chair is one that provides its user with a range of adjustments to provide comfort for long periods of time working at a desk, and more specifically, a computer. The Liberty Chair fits this definition in spades.

The Liberty Chair's Features:




Form-Fitting Mesh Back
The non-abrasive, ultra-supportive mesh back of the Liberty Chair provides long-lasting lumbar support without the use of external lumbar devices. The use of mesh eliminates the need to physically adjust your lumbar support mechanism whenever you shift positions. If you've ever found the lumbar support device on your office chair to be invasive, too rigid, or just not comfortable, then Liberty might be the chair you're looking for.

Instead of using a single panel of mesh stretched across the entire back, Humanscale sews together three panels. The reason for this approach is that the shape of the human back makes a one-panel approach unpractical- one panel of fabric simply cannot accommodate the curvature of the spine in a supportive manner. However, with three separate panels, the Liberty Chair conforms to the shape of your back and shoulders in a very comfortable, ergonomically-sound manner.

All three mesh fabrics (Monofilament Stripe, Silver Check, and Torque) for the Liberty Armchair are available at Smart Furniture. You can read about their makeup under the materials and measurement section.




Technogel Seat
One of Humanscale's most innovative breakthroughs is the integration of gel into the seat of the office chair. The Liberty Chair's gel seat option was developed in unison with Humanscale fabric lines to create an unmatched combination of form-fitting support and longevity.

The gel seat is a layer of resilient, non-degradable Technogel over a foam core. These materials evenly distributes pressure across the seat no matter how you are seated and have been proven to reduce back muscle stress.




Adjustable Seat Height and Depth
The Liberty Chair has a certain focus on ease-of-use- there are no overly complicated adjustments to make. That's why adjusting the seat height and depth of the Liberty Chair is simple and convenient.

An easy-to reach lever underneath the seat front smoothly slides the seat pan forward and backward to adjust the depth of your seat. An additional lever to the right of the seat adjusts the height of your Liberty Chair.

The standard height cylinder has a seat height range of 16" to 21", but tall and low version are also available. For more information on the dimensions of the Liberty Chair, see our materials and measurements section.




Self-Adjusting Recline
Another element of the Liberty Chair that contributes towards its user-friendliness. There are no tension mechanisms to tweak, no recline setting to fool with. Just an automatic counter-balance mechanism to activates when your recline.

The self-adjusting recline of Humanscale seating permits a smooth transition from task seating (upright posture) to reclined seating. When you lean back in the Liberty Chair, the chair back and seat interact to keep your eyes at a near constant level- keeping you on task while you recline.




Active Armrests
Height adjustable arms are one worthwhile option the Liberty office chair offers. The 5" adjustable arms activate with an easy-to-reach button located underneath the chair's armpads. The arms make a sweeping motion when adjusted- ensuring that the armrests remain parallel to the ground throughout their range of motion.

Liberty's armpads are available in a Duron (soft urethane) or Technogel material for maximum comfort and ergonomic support for your arms and elbows. Armpad covers are available in upholstery to match your seat as well as a Xanium cover- a synthetic covering that is extremely durable yet soft to the touch.




The mesh back of the Liberty Chair is actually 3 different panels of fabric- allowing it to maximize the amount of surface area supporting your back.




The Liberty Chair's height-adjustable armrests option allow the user to pivot the arms 5" with a convenient button underneath the armrests. The black frame is shown here.




Fixed armrests option with a polished aluminum frame.




The adjustment mechanisms of the Liberty Chair are simple and intuitively designed.
About the Designer
Niels Diffrient
Designer of the Freedom Chair, the Liberty Chair, and the Diffrient Light, Niels Diffrient is internationally recognized as a premier designer in the field of ergonomics. With a resume that includes collaboration with icons Eero Saarinen and Marco Zanuso, a background in aeronautical engineering, and numerous design awards, Niels Diffrient is undoubtedly one of the most influential designers of the past 50 years.
Born in 1928 in Star, Mississippi, Diffrient attended Wayne State University and eventually enrolled in the Cranbrook Academy of Art, where he won the First Medal of Design three times during his tenure there. After traveling and working in Europe thanks to a Fulbright Scholarship, Diffrient began work at the design firm Henry Dreyfuss Associates, where he would stay for 25 years. While there, he co-authored the three-volume publication Humanscale. This work summarized his design principles which were rooted in the belief that the human body should drive design for products that humans will interact with. In his own words: "A design should look good and be appealing, but without compromising human factors. Aesthetics should enhance the technical side, not deter from it."
Awards and Honors:
2002 Cooper Hewitt National Design Museum Product Design Award
1996 Chrysler Award for Innovation
2005 Legend Award from Contract Magazine
Named the "Granddaddy of the ergonomic revolution by Forbes Magazine in 2007
Honorary Royal Designer for Industry Member- awarded by the Royal Society of Arts and Industry
1996 I.D. Magazine Top 40 Design Innovators
Materials & Measurements
Materials:
Seat pad is upholstery over Humanscale Technogel or a foam core. Armrests are duron with or without an upholstery cover or Technogel with a xanium or upholstery cover. Duron is a comfortable, durable version of urethane; xanium is a synthetic composite that is extremely soft to the touch. Liberty Chair back is 3 panels of low-abrasion mesh. Frame and base are primarily aluminum, with some plastic and steel.
Dimensions:
Overall: 26.5" w x 25" d
Seat width: 21"
Standard height: 38.5" - 43.5"
Standard seat height: 16" - 21"
Low height: 37.75" - 41.5"
Low seat height: 15.25" - 19"
Tall height: 39.5" - 44.75"
Tall seat height: 17" - 22.25"
Environmental Information
The Liberty Chair contains 54 percent recycled content (32 percent post-consumer, 22 percent post-industrial), and is 93 percent recyclable. Liberty is designed for easy disassembly so that it can be easily recycled at the end of its useful life. It is also Greenguard Indoor Air Quality Certified.Read the Liberty Chair's complete
environmental summary.
Shipping & Delivery
Free Shipping:
Free
We love free shipping offers and we thought you might too! And just because it's free doesn't mean we skimp on service. The item will ship with UPS ground service which includes delivery directly to your front door or main office. Once shipped, orders will generally arrive within 2-5 business days. This shipping option is simple, fast, easy (and free)!
Warranty
Fabric and cushions are covered by a 5-year warranty; all other parts are covered by a 15-year warranty. Humanscale's warranty does not cover issues caused by normal wear and tear or misuse by the owner.
Read how the Liberty Chair's warranty breaks down in dollar terms over a 15-year period.
Shop With Confidence

Check out our 45-Day Return Policy!
We've ensured your personal data and sensitive information is always private and protected.