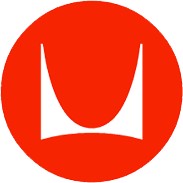 Shop Best Sellers
Browse through other customizations for the Mirra 2 Chair by Herman Miller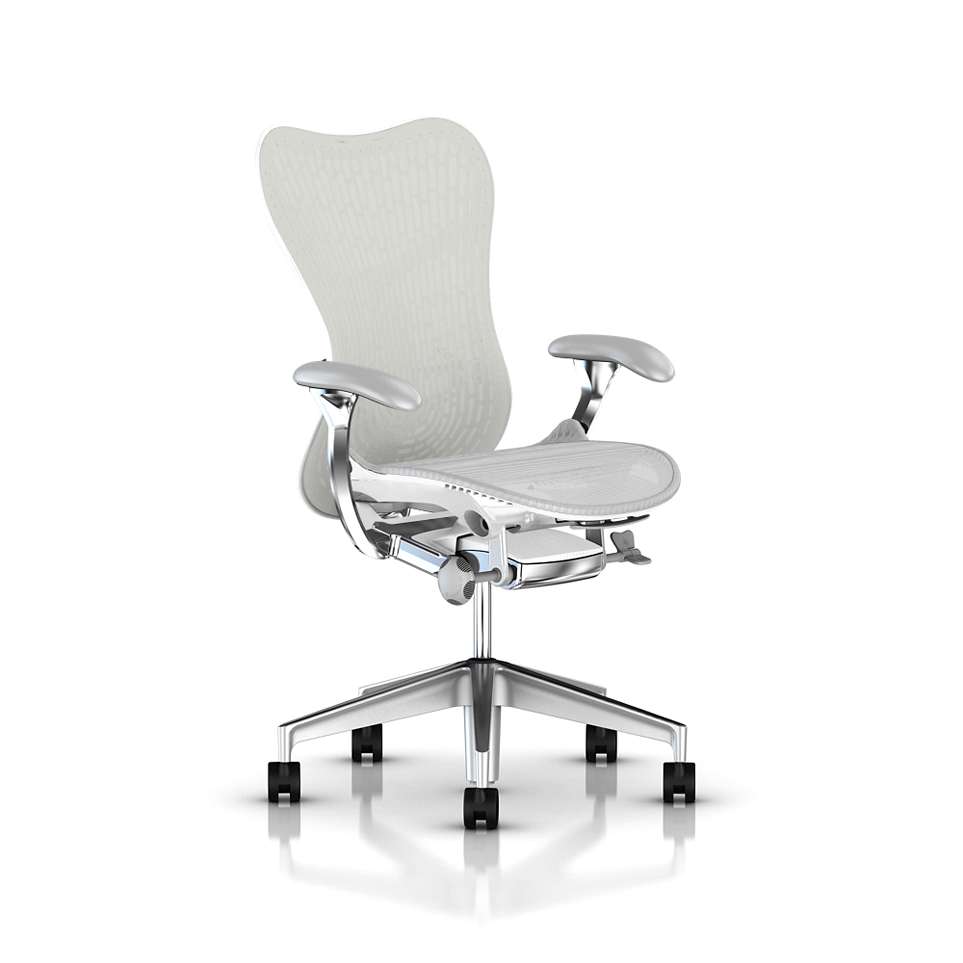 Mirra 2 Chair by Herman Miller
MRF223PWAFAJ6KASC8988M10631A701
Assembly Option
|
Ready To Assemble
Tilt Adjustment
|
Tilt Limiter and Seat Angle
+$65.00
Arms
|
Fixed Arms
+$100.00
Seat Adjustment
|
Adjustable Seat Depth
+$55.00
Lumbar Support
|
Adjustable Lumbar Support
+$60.00
Frame Color
|
Semi-Polished Base with White Frame
+$300.00
Casters
|
Carpet or Hard Floor Casters, Quiet Roll
+$50.00
Back Upholstery
|
Studio White Back, Alpine Fabric
+$50.00
Armpad Finish
|
Fog
Seat Color
|
AireWeave Alpine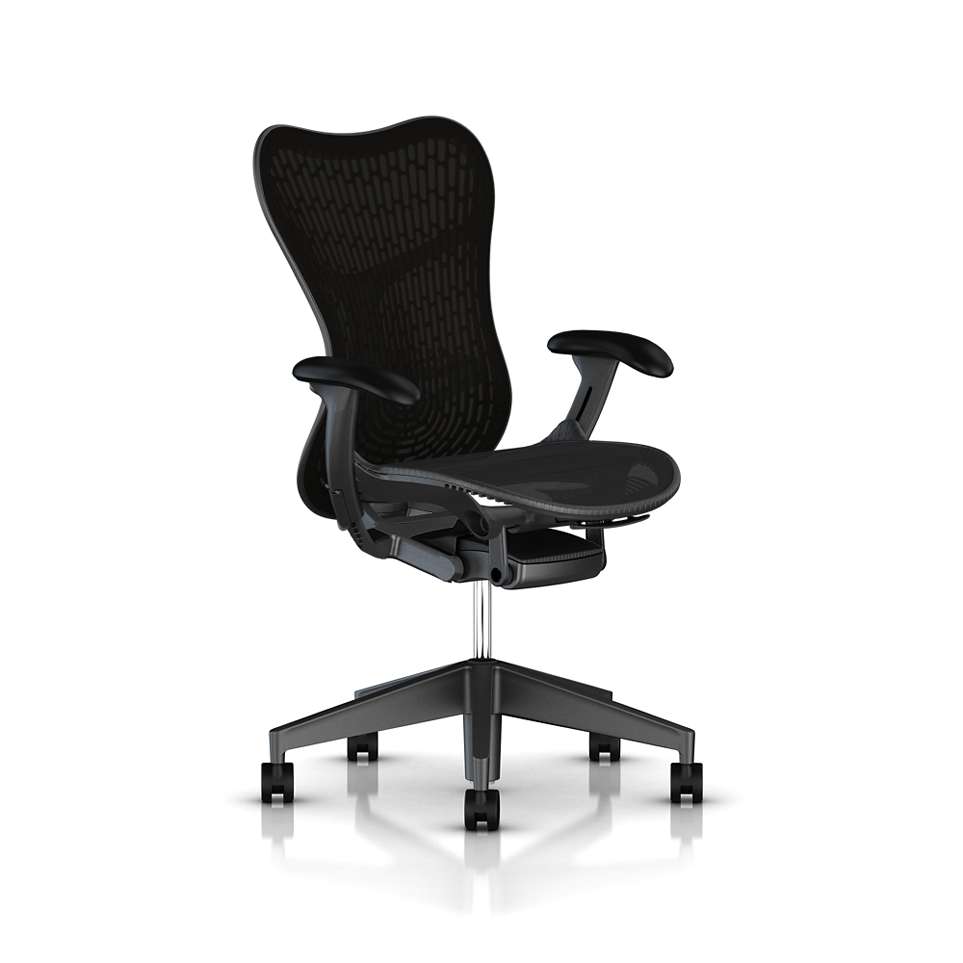 Mirra 2 Chair by Herman Miller
MRF223AWAFAJG1BBG18M17BK1A703
Assembly Option
|
Ready To Assemble
Tilt Adjustment
|
Tilt Limiter and Seat Angle
+$65.00
Arms
|
Adjustable Arms
+$170.00
Seat Adjustment
|
Adjustable Seat Depth
+$55.00
Lumbar Support
|
Adjustable Lumbar Support
+$60.00
Frame Color
|
Graphite
Casters
|
Standard Casters
Back Upholstery
|
Graphite Back, Black Fabric
Armpad Finish
|
Black
Seat Color
|
AireWeave Graphite
Overview
Mirra 2 Chair
by Herman Miller
At A Glance:
The Mirra 2 Chair represents a rethinking of one of Herman Miller's most successful office chairs. Acclaimed by Wired.com as the best of 6 task chairs in a recent test, Mirra 2 features a redesigned back and a tilt mechanism that allows you to smoothly move from one posture to another. This beautifully engineered office chair ably responds to the needs of a workplace in motion, moving smoothly from collaborative to tasking positions as you move.
What's To Like:
Better Butterfly Back
Where the original Mirra Chair had a fabric layer over a base plastic back, Mirra 2 has a thinner polymer layer that has been merged to the Latitude fabric. Check out the video below to see it in motion - it's supportive and strong, and creates an incredibly comfortable sitting pocket.

Redesigned Seat
More airflow means better temperature control. Better temperature control means that you'll be more comfortable for a longer period of time. This is no small improvement, folks.

Smoother Tilt Mechanism
For those about to rock, we salute you. Mirra 2 has an improved harmonic tilt mechanism that makes your transition from an upright seated position to a laid-back recline effortless and smoother than smooth. Many of us need to move between those positions frequently, and Mirra 2 makes it easy.


Eco-conscious Design
Mirra 2 is 22% lighter than the original Mirra, giving it a 25% smaller carbon footprint. That's a significant reduction, and a demonstration that this chair is a responsible choice when it comes to the environment.
What's Not to Like:
If we're nitpicking, the seat depth and arm height adjustments could be better. The seat depth is changed by simply bending down the front of the seat to make it smaller, so doesn't prove to be a true depth adjustment. If the arm height adjustment weren't a bit awkward we wouldn't have even brought it up, as the arms are stellar in every other aspect.
Bottom Line:
Mirra 2 is an office chair that will outshine even the most expensive task chairs. At top-tier price, that's what you'd expect. But you get even more than you pay for with the Mirra 2 Chair. It really is more comfortable than most high quality chairs. That's what we call a chair that gives you more bang for the buck - and more comfort during your daily work.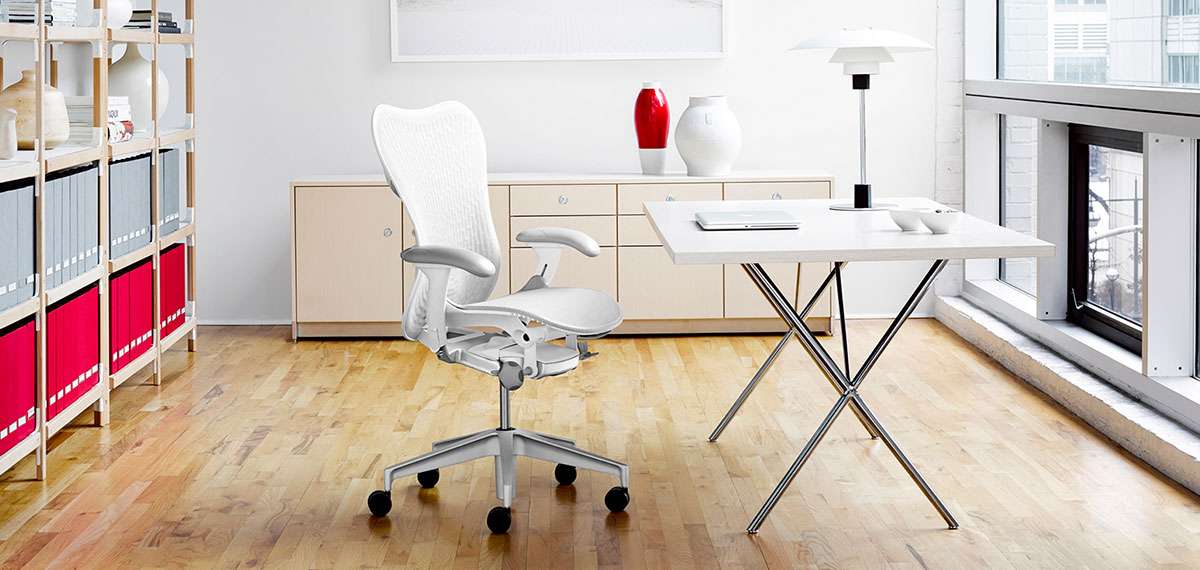 The Herman Miller Mirra 2 Chair is also known by the following manufacturer item numbers: MRF, MRF1, MRF2, MRF11AWAFAJ, MRF21AWAFAJ.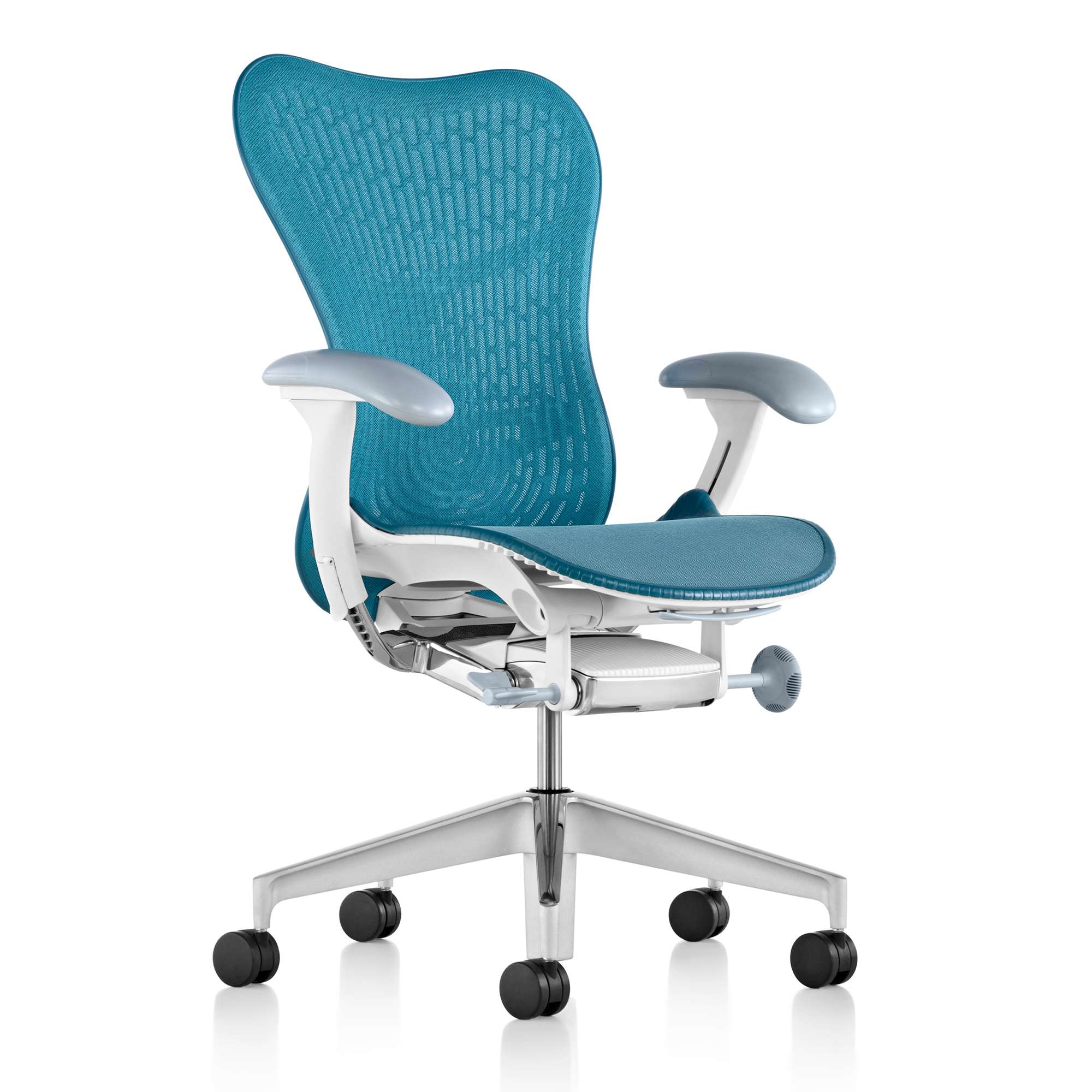 96.93%
Customer Satisfaction Rating
Rank: #6 in Office Chairs
Customer Rating:
Recommend to a Friend? 100%
Return Rate: 3.1%
The ideal office chair makes work more efficient and comfortable. Let our Office Chair Buying Guide help you find the perfect one.
---

INSIGHTS
Mirra 2 Chair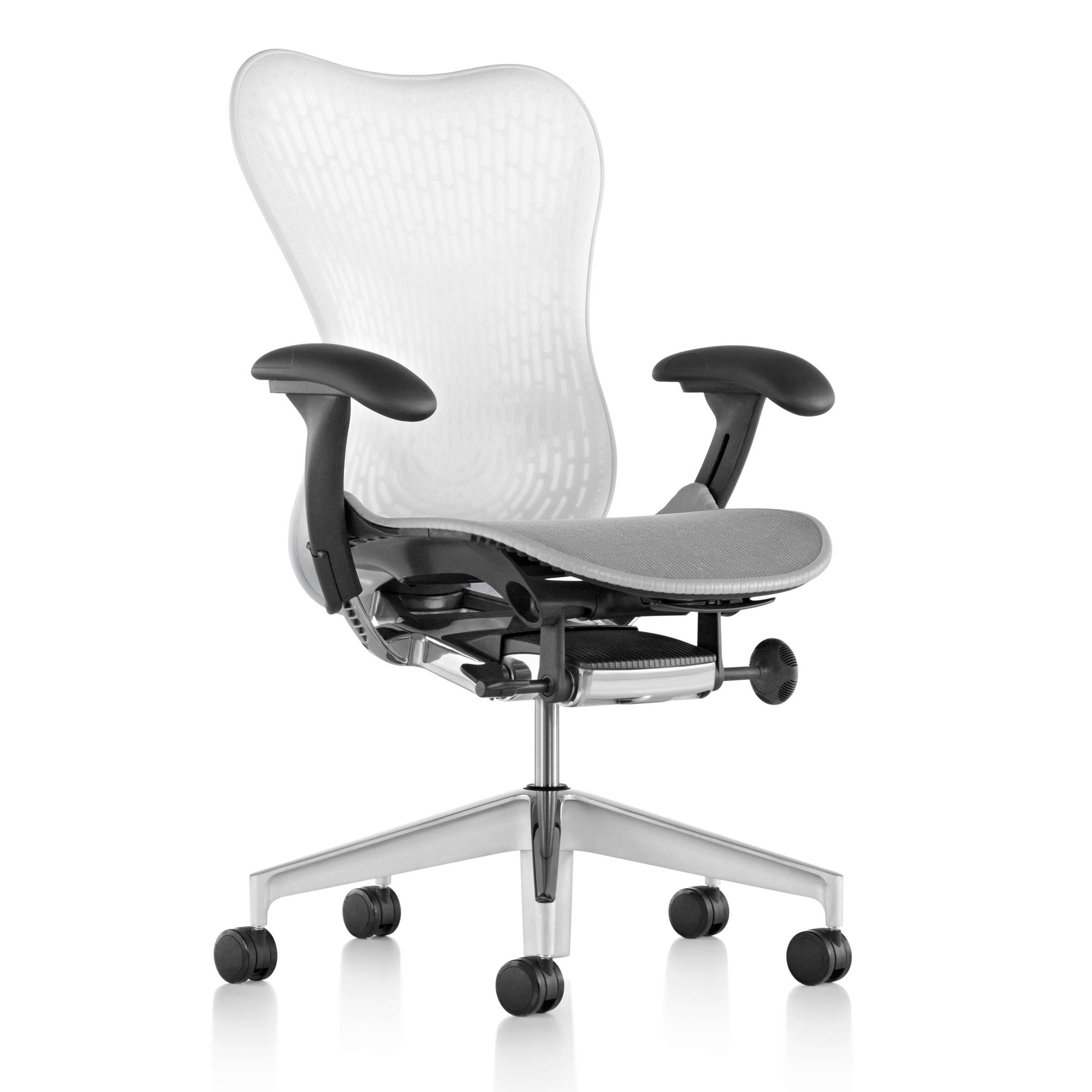 96.93%
Customer Satisfaction Rating
Rank: #6 in Office Chairs
Customer Rating:
Recommend to a Friend? 100%
Return Rate: 3.1%
About the Manufacturer
Herman Miller is an industry leader in the integration of cutting edge technology to furniture and other household items to make everyday life more comfortable, convenient, and stylish. Herman Miller stands out at the forefront of such fields as ergonomic technologies, environmentally friendly manufacturing processes, and customizable furniture items.
In addition to producing some of the most outstanding office furniture in the world, Herman Miller has also taken on the responsibility of manufacturing some of the most celebrated furniture designs by some of the world's most famous designs. These "modern classics" include works by Charles and Ray Eames, George Nelson, and Isamu Noguchi. Herman Miller celebrates these famous mid-century designers' works through its extraordinarily precise manufacturing techniques and industry-leading green production processes.
Herman Miller is a global company with operations, sales offices, dealers, and licensees in more than 40 countries in North America, Asia/Pacific, Europe, Middle East, Africa, and Latin America, serving customers virtually anywhere in the world. Herman Miller is headquartered in Zeeland, Michigan, while manufacturing facilities are located in the U.S., China, Italy, and the United Kingdom.
About the Designer
When considering what to look for in an office chair, a lot of things come to mind. For many customers, comfort is the number one priority. For others, good ergonomic back support is the most important thing. And, for still others, the price tag is the preeminent measure of which chair to buy. One aspect of office chair buying that is sometimes overlooked, however, is who actually makes the product. While the Mirra Chair was commissioned, produced and marketed by Herman Miller, it is Studio 7.5 who actually designed and built the chair for commercial sale and reproduction. And there are few furniture makers on earth more worthy of your trust and admiration than Studio 7.5. Ten years down the road, Studio 7.5 has reimagined the Mirra chair and come up with the Mirra 2 Chair.
Studio 7.5 is a German company dedicated to freedom of movement and design. They made the Mirra 2 Chair in that same spirit; as a product marked by many fingerprints, suited for many purposes, many offices, and many rooms. Adaptability and well-tuned adjustment capability are the main qualities the finished Mirra 2 Chair possesses, aside from exquisite comfort and unflinching support. Studio 7.5 isn't like most firms, and the chair they produced isn't like most chairs. The process that led to the creation of the Herman Miller Mirra 2 Chair was intensive and profoundly interesting. At Studio 7.5, things are run very differently from a typical American business. They were committed not only to the idea of the chair - of the product - but also to the idea of their unique company. So committed, in fact, that they have no bosses, no owners, no employees. They're a collective of innovative designers whose original business plan was to buy a 7.5 ton truck and move their studio from place to place: thus the name.
Of course, the truck thing never really came to pass; they were too successful, too in demand, and too in need of freedom and space to work their magic on industrial design items. The Mirra 2 Chair, while one of their finest pieces of work, is far from their only work. They have a long track record of success in creating beautiful, useful, innovative products for an international market. They are a company to be trusted when it comes to utility, aesthetic quality, and innovation. The Mirra 2 Chair and Studio 7.5 are ideas both Herman Miller and Smart Furniture can stand behind with pride and complete trust.
So who is Studio 7.5? If there are no bosses and no owners, who makes the products? Who designs them and runs the business?
Burkhard Schmitz, Claudia Plikat, and Carola Zwick were the original members of the team, later joined by Roland Zwick. All of them had backgrounds in industrial design, and long resumes full of success, beauty, and excellent functionality. When asked about the Mirra Chair, one of their latest and greatest productions, they brighten, and can speak in depth and with intense detail about the chair. About the Mirra chair: "We define not only how the chair looks but how it performs," says Carola. "We're very involved with its physical behavior, because beauty is not only what you see, it's also what you feel." This is the philosophy that led to the paradoxical pursuits of less material and more support, fewer adjustments and a better fit, and high value at low cost. It also led to one of the most innovative chairs this decade, and in more ways than one. Studio 7.5 blended scientific research, ergonomic study and fashion-forward aesthetics to forge a signature chair: the Mirra 2.
Of course, when you're making a purchase on a new office chair, comfort, support, ergonomics, beauty and pedigree should be at the forefront of your mind. But don't forget to consider the actual makers of the product. The companies, sensibilities, and physical hands that built the chair. In the case of the Herman Miller Mirra 2 Chair, built by German Studio 7.5, thinking about the designers can only improve your opinion of the chair you're looking at. Because in their capable and creative hands, Herman Miller was able to produce yet another wondrous, innovative, and even revolutionary office chair for the day to day life of working folks. With Studio 7.5, you know what you're buying; quality, hard work, beauty, and plenty of good old fashioned comfort, support, and functionality.
Design
Improved Butterfly Backrest

This is an innovation designed to support the back in all the areas that matter; lumbar, lower spine, shoulders. These are all crucially important areas when it comes to long hours at a desk or computer. Without proper support for all of them, the quality of your seating experience goes down, which in turn affects your work, mood, and health. The integrated fabric/polymer construction of the Mirra 2 chair's back is designed to make sure that doesn't happen, and to make sure you can sustain the quality of your health and work experience for long periods of sitting. The Butterfly Back keeps you as comfortable - and your back and spine as healthy - as possible. And, true to form, all of this happens intuitively with the Mirra 2 chair - no adjustments necessary. The lack of reliance on personal adjustments (which can, of course, still be made) is something that really sets the Mirra 2 Chair apart; it allows for professional, medical, technical adjustment, rather than just personal.
Passive PostureFit

Herman Miller designed the PostureFit system for the Aeron chair, their breakthrough product in ergonomic design. But for the Mirra 2 chair they did Aeron one better, developing the Passive PostureFit. The new version is designed to support your lower spine, the part of your back below the belt, and to do it without forcing you into an uncomfortable or unsustainable position. Research has shown that most office workers sit forward in their seat when the work, slouching. Mirra 2's Passive PostureFit doesn't correct this posture as much as it makes it easy and healthy to maintain. Camber contour at the base of the back makes it comfortable and natural to assume your normal position at work, and at the same time relieves all the stress and unhealthy alignments and tensions from your back. So the Mirra 2 has accomplished the dream of every teenager; healthy, comfortable, posture-maintaining slouching. The engineering behind this design feature is deeply impressive, as well as truly creative; not to eliminate bad posture by making it uncomfortable and therefore untenable, as many office chairs do, but cradle and support bad posture (which, as research shows, is actually normal posture) and convert in into comfortable, non-damaging seating. Neat trick.
Improved Harmonic Tilt

Harmonic tilt uses advanced seat and spring technology to create the most comfortable and easy tilting and reclining possible. This is an under-researched and under-estimated aspect of office seating. Users of office chairs spend large portions of their time leaning, swiveling, and reclining, in several different positions and at many different stress levels. The ultimate office chair would address this little-discussed aspect of seating, and therefore improve vastly the enjoyment and comfort of the office chair. The designers and engineers behind the Mirra 2 chair resolved to do this, and they did it in an unconventional, innovative way (no surprises there). Mirra 2 is designed to provide the same tension and pull when it comes to leaning in the seat no matter what type or size of user is in the seat. The ensures that the user is always in complete control of the seat. In a word, it creates harmony between the user, their desire to recline or lean, and the chair. So, rather than attempt to make the chair super-fluid or have myriad adjustments to the recline function, Mirra 2 just made it simple, easy, and comfortable for everyone. Harmonic tilt is the unexpected answer to a little-asked question in the world of office chair design, and it improves the function and ergonomic rating of the Mirra 2 chair immeasurably.
More Efficient AirWeave Suspension

The seat on the Mirra 2 chair is designed with comfort, breathability and coolness in mind. AirWeave allows air to flow through the Mirra 2 chair's seat, reaching the user and keeping him or her cool, collected, and productive. The seat also has a fixed depth, at 17", which means there's never a gap between the seat and the back of the chair, keeping you comfortable and supported. The seat's front edge can be curved down to reduce its depth without actually moving the seat. It's ingenious. And it's natural, because it's yet another paradox, for the last major design feature of the Mirra 2 to somewhat contradict the high-tech, engineering-focused features that came before. One of the best innovations used in the chair is one of the simplest, and most obvious; just make the seat breathable! Mirra 2 is an elegant chair with a lovely aesthetic that serves as packaging around a highly technical and complex series of engineering achievements.
Design Story
The slogan for the new Mirra 2 Chair is "Together in Motion." The tagline couldn't be more fitting, since the chair responds in a unified way to the movement of your body. The Mirra 2 Chair is designed to adapt to slight weight transfers and shifts in movement. After the success of the Mirra Chair, Studio 7.5 made the Mirra 2 Chair even leaner and lighter - advancing how you sit, how you work, and how you move.
Materials & Measurements
Materials:
The Mirra 2 Chair's components are constructed from steel, plastic, aluminum, foam and textile.

Mirra 2 chairs have a new composite base made of glass-filled nylon. The new base meets all current BIFMA standards and maintains all environmental certification levels, and offers improved scratch/scuff resistance in response to customer requests. Visually, the new base is ultra-similar to the old base unless viewed from less that two feet away. With the material change from aluminum, the recycled content of the Mirra chair has changed from 42 percent to 33 percent.

Dimensions:

Low-Height Range:
Overall: 37.25" - 41.75" h x 27" w
Seat: 15" - 19.5" x 17" d

Standard-Height Range:
Overall: 38.25" - 42.75" h x 27" w
Seat: 16" - 20.5" h x 17" d

Extended-Height Range:
Overall: 38.25" - 43.75" h x 27" w
Seat: 16" - 21.5" h x 17" d

The Standard Height Range is the default selection when you customize your Mirra 2 Chair with Smart Furniture. For low or extended height options, please call a Smart Furniture salesperson at 888-467-6278 for assistance.
Mirra 2 Chair Adjustments and Overview
Shipping & Delivery
Simple Scheduled Delivery:
Free
Simple Scheduled Delivery is for folks that don't mind carrying furniture. The shipper will call prior to delivery to arrange an appointment, but the driver will not bring the furniture inside.

Typical transit time is 4-7 business days.
Larger/Freight items:

For

Residential deliveries,

the shipper will contact you via phone call/email at least 24 hours in advance - to schedule a delivery appointment window (typically a 4 hour window). This is when your order does not ship with UPS/Fedex. Most shippers will have online tracking available as well.

Business deliveries

to companies/commercial addresses will typically not come with a pre-arranged appointment, but will arrive during standard business hours. Please contact Smart Furniture or the shipper if your business address has special scheduling needs.


Smaller items + office chairs will typically ship via UPS/Fedex with a tracking number and online monitoring, but not a phone call and delivery appointment (UPS/Fedex do have scheduling programs with sign up on their websites). This can include office chairs and other products requiring assembly.
The driver will deliver the shipment at the ground level/front of your house or in your apartment's regular delivery area. They will not bring the furniture inside or carry it up stairs.
If you live in an apartment, the doorman can accept delivery on your behalf.
For Larger/Freight shipment (non UPS/Fedex) You must be present at the scheduled delivery appointment to inspect the delivery items and sign paperwork if any damage is visible.

We'll be sure to assist with any damage that may occur. Please call Smart Furniture right away if any issues arise.

Any questions? Chat or call! We're happy to help!
For more information and shipping comparisons, click here.
The Mirra 2 Chair comes with free front door shipping for destinations within the contiguous United States.
Shipping options:
Standard Front Door Delivery (large truck): Free! includes delivery to the front door.
Inside Delivery: $74 upcharge - Shipping company will set up a delivery appointment with you and bring the chair inside your residence
Premium Inside Delivery: $99 upcharge - Includes delivery into your home and unpackaging. The shipper will dispose of the box if you ask, but we recommend holding on to it in case you decide to return it.
Packaging:
Type: 1 box
Box dimensions (ready to assemble): 29" x 32" x 45"
Packaged weight: 42 lbs.
For additional information, please see our shipping and delivery policies page.
Warranty
The Mirra 2 chair comes with a 12 year warranty from Herman Miller, one of the most trusted names in the country when it comes to furniture.

If you purchase something from Smart Furniture we back up the warranty. Whether the product comes with a 1, 3, or 12 year warranty, if you have a warranty issue contact us! If we can send you a part, we do. If your item needs to be completely replaced, we send you a new one. If your product needs servicing, we work with local dealers to have a certified repair technician come out to your location. With your proof of purchase you can also make warranty claims with any authorized seller or Herman Miller directly. We try to do whats easiest for you and are there for you down the road like you hoped we would be. Shop SmartFurniture.com and be pleasantly surprised with our customer service every time you turn around.

Do you have specific questions about what's covered under Herman Miller's warranty for this product? Give our sales team a call at 8‌88-467-6278 to get your questions answered.

Did you purchase a piece of Herman Miller furniture that's not working as expected? Send an email to customerservice@smartfurniture.com or contact our customer service department at 8‌88-762-7841, and we'll take care of you. We usually ask for a photo or video of the warranty issue that you're experiencing, so if you want to expedite the warranty claim process, you can e-mail us with those attachments, and we'll jump on filing the claim for you right away
Shop With Confidence

Check out our 45-Day Return Policy!
We've ensured your personal data and sensitive information is always private and protected.