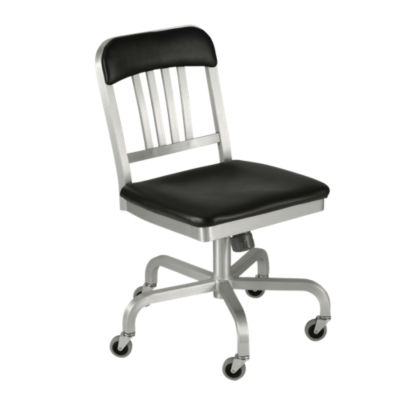 Navy Semi Upholstered Swivel Chair
THIS ITEM HAS BEEN DISCONTINUED AND IS NO LONGER AVAILABLE.
Though this item is long gone, we've curated a few other products that you might also be interested in. Check them out!
People Who Looked At This Product Also Shopped For:

Navy Semi Upholstered Swivel Chair by Emeco
designed by Winton Dinges
This model features the sophistication of the original Navy Chair designed with the comfort of a black vinyl semi-upholstered back, such that its characteristic back design is apparent, and upholstered seat. It sits upon a swivel/tilt base with tension and pneumatic height adjustment.
Made with 80% recycled aluminum content
Dimensions: 31-33.5" h x 24" w x 24" d
Available in brushed or polished aluminum
Estimated lifespan of 150 years or more
Emeco was founded as a response to a commission from the Navy to make chairs for submarines in WWII. The contract specified that the chair had to be able to withstand torpedo blasts to the side of a destroyer. Founded by Winton Dinges in 1944, the company employs a 77 Step Process that was developed by Alcoa and Emeco to manufacture a chair so durable that it far exceeded the Navy's specifications.
Also In This Collection

Materials & Measurements
Materials:
Recycled aluminum, both post consumer and post industrial, and black vinyl upholstery

Dimensions:
Overall: 31-33.5" h x 24" w x 24" d
Seat height: 17.5-20"

Environmental Information
Emeco uses 80 percent recycled aluminum to make its chairs
The aluminum content in Emeco chairs is 100 percent recyclable
During the production process, aluminum emits no VOCs or aldehydes in any measurable concentration
Emeco uses 100 percent recyclable shipping and packing materials (they even use paper tape).
Smart Furniture customers know that one of the most important causes for our business is the environment. Much of our corporate policy is geared toward lessening our impact, and rewarding and collaborating with other furniture makers and vendors who feel the same way. The makers of the Emeco Navy Chair are one such company. We strive to work with vendors who make environmentally responsible furniture, and we design all of our processes to make sure that we don't contribute to waste and pollution, and decrease our footprint on the environment.
One of the many reasons that we're proud to offer our customers the Emeco Navy Chair is that it comes from an environmentally responsible company, and the chair itself is imminently sustainable. Composed of aluminum, the chair forgoes the multi-material composition that can often prevent products from being easily and sustainably disposed of. The metal is 100 percent of it is recyclable, meaning the greater part of the chair will a truly positive effect on the environment if you choose to dispose of it.
Of course, that's probably not going to happen. Perhaps the most impressive feature of of the Navy Chair is its 150 year warranty. This is a chair that was built for military use, a chair that's three times stronger than steel; a chair that was built to withstand a torpedo blast (and which many folks attest has withstood a torpedo blast). If it ever breaks down it won't be in your lifetime, as the chair is practically indestructible. One thing that really helps the environment is the production of practical objects that can be used over and over again for long periods of time. Unlike plastic bags, lawn furniture, paper plates, etc., the Navy Chair is never thrown away, never replaced unless it's a matter of taste, and never carelessly disposed of. It's a long lasting product that will take the place of possibly dozens of more disposable chairs that would have been used over the 150 years of it's warranty.
In today's geo-political environment, it's very easy to forget about the environment in the shuffle of war, strife, treaties, domestic priorities, and other things. That's understandable, but reflect on the very serious importance of the environment to almost every single human enterprise. Without the raw materials the earth provides we'd be lost. Without aluminum there's no material to make the Navy Chair. Without forests no material to build the buildings and machines to make the chair; without them also no clean air to breathe. The shipping materials used to get the chair to you, the facilities needed to house it; you can't get away from natural material. Everything is intimately connected to the earth in this way, and it's important to maintain a strong commitment to a healthier earth. The Navy Chair, Emeco and Smart Furniture are all committed to that goal.
Long-lasting, beautiful, recyclable, responsible, sustainable. That's the Emeco Navy Chair, available now at Smart Furniture.
About The Manufacturer
Emeco's founder, Winton C. Dinges, was a master tool and die maker with an engineering background. He believed that a hands-on approach to production using outstanding materials would lead to outstanding design and outstanding furniture. It is a vision that has served Emeco well since 1944.

Few organizations have as storied a history as the Electric Machine and Equipment Company. Emeco's first major achievement was the Navy Chair- a chair designed in collaboration with ALCOA for seaworthiness. Since then, it has expanded its offering but held closely to Dinges' vision. Emeco and its manufacturing facilities are based in Hanover, Pennsylvania.
Your Recently Viewed Products

Design Story
The Emeco Navy Chair has been in continuous production since the 1940s. Composed of aluminum, 80 percent of which is recycled, and put together by one of the finest and most advanced metal-working workshops on earth, it's a wonder of engineering and modern design. It takes 77 steps to make the Navy Chair, as the famous line goes, and each and every step is vital to the complete success the chair has enjoyed for over 60 years. Built for the military, suited for everyone, indestructible and owner of the most impressive warranty in the furniture business, Smart Furniture is very proud to make the Navy Chair available to our customers. It is one of the most popular and critically lauded side chairs built in this century, and it has a legendary heritage, creative process, and story.
Immediately popular on release in 1944, the very height of the American war effort, the Emeco Navy Chair transcended the barriers of military and commercial life to become a ubiquitous product both at sea, where it was originally designed to serve on submarines, battleships and aircraft carriers, and on the mainland, where it became a fixture of offices, homes and boutiques. At that time period, most major American production facilities had turned their attention to making products for the army; in fact, many historians and economists agree that it was the tremendous and inspiring commitment to the war effort in conjunction with New Deal reforms that brought the country back from the Great Depression that began in 1929.
Aside from the connection to the war effort, the chief reasons for the Navy Chair's popularity was it's beautiful look and it's legendarily strong and durable construction. This is a chair you can't break; a chair made to withstand the worst of warfare on the open sea. Made of aluminum and constructed in a highly technical and precise system of 77 steps, the Navy Chair is actually three times as strong as steel. It's so strong that the creators of the chair, as well as the navy men who used them, claim it can withstand a torpedo blast. That's nothing to sniff at. Because of it's incredible strength and ingenious engineering, the chair is extremely durable.
Built for sea use, the material in the chair is highly resistant to corrosion of any kind. Knowing that a metal chair would be looked at warily from a Navy standpoint, this one was built to completely reject the effects of exposure to water. So confident are the makers of the Emeco Navy Chair that their product is the strongest, most durable side chair ever produced, they guarantee it for 150 years. That's right, this is a chair guaranteed to last you two lifetimes. The first Navy Chairs, produced in 1944, are now 66 years old, and show no signs of decay or rickety construction. The 77 step process, the material, and the goal of the chair all conspired to make it very nearly indestructible.
Of course, the make-up of the chair, it's incredible strength and durability, is only one part of the puzzle. The true allure of the chair rests more with it's simple beauty and usefulness. This is a chair of which you've seen many, many knock-offs. And there's a good reason; like the well-made steak and the elegantly mashed potatoes, it's bare-bones material construction gives way to something entirely winning and multi-purpose. It just works. It's comfortable, it's well-made, it lasts forever.
The sheen of the chair is attractive, and the simple but unique backing looks great. This is a chair where the chief design imperative, to make something the Navy could use, was never made too important to preclude the addition of elegance and beauty. For a a great, useful, modern, handsome side chair, you really can't go wrong with the clean lines and easy fit of the Emeco Navy Chair.
There's also an environmental aspect to the design of the Emeco Navy Chair. A chair that's built to last for 150 years is one that, if taken care of, is almost never ever thrown away. That cuts down significantly on the impact furniture has in the realm of landfills and waste management facilities. Go to any major landfill site and you can see the effects that tremendous amounts of waste are having on the environment.
Metallic objects have an even tougher time biodegrading, of course, and major pieces of furniture, when thrown away, often become real problems for the waste facilities that receive them. But more than just being long-lasting, this chair is also made up of 80 percent recycled material, and is itself recyclable. To use a phrase from Emeco, "now that's what we call sustainability." When you buy from Smart Furniture, incidentally, you're contributing to another eco-conscious furniture maker; SF works with environmentally aware companies to decease the footprint of business and consumer on the earth.
The design of the Emeco Navy Chair is multipurpose. It's so unique that critics and design lovers the world over have fixed on it as a breakthrough for modern design in America. It's so strong and durable that the United States Navy commissioned it for use on the high seas during the worst fighting in the Pacific Theater of World War II. It's so environmentally conscious that 80 percent of it can be responsibly disposed of, and 100 percent of it is guaranteed to last you and yours 150 years. It's so elegantly beautiful that you can find it nearly anywhere, from government buildings to boutiques, from offices to retail outlets.
It's such an inspiring work of cohesive construction and engineering that the design process takes 77 famous steps to adequately complete. A fixture of design for more than six decades, and seen in the boardroom, the office, the military, and nearly anywhere a side chair can be seen, this is a design that has, and that will, withstand the test of time. The Emeco Navy Chair is more than a great piece. It's an international classic.
Shipping & Delivery
Options are good. Here are your 4 shipping options:
Standard Curbside:
Free
Standard Curbside Truck Shipping
Curbside shipping includes delivery of large or fragile items to your curb or front door Monday through Friday during normal business hours. This service does not include delivery inside your home or office, so be prepared. If you want to save money on shipping and are ok with a little moving and unpacking, this is your best option.
Standard Shipping:
Free
Standard Ground Shipping
Standard ground shipping includes delivery by FedEx or UPS to your door or main lobby. Once shipped, items generally arrive within 2-5 business days. Simple, fast and easy service.
Inside Delivery:
$100.00 per item
Inside Delivery Service
Inside delivery is a cost efficient way to have large or fragile items delivered to your room of choice. When your order reaches the local station in your area, the delivery agent will call to schedule a four hour delivery appointment. Caveat: If you need debris removal or light assembly (30 min max), you may want to consider our White Glove service.
Premium Inside Delivery:
$150.00 per item
Premium Inside Delivery Service
Premium Inside Delivery is our most comprehensive delivery service option. This service includes a four-hour delivery appointment, placement inside your room of choice (two flights of stairs max), unpacking, set up (up to 30 minutes without tools), and debris removal. If you want a no hassle delivery experience, this is your best option.
Assembly time of over 30 minutes and room placement over two flights of stairs incurs additional shipping charges. Please call 888-467-6278 for more information and a customized quote.
Emeco products come with
free shipping
for destinations within the contiguous United States.
Shipping Specifications:
container size: 25" x 25" x 36"
container weight: 34 lbs
For additional information, please see our
shipping and delivery policies page
.
---
Product Q&A

Q: Can the Navy Semi Upholstered Swivel Chair be used outside?
A: Emeco does not recommend that its upholstered furniture be placed outside.

Q: Can I customize the Navy Semi Upholstered Swivel Chair?
A: The Navy Semi Upholstered Swivel Chair is available in brushed aluminum or polished aluminum finish. The choice is yours.

Q: Is the Navy Semi Upholstered Swivel Chair recyclable?
Absolutely! Emeco uses 80 percent recycled aluminum to make its chairs, and the aluminum content in Emeco chairs is 100 percent recyclable.

Q: Is the Navy Semi Upholstered Swivel Chair stackable?
A: The Navy Semi Upholstered Swivel Chair is not stackable.

Product Q&A
---
Warranty
The Emeco Navy Chair comes with an incredible
150 year warranty
. 150 years of high quality aluminum furniture with the distinctive, elegant look of the Navy Chair. This is a product fit for prominent display in nearly any setting anywhere in the world. The product of the famous 77 step product that makes the chair strong and true, the Navy Chair is one of the pinnacles of modern design. At home in any country in the world, in any room, it's a distinctly American product. The chair was built to withstand torpedo blasts, and according to reports, it has withstood them. It was built to resist and reject corrosion and breakdown in any way, and the chair originally designed for the Navy and used at sea during the height of Pacific combat during WWII has kept that promise after years of heavy use and constant exposure to salt and fresh water. The Navy Chair is three times as strong as steel, and, if you watch Law & Order, you've seen it smashed into any number of floors, walls and windows without bearing a scratch of damage!
In all seriousness, this is an unheard of warranty, and proves beyond a shadow of a doubt that the designers, artists, engineers and executives at Emeco stand behind this chair's claims of indestructibility to the fullest extent. The Emeco Navy Chair has a strong pedigree, a beautiful form, an unbelievably durable construction, and a commitment to sustainability. And it's all guaranteed for 150 years. If you break that down into terms of value, it looks like this:
The Emeco Navy Chair is guaranteed to last for 150 years, and the cost of the chair is just $415, a real steal. But let's extend that over the life of the warranty. At $415, the chair will only cost you (and your descendants) .007 cents per day. Less than a penny a day for a chair that's never going to break, will always be classic and beautiful, and has one of the best design stories in the furniture business. So, okay, you're probably not going to make it 150 years. Let's cut that number to 80, or about one lifespan. Over 80 years, the Navy Chair will only cost you one penny a day. A single penny for one of the best, and best-looking, side chairs on the international furniture market. If 80 is a stretch, think about in terms of 50 years. Over 50 years, much longer than any traditional warranty will give you on a piece of furniture meant to undergo heavy use, the Navy Chair will cost you only 2 cents a day. Two Lincolns for comfort, style, durability, and sustainability, all of which will last you as long as you keep them. You won't find a better value anywhere in the world of furniture; nowhere else do you get a chair this good for a price that low, that will last you so long. This is an extraordinary chair, and this extraordinary warranty is just one of the reasons why.
For more information, please see the Emeco warranty guide.
---