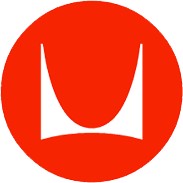 Shop Best Sellers
Browse through other customizations for the Nelson Swag Leg Armchair by Herman Miller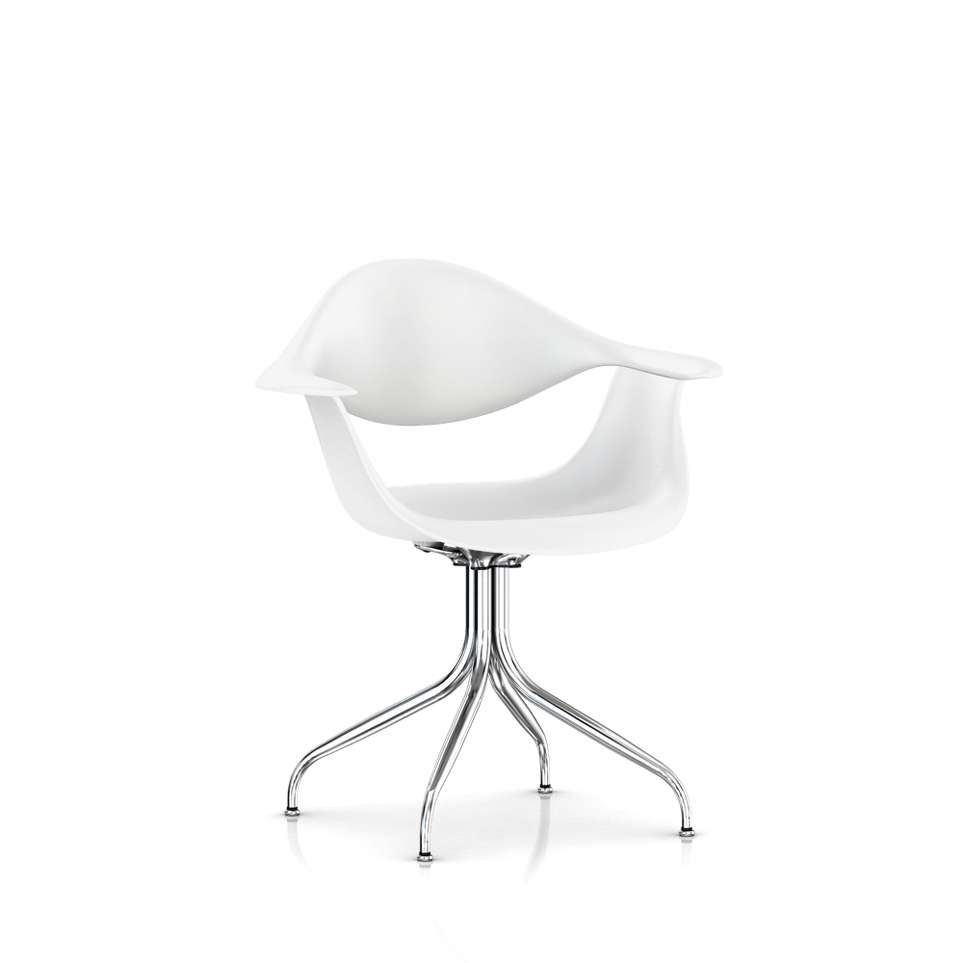 Nelson Swag Leg Armchair by Herman Miller
Base Finish
|
Trivalent Chrome
Seat Finish
|
White
Back Color
|
White
Overview
Nelson Swag Leg Chair by Herman Miller
designed by George Nelson
At A Glance: Designed as an answer and even an improvement to the Eames Molded Plastic Chairs, this product by George Nelson, a close friend of the Eameses, is equally acclaimed in design circles. He improved the chair by making it more breathable and giving it a kind of hinge, making recline possible and comfortable. And he added his inimitable swag legs, tapered metal tubes that are as attractive as they are supportive.
What's To Like: The look of this chair is stunning and modern, and the feel is comfortable and supportive. It's a piece of design history as well - a conversation piece as much as it is a style and function piece.
What's Not to Like: The chair is modeled on the Eames Molded Plastic series (with the permission of Charles and Ray). So if you want the original, you might go in a different direction.
The Bottom Line: This is a beautiful chair by a great designer, and it's a slight improvement over the older Eames Molded Plastic Chairs.
Shop the Entire Nelson Collection!
The Nelson Swag Leg Chair is first and foremost a very comfortable desk chair. Great pains were taken by the Nelson design team to make sure that it wasn't just an ornament, wasn't just another attractive but unusable chair. In keeping with their plans to integrate the home and the work environment, they wanted the chair to as comfortable at the dining table as it was and the work table, and to look good enough to complement and accentuate both. This was no easy task, and in the end they brought in an extra set of minds to work on the problem; the minds of Charles and Ray Eames.
George Nelson and Charles and Ray had always been good friends, ever since he first discovered them in New York and brought them onto the team at Herman Miller. Now, when Nelson needed a new element to propel his chair to new heights, he looked to them. Recently, they had developed the now famous series of plastic, egg-shaped chairs that are still popular in schools and auditoriums. Nelson loved the look of the chairs, but saw some areas for improvement (one of them being the addition of swag legs of course). He asked Charles and Ray for permission to use the look of their chairs to influence the look of his own, and they agreed. The result was a mix-up of the three great minds that thrived rather than suffered for the sharing of ideas.
So the Nelson Swag Leg Chair is of two minds (or three minds). The top half is all Eames, with several major alterations. It's molded plastic, with only two parts. Unlike the Eames chairs, the Nelson version wasn't a total shell; there was a large gap between the seat and the seat back. This did two things for the chair; it made it more comfortable and it made it less hot. One of the main complaints people had about the Eames chair (if they had any at all) was that heat could build up between the user and the plastic of the seat, and it could cause sweating and discomfort. By removing a large part of the shell, Nelson allowed air to pass through the material, and people no longer overheated. But having two parts instead of one also provided something else; a hinge. The hinge point for the Nelson Swag Leg Chair is at the armrests, and that allows the back of the chair to actually move in response to users; to slightly recline. This makes it more comfortable, because it's more flexible and adaptable to the user. Pretty neat trick.
The bottom of the chair, however, is all Nelson. The swag leg technique is used in its most effective form on the chair. While all the legs on every piece of the Nelson group look great, it's in the chair that they reach their full potential in design. The legs are swept into a sort of swag leg bouquet underneath the seat of the chair, and then they splay back out at the bottom to form a solid and secure base. Th effect is beautiful, stylish, timeless. It's the final punctuation on one of the more elegant chapters written in the history of Herman Miller design.
The combination of the three designers is a rare thing in the world of industrial design; the willing and nearly wholesale incorporation of someone elses aesthetic or technical achievement with no obfuscation. Not only did Nelson have no problem with publicly borrowing elements of the chair from Charles and Ray, Charles and Ray openly allowed him to borrow. This was the essence of their friendship, but also of the design spirit that permeated Herman Miller at the time; the ideas were all out there, it was just a matter of making them as perfect and as human-centered as they possibly could be. It also speaks to Nelson's strength as a designer. He had enough humility and integrity to ask permission and to use the Eames chair ideas, but he also had the creative talent to make the resulting masterpiece unique, and uniquely his own. The finished product was not a creation of the Eameses, nor was it partly theirs; in the same way that a maker of video collages owes little to their sources when they do good work, Nelson owed nothing to the Eameses except appreciation for their inspiration.
The Nelson Collection is a revival of a historic collection by George Nelson. Introduced in 1958, the group's evocative chairs, tables and desks have a look, scale and function that are right for today. These classic, sculpted designs can be used individually or together in the home or office.
The Herman Miller Nelson Swag Leg Chair is also known by the following manufacturer Item Numbers: DAF.
Resources
Customer Photos
Design
The Nelson Swag Leg Chair is museum quality design, and its presence in the permanent collections of several museums is a testament to that. So is its continuing popularity; the chair is one of the most popular and clamored for parts of the Nelson series, and therefore a very large reason for the re-issue itself. After more than half a century of popular praise and critical appreciation, this chair is now available everywhere, from the Herman Miller studios and Smart Furniture.
Comfortable, functional, adaptable, and the piece de resistance in a venerated and classic series, the Nelson Swag Leg Chair is a triumph of design, a combination of functionality and aesthetic quality that embodies the Herman Miller and George Nelson ideal. It is also one of the pieces in the collection that holds up extremely well on its own. Owning the entire series is not at all a re-requisite for owning the chair, as its timeless appeal and unique form fits in with many different furniture types, and many different design schemes. While it is certainly a part of a series, this is one series chair that works just as well on its own as with its partners in home living solutions.
Smart Furniture customers with all different types of design sensibilities and tastes appreciate and see the wide-ranging adaptability of the Nelson Swag Leg Chair. And that's just one more reason we're proud to offer it to you today.
About the Designer
When writing about the course of his remarkable 50-year career, George Nelson described a series of creative "zaps"--moments of out-of-the-blue inspiration "when the solitary individual finds he is connected with a reality he never dreamed of." It was these zaps that would lead to the creation of some of the most original furniture designs of the 20th century- including the Coconut Chair, the Marshmallow Sofa, and the Swag Leg Chair.
An early zap came in the 1930s, when he was an architectural student in Rome. Before returning home, an idea struck him: He would travel Europe and interview leading modern architects, hoping to get the articles published in the U.S. He succeeded, and in the process introduced the U.S. design community to the European avant-garde. This set in motion a sequence of what he called "lucky" career breaks that were really the inevitable outcomes of his brilliance as a designer, teacher, and author.
Design Story
With his swag leg group, George Nelson didn't try to design an innovation; the innovation resulted from his criteria for the design. He began with the legs, insisting that they be made of metal, machine formed, and prefinished. He also wanted them to be easy for the consumer to assemble, so the desk and tables could ship knocked down to save on cost.
Swaging--using pressure to taper and curve a metal tube--proved the best way to produce the legs, which are 16-gauge steel and have adjustable glides. George Nelson added solid walnut stretchers that bolt to the legs for a stable, durable base common to the desk and tables.
The swag leg chair presented a bigger problem: How to connect four legs. Thanks to some ingenious engineering, the resulting base looks natural and simple. As one early observer said, it "grows up like four tree roots and unites into one strong upward thrust."
For the chair shell, Nelson got permission from Charles and Ray Eames to use the patented process they developed for molding plastic. Nelson took the process a step further and created separate seat and back shells that he glued together. With 21st century innovations in technology and material, today's shells are fully authentic and made of recyclable polypropylene.
Read the entire design story behind the Swag Leg Collection.
About the Manufacturer
Herman Miller is an industry leader in the integration of cutting edge technology to furniture and other household items to make everyday life more comfortable, convenient, and stylish. Herman Miller stands out at the forefront of such fields as ergonomic technologies, environmentally friendly manufacturing processes, and customizable furniture items.
In addition to producing some of the most outstanding office furniture in the world, Herman Miller has also taken on the responsibility of manufacturing some of the most celebrated furniture designs by some of the world's most famous designs. These "modern classics" include works by Charles and Ray Eames, George Nelson, and Isamu Noguchi. Herman Miller celebrates these famous mid-century designers' works through its extraordinarily precise manufacturing techniques and industry-leading green production processes.
Herman Miller is a global company with operations, sales offices, dealers, and licensees in more than 40 countries in North America, Asia/Pacific, Europe, Middle East, Africa, and Latin America, serving customers virtually anywhere in the world. Herman Miller is headquartered in Zeeland, Michigan, while manufacturing facilities are located in the U.S., China, Italy, and the United Kingdom.
Materials & Measurements
Materials:
Recyclable polypropylene seat and back. Steel legs.

Dimensions:
Overall: 31.875" h x 28" w x 21.88" d
Seat Height: 18"
Arm Height: 26.5"
The armchair's look is light-scale and sculpted; the chair shell flexes with the sitter and prevents heat buildup. Wide, flat armrests so forearms can rest comfortably. 2-piece molded seat with arms and back, waterfall edges, cast-aluminum base with steel-tube legs and adjustable glides.
See the entire Nelson Swag Leg collection.
Stylish Seated Comfort
Separate seat and back. The look is light-scaled and sculpted; the chair shell flexes with the sitter and prevents heat buildup.
Wide, flat armrests. Forearms can rest comfortably.
Shell and leg choices. Shells are available in white, grey, or black, with the option to order the seat and back in any combination of colors; leg finish can be chrome, white, or black.
What's a swag leg?
Herman Miller named this furniture for the process that created the distinctive legs. Designer George Nelson started with this idea: "Wouldn't it be beautiful to have some kind of sculptured leg on a piece of furniture?" How could that be done without wood and hand-carving tools? Using pressure to taper and curve a metal tube came to be known as swagging.
Environmental Information
The shell of the Swag Leg Chair is made of recyclable polypropylene.

Shipping & Delivery
Options are good. Here are your 2 shipping options:
Simple Scheduled Delivery:
Free
Simple Scheduled Delivery is for folks that don't mind carrying furniture. The shipper will call prior to delivery to arrange an appointment, but the driver will not bring the furniture inside.

Typical transit time is 4-7 business days.
Larger/Freight items:

For

Residential deliveries,

the shipper will contact you via phone call/email at least 24 hours in advance - to schedule a delivery appointment window (typically a 4 hour window). This is when your order does not ship with UPS/Fedex. Most shippers will have online tracking available as well.

Business deliveries

to companies/commercial addresses will typically not come with a pre-arranged appointment, but will arrive during standard business hours. Please contact Smart Furniture or the shipper if your business address has special scheduling needs.


Smaller items + office chairs will typically ship via UPS/Fedex with a tracking number and online monitoring, but not a phone call and delivery appointment (UPS/Fedex do have scheduling programs with sign up on their websites). This can include office chairs and other products requiring assembly.
The driver will deliver the shipment at the ground level/front of your house or in your apartment's regular delivery area. They will not bring the furniture inside or carry it up stairs.
If you live in an apartment, the doorman can accept delivery on your behalf.
For Larger/Freight shipment (non UPS/Fedex) You must be present at the scheduled delivery appointment to inspect the delivery items and sign paperwork if any damage is visible.

We'll be sure to assist with any damage that may occur. Please call Smart Furniture right away if any issues arise.

Any questions? Chat or call! We're happy to help!
For more information and shipping comparisons, click here.
Inside Delivery:
$74.00 per item
If you don't like carrying furniture, this is a great option. The shipper will schedule an appointment with you prior to delivery and bring the furniture into your home for you. This service does not include unpackaging or assembly.

Typical transit time is 4-7 business days. Some larger and specialty items may take a bit longer.
Shipper will arrange a four hour window for delivery at least 24 hours in advance.
Your driver or delivery team will bring the furniture inside your home and into your room of choice (Up to two flights of stairs).
Delivery folks will not unpack or assemble your furniture.
You must inspect the purchase at the time of delivery and sign for any damages.
We'll be sure to assist with any damage that may occur. Please call Smart Furniture right away if any issues arise.
If you're ordering multiple items from the same manufacturer, we might be able to bundle your shipping upgrade costs! Give us a call and we'll make sure you're getting the best shipping price possible!
Any questions? Chat or call! We're happy to help!
Packaging:
Type: 1 box
Box dimensions: 32" x 26" x 35"
Packaged weight: 29 lbs.
Assembly required: None
Warranty
The Nelson Swag Leg Armchair comes with a 5-year manufacturer's warranty.

Do you have specific questions about what's covered under Herman Miller's warranty for this product? Give our sales team a call at 8‌88-467-6278 to get your questions answered.

Did you purchase a piece of Herman Miller furniture that's not working as expected? Send an email to customerservice@smartfurniture.com or contact our customer service department at 8‌88-762-7841, and we'll take care of you. We usually ask for a photo or video of the warranty issue that you're experiencing, so if you want to expedite the warranty claim process, you can e-mail us with those attachments, and we'll jump on filing the claim for you right away
Shop With Confidence

Check out our 45-Day Return Policy!
We've ensured your personal data and sensitive information is always private and protected.