https://www.smartfurniture.com/products/parrot-zikmu-wireless-speakers.html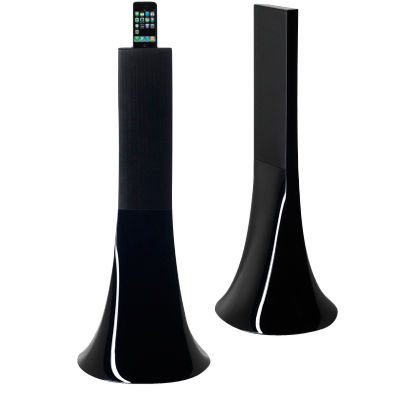 Parrot Zikmu Wireless Speakers
THIS ITEM HAS BEEN DISCONTINUED AND IS NO LONGER AVAILABLE.
Though this item is long gone, we've curated a few other products that you might also be interested in. Check them out!
People Who Looked At This Product Also Shopped For:


Parrot Zikmu Wireless Speakers
designed by Philippe Starck
World-renowned creative wunderkind Phillipe Starck has touched yet another category of home furnishings - and this is the one you can hear as well as see. Parrot's Zikmu speakers are entirely his creation, and in typical Starck fashion, he didn't leave well enough alone; he pushed the envelope, and a superior audio experience is the result. The Parrot Zikmu speaker set is visually beautiful, and underneath the striking exterior lies the technology that will really seal the deal for you.
Dock your iPod or iPhone, and listen to music. Or, if you'd like, just open your Mac or PC and stream your tunes via Bluetooth or Wi-Fi connection - or do the same with your audio player. Zikmu's audio quality is incredible, even awesome. The crystal-clear sound produced by this combination of design and technology will blow you away and prove that the Parrot Zikmu speakers by Phillipe Starck are truly Unique. Available in Black, White, Grey, and Lime Green.
Why Zikmu is Awesome:
World-class Technology
360-degree sound fills whatever room you're in - just put the speakers where you want them to be, sit back, and bask in the warmth of whatever kind of music you love most. The Zikmu speakers aren't just a pretty face. They pack a great combination of good design and great acoustic engineering into a sleek package. They could be called the smartest speakers out there - and that's why we love them. Sophisticated signal processing (DSP) allows for a full, rich sound image emanating from what could be mistaken for sculptural pieces. DSP powerfully synchronized at 200 MHz digitally filters the sound and sends it through a set of amplifiers dedicated to each driver, causing the energy to radiate throughout the entire room. Class D amplifiers were chosen because of their ability to achieve maximum efficiency with a minimum of heat dispersion. The result? A room full of sound that seems to come from the room itself.
World-class Sound Diffusion
Adding to the DSP, the top of each Zikmu speaker is an acoustic flat panel that has unique properties. An integral honeycomb structure is vibrated by exciters in specific locations, throwing the sound away from the panel in many directions as it passes through. The panel's surface is also wider than a conventional loudspeaker. In addition to being wider, it is also two-sided, so that the sound is emitted from both front and back. In fact, it may be impossible to define "front" and "back." As the sound is emitted in a diffuse trajectory from the Zikmu's surface, reflections are, in turn, further diffused by the room's surfaces. This all but eliminates the destructive interference of echo within a room, allowing the true sound to shine through more richly.
World-class Bass Response
Bass is produced omni-directionally as well, from a powerful woofer placed in the down-fire position and a bass-reflex system. The bass response is further amplified by placing the housing as close as possible to the floor. The woofer's neodymium magnet supplies it with the most power possible for its size, while using a small amount of space; the interior of the sound box is reinforced by a distortion-killing metal structure. When considering a sound system, what we like to do is find out how the bass sounds: is it crisp, is it clear, does it fill the room adequately? In the Zikmu speaker set's case, the answer is a resounding "Yes!"
High-Quality Stereo
When situated on opposite sides of a room, the Zikmu wireless speakers provide true stereo sound. Rich, deep sound with the variations you've come to love from stereo is no longer a pipe dream for those who use inferior iPod docks. And with Parrot's Zikmu software, the right and left channel are easily assigned to either of the two speakers.
Wireless Audio Experience
And last (but not least)? Dock your iPhone/iPod without any audio loss. How? Zikmu has an Apple microprocessor for authentication. And you can stream your audio via Bluetooth or Wi-Fi from anywhere in the room. This means you don't have to go to the speakers when you want to change the music.
Parrot Zikmu Wireless Stereo Speakers feature:
Dock your iPod/iPhone and recharge it while you listen to music
Total power output: 100W RMS, 50W per channel
3-channel digital amplifier, class D
50 Hz - 20 kHz frequency range for accurate response
Compatible with MP3, LPCM audio formats
Included remote is the same color as the speakers
Top of one speaker has volume, Wi-Fi, power, and source controls, as does the remote
RCA line-in input for analog audio sources such as televisions or cd players
Cabinet design is custom molded using ABS and PMMA resins with acoustically transparent cloth grilles over the top section
70W power supply per speaker
SES (Secure Easy Setup) and WPS (Wi-Fi Protected Setup) wireless setup types supported
Bluetooth v2.1 EDR
Bluetooth maximum range: 50 ft.
Bluetooth profiles supported are A2DP and AVRCP
We didn't know what that meant either, so we looked it up: A2DP and AVRCP just mean you can use just about any audio device that communicates via Bluetooth
The Zikmu Speakers are part of our whimsical list,

Top 10: Things with Totally Made-Up Names
Also In This Collection

Materials & Measurements
Materials:
Cabinet: ABS and PMMA resins
Interior reinforcement: metal
Dimensions:
Height: 29.2"
Bottom Width: 12.5"
Bottom Depth: 11.3"
Top Width: 5"
Top Depth: 1.4"
Weight: 17 lbs.
About The Manufacturer
Parrot is a global leader in wireless devices for mobile phones, standing on the cutting edge of innovation because of founder Henri Seydoux's vision. In 1994 he founded the company because he was determined to drive the breakthrough of mobile phones into everyday life. Parrot is headquartered in Paris, France and has collaborated with renowned artists to create some of its latest products.
Your Recently Viewed Products

Designer
Few designers have had an impact across the world of design like Philippe Starck. From modern furniture, restaurant interiors, to architecture, the French icon has made lasting impressions to all those exposed to his work. However, his most influential designs have been in the world of staggeringly original mass produced consumer goods. Renowned for his collaboration with the Italian design and manufacturing firm Kartell, Mr. Starck's most famous works include the Ghost Chair series and the Bubble Club group. Despite all his past achievements, he is still highly active in the world of modern design, as evidenced by his Parrot speakers.
Shipping & Delivery
Standard Shipping:
Free
Parrot speakers by Phillipe Starck are in stock and ready to ship
Items usually ship within one week from the purchase date for destinations within the contiguous United States
Shipping equals 10 percent of each item's price.
For additional information, please see our shipping and delivery policies page.
---
Product Q&A
If you have any questions regarding Smart Furniture's policies in general, please see our
FAQs page
.
Product Q&A
---
Warranty
Parrot speakers by Phillipe Starck have a 1-year warranty from the date of purchase
---