Power Option
So here's the skinny. Each of the rectangular legs has a hinged panel to help with the routing of power and data cords.
The Power unit features a hinged door on the table top that opens 90° for access to the two power outlets and two open ports for data adapters. The bottom of the unit is open to allow pass-through of power and data cables to the floor. It has a 6' cord with grounded plug and measures 8.375" w X 5.375" d.
Check out the image below that shows the door and the optional power unit. The 47" x 94" table will have two power units.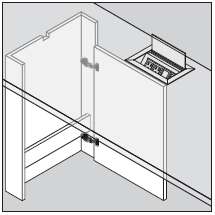 We always recommend the added power option if you have working meetings.