Sayl Office Chair by Herman Miller
Don't see a configuration you like? Customize your Sayl Office Chair by Herman Miller.
Sayl Chair by Herman Miller
designed by Yves Behar
At A Glance:
The Sayl Chair is the latest creation from the offices of Yves Behar, a San Fransisco designer who's making a big splash on the international scene. This is a chair that wears its reputation as sculptural art on its sleeve, looking very much like the suspension bridges that inspired its design. It's beautiful, utterly unique, and priced very affordably.

What's To Like:
That gorgeous back, that lovely profile. The Sayl earns its reputation as one of the most beautiful office chairs in the Herman Miller stable, and with flying colors to boot. You've also gotta love that price (you've got to!): at $459, it's the most affordable art installation you can buy. And hey, you can sit in it at work!

What's Not to Like:
The chair is a bit on the small side, so if you need an expansive seat and seat back, you might want to look elsewhere. And if you like spending a ton of money on your office chair, this is also not for you.

The Bottom Line:
This is a gorgeous chair, a comfortable chair, and it's priced to sell. It doesn't get much better than that.

Read A Review of Sayl:
Smart Furniture's very own Whitney just spent a work week in Sayl - read her Sayl review here.
The Herman Miller Sayl Chair is also known by the following manufacturer Item Numbers: AS2, AS4, AS5, AS2SA22PF, AS2SA22HF, AS2SA22AA, AS2SA23AA.
97.22%
Customer Satisfaction Rating
Rank: #5 in Office Chairs
Customer Rating:
Recommend to a Friend? 100%
Return Rate: 2.2%
The ideal office chair makes work more efficient and comfortable. Let our Office Chair Buying Guide help you find the perfect one.
---

INSIGHTS
Sayl Chair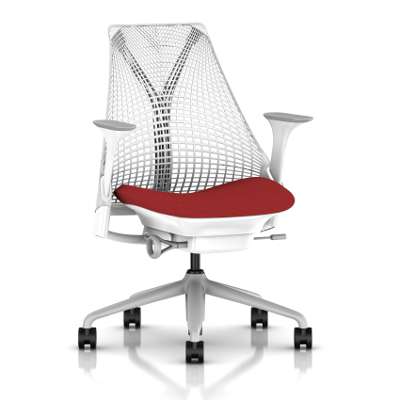 97.22%
Customer Satisfaction Rating
Rank: #5 in Office Chairs
Customer Rating:
Recommend to a Friend? 100%
Return Rate: 2.7%
See all product information and details here