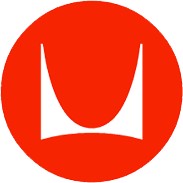 Shop Best Sellers
Browse through other customizations for the Aeron Chair by Herman Miller
Overview
Aeron Chair by Herman Miller
Designed by Don Chadwick and Bill Stumpf
At a Glance:
Herman Miller's Aeron Chair is the original ergonomic office chair. First unveiled in the early 1990s, the Aeron Chair has stood the test of time, gaining in popularity every year since its release. In 2014, Don Chadwick was assigned the task of reimagining the Aeron Chair to bring its features and styling into the 21st century. Sticking closely with the chair's original aesthetic, he worked to improve the chair through preservation. Still available in 3 sizes, constructed out of Herman Miller's proprietary Pellicle™ Fabric, and uniquely sculptural, the Aeron Chair has been remastered to retain its health-positive qualities while bringing its overall construction and features into the modern office.
Some of the reworked features include improved lower back support, new colors, a redesigned seat, specially engineered zonal seating, and a lighter weight. Don Chadwick carefully adhered to the adage "addition through subtraction" in the remastering process. The result is a chair that remains true to the original design's aesthetics and function while expanding upon its comfort and usability.
What's to like:
The Aeron Chair is the most popular office chair of all time. It is designed to support the human body throughout the work day to make everyday tasks better, more productive, and more health-positive. Its famous silhouette is still identifiable from across the room, and the 12 year warranty ensures you'll be sitting comfortably for the next decade.
What's Not to Like:
With a product as complete as the Aeron Chair, it's tough to find flaws. The initial investment can seem intimidating, but the health-positive effects offset later discomforts that can occur with a less savvy alternative. Spend more now, save yourself later.
The Bottom Line:
You'll be hard pressed to find a better task chair than the Aeron Chair. Its technology and staying power in workspaces is unsurpassed, and its extensive engineering ensure you're always comfortable, alert, and productive. The Aeron Chair continues the legacy that the Classic Aeron Chair began: a health-positive chair that is made for work.
If you're trying to figure out the best size for your unique body size, take a look at this handy size chart!
Materials & Measurements
Construction:
The Aeron Chair's success can largely be attributed to its patented Pellicle™ fabric. Created through a strong weave, this high-tech material is ideal for an office chair. It's breathable, tensile, supportive, and responsive. The 8Z Pellicle™ fabric takes that original success to a new dimension. 8 sitting zones with different tensions add responsiveness and comfort to the already amazing Pellicle™ family. These zones make sitting in the remastered Aeron a more personal and etherial experience. In addition to the awesome 8Z Pellicle™ fabric, the remastered Aeron Chair comes with a new pallette of three modern colors: Graphite, Carbon, and Mineral.
The Aeron chair isn't just made out of space-age material. Herman Miller ensures that their manufacturing processes are as environmentally friendly as possible, so that the chair doesn't sit in a landfill once its lifespan has lapsed. 89% of the chair is recyclable, and it's constructed out of 53% Recycled content. They've also increased the environmental friendliness by removing all urethane, neoprene, and methylene chloride. Is there anything this chair doesn't do?
---
Graphite
Deep. Dignified. Archetypal.
Graphite refines Aeron's original color scheme for a crisp, sculpural appearance.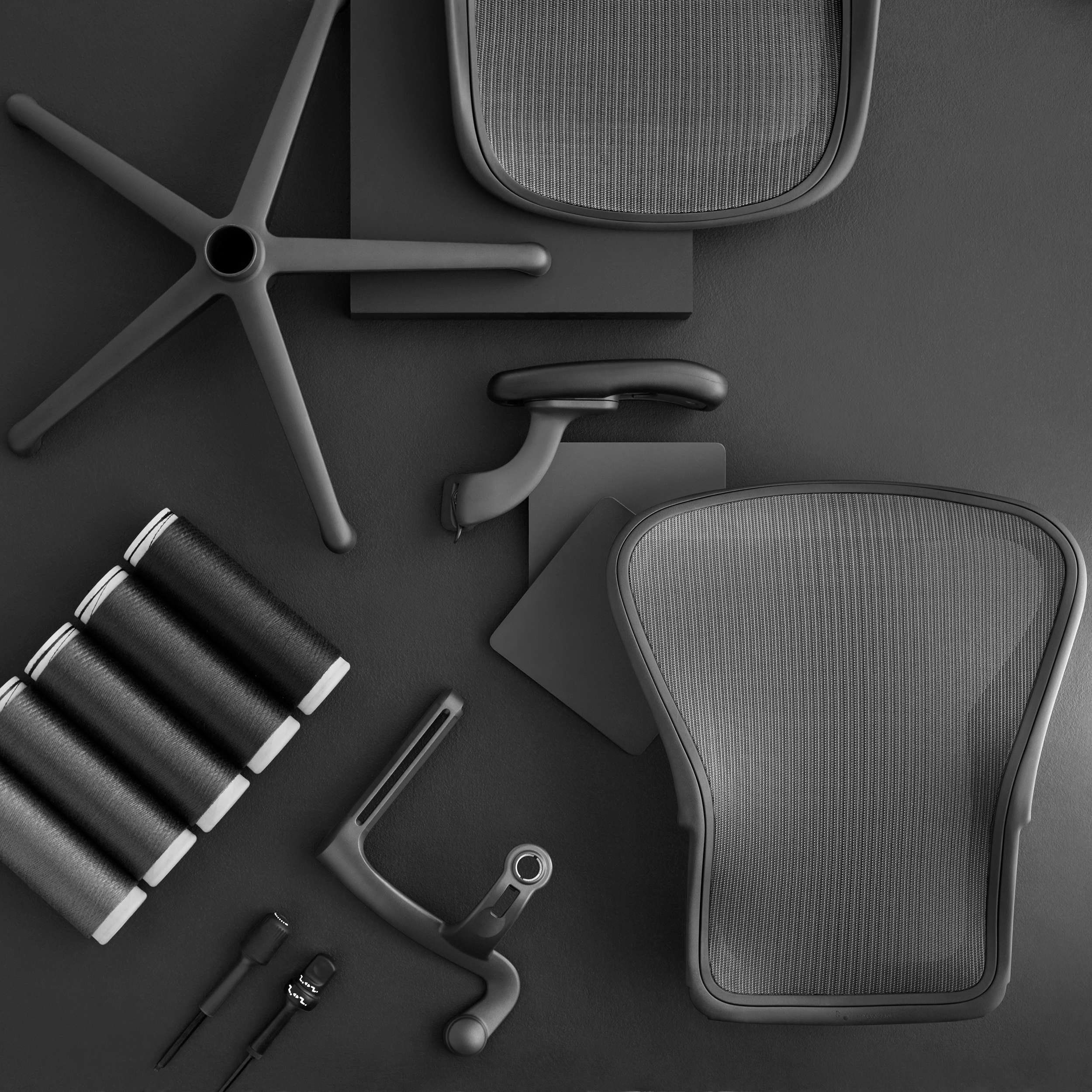 Carbon
Balanced. Elegant. Universal.
Carbon blurs light and dark, warm and cool, to harmonize with a variety of environments.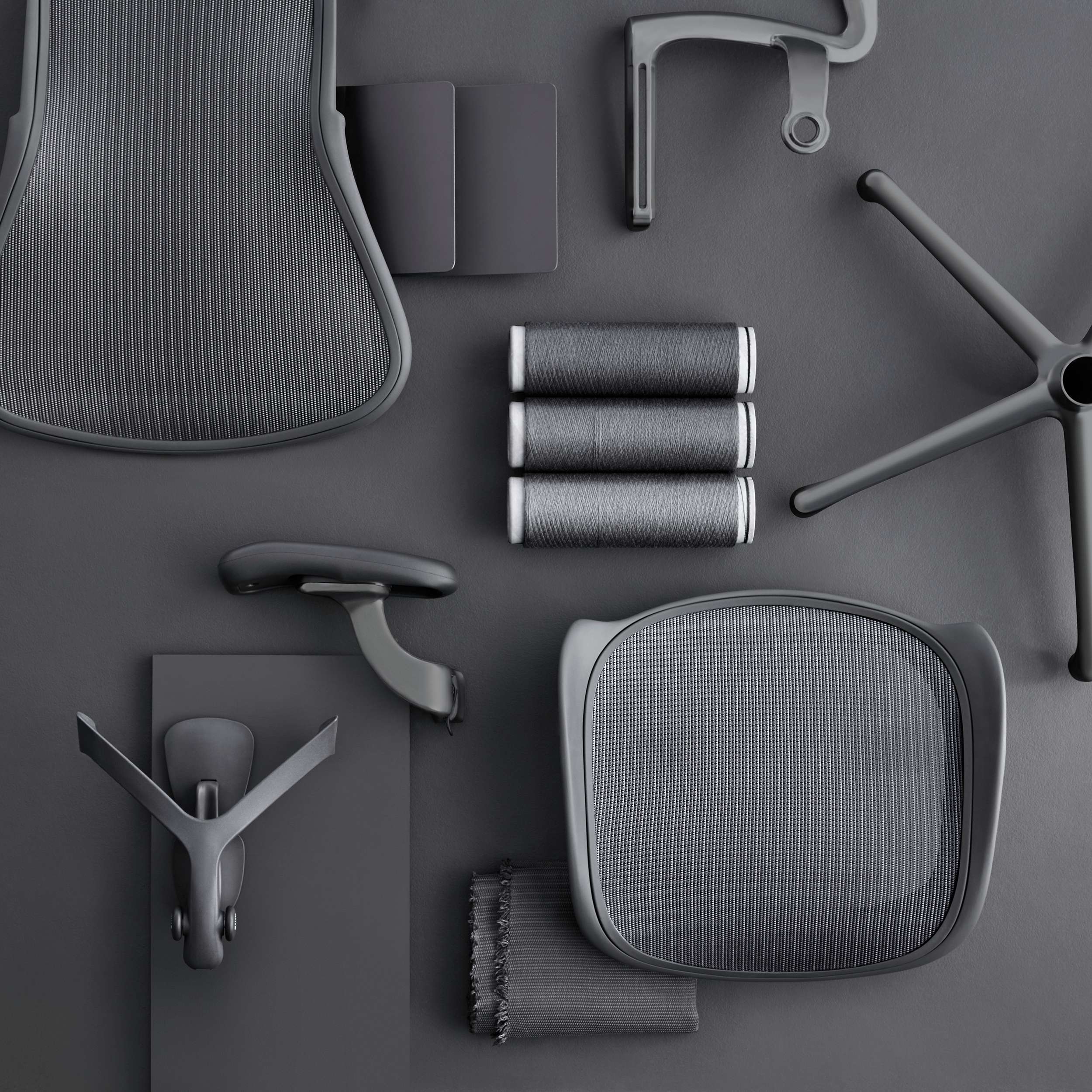 Mineral
Light. Fresh. Ethereal.
Mineral illuminates Aeron's finer points to offer a lightness that borders on translucence.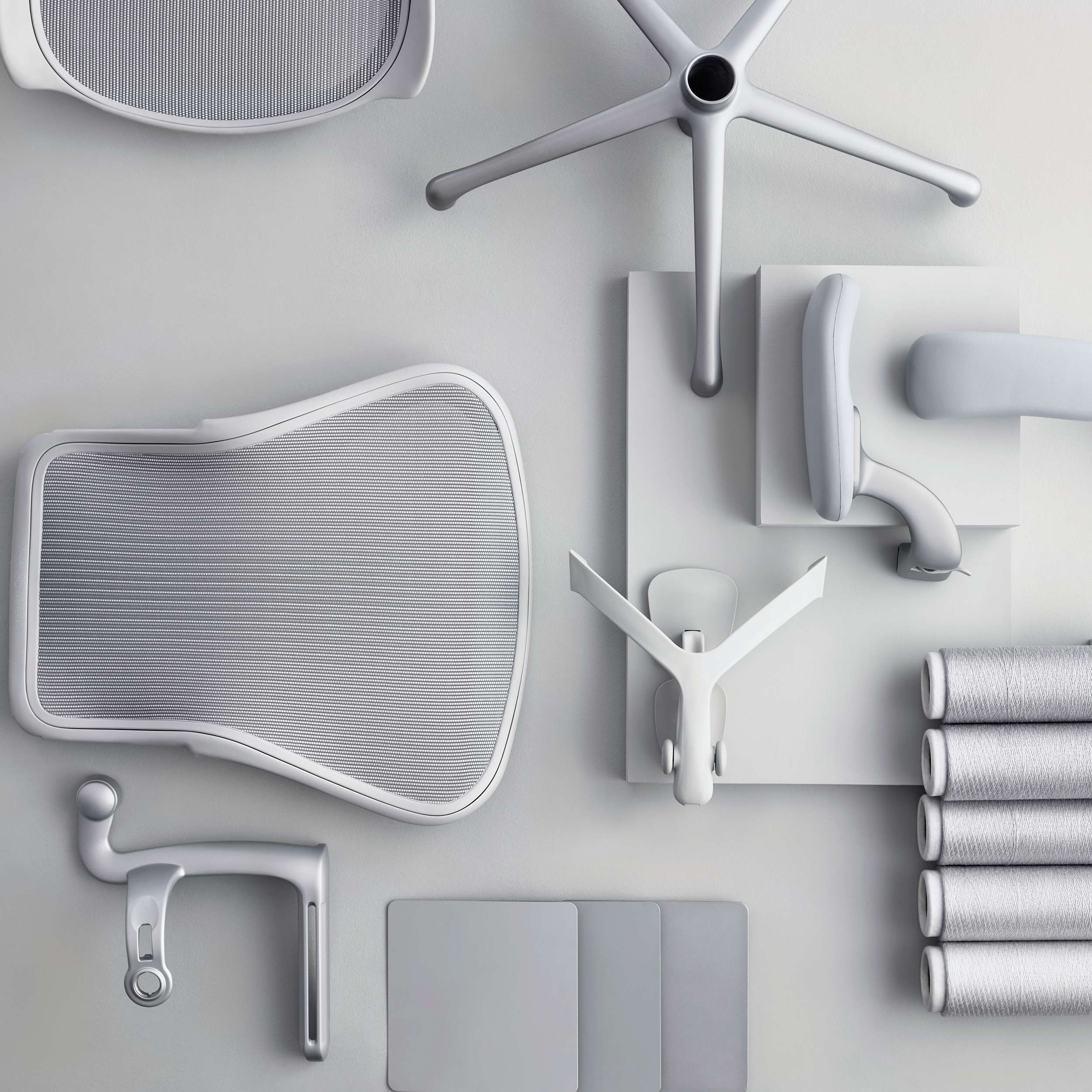 ---
Measurements:
Size A:
38.5" h x 25.75" w x 16" d
Seat Height: 14.75 - 19"
Size B:
41" h x 27" w x 16.75" d
Seat Height: 16 - 20.5"
Size C:
43" h x 28.25" w x 18.5" d
Seat Height: 16 - 20.5"
Dimensions reflect chairs at maximum height

Assembly Required:
Ready To Assemble: Yes
Fully Assembled: No
Environmental Information
Environmentally Sensitive Design
The Aeron chair was designed with sensitivity to its impact on the interior environment in which it will be placed and the broader environment that provides the resources for its manufacture.
With its dematerialized, Cradle to Cradle design that includes 53 percent recycled content, and is 89 percent recyclable, Aeron set a new bar for sustainability when it launched. With today's update, Herman Miller has taken another step forward by removing urethane, neoprene, and methylene chloride.
Guided by Stumpf's notions of "visual comfort" and Chadwick's keen eye for aesthetic detail, Aeron was designed to harmonize with the environment in which it was placed. Recognizing that most environments look and feel vastly different today, Aeron's colors, materials, and finishes have been completely reconsidered to enhance modern environments. For the first time, Aeron is offered in three holistically curated material palettes that require no additional specification: Mineral (Light); Carbon (Medium); and, Graphite (Dark).
Design Story
In 2014, Herman Miller tasked Don Chadwick with the impossible: improve what many consider to be a perfect product. The Aeron Chair, easily the most popular office chair ever created, had turned 20 years old, and it was time for a refresh. The chair wasn't in need of radical changes, but with improved manufacturing processes, more environmentally friendly materials, and general aesthetic changes over two decades, the door was open to re-think how the Aeron Chair could function in the 21st century. Having designed the chair back in the early 1990s, Don Chadwick reopened the schematics and got to work. The result of that two year process is the Aeron Chair, remastered.
When the original chair was designed, it was truly revolutionary. Don Chadwick and Bill Stumpf studied office workers for months, carefully noting how they interacted with their workspaces. What they found was extensive fidgeting, moving, and painful adjustments. Their goal quickly became apparent: create a chair that accommodates people's natural sitting positions while keeping them cool, blood flow at a maximum, and most of all, their backs fully supported. In order to accomplish this task, they developed new materials never used on an office chair before. The most important material that helped them accomplish this task is the proprietary Pellicle™ fabric, a weaved, mesh-like fabric with significant tensile strength and resiliency. This low-profile and incredibly strong fabric allowed them to create a radically modern chair that was unlike anything people had seen before. At the Aeron Chair's release, some even commented that it looked "alien-like!" Little did those detractors know that they were looking at a product that would change the landscape of thousands of offices across the world and change the way people thought about office chairs forever.
The newly remastered Aeron Chair picks up seamlessly where the Classic Aeron Chair left off. Still available in three unique sizes, A, B, and C, the chair boasts an inclusive design that no other office chair can claim. With its body-inclusiveness preseved, they started the Aeron Chair's remastering with the Pellicle™ fabric itself. The result is the all new 8Z Pellicle™ fabric, a revolutionary zonal sitting experience that disperses weight differently throughout its 8 sitting zones. Now, each body part is better supported to its needs, and the zones respond appropriately to the requirements of each unique sitter and position. This 8Z Pellicle™ fabric allowed Don Chadwick to remove the thigh-pad from the original Aeron, helping improve the sitters' circulation while simultaneously increasing the chair's eco-consciousness.
Another significant improvement lies in the all new PostureFit SL® technology. Tossing out the original butterfly-shaped PostureFit® support, they minimized the materials used and added to the support provided. SL, meaning Sacral-Lumbar, is specifically designed to target the two lower back zones that most need support: the sacrum and the lumbar! The PostureFit SL® is easier to adjust, features a much lower profile, and is incredibly supportive.
Along with those two major changes, the new Aeron Chair features other smaller upgrades over the Classic Aeron Chair. The tilt tension is easier and more responsive to adjustments. The Tilt Limiter is improved with a more tactile response and interactive knob under the seat of the chair. The forward seat angle is likewise easier to adjust, no longer requiring significant rocking like the Classic Aeron Chair. 4-d Adjustable arms are also a new arrival, meaning that the arms can be adjusted up, down, in, out, forward, and backwards. An easier to adjust mechanism provides a much more seamless height adjustment on the arms than the previous Aeron Chair. Overall, the chair is about 4 pounds lighter than the previous model, making it more sustainable and less reliant on plastic for construction.
While it seems impossible to improve upon perfection, Don Chadwick truly accomplished the feat. The Aeron Chair has improved upon the revolutionary design of the Classic Aeron Chair, creating a new product that's still extremely familiar. Like a classic rock album, there was no need to redesign the chair from the casters up. Rather, Herman Miller was able to preserve the famous silhouette, space-aged materials, and unsurpassed comfort to create a new chair that remastered the original design, allowing it to mature gracefully into the 21st century.
About the Designer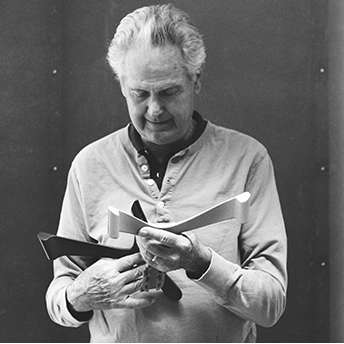 Don Chadwick
Chadwick's love for furniture design goes back to his childhood, when his cabinetmaker grandfather taught him how to use the tools of the trade--hand tools that required skill, precision, and patience. Later, unlike the other industrial design students at UCLA in the mid-1950s, he focused on furniture. And after hearing a Charles and Ray Eames lecture there, Chadwick was convinced: Furniture offered designers, even industrial designers, the chance to use materials in new, innovative ways--and to make a "real difference" in people's lives.
"Most industrial designers don't take furniture design seriously," he says. "They're not trained to get into that kind of detail. It's too personal, too much like surgery. And besides, you have to be in love with this kind of work." He attributes at least some of this optimism to the "LA recklessness" he's experienced as a lifelong resident of Southern California. "There's less fear of failure out here, so people are more apt to take risks. It's fertile ground for innovation." For over two decades now, Chadwick has had a partner in recklessness. "Herman Miller isn't afraid to take chances on new ideas. That's why the company's been successful for so long, and that's one reason why it's challenging to work for them."
Read more about the Aeron Chair's designers and the story behind the iconic chair's creation.
Shipping & Delivery
Simple Scheduled Delivery:
Free
Simple Scheduled Delivery is for folks that don't mind carrying furniture. The shipper will call prior to delivery to arrange an appointment, but the driver will not bring the furniture inside.

Typical transit time is 4-7 business days.
Larger/Freight items:

For

Residential deliveries,

the shipper will contact you via phone call/email at least 24 hours in advance - to schedule a delivery appointment window (typically a 4 hour window). This is when your order does not ship with UPS/Fedex. Most shippers will have online tracking available as well.

Business deliveries

to companies/commercial addresses will typically not come with a pre-arranged appointment, but will arrive during standard business hours. Please contact Smart Furniture or the shipper if your business address has special scheduling needs.


Smaller items + office chairs will typically ship via UPS/Fedex with a tracking number and online monitoring, but not a phone call and delivery appointment (UPS/Fedex do have scheduling programs with sign up on their websites). This can include office chairs and other products requiring assembly.
The driver will deliver the shipment at the ground level/front of your house or in your apartment's regular delivery area. They will not bring the furniture inside or carry it up stairs.
If you live in an apartment, the doorman can accept delivery on your behalf.
For Larger/Freight shipment (non UPS/Fedex) You must be present at the scheduled delivery appointment to inspect the delivery items and sign paperwork if any damage is visible.

We'll be sure to assist with any damage that may occur. Please call Smart Furniture right away if any issues arise.

Any questions? Chat or call! We're happy to help!
For more information and shipping comparisons, click here.
Packaging Info:
Fully Assembled:
1 box - 28" L x 28" W x 35" H - 46 lbs
Ready to Assemble:
1 box - 26" L x 25" W x 29" H - 45 lbs
Warranty
The Aeron Chair comes with a 12 year manufacturer's warranty, one of the best in the business. Herman Miller and Smart Furniture want to ensure that you're able to sit in this chair for a long, long time.
When you buy this chair from Smart Furniture, you can rest assured that we'll always have your back. If you have any functionality issues with the chair, just snap a couple of photos, e-mail them to customerservice@smartfurniture.com, and we'll take care of the claim process for you. All you'll need to do is sit pretty while we handle all of the replacement, logistics, and repairs. Since we're an authorized Herman Miller Service Center, we're one of the only online retailers that's certified to repair chairs that are under warranty.
We want to make sure that you sit and work in comfort for the next decade. Herman Miller and Smart Furniture are the perfect combination to ensure your office chair is never one of your worries again.
Have any questions? Give our friendly sales team a call at 800-260-8420, and we'll take care of you!
Shop With Confidence

Check out our 45-Day Return Policy!
We've ensured your personal data and sensitive information is always private and protected.