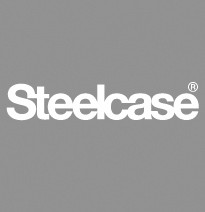 Shop Best Sellers
Browse through other customizations for the Think Chair by Steelcase
Overview
Think Chair
by Steelcase
At A Glance:
Reimagined. Revised. Reconstructed. The new Steelcase Think Chair has a decade of tasking comfort behind it in the previous version - and now it's even better. It's smart enough to understand how you sit. You'll find that it supports your posture without forcing you to make tedious adjustments.
So what makes the Think Chair better than its predecessor? Each and every feature has been improved upon, and a key feature has been added. Everything but the casters and a single piece of hardware has been completely re-engineered. Let's explore the new Think Chair:
Features:
New:

Integrated LiveBack System


Newly redesigned, the flexible back frame is more integrated than ever. Your natural movement is uninhibited - and yet extremely well-supported. The LiveBack is comprised of flexors that are linked together (the previous version had unlinked flexors) to provide more integrated and prescribed movement.





New:

Dual-energy Lumbar


The Think Chair's dynamic back support is provided using two springs. The springs' energy makes for more comfortable lumbar support. It also provides structure and integrity to the entire backrest for balanced support, and can easily be repositioned to meet you where you most need support.





New:

Adaptive Bolstering


Adaptive bolstering in the seat cushion creates a custom comfort pocket. The seat foam is cored (small cylinders are cut out of it) to allow for more compression in some areas of the seat than others. This improvement to the Think Chair's seat structure allows the foam to adapt to your unique size and shape.





New:

Advanced Synchronized Tilt Mechanism


The Think Chair's tilt mechanism has been improved by the addition of synchronized tilt, which means the backrest and seat are synchronized to move together in a specific ratio. It's simple to use, working without you having to give it a thought. Your back will recline more naturally and fluidly.





Improved:

Recline Tension & Angle


Think features four comfort settings: weight-activated, weight-activated with 20% boost, mid-stop recline, and upright back lock. You'll adjust these by simply turning a dial and finding which one suits your working posture.




Adjustable Arms


Height, width, pivot, depth-adjustable arms keep your arms level, even in a reclined posture, without reclining with the chair. This innovative armrest position allows Think to keep your arms in the perfect position to type comfortably.




Adjustable Seat Height


Think's seat can be raised 5" from its lowest position, giving you enough range for comfort.




Adjustable Seat Depth


The seat depth can be extended from 15.5" deep to 18" deep. Those with longer legs will appreciate the additional depth.




Flexible Seat Edge


The flexible seat edge flexes down automatically when you put pressure on it - so that the pressure isn't put on the back of your legs. This feature helps the Think Chair to improve your circulation and long-term seated comfort.




Sustainable Design


Think is an icon of sustainable design and the new Think pushes sustainability even further. Steelcase estimates that Think's positive impact in the US alone will significantly reduce our carbon emissions each year by approximately 2.5 million miles driven or 100 trips around the world. Think can still be disassembled in 5 minutes with common hand tools, making it easy to recycle when it finally reaches the end of the road (in a decade or so - if you sit in it all day, every day).




Simple Design
It's easy to adjust the Think Chair. There are adjustments you can use to tailor the fit to your sitting habits, but getting there is as uncomplicated as turning a couple of knobs. The rest of the chair adjusts itself adaptively.
CHECK OUT SMART FURNITURE'S 1 WEEK REVIEW!
Or Read about why Think is perfect for the home too!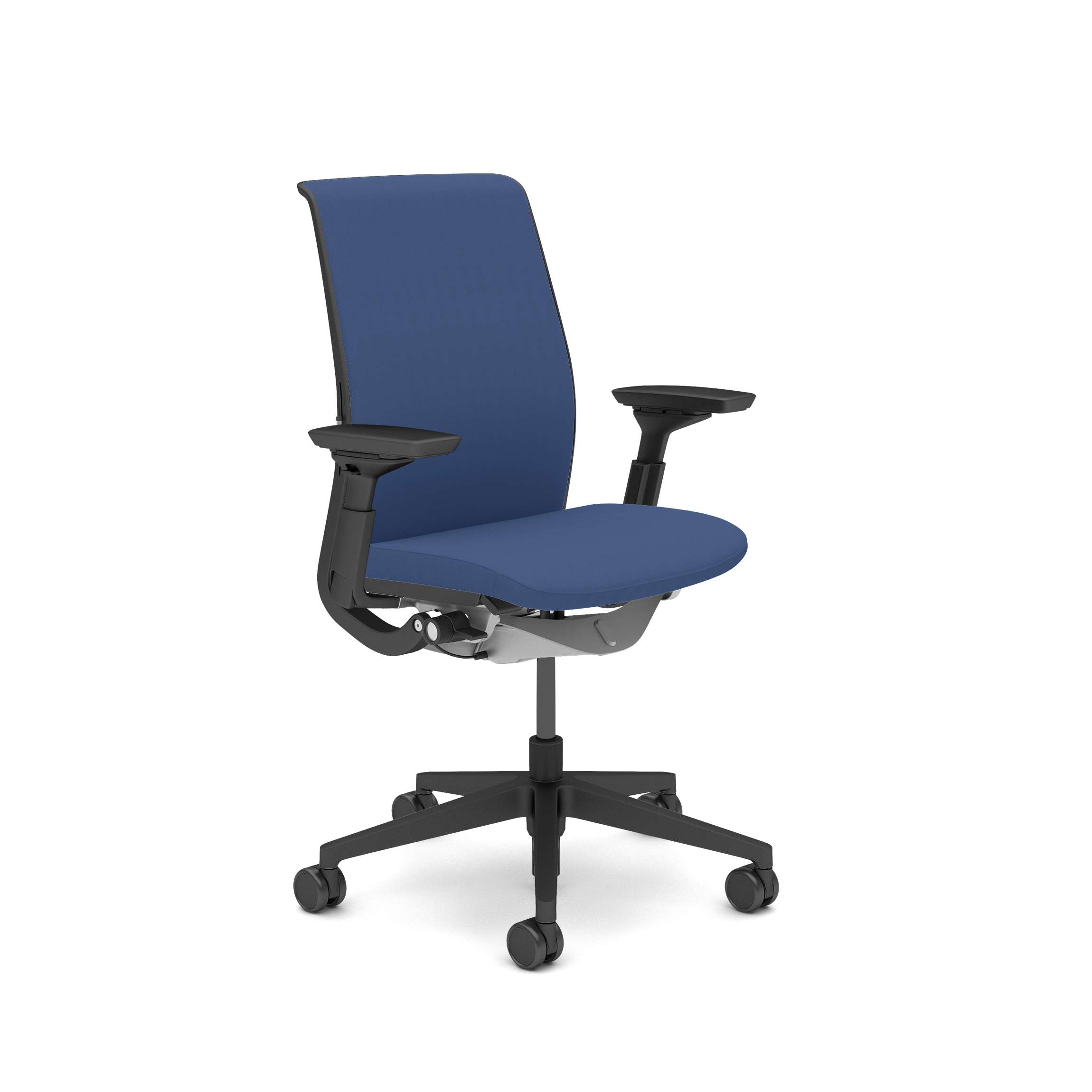 97.77%
Customer Satisfaction Rating
Rank: #4 in Office Chairs
Customer Rating:
Recommend to a Friend? 82%
Return Rate: 4.1%
The ideal office chair makes work more efficient and comfortable. Let our Office Chair Buying Guide help you find the perfect one.
---

INSIGHTS
Think Chair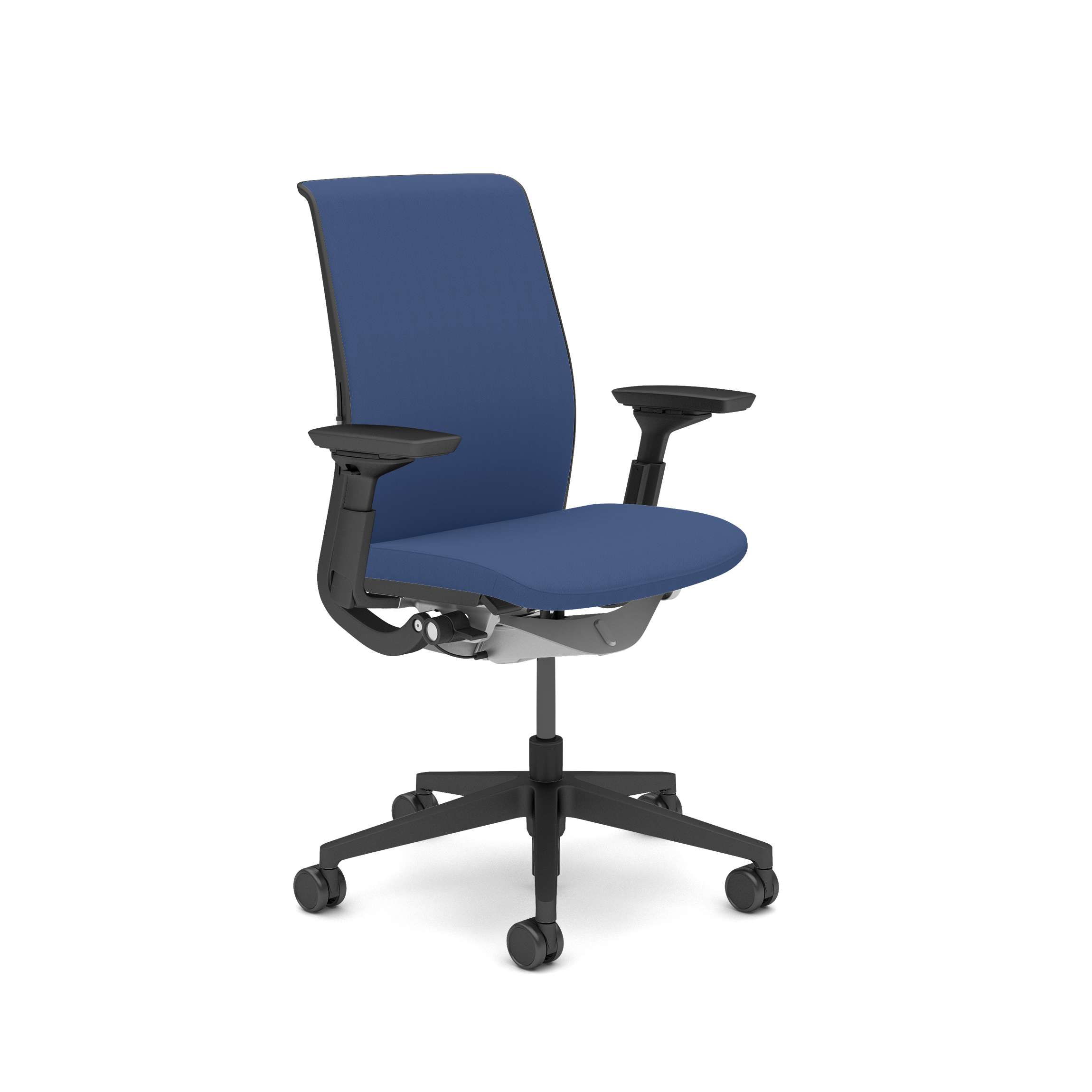 97.77%
Customer Satisfaction Rating
Rank: #4 in Office Chairs
Customer Rating:
Recommend to a Friend? 82%
Return Rate: 4.1%
Materials & Measurements
Materials: Aluminum, steel, glass reinforced nylon, PET fiber or semi aniline leather upholstery

Measurements:
Overall Depth: 22" to 24.25"
Overall Width: 28.5"
Overall Height: 37.25" to 42"
Seat Height: 16.5" to 21.5"
Seat Depth: 15.5" to 18"
Seat Width: 20.25"
Lumbar Height from Seat: 6" to 10.25"
Arm Height from Seat: 7" to 11"
Distance between Armrests: 14" to 21.25"
Environmental Information
Constructed of 37 percent recycled content and consisting of 98 recyclable materials, Think Chair is one of the smartest and most decorated green chairs on the market. And the rest of the furniture making industry has taken notice, as well the rest of the country. As the current political (and literal) climate heats up around debate over global warming, environmentalism, conservation, and sustainability, it's a relief to know that some furniture manufacturers and retailers, like Steelcase and Smart Furniture, are actually stepping up to plate with solutions to some of these problems.
For it's far-reaching and admirable commitment to sustainability, Steelcase and the Think Chair have been featured in articles from the Wall Street Journal, The New York Times, Metropolitan Magazine and Grist Magazine. Steelcase Think has the ear of the market, and of the press, when it comes to better environmental practices and sustainability. It can be disassembled for recycling in five minutes or less.
This doesn't seem like a big deal, but research has shown that when you lower the degree of difficulty on recycling (for instance, making it easy to disassemble a chair and recycle it in individual parts or as an easier to carry whole) people are much more likely to actually do it, no matter how convicted they are that recycling is the right thing to do. Think Chair was the first chair ever to receive MBDC Cradle to Cradle gold level certification as an environmentally responsible product. That means each element of each material used in the Think Chair has been rigorously tested for harmful elements, and had the least amount possible. MBDC tests the materials in office chairs and other products down to a chemical level, assuring the users (and their employers, colleagues and neighbors) that their chair is safe for the air, for themselves, and for everyone. That Steelcase would go to such lengths and publish the results shows their absolute confidence in the chair. Beyond that, it means Steelcase cares enough to put forth the facts of their commitment to a candid world.
Think Chair is a certified level 3 product, the highest BIFMA e3 standard possible. It also holds SCS Indoor Advantage Gold Certification for indoor air quality. It may seem insignificant, but many chairs, especially those composed with foam and plastic, can release harmful elements into the air, disrupting the environment and ruining the quality of your air. The Think is also on a quest to help you or your business get the lowest possible LEED score--it can go toward LEED credits. In France, Think Chair carries the NF Environmental Label for environmental quality.
The Steelcase Think is such a smart, green, forward-thinking product that when Heifer International, a world-renowned international hunger relief agency committed to improving life abroad and the environment at home, needed new headquarters, the Think Chair was their first choice. Ordered for every worker, the chair embodied what Heifer International was all about: progressive thinking and environmentally sound, sustainable energy choices.
About the Manufacturer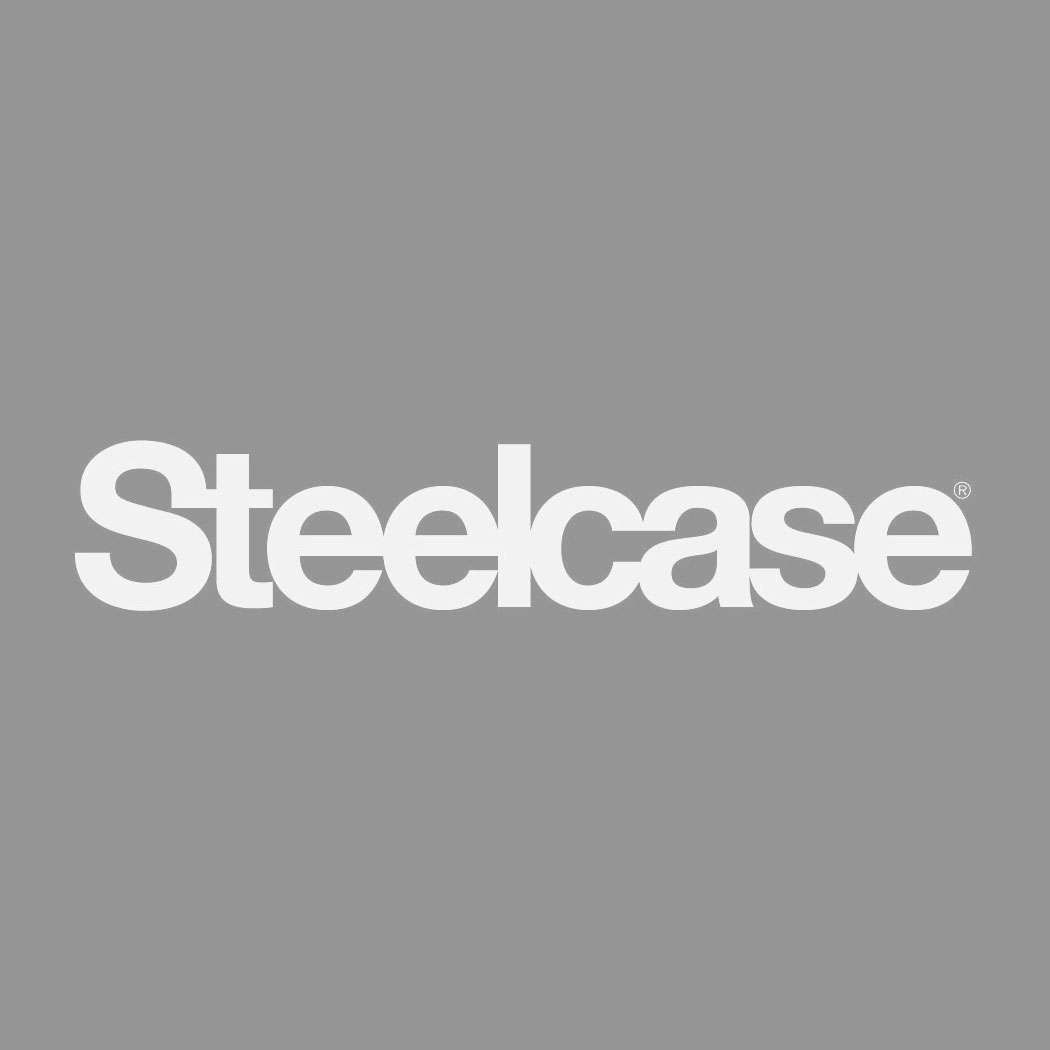 Whatever you need to accomplish in your home office, Steelcase can provide you with the tools to do it better, faster and more effectively. That's because they're passionate about unlocking the potential of people at work. It's the fundamental principle on which the company was founded in 1912, and it's being brought to your home office today. Headquartered in Grand Rapids, Steelcase is an international company with approximately 13,000 employees worldwide, manufacturing facilities in over 28 locations and more than 800 dealer locations around the world.
Shipping & Delivery
Standard Shipping:
Free
With Standard Ground Shipping, shipments are typically completed with UPS or FedEx to your front door or main lobby. Once shipped, items generally arrive within 2-5 business days. Simple, fast and easy service. Tracking will be emailed to you upon order shipment.

*If additional tracking info/scheduling is needed, both UPS and FedEx have sign-up services on their website which allow for more detailed tracking/options. Shipment signature may be required, or signing the delivery note authorizing the shipper to leave the next day.

*Some larger products or multiple quantities may ship with a freight carrier (not UPS/Fedex), which will call you for a delivery appointment if delivering to a residence (or business hours for commercial address). We'll send you an email with the shipper/tracking info as soon as your order ships either way.
Warranty
The Think Chair comes with a limited lifetime warranty on its base and frame, a 10-year warranty on its pneumatic cylinder and 5 years on its upholstery.
The Steelcase Think Chair comes with a variety of warranties to guarantee your investment and your confidence in the product. Steelcase is one of the finest manufacturers of furniture in the world, and they always make sure to stand behind their products with the very best warranties. A great warranty on an office chair like Think is worth a lot, not only monetarily, but in terms of security and confidence. When you buy a Think Chair from Smart Furniture and Steelcase, you not only get a great product, you get a great assurance that if there's ever a problem or an obstacle with the chair you can't overcome, you're protected with a great warranty.
The Steelcase Think comes with three separate warranties, each insuring a different part of your chair.
The limited lifetime warranty on the base and frame of the Think Chair.

As a great value, this warranty is practically incalculable. Over the course of the rest of your lifetime (or, alternatively, the lifetime of the Think Chair you own), you'll never have to worry about losing money on repair or replacement when it comes to the base and frame of the product. You won't find lifetime warranties from just any furniture company, nor with just any chair. Steelcase and the Think Chair are special entities, committed to the best and only the best, and that includes longevity. As long as you own the Think, you'll never have to worry about the cost of replacing the base or the frame, perhaps the two most important parts of any chair.
10 year warranty on the pneumatic cylinder of the Steelcase Think Chair.

Another great part, another great warranty. If you have any problems with your pneumatic cylinder, if it ever needs to be replaced within the next ten years, you've got nothing to worry about. Now, what the heck is the pneumatic cylinder? The pneumatic cylinder on a Steelcase Think Chair is a cylinder that creates force in response to movement. It does this in response to the force of compressed gas (air). Your Think Chair depends on the pneumatic cylinder for various adjustments and tasks, and it's an extremely vital part to have the full Think Chair experience. A ten year warranty is truly excellent when it comes to a part like this, and you can buy the Think Chair with confidence knowing Steelcase has your back when it comes to the pneumatic cylinder.
5 year warranty on upholstery.

The upholstery of your Think Chair is, of course, the first thing you see. Its color and texture will be chosen by the user in Smart Furniture three minute design tool, and these will be the outward face of the chair. However, we all know how easy it is to rip, discolor, and otherwise damage your upholstery, no matter what product it's on. It's quite impressive, therefore, that Steelcase is so confident in the quality and durability of its product that they offer a five year warranty on it. A five year warranty on upholstery (again, the outward face of your chair) is truly excellent. You can buy the Think Chair with real confidence, knowing that for the next 1825 days, you won't have to worry about the upholstery.
Warranty Value
So what's the real-time value of the Think Chair over the course of it's several warranties? In other words, how much will it cost you, per day, to enjoy the fantastic comfort, elegance, engineering, conscientiousness and fun of the Think Chair for as long as it's insured? To do this, we'll break out the three insured parts, assigned 60 percent of the Think's value to base and frame, 20 percent to upholstery, and 10 percent to the pneumatic cylinder.
Limited lifetime warranty on base and frame.

The base and frame are probably to two most integral parts of your Think Chair, so the lifetime warranty is deeply assuring. But, what's a lifetime? Depending on how long you choose to keep the chair, the cost per day shakes out this way:



Steelcase Think Base and Frame Warranty Value:


5 Years: 22 cents a day (60 percent of Think's cost divided by 1825, the number of days in a five year span)
10 Years: 11 cents a day
15 Years: 7.3 center a day
20 Years: 5.5 cents a day

That's an undeniably great value. All the comfort and increased productivity offered by Think for as low as a nickel a day.
Ten year warranty on the pneumatic cylinder.

The pneumatic cylinder is essential to the continued operation of your Think Chair. It powers your functions and adjustments. And Steelcase guarantees it for ten years. The cost?



Think Chair Pneumatic Cylinder Warranty Value:


5 Years: 18 cents a day (this is, of course, if you get rid of your Think Chair before the 10 year warranty runs out


10 Years- life of the warranty: just 9 cents a day

Five Year Warranty of Think Upholstery

Your Think Chair upholstery is the outward face of your chair, the surface on which you sit, work, and recline. It's the surface that will absorb the punishment of years of sitting, twisting, drinking and eating, not to mention the random elements of office furniture and staff. The upholstery has to look great for your Think to look great, and to make sure that that happens, Steelcase offers a generous five year warranty on your upholstery. So how does that shake out on a daily basis?



Think Chair Upholstery Warranty Value:




5 Years: 11 cents a day
So as you can see, you're getting an incredible value when you purchase your Think Chair from Steelcase and Smart Furniture. You get everything the Think Chair offers, all the comfort, engineering prowess, style, and productivity (not to mention the health benefits of better circulation), and you get it for literally cents a day over the life of your warranty.
Shop With Confidence

Check out our 45-Day Return Policy!
We've ensured your personal data and sensitive information is always private and protected.