Shop Best Sellers
Browse through other customizations for the Tulip Armchair by Knoll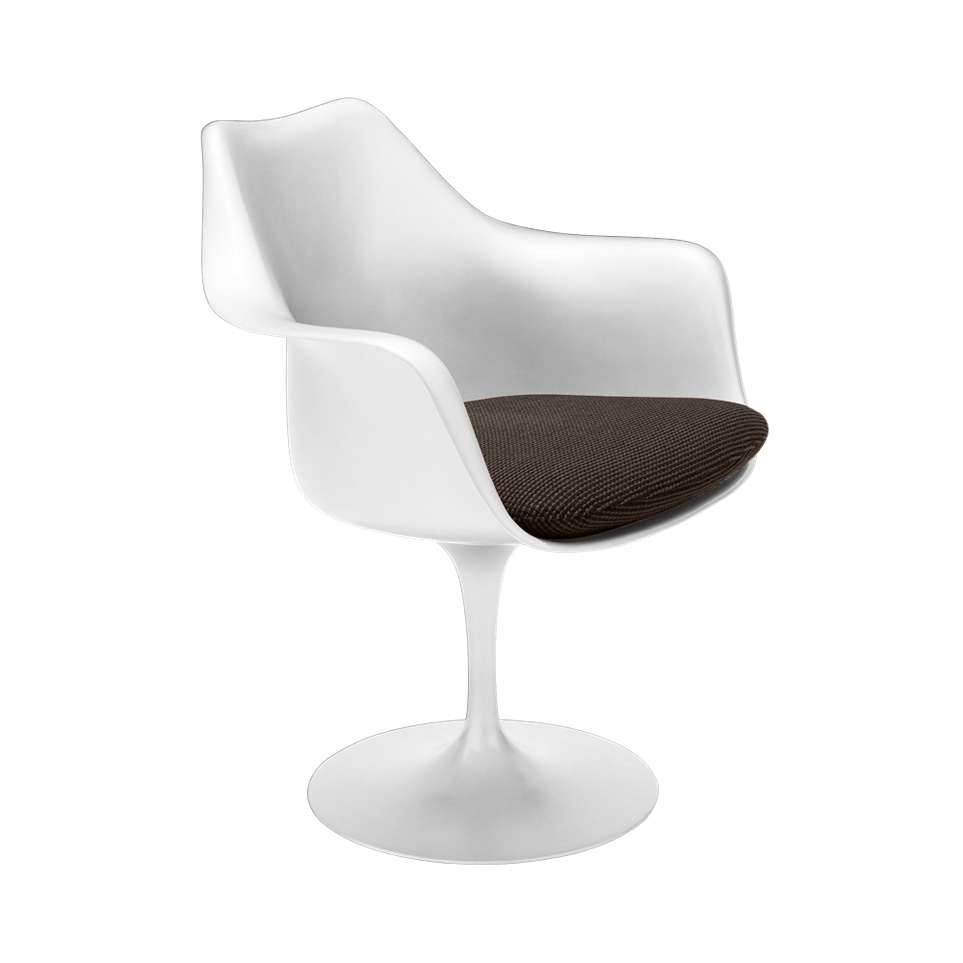 Tulip Armchair by Knoll
Upholstery Color
|
Black Volo Leather
+$214.00
Base Color
|
White
Base
|
Swivel Base
+$124.00
Overview
Tulip Armchair
Fixed or Swivel Base

designed by Eero Saarinen
from Knoll
At A Glance: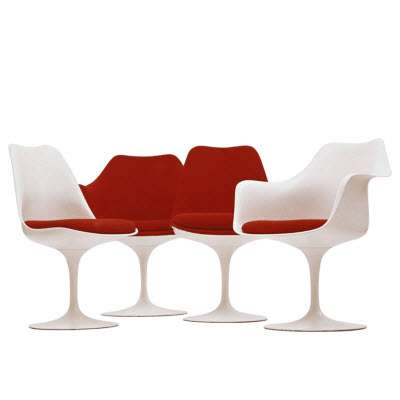 The Tulip Armchair by Eero Saarinen is a perfect example of his style. He was an essentialist, breaking a chair or a piece of furniture down to its most basic form and function, and marrying that to an equally pure design aesthetic.
The Tulip Armchair is an essential art object, a lovely chair, and a piece of furniture design history. Designed in 1956, the Tulip Armchair was minimalist and holistic. As Saarinen said, "In any design problem, one should seek the solution in terms of the next largest thing. If the problem is a chair, then its solution must be found in the way it relates to the room."
The Tulip Armchair was the perfect expression of that idea. Winner of the 1969 Museum of Modern Art Award, the chair is available with or without arms, and with complementary stools and tables.
What's To Like:
One-piece look - with a base that accomplishes Saarinen's goal of clearing up "the slum of legs" in the modern home.
Plush, colorful upholstered seat.
Comfortably molded chair back and arms give you a good reason to linger at the dinner table.
What's Not to Like:
Price could be a sticking point; it's not cheap.
If you like chairs with four legs, perhaps the Tulip Armchair isn't your best bet.
We can't find anything else to pick on - this dining chair is a classic.
The Bottom Line:
When put together with the Saarinen tables, the Tulip Armchair makes a beautiful, iconic modern dining set. Alone, it's a great-looking side chair that fits in most any living space.
Customer's own material may be used on the Tulip Armchair after being approved. In addition, many of Knoll's other fabric lines are available upon request. Please call a Smart Furniture salesperson at 888-467-6278 to get started!
Features:
Overall dimensions: 32" h x 26" w x 23.25" d
Seat height: 18.5"
Cast aluminum base
Black and white chairs have a rilsan coated base
Platinum chairs have a polyurethane enameled base with a clear satin finish
Shell is molded fiberglass with a reinforced plastic bonded finish
The Tulip Armchair is part of our scintillating list, Top 10: Furniture that Could Appear in A Clockwork Orange.
Customer Photos


Three armless Tulip Chairs shown here with a Saarinen Dining Table.
About the Designer
Eero Saarinen
Knoll was well known for utilizing European talent, and many items in their furniture collection were designed by Scandinavians. Eero Saarinen, originally from Finland, would become one of the most renowned designers of the mid-twentieth century. After studying architecture at Yale, Saarinen collaborated with contemporary Charles Eames and designed numerous furniture classics and buildings that would help define American style and aesthetics.
Saarinen's most famous works in the Knoll collection are the Womb Chair and Tulip Chair, but he also designed a series of dining and side tables as well as office-oriented chairs. His architectural achievements include the Gateway Arch in St. Louis and the Dulles Airport in Washington DC.
About the Manufacturer
Founded in 1938, Knoll has nurtured many of the most inspiring and iconic furniture designs of the last century. With an extensive collection of modern classic furniture for the home as well as cutting-edge office furniture with a focus on functionality as well as aesthetics, Knoll is at the forefront of how furniture interacts with us and affects us in our daily lives.
Materials & Measurements
Materials:
The Tulip Chair has a cast aluminum base with a rilsan coated finish for black and white chairs. Platinum chairs consist of a high-resilient polyurethane enamel wet coat with a clear satin finish. The shell is molded fiberglass with a reinforced plastic bonded finish.

Dimensions:
Overall: 32" h x 26" w x 23.25" d
Seat height: 18"
Arm height: 25.38"

Environmental Information
The Knoll Tulip Chair is Greenguard certified.

Shipping & Delivery
Knoll White Glove Delivery (REG 7.5%):
Free
During any Knoll promotion, all products get free shipping. In this case, you get free white glove delivery. When the sale ends, the regular shipping cost resumes.
Warranty
Structural components are warranted for 5 years.
Leather, upholstery, and finish are warranted for 3 years.
Click here to see our return policy.
Shop With Confidence

Check out our 45-Day Return Policy!
We've ensured your personal data and sensitive information is always private and protected.