Smart Furniture's History
The History of SmartFurniture.com
Where We Came From and Where We're Going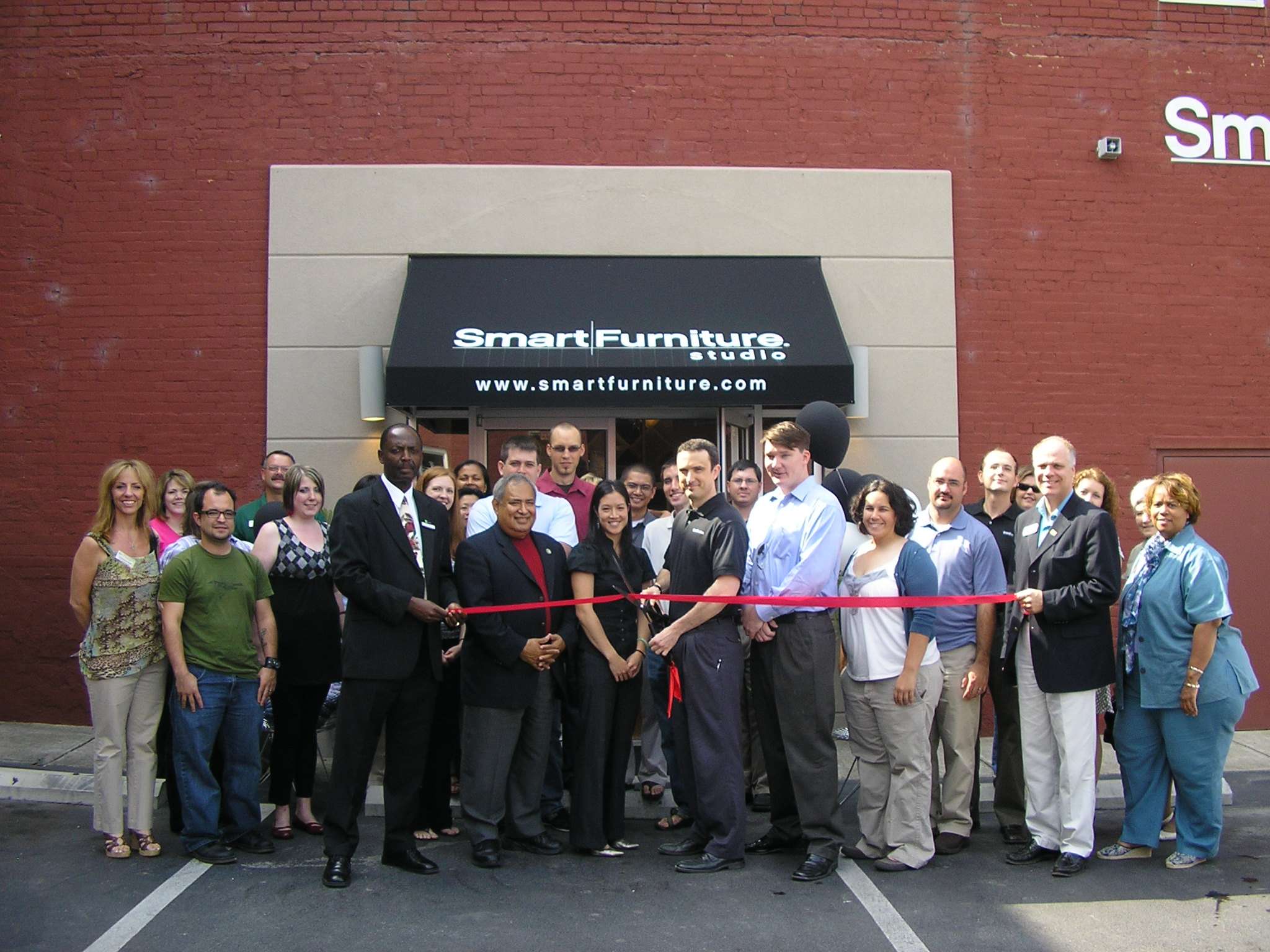 Ribbon cutting at Smart Furniture's first store in Chattanooga
How do you write a history? Is history just the facts—the things that happened to you and the things you did? Or is there more to it than just a rudimentary timeline of events?
At Smart Furniture, we view our history as an ever evolving study of growth and adaptation. It starts with the roots of our founding, and it continues forward into the future. We remember the things around us and the things we did but also the reason why we exist and where we want to go.
So why are we here? Simply put: we want to be the best place in the world to buy furniture. That goal might have been tangential at the start, but there's nothing we believe in more today. What started as a single man inventing and shipping modular shelves out of a garage in Palo Alto, California has transformed into one of the most innovative furniture retailers in the world. Using advanced technology, empathetic customer service, and genius marketing, we make shopping for furniture better than everyone else.
But since this is a history, let's start at the beginning.
This is the garage at Stanford where Stephen first invented Smart Shelves.
Our founder, Stephen Culp, was a law student at Stanford University when he visited Yahoo in 1998. At that time, Silicon Valley was in its infancy, and the tech bubble didn't exist. Yahoo's massive growth resulted in a major complaint: they couldn't find furniture to keep up with their expanding workforce and demands. Inspired, Stephen went to work designing a new type of furniture that would satisfy the needs of this new, exciting tech frontier.
Working out of his professor's garage, he invented Smart Shelves. Consisting of interlocking boards that assemble without tools, Smart Shelves were customizable, expandable, and easy to use. They were everything that a newly-emerging tech world would need.
Smart Furniture was born.
Appropriately, Stephen opened an online store to begin selling his groundbreaking products. In the late 1990s, web purchasing was still in its infancy, and buying furniture online was a thought that most people had never considered before. Stephen was undeterred, and his Smart Shelves became a hit. HGTV even featured them on a special design show!
As the company grew, it was relocated to Chattanooga, TN, where manufacturing, warehousing, and distribution were more accessible than in Palo Alto. The move proved to be especially prescient. In 2010, Chattanooga built a smart grid fiber optic internet infrastructure, providing us with the fastest web speeds in the country. Technology company: meet booming tech city of the South. We still kick our tires here to this day.
Technology has been at the heart of Smart Furniture's growth from the beginning, staying at the cutting edge of internet sales and boldly trying things that other companies don't. The original SmartFurniture.com featured custom 3-d renderings and integrated Google sketch up tools allowing customers to design their own unique shelving systems. Stephen's vision was to allow the customer to design the furniture that they wanted. Smart Furniture thrived under the mantra, "Design on Demand." Furniture shouldn't just be what other people tell you it is. It should be yours.
We realized that we could take our design on demand philosophy and apply it to other types of furniture too. We were the first place online where a customer could customize a sofa, office chair, desk, or table by color and finish and see it in real time. While some companies were figuring out how to sell shoes, we were looking at new ways to display sectionals in true color.
Since technology is changing at such a rapid pace, it's imperative for online sellers to stay current on all of the newest gadgets and features. Learning new programming languages, configuring the site for different devices, and optimizing speeds are just a few of the things we do every day to ensure that we stay on the cutting edge of the web-sales world.
We also invent our own cool technologies.
Furniture Genius is our continued push to revolutionize online buying. Furniture Genius is an advanced algorithm that customizes the entire website to each customer's unique taste, budget, and style. We started with customizable shelves, then we moved to customizable products, and now we have an entirely customizable site.
Utilizing the product knowledge of our sales time, adding in the brains of our developers, and finishing it off with the style know-how of our merchandisers, we've figured out how to make shopping for what you want easy and fun. We know how boring and tedious it can be to sift through thousands of products to find what you like, so we make the good stuff come to you. Furniture Genius is the newest evolution in our quest to make online shopping Smarter.
Some companies like to put out vision statements of where they think they'll be in 15 or 20 years. We like to keep that outlook a bit more amorphous, because we can't predict what technology will look like decades down the road. Maybe people will shop via holographic projections on their coffee tables. We don't want to write our future in stone, because we're sure that we'll adapt to the changing landscape. If there's a way to improve what we do, we'll do it. Our goal is to ensure that we're always making the shopping experience better. If people buy stuff through telekinetic brain waves, then you'd better believe we'll have the receivers before anyone else.
We understand that furniture isn't just stuff around you. It's a way for you to reflect your personality. The right table can change the way a family has dinner, and the right sofa can transform movie night. At Smart Furniture, we want to be the best, most fun, and most intelligent place to find the perfect furniture for your lifestyle.
At Smart Furniture, smart isn't just in the name.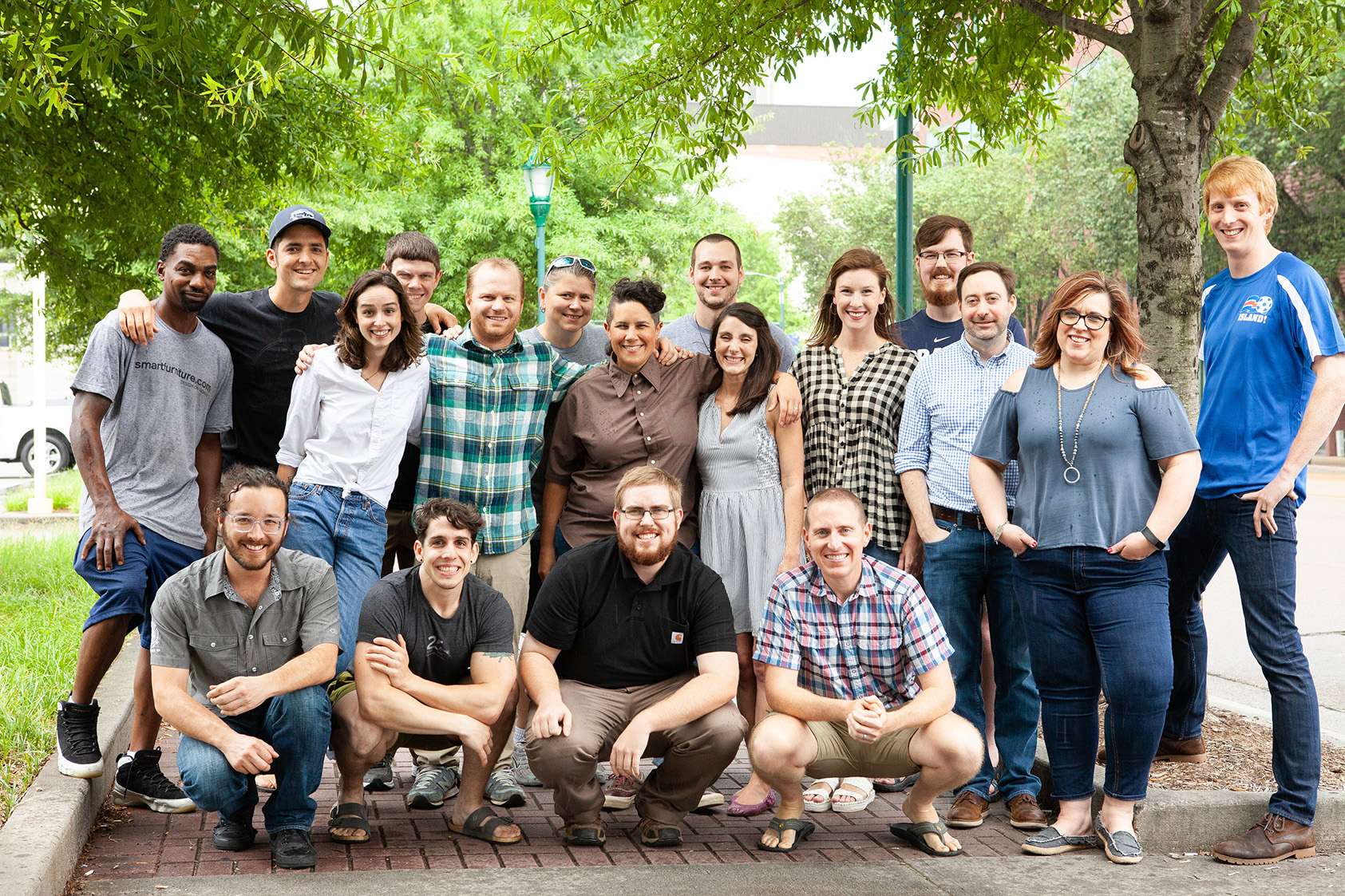 The Smart Furniture crew in 2018