Live from Chattanooga, TN
NARROW RESULTS
Steelcase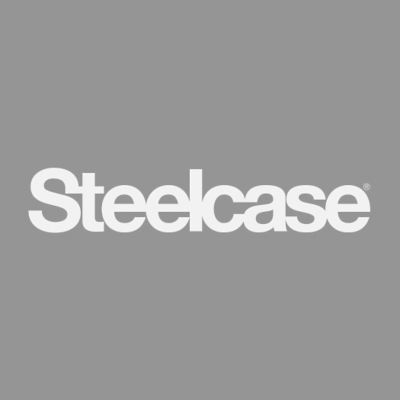 Steelcase manufactures and designs some of the most innovative and cutting-edge office furniture in the world. From task chairs to desk lights, they are dedicated to reinventing the office space to make it as comfortable, visually stunning, and ergonomically efficient as possible. Their penchant for creating practical furniture without sacrificing aesthetic beauty has made them one of the most respected furniture manufacturers in the world.
Innovation
Since Steelcase's inception, they have been world leaders in innovation and forward thinking. Since they first patented their (at the time) groundbreaking, fireproof wastebasket in 1914, they have continued to revolutionize the office furniture industry. Their extensive focus on research and development has led to inventive products that reflect our ever-evolving work reality. As technology has morphed, so have Steelcase's designs. Every new product is aimed at improving people's lives and adapting to their modern needs. Steelcase's designs reflect dynamic world, and their roots of innovation stem from the very core of the company's identity.
Happy, Comfortable, and Productive
Steelcase's wide range of office products create harboring work environments that make employees more productive, comfortable, and happier. Whether promoting individual work spaces with the Currency collection or collaborative environments with the Turnstone line, Steelcase's furniture can transform any office space into an ergonomic haven. From fortune 500 companies to loft apartments in New York, millions of people benefit from Steelcase's humanistic designs every day.
Task Chairs for the Home or Office
Steelcase's most popular and identifiable pieces of office furniture are their office chairs. Most models are available in dozens of colorful and vibrant fabrics, and all of them are designed with ergonomics and comfort in mind. Many independent reviewers rate the Leap Chair as the best office chair that money can buy. The Think Chair was rated #4 on our Furniture Genius list of top 10 office chairs, and the Amia came in at #2. The Gesture Chair emerged from years of research into the different seating positions that new technologies like tablets, phones, and laptops demand. People are at the center of all of Steelcase's designs.
Steelcase: It's for Your Health
Steelcase's reputation hinges on its ability to create new, innovative products that reflect our modern society's changing work environments. Technology has drastically altered our world's workflow, and Steelcase continues to adapt to those evolving demands. By creating more comfortable and ergonomic work stations, Steelcase aspires to create new generations of happier and healthier workers.