Smart Furniture has access to 100+ brands, and the designs that we create are only limited by our own imaginations. For proof, check out the awesome central meeting room that we created for the Tomorrow Building in downtown Chattanooga.
The Tomorrow Building is a self-proclaimed Co-Living space, designed to be a hub for entrepreneurs and innovators to live, work, and exchange ideas. 39 micro-lofts comprise the residential portion of the building, while the central meeting room is where the true magic happens.
Situated in the center of the building, the meeting room isn't just one thing. It's a living room, and it's a hi-tech conference room. It's a play room, and it's a lounge space. It's a modern employee break room that you wish you had at your office, and Smart Furniture is one of the only places around that could make it.
In order to make the meeting room something truly special, we drew inspiration from all sorts of brands and all sorts of products. A conference table by Scale 1:1 doubles as a ping pong table. It's also the nicest ping pong table we've ever seen. Luxurious Gus sofas in the corners surround individual coffee tables. Hosu Lounges on the other side of the room are perfect for a quick power nap, and custom-upholstered GT rockers are perfect for tossing on a pair of headphones and getting into the nitty gritty of your subconscious.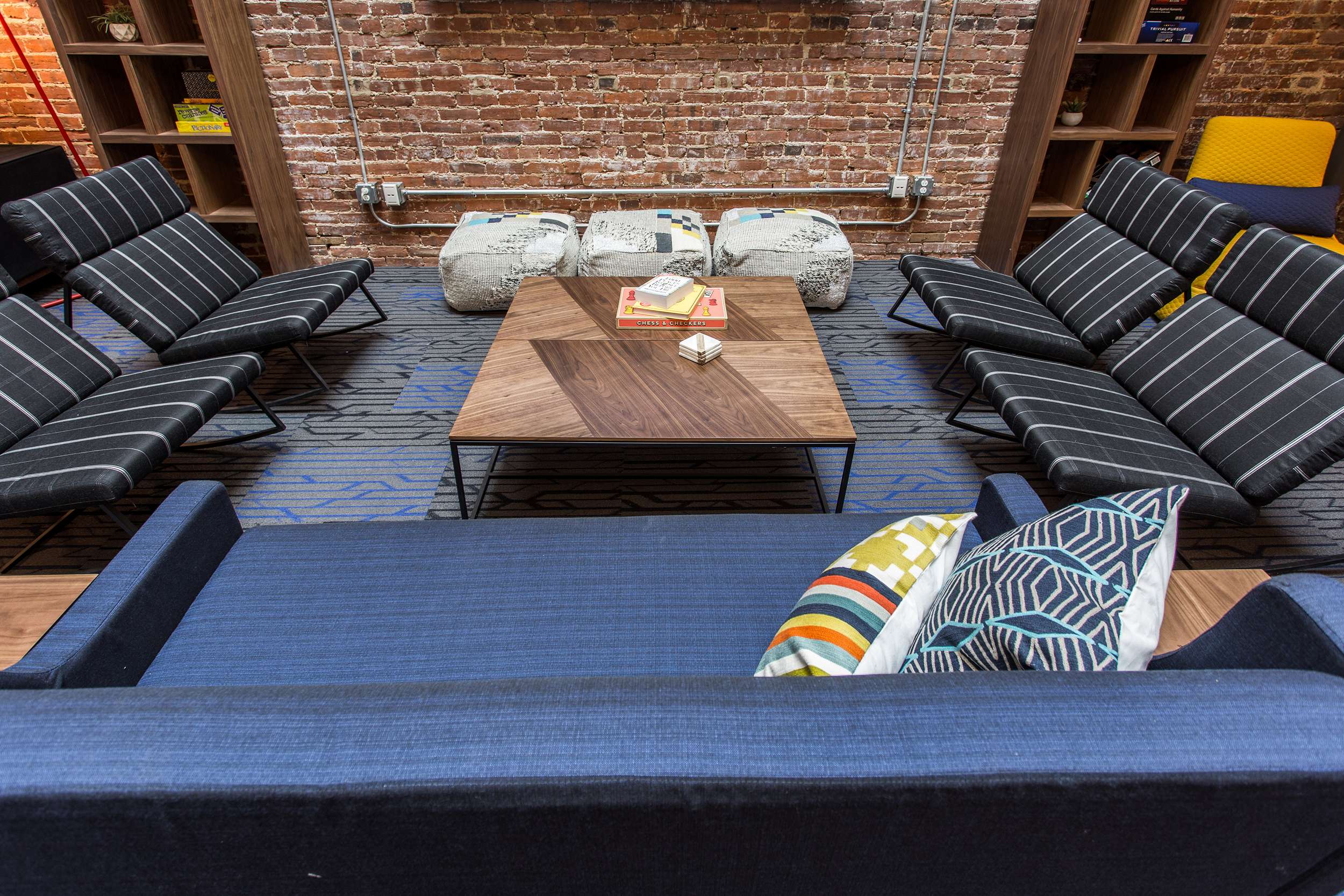 In this single room, we used products from over 10 brands, including a local artisan! Such flexibility allowed us to spend extra money on statement pieces (cough, the ping pong table, cough) while being more modest in other areas. Ultimately, we designed a mind-blowingly awesome meeting space that was under budget and overly wonderful.
The Tomorrow Building's meeting room is just one example of the amazing things that we can do at Smart Furniture that most companies can't. We know our furniture, we know budgets, and we know how to create really amazing spaces out of the extensive product pool that we can pull from.