One of the nation's most forward-thinking residential buildings completed construction last week, and it's not where or what you think it is. A self-described co-living space, the Tomorrow Building continues a mid-sized Southern city's trek into becoming the innovation capital of the east coast.
Located in the heart of downtown Chattanooga, the Tomorrow building was created for innovators. Conceived as a way to attract young professionals and start-ups to the city's robust Innovation District, the Tomorrow Building is an attempt to coalesce the brightest minds in the US under one roof. The goal? To see what happens.
Lamp Post Properties solicited Smart Furniture's services to make this new micro-loft residential building something truly special. Their familiarity with our complete design services and unique ability to craft custom solutions for customers made us the perfect match.
The result is a fully furnished apartment building with a unique flair—tons of space for interaction and a really cool place to live.
39 studios are available to rent, varying in size from 300 to 420 square feet. Taking advantage of Smart Furniture's huge selection of space-conscious products, each rental feels larger than it is, with multifunctional furniture giving tenants a cozy and functional hub to call home. Each bed has drawers and a platform for storage. A bureau with drawers underneath replaces the need for a closet, and the bigger rooms include a sleeper sofa that's great for guests. Every piece of furniture packs whole lot of functionality into a little bit of space.
The purpose of this residence, however, isn't to keep the tenants confined to their urbane apartments. This building is meant for communication and camaraderie.
With the guidance of building manager Stephanie Hays, Smart Furniture created a vibrant and functional collaborative space that blends the functionality of a high-tech meeting room with an old fashioned living room. Complete with Gus sofas, the nicest ping pong table you'll ever see, comfy lounges from Coalesse, and even board games, residents of the building are encouraged to get together and communicate.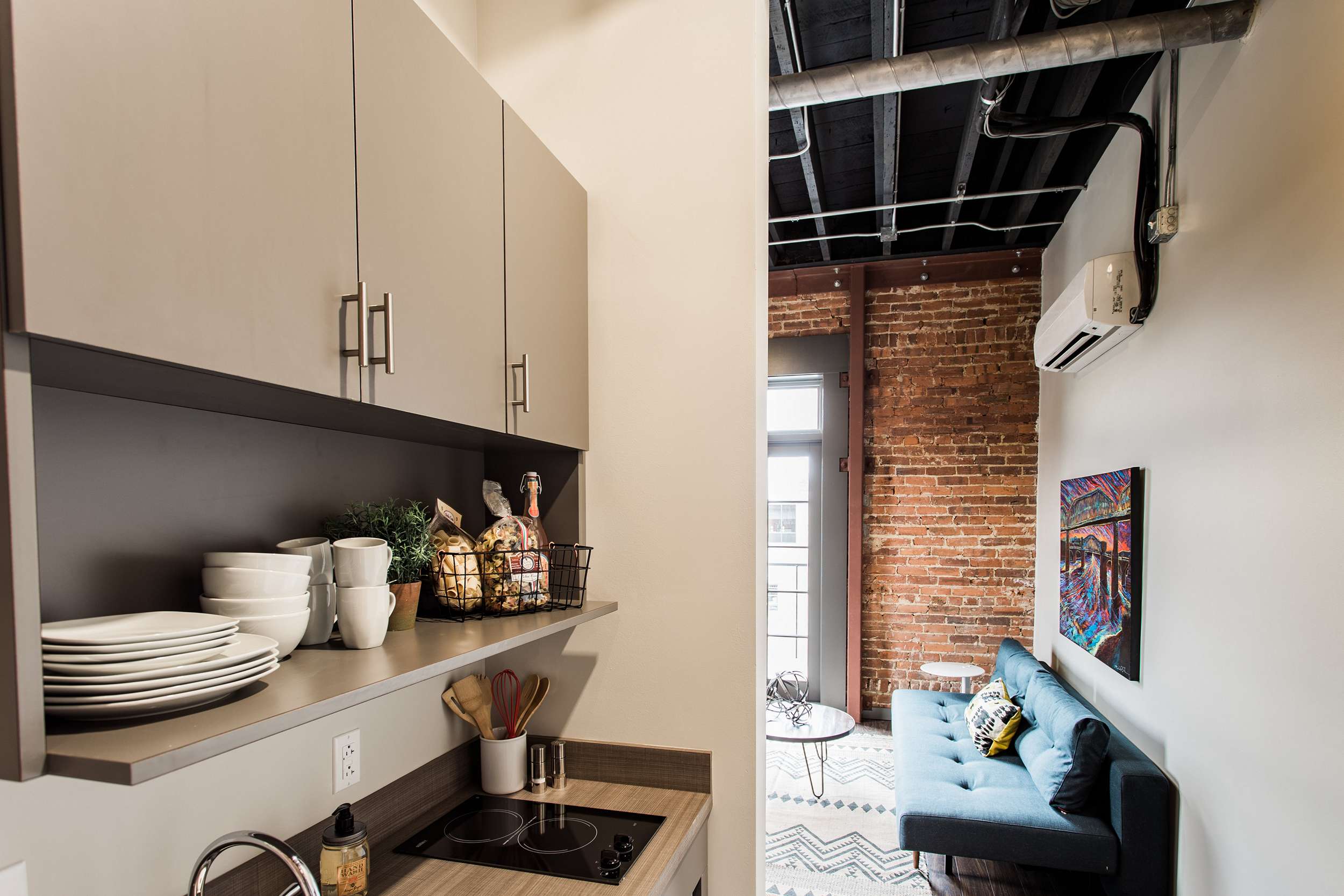 The Tomorrow Building is changing the way that young professionals live in the burgeoning Innovation District in downtown Chattanooga. With the keen vision of Lamp Post Properties and the talented design chops of the Smart Furniture team, this apartment building will be an inspiration for young professionals for years to come. And who knows, the next big technological breakthrough might be sitting on the tips of some ping pong players' tongues, just waiting to be spoken into existence.