Why Keyboard Trays Rule
Furniture & Culture: How Your Office's Design can Affect Your Businnes
Ergonomics
Keyboard Trays:
The Quickest Path to a More Ergonomic Office
By Christian Roemer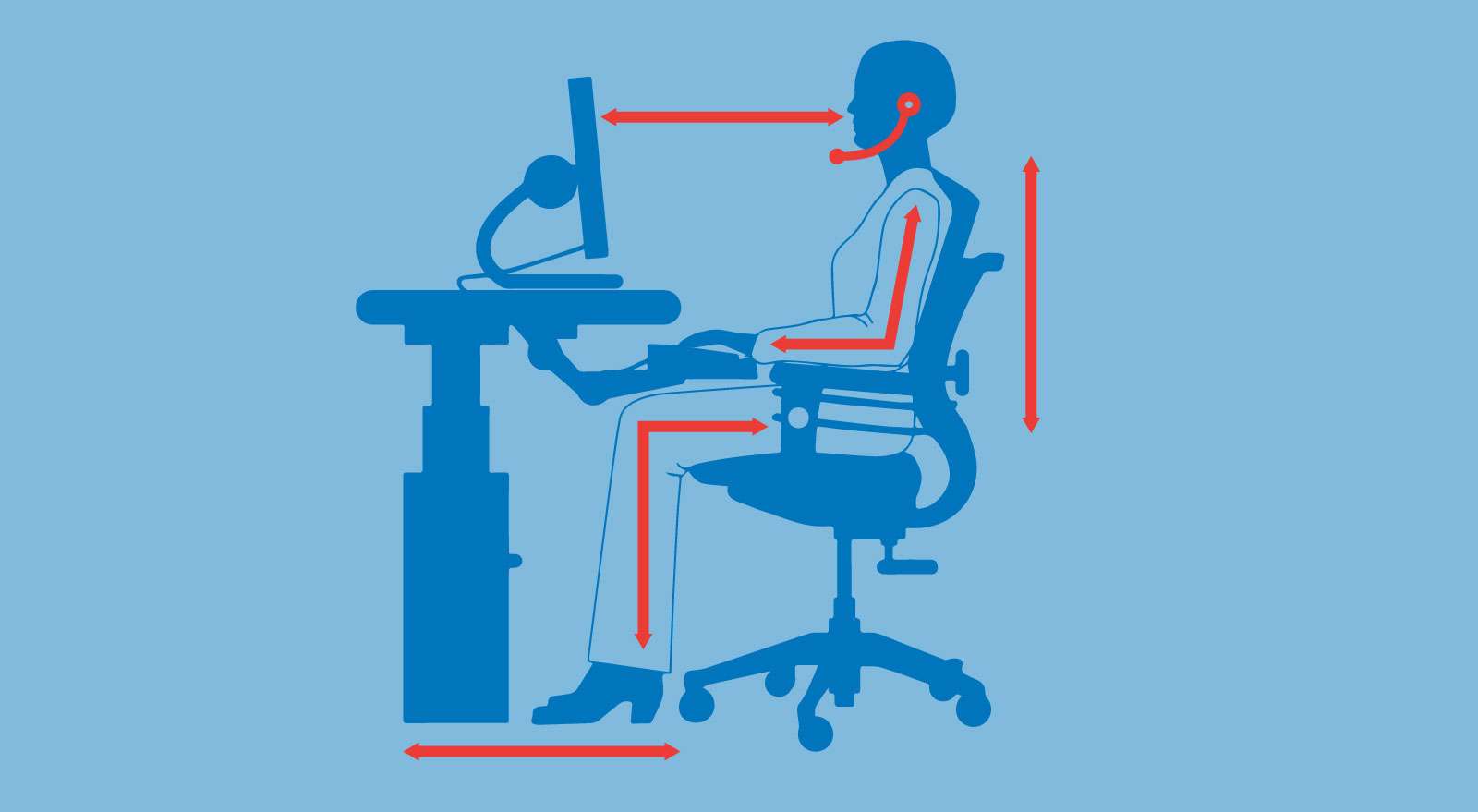 The above diagram shows the proper ergonomic seating position. Learn more about ergonomic offices by checking out our Ergonomic Office Guide.
If you're looking to make your workspace more ergonomic, the easiest, most affordable change you can make is installing a keyboard tray to your desk. No other product is more cost efficient or effective at bringing your body into proper positioning and alignment.
While a keyboard tray seems like an unintuitive place to start, consider how you typically work every day.
Most keyboards sit on top of the desk in a stationary position, and you're forced to move your arms and hands to it.
Your desktop has taken your body hostage, and you have to adapt yourself to it.
Moving yourself to your work tools can cause you to sit in unhealthy postures which can lead to injuries. Shoulder, neck, wrist, and back injuries are the most common. An ergonomic keyboard tray will instantly improve your interaction with your workstation and bring your body into proper alignment.
Take a moment to consider how your current set-up functions. Most likely, your keyboard sits on top of your desk, and you find ways to adapt to the table top. You adjust your chair to make your arm angle more comfortable, but your legs are now bent improperly. Moving your chair up or down has also thrown your eye position out of whack, so you're forced to look up or down at your computer monitor.
---

The simple task of typing on your keyboard forces you into sitting uncomfortably and non-ergonomically.
An ergonomic keyboard tray fixes all of those mis-alignments by bringing your keyboard to you instead of the other way around. With this one simple item, your keyboard will now go exactly where you want it, freeing you to adjust your chair and monitors into more comfortable and correct positions.
That means that you can adjust your office chair to the proper height so that your knees and hips are properly aligned. They keyboard tray will also adjust to your arm level and angle, putting your shoulders and forearms at more natural and neutral positions. Finally, it will straighten your wrists, cutting your risk for common injuries such as carpal tunnel and tendinitis.
Practically all of your body's proper seating positions can be rectified with this one simple item.
Most people assume that an office chair is the best jumping off point for making your workspace more ergonomic. This assumption is logical, since proper seating position is critical to lining your body and sitting with ideal biomechanical posture. The problem is that, even with the most ergonomic chair that money can buy, you'll still have to move yourself to your desk surface to work. That means you won't get all you can from your chair, since you won't be able to use it properly.
You'll still have to reach for your desktop, and you'll still find yourself lacking in the comfort department.
If you want to make your work space more ergonomic and cut down on potential MSDs (Musculoskeletal Disorders—a common term for office-induced injuries), don't start with a task chair.
If you really want to get the best bang for your buck, starting at $229, you can get a single item that will help convert your space into a more body-friendly work station. That item is a keyboard tray.
Making your work space more ergonomic is much more affordable and easier than you think.
Browse keyboard trays by clicking here
or call our sales team at 888.979.5178 to learn more about building an ergonomic office.